As usual, my new year starts with a need for re-organizing and this year was for improving my kids' learning space at home. Since I am not a trained teacher like
Amanda or Kim
, but so much inspired by them, I find myself always researching, doubting myself, trying new things, looking back, starting over, creating, etc to fit my needs of offering a creative and meaningful learning environment. My main goals as a mom is to inspire my children, transmit a 
sense of curiosity and self confidence
 to gain the knowledge and skills they need in order to achieve their own.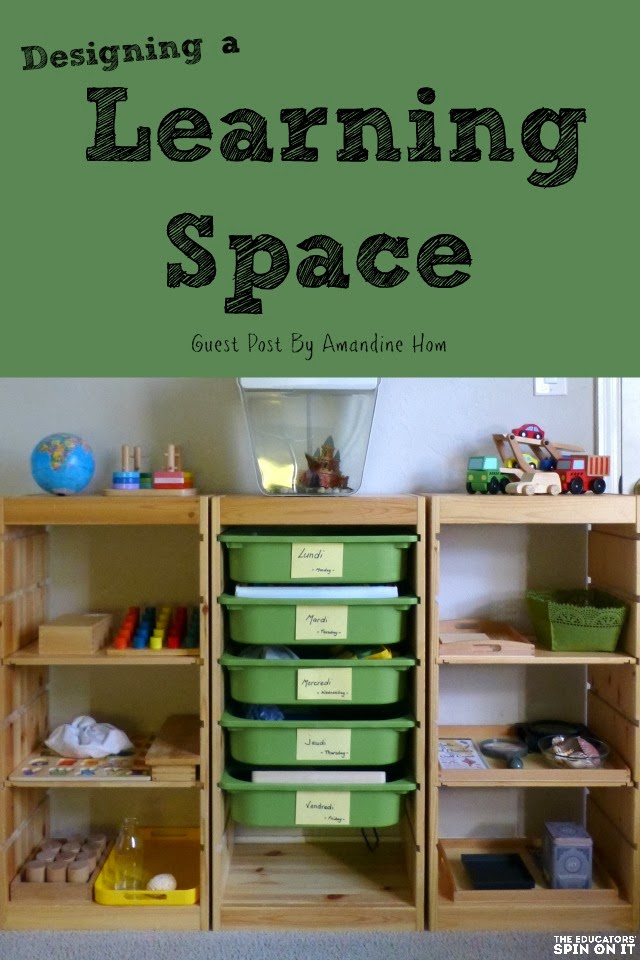 My New Year learning environment design resolution…
Designing an Educational Learning Space for Young Children
I studied and worked for about a decade in the hospitality industry with a taste for well-thought and "pleasing to the eye" design in mind. Since the father of my children teaches Interior Design and his research is oriented towards environmental design to enhance creativity, we usually team up to imagine and create our own furniture and remodeling at home. Here is our latest project: the kids' new learning room. Ta daaa!
Disclosure: Some links in this article are affiliate links meaning, at no additional cost to you, I may get a commission if you make a purchase.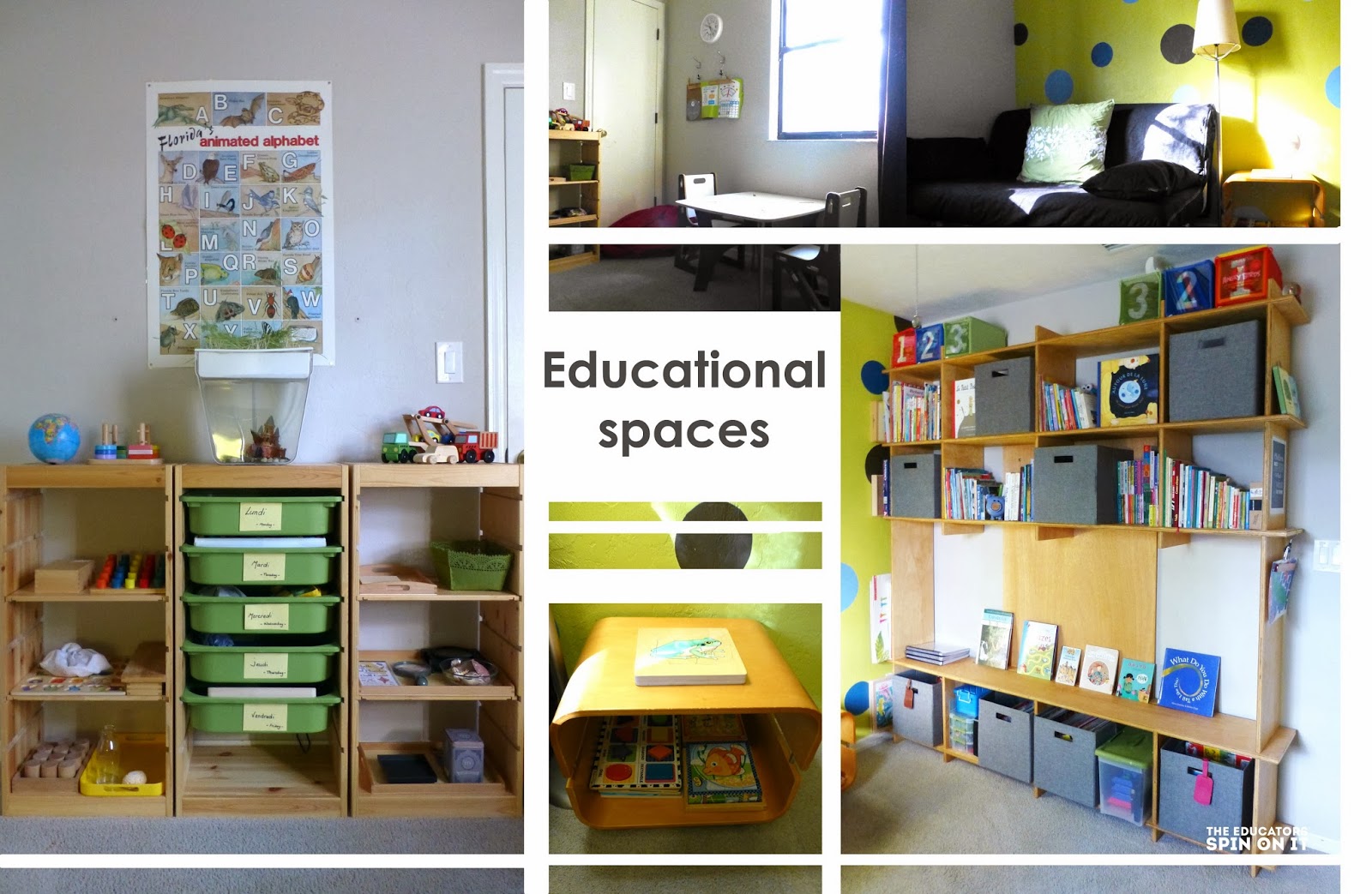 In order to get there, we had to go through the design process: stating the problems, the constraints and come up with solutions.
The problem:
I used to have all the children books we own in bookcases at kid's reach – now used as Montessori-inspired activities display. I realized that instead of teasing their curiosity for reading, it became a game of "how fast can I make a messy pile of books" for my two years old. Frustrated of not being able to find any book by category or theme as I needed and seeing their liking for reading diminishing, a room re-design was required!
The constraints:
This room is quite small and has to double as a guest room. So we needed to work around the sofa bed as well as their table and chairs and re-purpose the former bookcases as activities display.
The solutions:
Design an Educational Space Re-Purposing Existing Furniture:
Instead of storing the books on wall shelves – not strong enough to hold the weight – and buy a book display – that would have taken a lot of floor space for just a few items, we decided to go with an original design already tested in our living room of the bookcase below.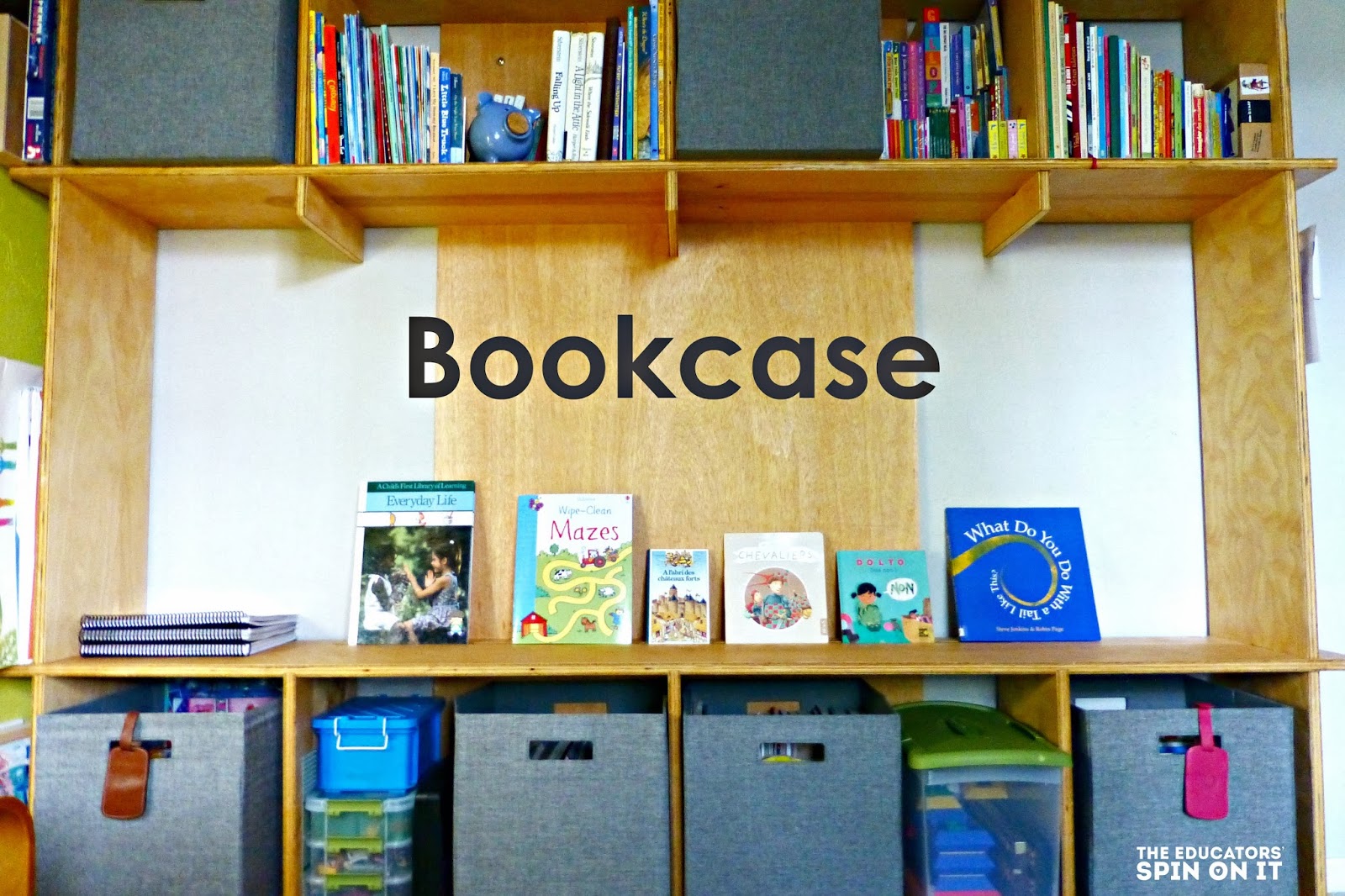 Design an Educational Space with Safety in Mind:
It is sturdy, require no glue so can be disassembled and stored flat for an easy move. However, since we added the upper shelves to the previous design, we had to add a back panel and two
Furniture Wall Straps
into the wall, both for extra support and active boys proofing.
Design an Educational Space where Everything has a Place:
As far as organization goes, I still wanted the boys to have access to the books but in a more meaningful way in case of a curiosity craze. I categorized them in bins and label them with
Luggage Tag
(see 1&3 below) such as "Earth and Life Science" or "Geography, Cultures and Religions". Also, the tall middle display space in the middle allowed me to store big books and posters that I previously had trouble finding space for (1). And finally, my book display was incorporated by carving with a router a book size nook along the kids' height long shelf (2).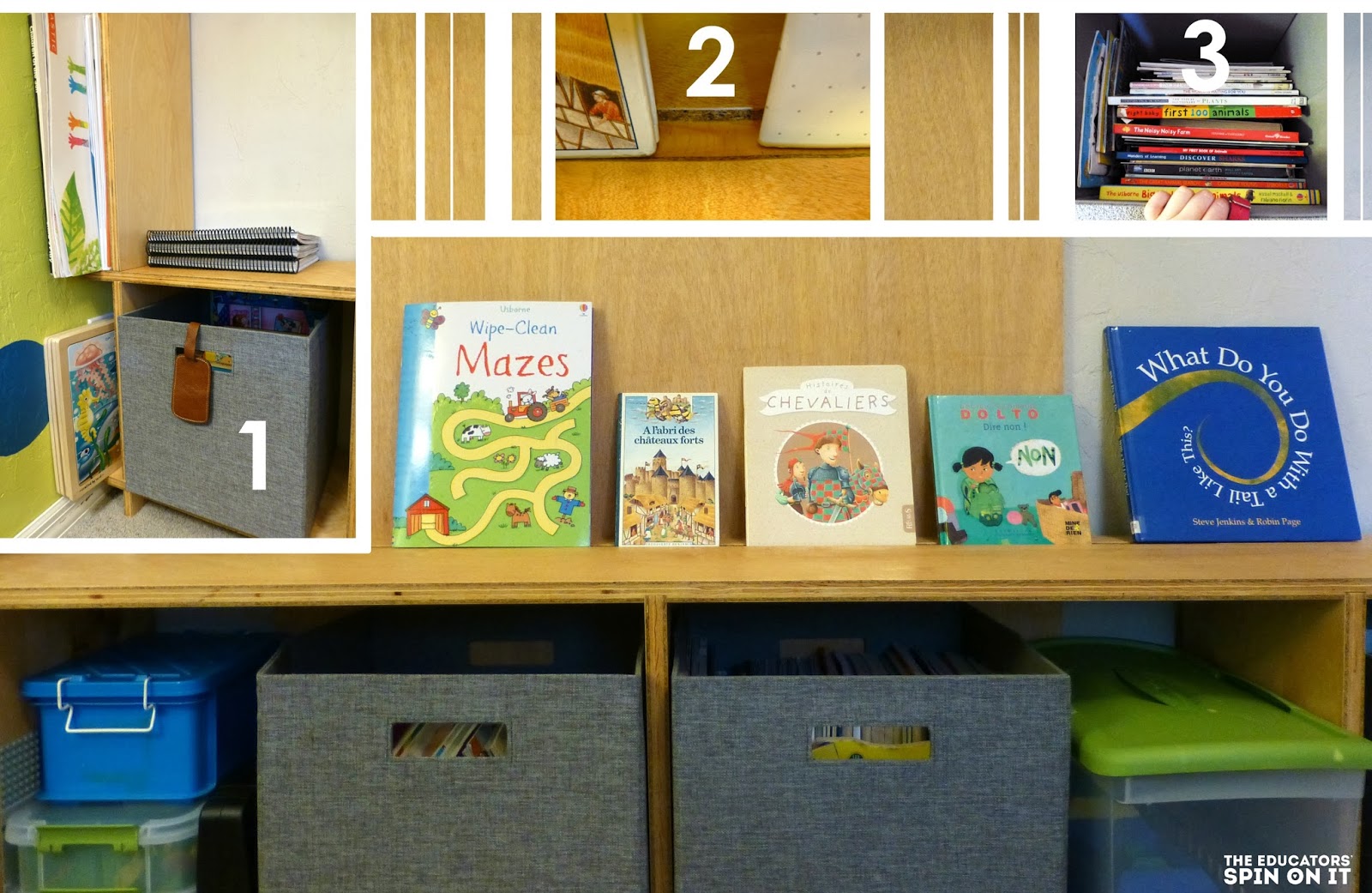 Use what you have in your home already – then look around stores to see what is available!
Here are 2 get this look items we found on Amazon:
Design an Educational Space that Invites Learning:
The re-design of this room definitely changed their behavior towards activities and books. They are more inclined to sit down and find a proper occupation. And they are easier to manage as well. Although it is still new, we'll look back in a few months and assess the success and lack of the design. The next bump in the road will direct the next project.

Born and raised in the French countryside, Amandine is now a mother of two active boys living in the Sunshine State, Florida. Finding my way through culture shock and an unexpected honorary career that I never thought would be so demanding but yet so life changing. I am re-creating myself at thirty through my children.
THANK YOU so very much Amandine for sharing your beautiful, newly designed learning space.  It is so bright and cheerful!. Amandine is a well organized mom with a ton of great ideas.  My play room has looked like this for several years and it is need of a make-over.  Amandine's newly organized room has a lot of style and functionality and I am wondering how I can incorporate some of these ideas into our space.  Her labels and trays have me swooning!   I also like how there are areas for different ages to interact with.  As a parent, I am struggling with space issues and am trying to minimize what is out and utilize my toy library more (post on my re-organizing coming soon)  – Amanda
READERS -Are you inspired to re-do your children's home learning environment?  I know I sure am.
How does your child's learning and play space work for you?  
What areas do you love?
What things do you wish you could change?
Updated for readers: The shelves pictured in the above are a TROFAST Children Storage Frame (C), pine
 in pine with storage bins purchased separately. These frames come in a varity of shapes and the bins are found in several sizes and colors too. We have several friends with these organization sets they they LOVE, LOVE, LOVE them.  They are great for storing toys, wooden trains, science equipment and more.
Save