Encouraging our children to discover important people in history is on of our roles as a parent. Here's one book series that you need to have on your list to read.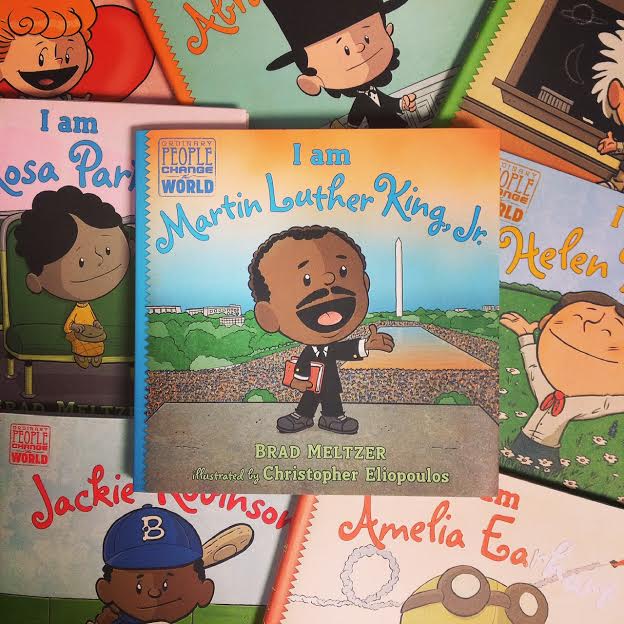 This post contains affiliate link to amazon. I received complimentary books from Penguin Kids to review with my children share our thoughts and ideas inspired by them. All opinions expressed are my own.
Discovering Famous People in History with Kids
Reading with your child is so important. Ideally each night are parents we read books. Throughout the day in school and at home books enter into our children's lives. Some are books with fantasy and imagination while other are filled with truth and facts.
Finding ways to balance reading fiction and non-fiction books is important and something as parents we are not told as often enough.
Do you want your child know more historical figures in our world?
Ordinary People Change the World Book Series for Kids
Recently I've had the opportunity to discover a very special series that highlights famous Americans in history. The talented author, Brad Meltzer, was inspired by his own children for these stories. He shares real heros for our children in his new Ordinary People Change the World Book Series.
I love this quote from the video below from Brad about his books he shares that these are "The books that I hope people will remember me for" One of the latest in his new series is the book I am Martin Luther King, Jr.by Brad Meltzer in celebration for Black History Month.
Each book takes you on the journey of these historical figures and shares their story from their childhood including the inspirational quotes we've all been inspired by from these important people in History.
Each of these stories would be a fun way to do a Living History Activity focusing on one each week.  Brad has shared quite a few storytimes with these new books on youtube so be sure to go check them out! In addition, be sure to check out the Activities Resources Page for printables and guides 
The Important of Reading Non-Fiction Books
One thing that many parents may not realize is that a lot of text that children read in standardized testing is non-fiction reading passages. Not only are you sharing with your child about historical figures but you are also encouraging them to be successful at reading non-fictional works. This skills requires a bit more attention to details and the ability to recall facts.
Why Read Nonfiction?
There are some key reasons to teach kids to read nonfiction. Nonfiction is considered on of the keys to success in school. Beginning in primary grades, students need exposure to nonfiction texts to help them succeed in both reading, writing and vocabulary development. If you think about is as adults you will read mostly nonfiction.
Truthfully in most cases kids enjoy reading nonfiction. The nice thing about nonfiction books are that they appeal to students' interests. It's encouraged to allow students to read about nonfiction topics they are interested in to increase their motivation and reasons for reading!
Lastly, informational text builds background knowledge and hopefully inspire them to discover more about the world around them.
Famous Quotes in from Famous People
Instead of having our children learn about Famous people for the wrong reasons especially with how easy it is with social media these days. ;I love that the Ordinary People Change the World series focuses on inspiration figures who's truly made an impact on our world.  I love that the back of each book includes a quote from the historical figures as we discover with our children why they are considered important people in history.  
This next month my daughters and I are reading the books and sharing our favorite quotes and creating them to hang on our refrigerator.  I want them to be inspired and know it's possible that anyone can change the world with determination, knowledge and hope.
Also Check Out the Heroes for My Daughter by Brad Meltzer
Heroes for My Son by Brad Meltzer
Who would you want featured next in the series?
PURCHASE Ordinary People Change the World Gift Set