My family loves spending time outside. I am a firm believer that time spent outside is time well spent. In fact, we just got back from hiking this morning with the 3 kiddos… down and back up a large sinkhole, 120 feet deep.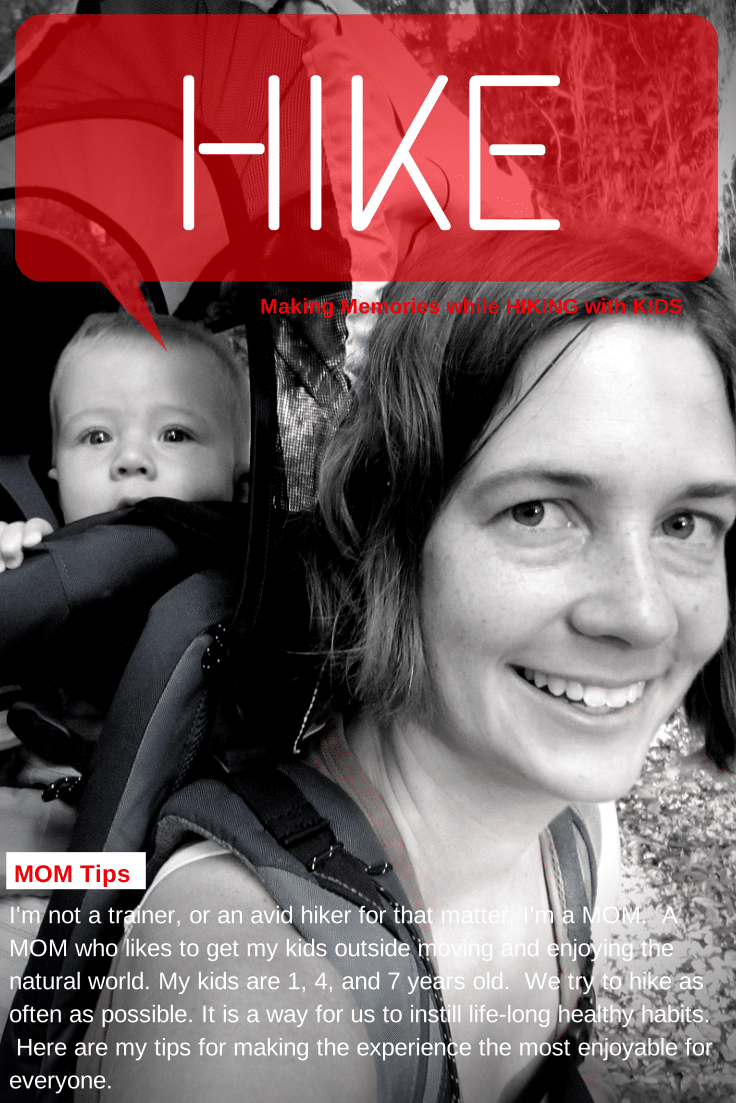 Today, my 4 year old and 7 year old hiked for over an hour with no complaints. They went up and down many flights of stairs 3 times in addition to a 2 mile hike on flat ground. I wore the baby in my Kelty Kids Carrier and switched with my husband when I needed a break.
We left for a hike in a good mood and came back in an even better one. We also definitely got our exercise for the day.

The good news is that everyone is now NAPPING so that I can write down my hiking tips to share with you! Although hiking with young kids may seem "extreme" I can tell you it is pretty easy to do.
Tips for Hiking with Kids
1. Wear appropriate clothing. This includes shoes. Flip flops and sandals are not made for hiking long distances. My kids know when we say we will be hiking they need their socks, closed-toe tennis shoes, athletic or comfortable clothes, and hats.

2. Protect yourself from the sun. Hats, sunglasses, and sunscreen are great. If you hike a lot, consider the SPF shirts. The best defense is covering up and staying in the shade.

3. Start with small distances. Even .5 miles is a good start.

4. Make it a positive experience. "We're going hiking!" can be said in many voice tones. Choose the one that shows excitement and energy, not a disappointing chore.

5. Pack water. This is my big kids' responsibility to pack our family water bottles for everyone. The reusable wine bottle bags make great water bottle bags too. There are nicely 4 compartments and a handle for carrying.

6.  When the whining starts, it is time to stop.  Or better yet, gauge when there is a possibility of whining and stop while you are ahead. OR make compromises. Today, my seven year old wanted to go down the steps one more time, but the four year old did not.
The grown-ups split up and one of us when for a little bit longer while the other stayed and looked for leaves.

7. Use the hiking time to talk to your kids and teach them about the world. Look at maps, encourage them to follow the trail signs, talk about nature, discuss healthy living, or just spend time getting to know them better.

8. This is by far the most important… If your little one is in diapers, make sure to bring your diaper bag or a spare diaper in your backpack. It never fails that they always need a change halfway through the hike!
Have you taken your kids hiking?
P.S. I've been asked so many times what my absolute favorite carrier is. Although there are some really great ones to choose from, my Beco carrier has been my go-to carrier for the last 6 years. My youngest is just starting to outgrow it and we will be passing it on to our new cousin.
Amazon Affiliate link: Beco Soleil Baby Carrier – Grey (includes bag and hood)
You may also enjoy these activities with your family…