Explore helpful tips and resources for staying active at home with kids. Here are some fun and easy ways to get moving and work out as a family at home with your child.
Let's get ready to MOVE!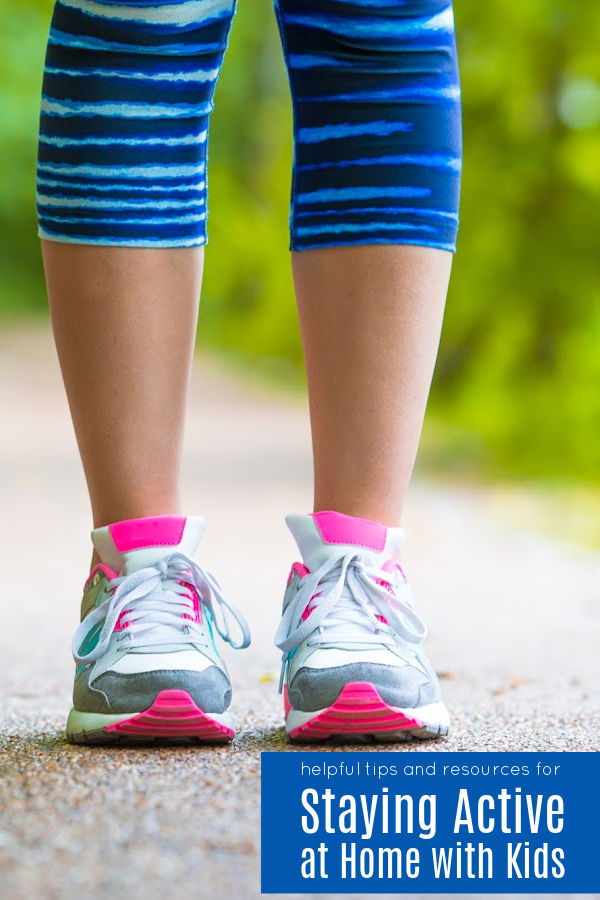 This is a guest post by Kelly Goede.
Remember February? A little over a month ago we were all floating blissfully in our COVID-19-free bubble, unaware of the sucker punch that was awaiting us in March.
Now we are attempting to lockdown, to sanitize and prioritize, work from home, and oh yeah—homeschool our children during a global crisis.
Staying Active at Home with Kids
My first couple weeks attempting all of this would be an example of what not to do, and my only real win during that time would be continuing to allow my four children to keep living at home with me.
For two weeks we floundered, but friends we have to make a plan if we are going to emerge from this crisis! I say this loosely, but hear me out.
No matter their ages, our children have needs (physiological, emotional, psychological, mental) and when those needs are met, life is incredibly more pleasant!
One of those needs, in particular, has an effect on all the others. In essence, get that one wrong and you can forget about success in any of the others. At the very foundation of all the needs, we experience is our set of physiological needs, which encompass food, water, sleep, and our health (among others).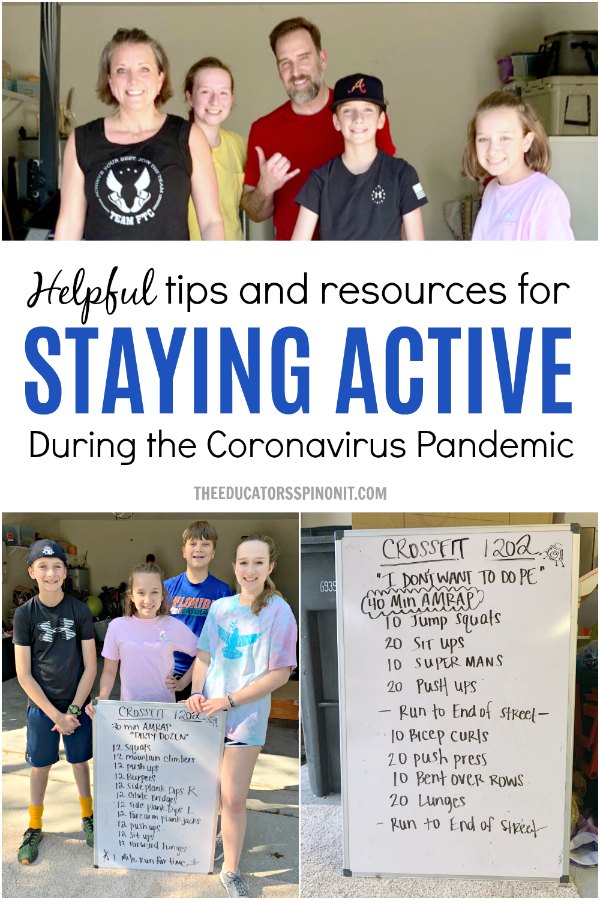 And not to assume, but based on some unofficial Facebook anecdotal evidence, food and water are being consumed in abundance, and sleep is still happening, albeit at odd hours or in random amounts, which leaves us to shine a spotlight on "health," which might make some of us to begin breaking out into a cold sweat.
Friends, when schools address the health of our children (outside of the school lunch program), they focus on the areas they can control—namely they provide children with PE and recess. Children have a fundamental need to move their bodies for some portion of each day to actually be healthy.
At school, certified PE coaches lead kids through exercises and games designed to be engaging, fun, and inclusive, and to get kids to elevate their heart rates for an extended period of time, all while using facilities and equipment that cost taxpayers a hefty sum.
Currently, none of that is at your disposal.
Easy Ways to Workout While Home With Kids
YOU are now the PE coach and YOU will need to figure out what you can use to coax your children away from the lure of the screen. Take ten seconds to just feel your feelings on that…I'll wait…Ok, back with me?
Let's figure this out.
According to the Department of Health and Human Services, children older than six need at least an hour a day of physical activity.
They also recommend that most of that time should be moderate to vigorous aerobic activity. All things being equal (meaning if we were not in the midst of a global crisis), we could unpack that further and talk about bone strengthening and muscle strengthening exercises, but let's just stick to the basics.
One hour a day of getting your kids to vigorously move can be parsed into two thirty minute segments.
Depending on the ages of your children, you can make one of those segments unstructured time in your yard letting them choose how to move their bodies. For those who require a little more structure for both segments, it's time to put your thinking cap on and use the internet to its fullest capabilities.
Leading your children in exercise DOES NOT require you to hold a degree in physical education. One of my favorite mantras is "work smarter, not harder," and this applies to putting together a plan for exercise for your children.
Exercise, Dance, and Movement YouTube Channels For Kids
At the very minimum, search Google and YouTube for kids' workout ideas.
Here's a list of some of our favorite ways to get the kids moving!
Baby Shark Abs Challenge
A favorite in our house is "Baby Shark Abs," where each line of the song is a different abdominal movement.
Cosmic Kids Yoga
I've seen half of the preschool-aged world doing Cosmic Kids Yoga according to my Facebook feed.
P.E. with Joe
Several other friends have shared that they are joining along with P.E. with Joe on youtube. He's has shared 3 weeks of PE just for kids already!
GoNoodle
GoNoodle videos get younger kids moving to be their strongest, bravest, silliest, smartest, bestest selves. Over 14 million kids each month are dancing, stretching, running, jumping, deep breathing, and wiggling with GoNoodle.
Why reinvent the wheel?
Endless content exists, ready to materialize at the touch of our fingers!
Pick something, try it out with your kids (yes, I said "with"), and evaluate whether you use it again.
If you're ready to level up to creating your own workouts, let me give you a few words to chew on. A workout for kids should first and foremost be fun. Any way you can add an element of fun will pay dividends later.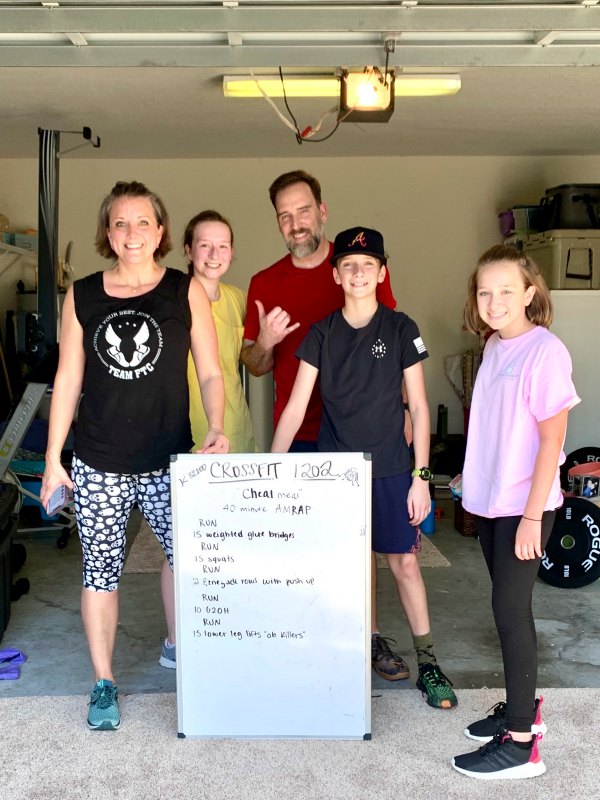 How do you exercise with kids?
Yard games (like any variety of tag, hide and seek, hopscotch, red light, green light, ball games, and anything else you remember from childhood) are a simple solution for a good ten to fifteen minutes of activity. Another word to consider is variety.
Keeping their brains and their bodies guessing is a good way to keep them engaged and avoid a rut.
If you incorporate yard games on a Monday, then Tuesday might involve bodyweight exercises, and Wednesday might be timing them to see how long it takes them to complete 50 sit-ups, pushups, and a run for a certain distance.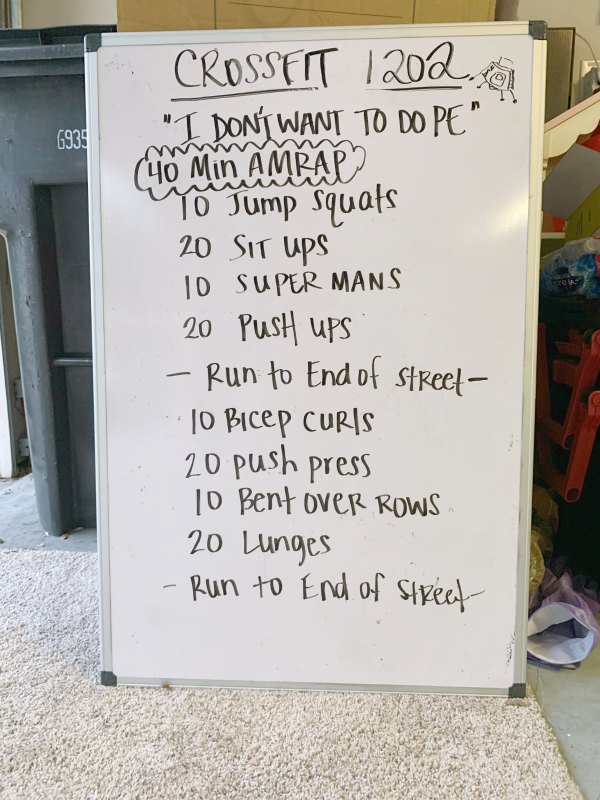 Easy ways to workout while home with kids
Many of our workouts consist of 10-20 reps of a list of four to five different exercises (like sit-ups, push ups, jumping jacks, squats, etc.) and setting the clock for 30 minutes.
Then, we all keep working our way through the list, repeating it as many times as possible during the 30 minutes.
Kids love to keep score and then you can repeat workouts to encourage them to improve their scores from the previous time.
One final word to consider is modification.
Of my four children, one has a knee issue and squats hurt his knee, one was born missing his left hand so many exercises have to be adapted, one hates to run and will do just about anything to avoid it, and the last one loves to run and would rather do that than anything else. I treat this as no big deal. When we plan a workout, each child asks for substitutions and I always say yes to whatever they suggest. Why? Because they are more likely to do it if it's their idea and I don't care what they are doing as long as they keep moving.
This is not Olympic training, this is making sure my children move enough during the day to be able to do all the other things they need to do as students and members of our family.
Tips for Staying Active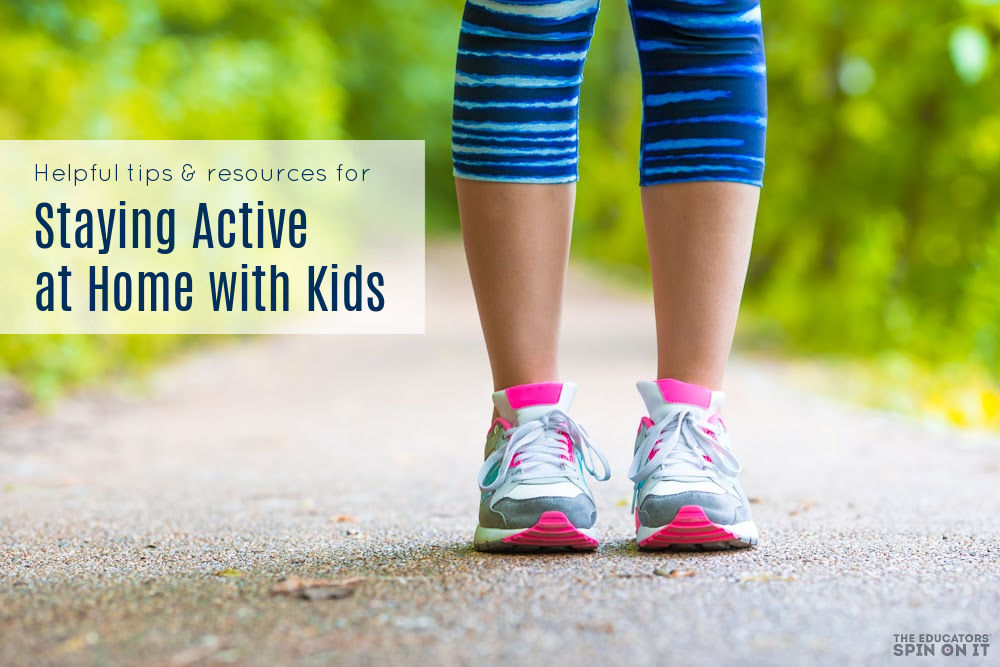 Resources for Parents Stuck at Home