How to get kids outside and screen free this spring? Here are 10 ways to tempt your kids to go outside for some fun spring outdoor activities.
Are your kids looking for some fun things to do outside? Or would they rather stay inside, glued to the TV or computer? Want to fix that and be screen free?
In this article, I'll share 10 ways to lure your kids outside for some fun spring outdoor activities and inspire them to stay and play for a while.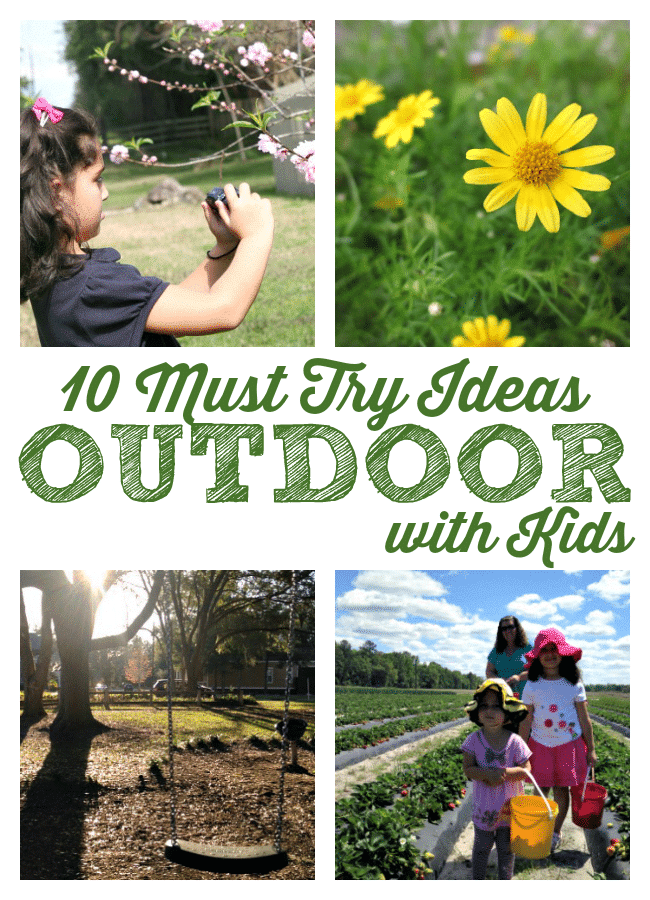 Why Outdoor Activities?
It's important for our children to be involved in outdoor activities and it's now the perfect time to find some fun things to do outside.
After staying inside out of the hot, the change in weather can bring a few challenges: How can you pull your kids away from their electronics? What will entice them to go outdoors? And will they stay there long?
Kids spend enough time inside at school as it is. So, when they have spare time and a beautiful day, it's important to have some fun outdoor activities ready to go.
Here are 10 items that can help.
Outdoor activities can help with physical fitness and appreciation of nature. There are even academic benefits to outdoor exploration. But what should they do with all of this outdoor time?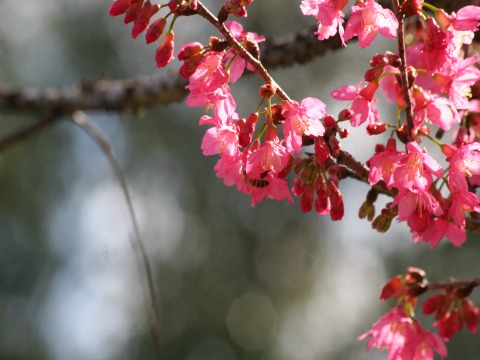 Sometimes it can be a challenge to find interesting outdoor activities. You want to find ways to keep them challenged and intrigued, and don't want them heading indoors after 15 minutes with the declaration, "I'm bored."
Spring Outdoor Activities for Kids
Here are some ways to involve play, nature and adventure so your kids want to explore outdoors this spring.
You Will Need
Balls and play equipment
Chalk
Water
Seeds, plants or both
Gardening supplies
Journal and pen
A bird feeder (pinecone, peanut butter, bird seed, string and paper plates)
Local directory
Hiking boots
Let's look at 10 items for your toolkit—things you and your kids can bring outside that will inspire fun outdoor activities.
#1: Imagination
Okay, so maybe it's not a "thing" exactly, but you and your kids should bring your imaginations outside with you wherever you go.
Creative play is a fundamental part of outdoor adventures. And it's possible your kids may be a little out of practice playing outdoors after a cold winter. So wet their appetites with some inspired activities that encourage them to explore.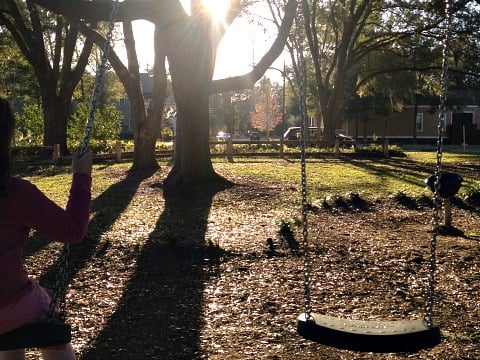 Remember during your childhood how a stick could be a million things? And a rock or a leaf could be anything? Go exploring in your backyard, a nearby playground or a natural playscape. Ask your kids to go find five unique objects in nature. They can be different-shaped rocks, sticks, a branch, anything. You can find five things too.
Note: Keep an eye on the little ones and make sure they don't wander off.
Gather the items and meet back at a central location. Now, have everyone look at the items and take turns saying what you think each item could be. For example, a funny-shaped rock could look like a mobile phone, a turtle or a shoe.
Use your imagination and your kids will too.
#2: A Ball
There are so many fun things you can do with a ball; especially sports such as basketball, football, soccer, baseball, tennis, kickball, golf or volleyball. Many of these sports require a buddy, so they are perfect activities for parent-child bonding time.
This is key: set up a fun family experience so your kids will want to continue to play outdoors.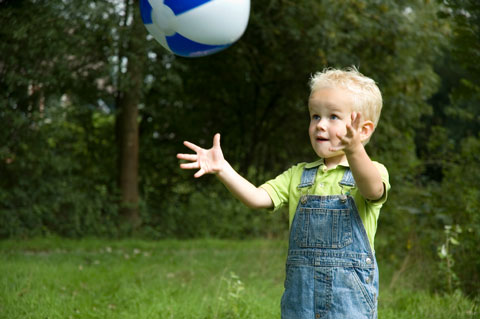 If your kids aren't into sports, then try a game of wall ball. All you need is a wall, a ball and a variety of sequences for an afternoon of fun. And it's a nice workout to boot!
#3: Flower Seeds
Spring is filled with flowers, bright colors and fun. So take advantage of the season and start a flower garden with your family. Plant simple flower seeds to kick it off.
Before you go shopping for seeds, sit down as a family and talk about the process and responsibilities of planting a garden and get everyone on board. Next, choose what you want to plant. Have everyone give their input on types of flowers and colors.
And if you need to gather around the computer to look up flowers for reference, that's okay. Just don't stay online all day. You have flowers to plant! Here's our quick list of what to plant.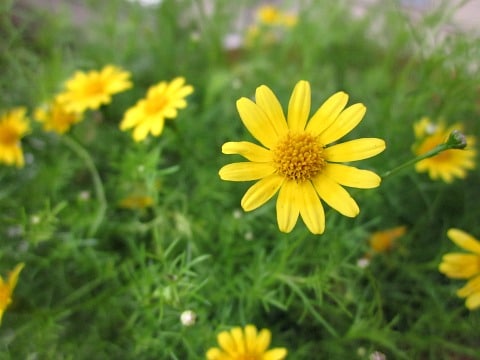 As you do your planting, think about additional ways to keep the kids involved with the flowers as they grow. Plant flowers that your kids can pick to make a beautiful bouquet. Create a photo scavenger hunt with the different blooms. Select flowers that go to seed, so you can keep replanting them every year.
A quick trip to the local nursery can be a whole new learning experience as a family. And I mentioned planting seeds, but you can get started flowers too.
And while you're at the nursery, pick up…
#4: Starter Vegetables
Plant a vegetable garden with your family and see how rewarding it can be. The rewards come in the form of family-bonding time, as well as vegetables you can eat in the months to come.
Start by planting vegetables that have high success rates, such as green beans, cucumbers, tomatoes, potatoes, peas, or zucchini. You can use a vegetable starter kit, where the vegetables have already begun to sprout, or plant from seeds.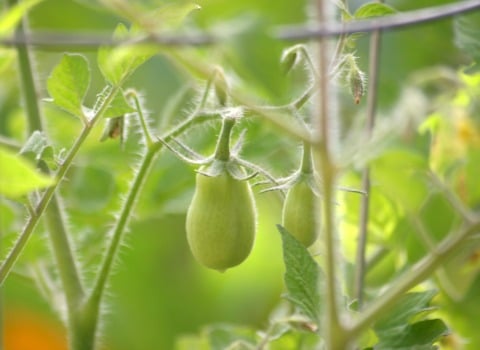 Gardening with kids can create an opportunity for learning unlike no other. Speak with people at the local nursery, so they can tell you which vegetables require sunlight and which need shade. Also ask how to feed them and how often they need water.
Bonus advantage of gardening: it brings your family outdoors together several times a week to tend to the garden.
#5: Sidewalk Chalk
Sidewalk chalk activities are fun for kids of all ages—and parents too!
Create art as a family with a progressive picture: one person draws an outline, another starts filling it in, then the third adds to it and so on. You can do this with drawings of people, landscapes or just fun designs.
There are other artistic ways you can use chalk. You can paint with chalk or add water for a whole different experience. This chalk-water article even has a recipe to make your own chalk.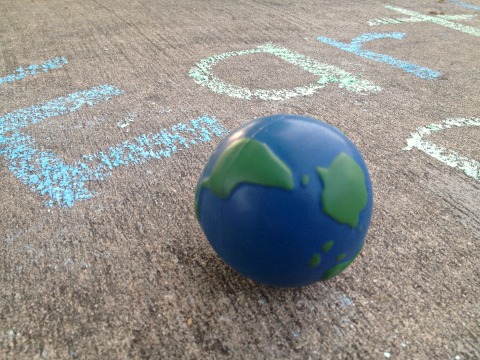 Or use your chalk to create a court for a classic outdoor game like hopscotch or foursquare (remember to grab a ball for that one).
#6: A Scavenger Hunt List
Turn spring time exploration into a scavenger hunt. Sit down with your kids and make a list of things they might see in the spring. Then take the list on all of your spring walks until every item is checked. When you finish the list, start a new one. You can keep some of the same items, but be sure to add lots of new ones.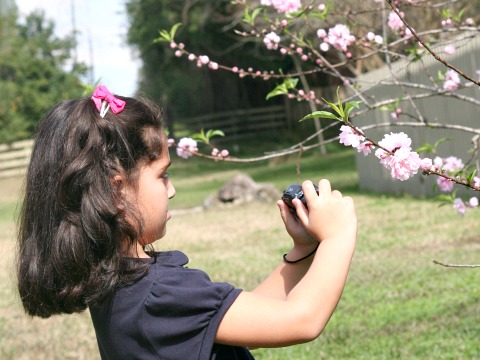 You can also do this activity in the opposite way. On your regular family walks, challenge your child to search for signs of spring. Share what you see as well, and keep a spring journal of the observations you make each day. Take note of the plants, wildlife, weather and the changes that occur throughout the season.
Did your child collect a few items on your scavenger hunt? Now they can create their own nature art.
#7: A Bird Feeder
Create an animal habitat in your backyard. Start by making a bird feeder and find the perfect spot to place it outside.
A bird feeder is an excellent intro to birdwatching as a family. But don't stop with birds. There are many other things you can make to invite wildlife into your yard, such as a butterfly garden.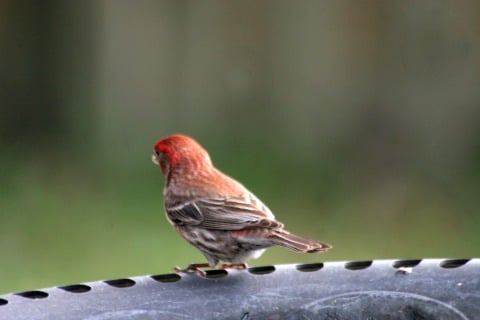 Take the time to observe and discover all of the creatures in your yard. What do you see? Ladybugs, snails, ants, bees (stay away from them), caterpillars, spiders or squirrels? All of the above, perhaps?
Remember that nature journal? You can use that too. Observe nature as a family, talk about it and write down what you see.
#8: Water
There are lots of ways to explore water as a family. Start by just observing it. Go to local bodies of water like rivers, lakes, ponds and creeks. The beach is a big hit too if you're close enough to plan a day trip there! Once you are there notice what plants grow in the water and what types of fish inhabit it. Talk about the differences among the different bodies of water, and ask if your kids know any famous ones.
Teach your kids how to fish.
After your water exploration, add your observations to your nature journal, and use the Internet to look up anything you don't recognize.
When it starts to get hot, there are even more ways to play with water as a family.
Set up a wading pool, sprinkler or slip-and-slide for hours of outdoor fun. You can enjoy a few water table activities or even turn your backyard into a water park. Be sure to grab a few pool noodles for hours of fun too (Plus a few pool noodle learning games too)
Don't just watch your children play in the water, get out there and play with them too! You'll have lots of fun memories to share when the weather starts getting cold again.
#9: A Neighborhood Directory of Outdoor Spots
At the beginning of spring, make a list of all of the parks and playgrounds you want to visit. Then pull out your local directory or look online to see if there are any you've missed.
Before you head out to a park, talk about it with your kids. What's the park's name? How did it get that name? What does it mean? What do you think it means? What do you think you will see?
Write notes about your guesses, and when you get to the park, see if you're right!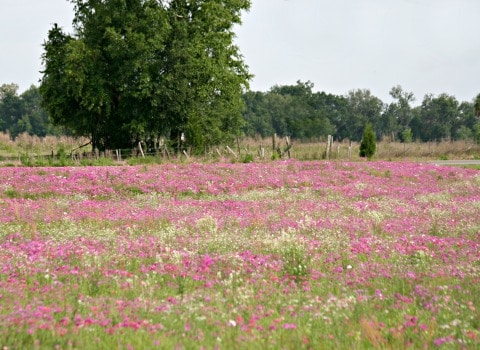 It's a lot of fun to explore a new park as a family. Once you're there, you can also have a picnic or create a scavenger hunt for your kids.
#10: Hiking Boots
This is the perfect weather to tackle those outdoor spots you've been putting off until the kids got bigger. Think about what outdoor adventures are waiting for you in your local community. Plan a hike at a local hiking trail, go strawberry- or blueberry-picking and visit other outdoor attractions.
You can also explore community gardens. Talk to your kids about what it means to share a garden space. Compare the community garden to the one you have at home. Then discuss if there's anything you see that you'd like to add to your own garden.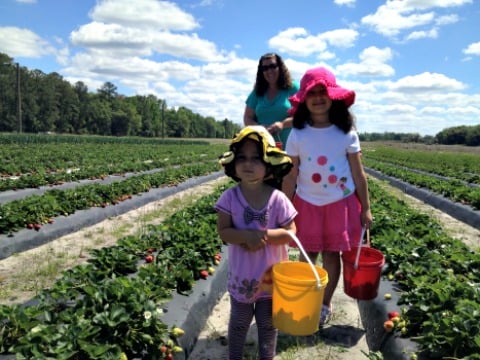 Geocaching has become quite popular with sites all around the world. Perhaps this spring is the time to find some new caches or try geocaching for the first time. You and your kids could even register and hide your own geocache and check back on it all through spring and summer to see how many people have discovered what you hid.

Some Final Thoughts…
Outdoor adventures are some of the most important experiences that we have with our children. They are fun, active and create fabulous memories!
No matter what you do, involve your kids in planning all of your spring outdoor activities. Ask them what other outdoor adventures they would like to go on and what they would like to see. Spring presents a variety of opportunities for outdoor adventures for kids.
Plus there are plenty of ways to sneak in some moments for learning during outdoor play. You can even add fun books that celebrate getting outside this these.
The important thing is to get out there and have fun! I hope these 10 ideas will help.
Looking for more spring ideas? Try these Spring Virtual Field Trips!
What do you think? What are you looking forward to the most about spring? What will be the first outdoor adventure you have? Leave a comment below and tell us how you're planning to enjoy the outdoors this spring with your family.