A quick sewing project to create an adorable owl apron for your child! Perfect for dress-up play or a Halloween costume on a budget.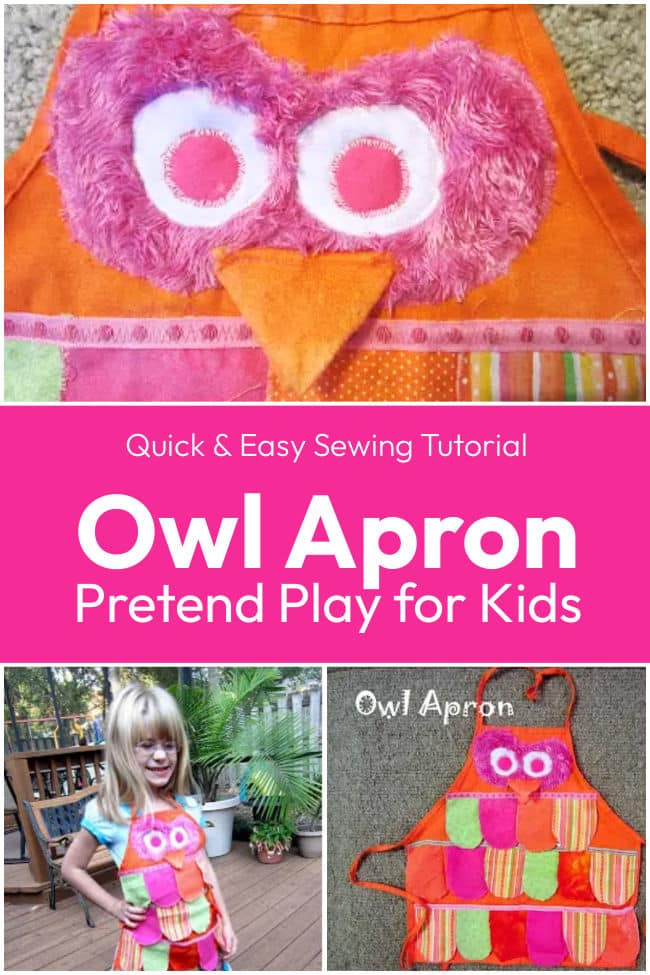 Kim's owl pizza cooking class really jump kicked our owl week! And WHOOOO can resist owls? We obviously can't! There are so many cute owl puppets, costumes, and activities out there you could almost do a whole month with an owl theme!
This "How To" came about when I saw this owl costume (love the simplicity and the feathers) and this owl apron (Love the colors) and when Kim called and reminded us to bring our aprons for cooking class, I knew exactly what to do!!!! (well, I kind of winged it!)
I merged some of the ideas with the supplies I had on hand and the time available to create my owl apron.
Total cost = Free!
Time = 30 minutes.
An Eco Friendly Sewing Craft Activity for Parent whoooooo Love OWLS!
Since I LOVE re-using and re-purposing things, I used a pre-made apron that we got from Home Depot's kid clinics on Saturday morning.
(You could make your own apron too but that would add time and cost to the project)
What to do:
1. Choose matching scraps from leftover materials
2. Cut 16 ovalish shapes (or more depending on the size of your feathers and apron) for the feathers and cut the pieces for an owl face.
3. Zig Zag stitch around the curved edges of the feathers, this is the fastest way I could think of to prevent the fraying because I will be washing it and didn't want raw edges.
4. Sew a row of feathers on at a time, tuck the raw edge under the ribbon. I used a zig-zag, then went over it again with a straight stitch because I had missed a couple feathers in my speed sewing and wanted to make sure they wouldn't fall off.
5. Embroider the face on with a zig-zag stitch close together.
6. Add a beak (Ours was made of felt and was a diamond folded in half to be 3D)
6. Let your little one try it out!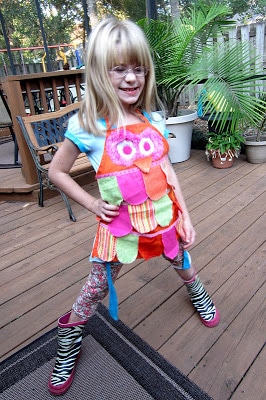 Other Owl Projects we've made…
You may enjoy these dress up activities…