This is a post for all you parents and teachers sitting on the fence about whether or not you should try a garden this year (or make your current one bigger). It is time that you removed yourself from that very uncomfortable perch on that fence and come down to dig your fingers into the wonderful earth with the best of us crazy gardeners.
It is time to plug in to nature and spend time exploring and learning in the natural environment If not for our own health and sanity, for our kids.
Our kids NEED us to garden!
Now is the Time to Garden With Your Kids
Today, I walked my oldest daughter to school and came home to this; gardens full of leaves and blossoms , new fruits and vegetables, dirt piles to dig in, and sunshine warming my shoulders. My 3 year old sang good morning to the birds and the sun and the bugs and then began to harvest vegetables and dig in the dirt. Our baby, snuggled in his carrier and helped me to water the plants. I was filled with such peace, beauty, and love that I wanted to share with you the possibility of a garden.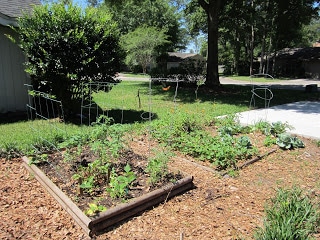 We don't have much, but we have enough.
Enough to learn about the cycles of life.
Enough to understand growth and loss.
Enough to harvest a small handful of something every day.
Enough to know that farming takes work.
Enough to teach the value of hard work.
Enough to understand the power of a tiny seed.
Enough to learn that we have lots more to learn.
Enough to grasp the concept of how food grows.
Enough to develop the love for healthy fruits and vegetables.
Enough
I apologize in advance for a picture heavy post. I just grabbed my basic, point-and-shoot camera and snapped photos along the way. No editing. No cropping. No color enhancing. Just our garden. Right now, in the raw.
I do hope that it is not just me who looks at these pictures and can feel the awesomeness of garden veggies (I may be biased towards these as they were grown with love, and our mine, kinda like we all think our kids are amazingly cute – well, apply that same concept to gardens!). We started with a small garden several years ago and I recommend that you do too and work your way up to a manageable garden – one that can be easily maintained within your daily life.
Think – simplicity. It is easy to overplant and get overwhelmed.
Although I would like to grow tomatoes for canning- I am an epic failure when it comes to big tomatoes and so, I just plant cherries and grapes (tomatoes that is). Then, I go to the local farmers market and buy what I want from someone who is way more successful than I am.
Are you inspired? Will you garden this year? What will you plant?
Please feel free to stop by and ask any questions you may have about gardening with your kids or even share what has worked for you. I am an experienced parent and educator, and an O.K. gardener (definitely not a master!)
Like many others, I have learned from asking questions and talking with other like-minded parents and teachers.
You may also enjoy these gardening with kids ideas…