You'll find it's easy to learn manners with Mike the Knight! These Mike the Knight activities will encourage your child to learn to read and all about manners with this beloved Knight and his friends.
This post is sponsored by Mike the Knight!  This post contains affiliate links to Amazon.
Do you have a special character that you use to encourage reading! 
This is a great tip for beginning readers and even reluctant readers. Find a topic or character they are interested in and explore that concept in books with them. This summer with Mike the Knight as a sponsor for the Virtual Book Club for Kids Summer Camp we have enjoyed watching the video and discovering the series. It's fun to see my two girls wanting to "Be a Knight, Do It Right" instead of stuck as princesses all the time in their playtime.  
My littlest one was so surprised to find books about him at the store when we were looking for a birthday gift for big sister! She immediately sat down and lined them all up and insisted I read them with her. I LOVE how a character can inspire our children to READ! 
The bonus is when you can find a character that inspired your child to do better!  What I admire about this series is now it addresses chivalry and a proper code of conduct at an early age. 

Can Mike the Knight Encourage Good Behavior at your house or classroom?
Ask yourself what is your code of conduct in your house or class? Could your child verbalize your expectations? After watching a few of the Mike the Knight Movies I thought to myself what interactions do I encourage that are noble, respectful honorable? If you're like me we are always working on Manners at our house! Especially during the summer when everyone is home for longer periods of time.
After we feel in love with Mike the Knight we even wrote out our own Code of Conduct at our house. It's really helped with goals and expectations with my almost 7 and 2 year old girls. What would you add you your list?
Toddler Approved and Rainy Day Mum were also inspired by Mike the Knight. Go check out their posts for more ideas!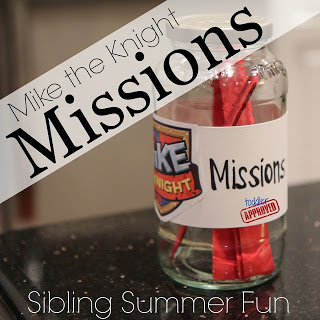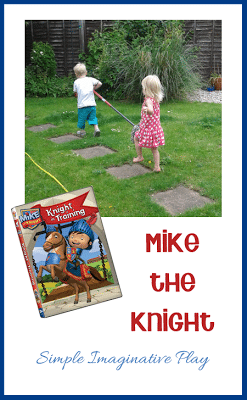 Mike the Knight Missions by Toddler Approved
Imaginary Play Ideas with Mike the Knight by Rainy Day Mum
Just in case you might need more tips for working with your child. This post have 8 simple steps for getting behaviors back on track with any child, especially finding the positives with your strong willed child.
Join Mike the Knight: Knight in Training on his adventures to serve and protect the Kingdom of Glendragon! Mike is a knight-in-training who has some very knightly missions to complete. He not only goes on adventures, but he also teaches kids some good life lessons.
You can purchase the DVD here and find some Mike the Knight printables and activities at HIT Entertainment. Mike even has a pinterest board!

You can even find a Mike the Knight Channel on YouTube
Your child may also enjoy these activities…
Thank you to Mike the Knight and NCircle Entertainment for sponsoring this post. The opinions on here are 100% my own.