Host a Ladybug Theme Playdate for your preschooler and their friends. Select a ladybug craft, learning activity, and book. Prepare your stations and have fun!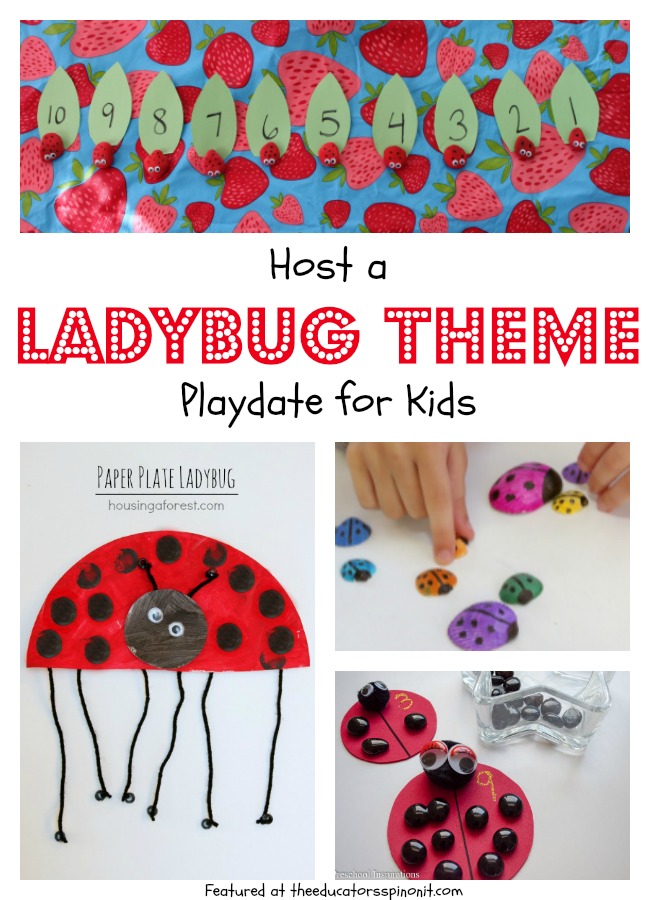 Great for ages 3-7.
Note: The links to blog articles pictured from our blogging friends have an * Affiliate links to products are also included in this post.
Lady Bug Theme Playdate Craft
Make a super cute paper plate ladybug craft *.
Housing a Forest has her kids paint the paper plates first, but we've found that using a red plate speeds up the drying time. Parents can take their kids craft home with them at the end of the Ladybug Themed Playdate
Set out
Red Paper Plates
Small red circle for the ladybug face
Black paint and paintbrush
Black yarn
Scissors
Black pony beads ~ This is a great addition for older children to work on fine motor. Skip this step for 2 and 3 year olds.
Glue and tape
Regular paint brush and a circle sponge brush
Ladybug Theme Playdate Learning Activities
Ladybug Shells Hide- N-Count
Set Out
Ladybug Shells
Number Leafs
Dye a set of shells the week before your playdate to give the shells time to dry. You "could" do this during your playdate as a craft, but it is messy! Then add in the head and spots to make your ladybug sea shells*.
During your playdate, let the children hide the ladybugs and take turns finding them in your backyard.
Ladybug Number Match with Leaves
If you want to tie in math, hide a specific number, such as 12 ladybugs. Then have the children search until they have found all 12. You can make a set of numbered leaves * and set your ladybugs on them as they are found. Call out the numbers as the insect is set down. Count them all and hide again!
Ladybug Count-a-Dot
Set Out
In this ladybug counting activity*, children select a numbered ladybug and place the specific number of black gem spots on the ladybugs.
You could make multiple sets of ladybugs and let each family take a bag home to continue learning and counting throughout the week.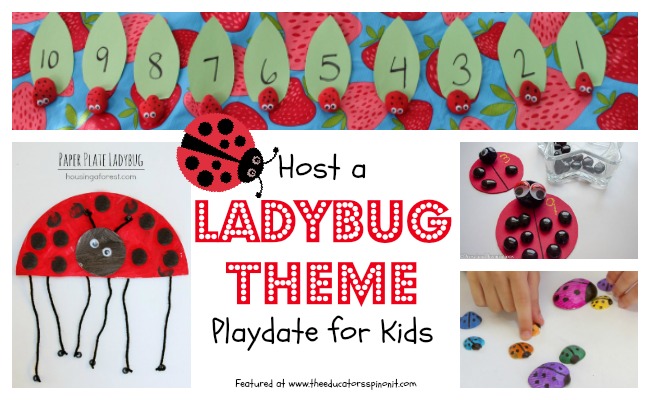 Magnetic Glass Ladybug Counters
This magnetic ladybug craft is perfect to add to your themed activities. You can do a color sorting activity or patterning too since there are various colors. Here's how to make!
Ladybug Theme Books
Are You a Ladybug? This delightful tale describes what a day would be like if you were a ladybug.
Ladybugs This book is also a non-fiction reader for kids all about ladybugs. From facts about their characteristics to the role they play in our environment, children will be sure to learn something new about this bug!
Ladybug This short, non fiction reader, provides children with basic facts about a ladybug's life cycle. 16 pages.
You may also enjoy these ladybug activities here at The Educator's Spin On It