Read Your World with over 150 book reviews and activities this Multicultural Children's Book Day 2016. We would love to have you join in Multicultural Children's Book Day 2016!
Our mission is to not only raise awareness for the kid's books that celebrate diversity but to get more of these books into classrooms and libraries.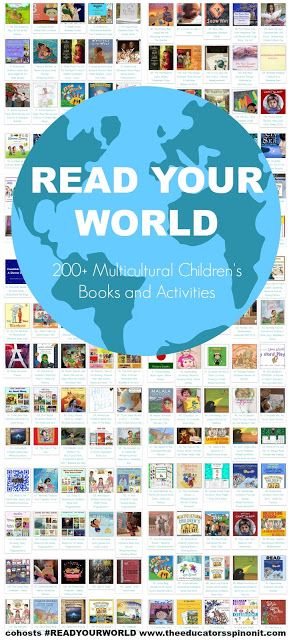 Our young readers need to see themselves within the pages of a book and experience other cultures, languages, traditions, and religions within the pages of a book. We encourage readers, parents, teachers, caregivers, and librarians to follow along with the fun book reviews, author visits, event details, a multicultural children's book linky, and via our hashtag (#ReadYourWorld) on Twitter and other social media.
Here are just a few things you can do to support Multicultural Children's Book Day 2016.
1. Select a multicultural book and read it with your child.
2. Purchase a book with a diverse main character. Here is an extensive list of diversity books and extension activities for kids sorted by country, holiday, ethnicity, genre, and age group.
3. Schedule a time to read a diverse book with a group of children at a school, library, or daycare.
4. Leave a positive message on a diverse book's author page <hint, click here for some fabulous authors to start with.
5. Donate a diverse book to your doctor's office, school library, or daycare center. Help spread the word about this year's Classroom Reading Challenge too. This very special offering from MCCBD offers teachers and classrooms the chance to (very easily) earn a free hardcover multicultural children's book for their classroom library. These books are not only donated by the Junior Library Guild, but they are pre-screened and approved by them as well.
6. Request a diverse book from your local library. If they do not have it, place a purchasing request.
7. Write and submit your own story with a diverse character or setting. We may be sharing your book next year!
8. Be a positive voice online for more diverse books for kids. Leave book reviews. Tweet your favorite diverse books.
***A Huge Diversity Book Giveaway planned during #ReadYourWorld Twitter Party from 9-10pm EST (on the 27th). The discussion will be centered around the state of diversity books for kids and what's needed from parents' perspective. Packages of diversity books for kids will be given out every 5 minutes during our Twitter Party. JOIN IN to the discussion by searching for and using the hashtag #ReadYourWorld
A special thanks to the Multicultural Children's Book Day 2016 Sponsors! + over 80 Author Sponsors
Co-Hosts: All Done Monkey, Crafty Moms Share, The Educators Spin On It, Growing Book by Book, Imagination Soup, I'm Not the Nanny, InCultural Parent, Kid World Citizen, Mama Smiles, Multicultural Kid Blogs, Spanish Playground
Find and Read a Multicultural Children's Book Today
At
Your local library
The book store
Amazon Prime
Here are a few book ideas to get you started. Click the picture or the title to take you to the full book description and reviews.
Amazon Affiliate Links are included in this post.
Multicultural Books for Kids
Grandfather Counts (Reading Rainbow Books)

The Name Jar

My Name Is Yoon

You Were the First

Sam and the Lucky Money

Jalapeno Bagels

What Can You Do with a Paleta / ¿Qué Puedes Hacer con una Paleta?

Abuela (English Edition with Spanish Phrases) (Picture Puffins)

"More More More," Said the Baby Board Book (Caldecott Collection)

Round is a Mooncake: A Book of Shapes

Red Is a Dragon: A Book of Colors

Marisol McDonald Doesn't Match / Marisol McDonald no combina

The Princess and the Pea
Lola Reads to Leo

Lola Loves Stories

Lola at the Library

Max and the Tag-Along Moon

When I Am Old With You (Orchard Paperbacks)

The Chicken-Chasing Queen of Lamar County

He's Got the Whole World in His Hands

Peekaboo Morning

Violet's Music
My Colors, My World/Mis Colores, Mi Mundo

I Know the River Loves Me / Yo se que el rio me ama

Call Me Tree / Llamame arbol

My Diary from Here to There: Mi diario de aqui hasta alla (English and Spanish Edition)

Green Is a Chile Pepper: A Book of Colors
Book Fiesta!: Celebrate Children's Day/Book Day; Celebremos El dia de los ninos/El dia de los libros
Last year, we had 26 million social shares during the week of Multicultural Children's Book Day.
We will be giving away more than 600 diversity books for Multicultural Children's Book Day.
More than 4300 parents and teachers have utilized our resource list of diversity books and extension activities.
Multicultural Children's Book Reviews and Activities
An InLinkz Link-up
Save