Need an open ended, multi age activity for afterschool? Now is the time for a Teddy Bear Chalk Challenge
I don't know about your kids – but mine comes home from school tired of sitting in a desk and following specific directions. 
Don't let the open ended playtime of summer end – continue the fun after school with "chalk challenges."
It seems like I am forever trying to think of fun ways to provide them with open ended activities that encourage them to use their creativity, be outside, and really – just be kids. I think we have hit upon a real winner.  
This project is open-ended, can be connected to any story, and allows for all ages to have fun while participating (the teddy bears in the top picture were drawn by a 3 year old, two 6 year olds, a 7 year old, and a 9 year old.)
All you need is some space on a driveway or sidewalk and some chalk.
The challenge works like this…
1. You call a theme
like Teddy Bears
or sea life, or jungle, or things in a restaurant, or food… you get the idea.
THEN
2. Everyone draws a picture relating to that theme.
Yes, that is it. Pure genius! The kids worked for a good while, admire each other's work, took some ideas, and expanded their own drawing. Lucky for my neighbors – the rain washes it away and we can make them some new "art" to look at another day!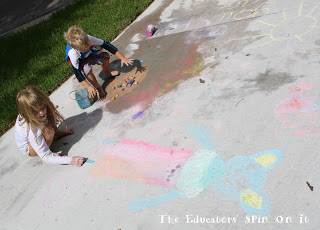 If you have tried this once – expand on the idea with next week's challenge…
Encourage the kids to write a saying for their illustration
See if they can draw a real-life and/ or pretend animal
Add a bucket of water and let them dip the chalk in first. This will make the chalk brighter, but will also use the chalk up faster.
Let them decide on the theme
Have them work in pairs to create one picture
You may also enjoy these afterschool activities for kids…
Save