A Teddy Bear is a classic symbol of childhood. Discover activities, recipes and books to celebrate our special cuddly friends with your child in honor of National Teddy Bear Day!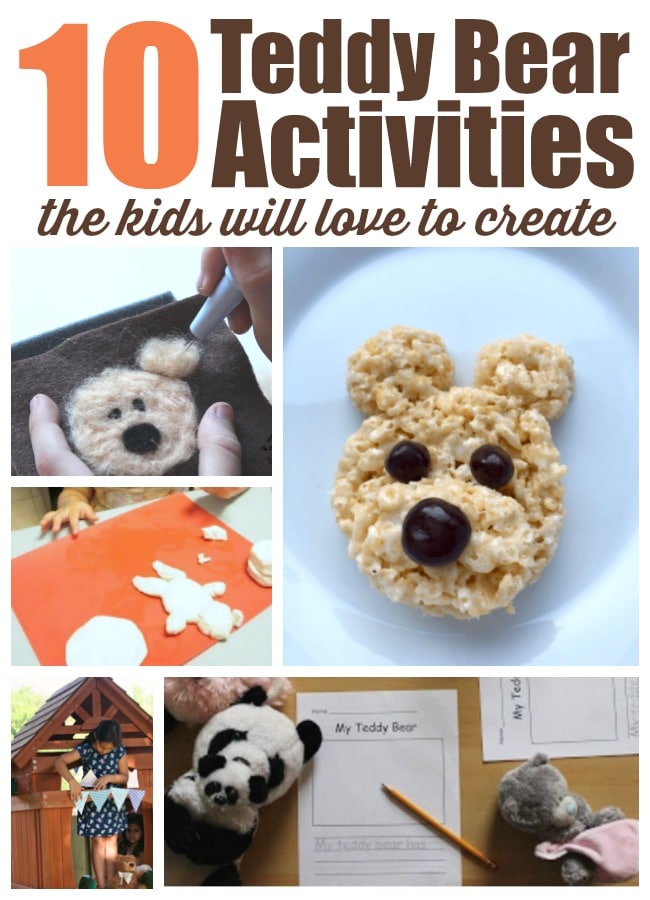 Start of your fun with Bear Songs
If you're like me you have have forgotten how a few of them go so I included a few videos to watch with your child that are mom approved.
Here's a few Kid Friendly Teddy Bear Songs to Watch on Youtube
Celebrating bears can be such fun with a fun simple activities using items from around your home. Here are a few activities and crafts for the kids.
Teddy Bear Themed Activities for Kids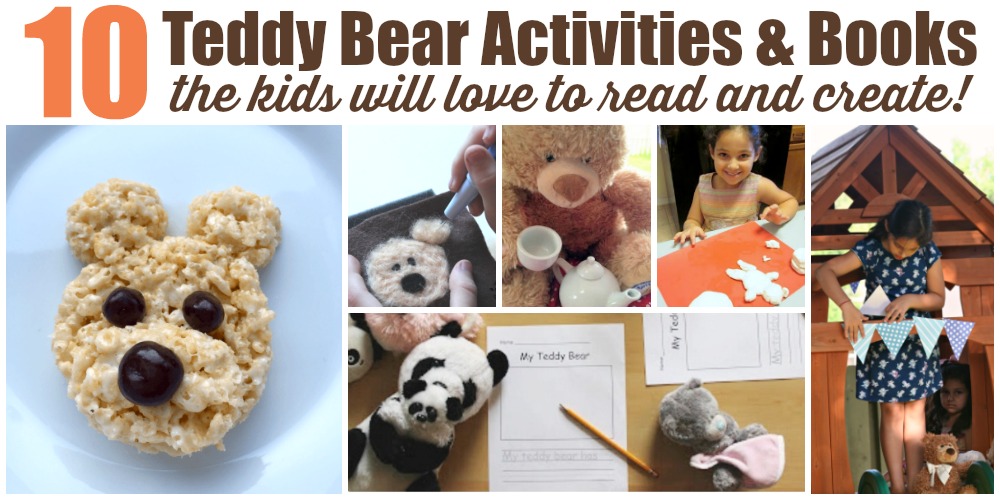 Teddy Bear Themed Recipes
Grab a few simple ingredients and have your little one make a teddy bear themed treat for your bear themed fun.

Teddy Bear Themed Books for Kids
Looking at our children's picture book collection I realized that I might have a slight interest in bears. Here are some of my favorites from over the years of teaching in Kindergarten and with my own children.
Do you have a favorite bear book?
Start off with ANY book from the Berenstain Bears Series Written by Stan & Jan Berenstain
The Berenstain Bears Storybook Treasury
And then no celebration would be complete with out a few classic bear books!
We're Going on a Bear Hunt (Classic Board Books)
The Teddy Bears' Picnic (Classic Board Books)

Here are a few Bear books that are just FUN to read with the kids
Where's My Teddy?

The Little Mouse, The Red Ripe Strawberry, and The Big Hungry Bear

There are a few new bear books that our hearts have fallen in love with…
The Bear Ate Your Sandwich

Finding Winnie: The True Story of the World's Most Famous Bear

One Ted Falls Out of Bed: A Counting Story
Bear Books that kids will enjoy listening to and any time of the year!
Brown Bear, Brown Bear, What Do You See?

Bear Says Thanks (The Bear Books) Karma Wilson's whole series of bear books are such a sweet treasury with bear and his friends as you learn life lessons.
The Paddington Treasury: Six Classic Bedtime Stories

Little Bear (An I Can Read Book)
Little Polar Bear Finds a Friend

Orange Pear Apple Bear (Classic Board Books)

Bear On a Bike actually the whole series is cute!

PLUS a few more suggestions from our Virtual Book Club for Kids Facebook Group Have you JOINED?
Jamberry
Karma Wilson's Bear Books were all mentioned quite a bit too!
What Bear Book is Your Favorite? SHARE?
Hope you have a very special time celebrating with your child. We'd love to see a picture of your teddy bear party you can share on social media with #EDUSPIN or share on our Facebook Page!