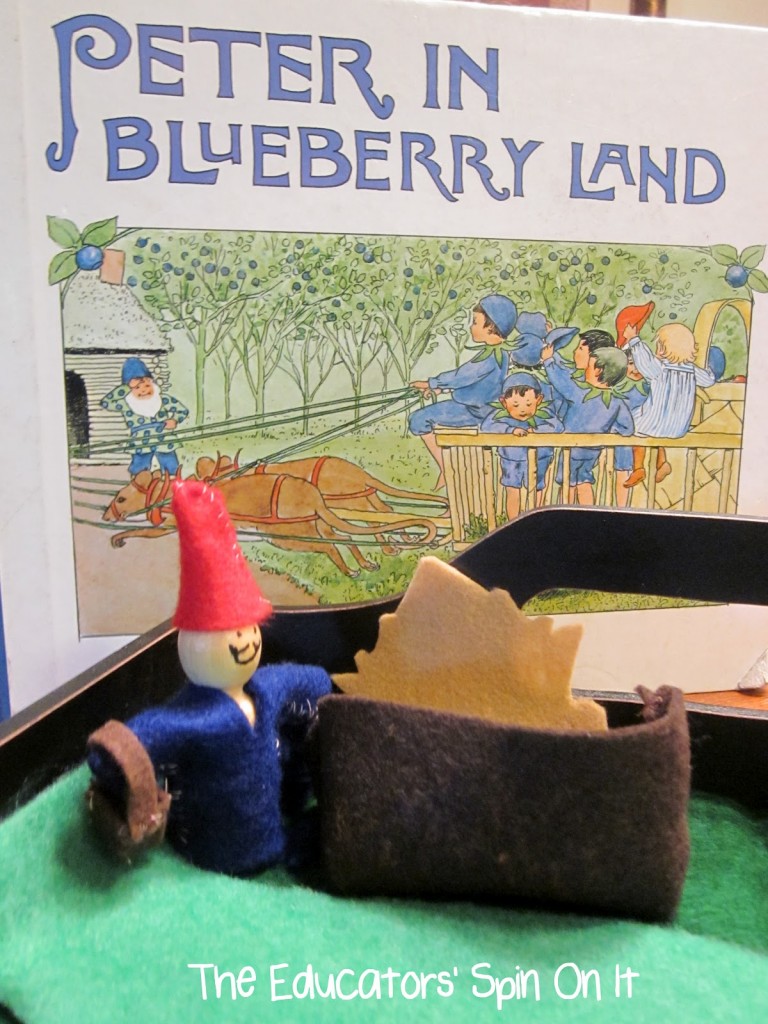 This post contains affiliate links to amazon.
Visit Sweden
We're learning about Sweden this month as we travel Around the World in 12 Dishes.  At the library my daughter and I discovered a very famous Swedish Author that we couldn't wait to spend some time reading her books and creating a very special craft inspired by her illustrations.  Just wait until you experience the collection of books written and illustrated by Elsa Beskow and how she will inspire you!
Click here for more Books by Elsa Beskow
Elsa Beskow was a Swedish children's book author and illustrator. She is often called the 'Beatrix Potter' of Scandinavia. Elsa Beskow's popular Swedish children's books include Peter in Blueberry Land, Children of the Forest and Pelle's New Suit. Swedish children have grown up with Elsa Beskow's books for over 100 years. (Source: Saffron Tree) For background about this author we found Florisbooks and Wikipedia to be helpful. 
Here's our background information we learned about Sweden too!
Peter in Blueberry Land (Puttes Äventyr i blåbärsskogen) (1901)
The story we found ourselves inspired by was Peter in Blueberry Land by Elsa Beskow. My daughter and her friends have a love affair with picking blueberries so they easily could identify with the main character.  
In the story, Peter is looking for blueberries for his mother's birthday but he can't find a single one. Suddenly he feels a light tap on his shoe, and a strange and magical adventure begins.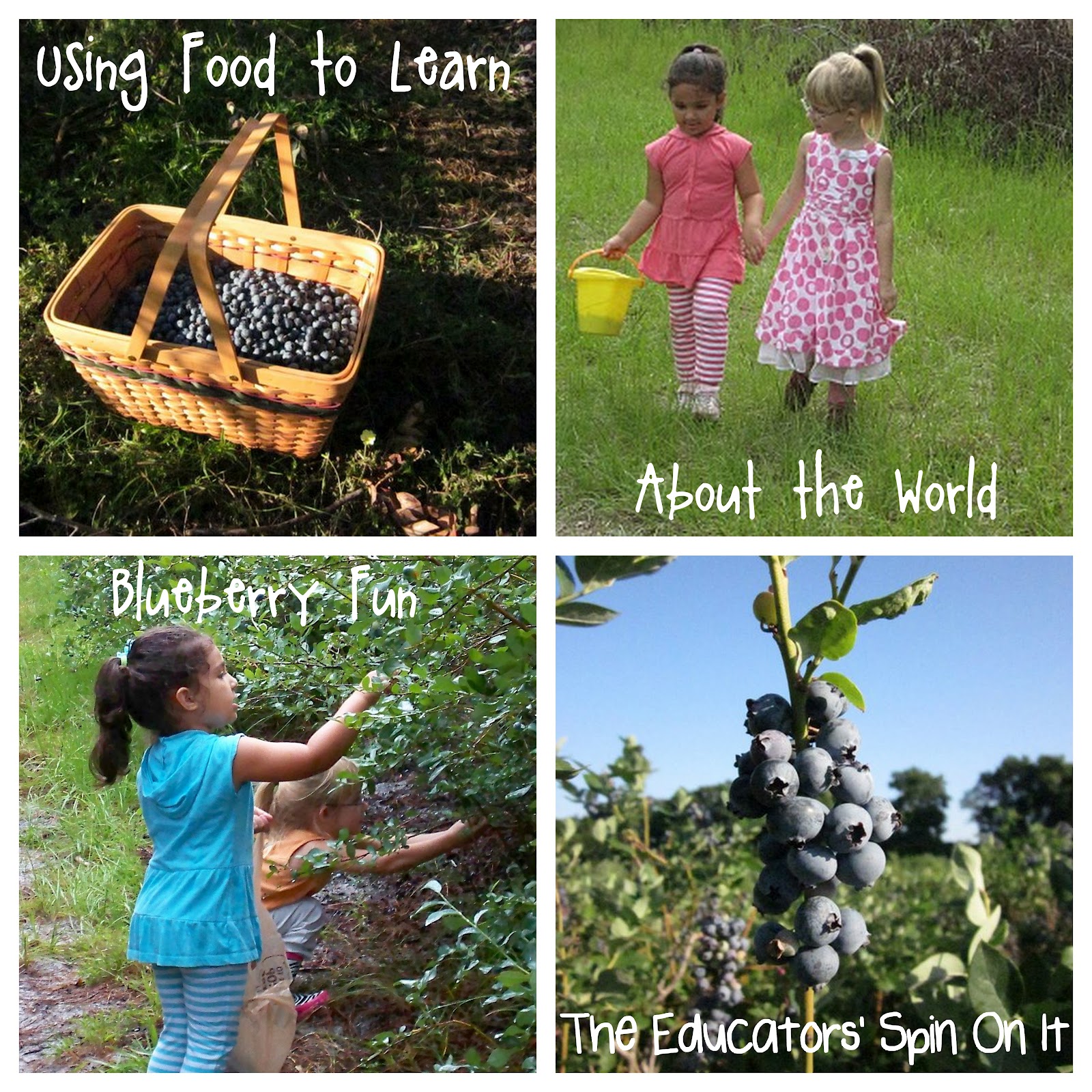 Wooden Peg People for Creative Play
After we read the story my daughter was inspired to make her own little wooden peg people to recreate the story and create new stories about the characters Elsa has created for her readers. 
This inspiration led to our very first lesson on learning how to sew.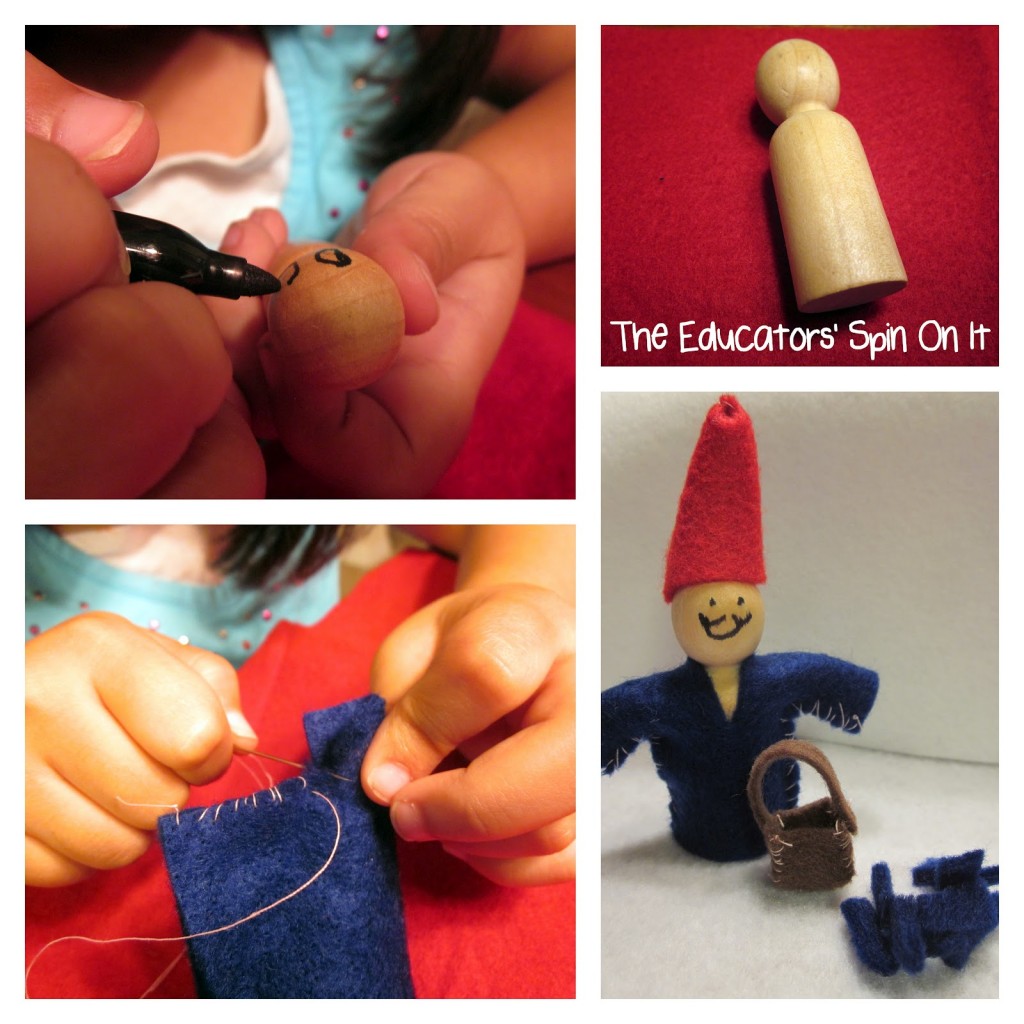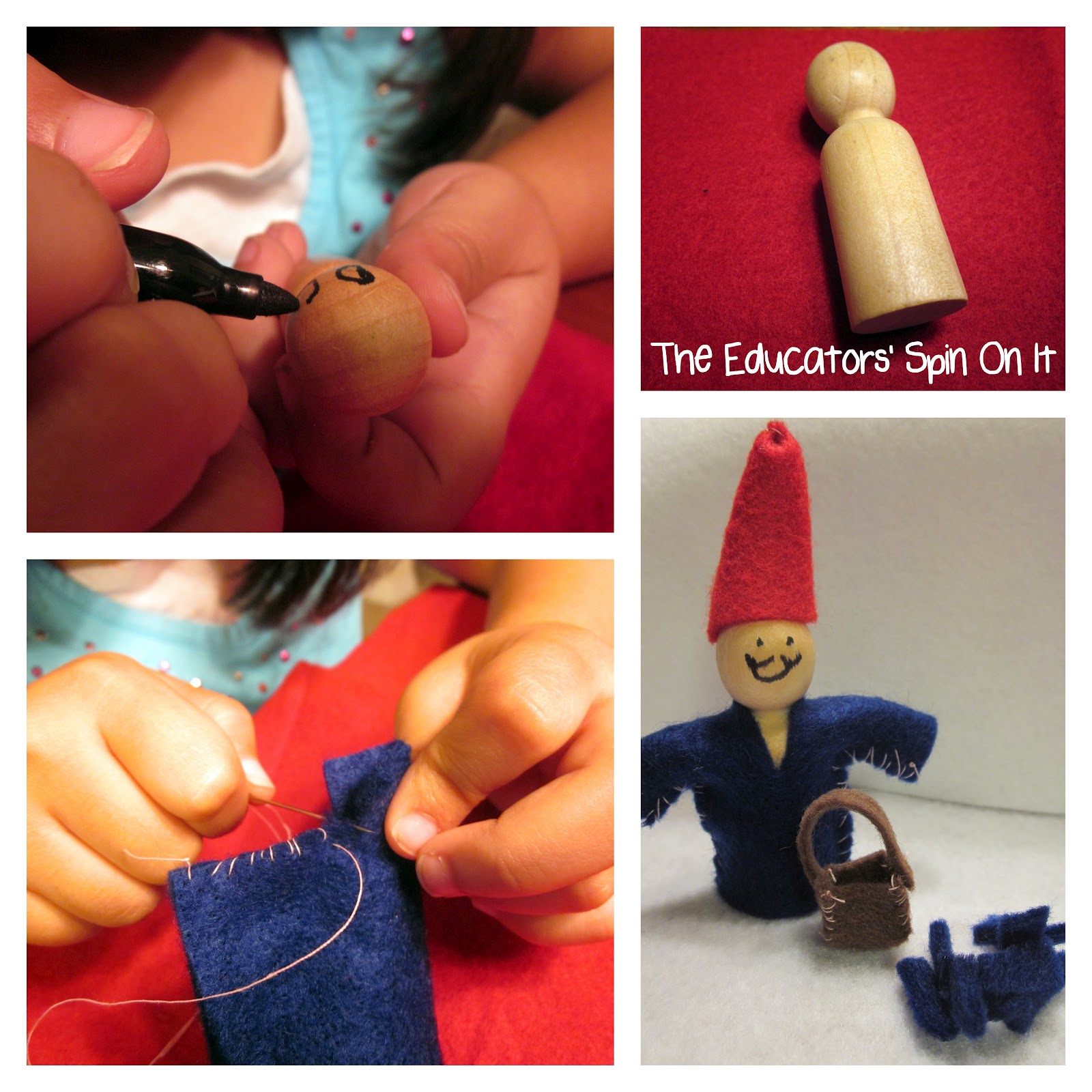 I gave my daughter the wooden peg and told her to trace it onto a piece of paper and then to draw an outline of a shirt that would fit the doll. We then cut out the paper and held it against the doll to see if it would look right. Once we had the right size we cut out the fabric to match our pattern we created. We left the fold at the top of the fabric for the head and then cut a slit in the fabric for the neck. It made it really easy for her to just sew up the sides.
For her very first time I was really surprised how she was able to figure it out so quickly for age 5.  While she was sewing I even made a little blueberry basket for her dolls. 
At the end she used some leftover material to make blueberries and strawberries and we made a boat from the story together.  We put all of the pieces onto a story tray for her to play with.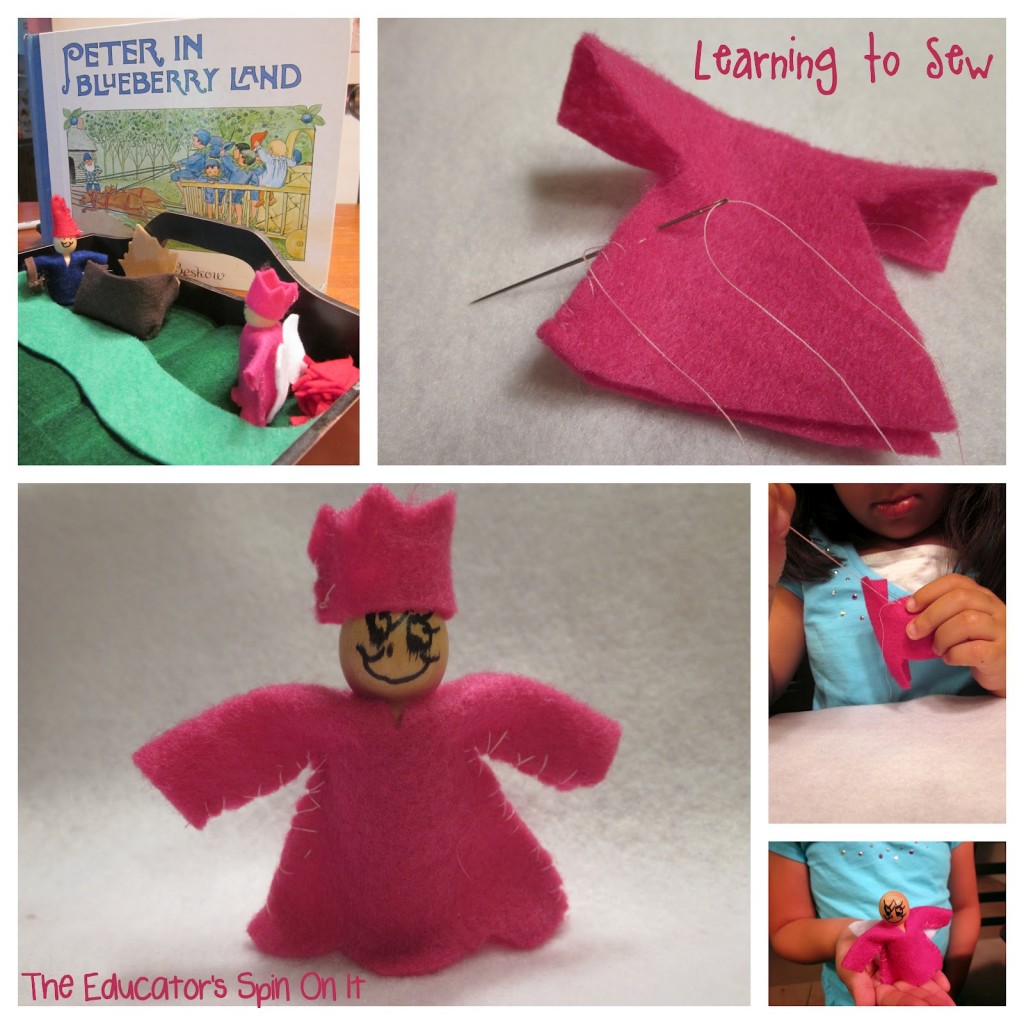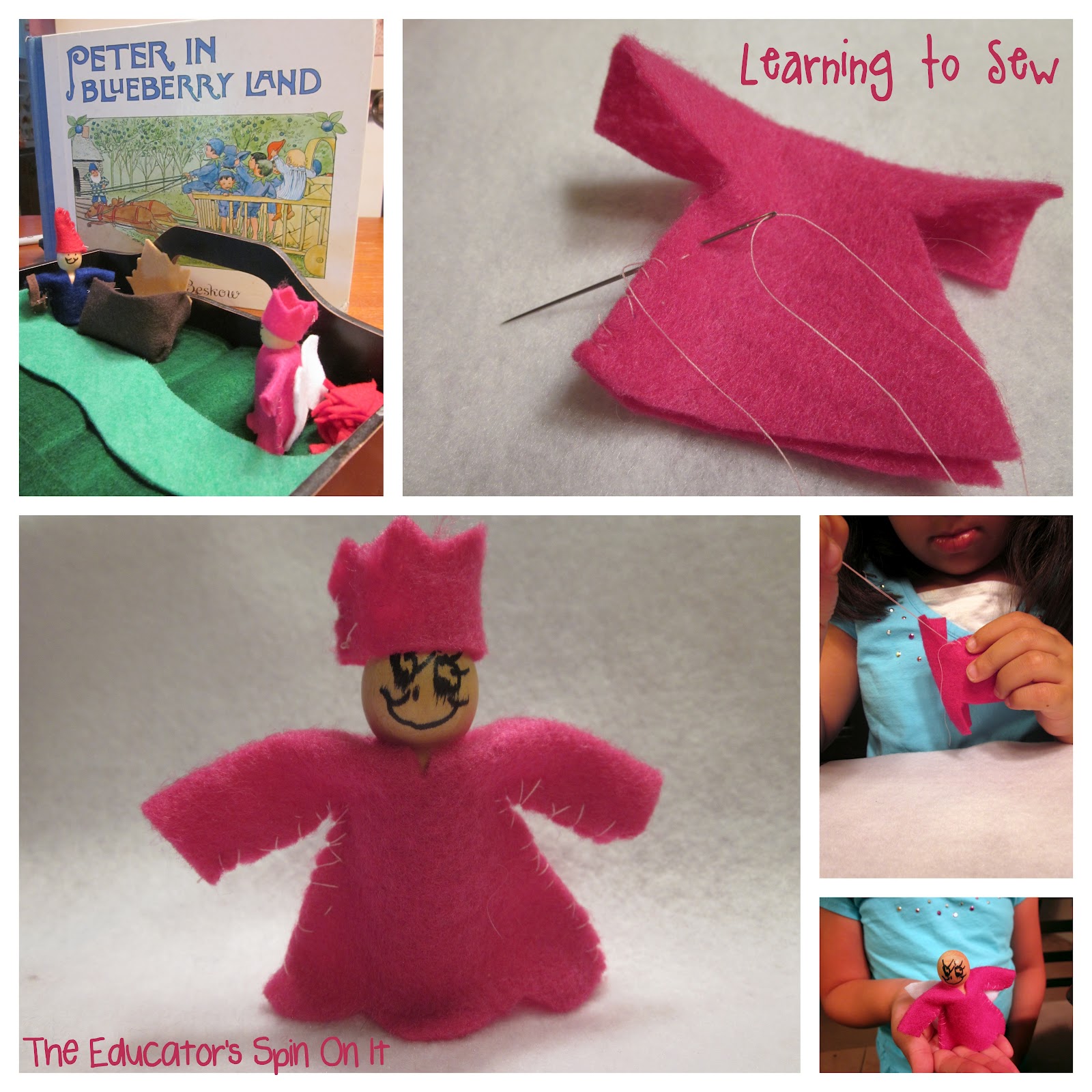 Wooden Peg Doll Inspirations we found a few for you!
Forest People from Kitchen Counter Chronicles inspired by Elsa Belbow too!
Wooden Peg People Tutorial from We Bloom Here
Wee Peg Doll with Carrying Pouch from Rustic Remnants
Here's a little peek into the world and imagination of Elsa Beskow
Beskow became one of the most well known of all Swedish children's book artist.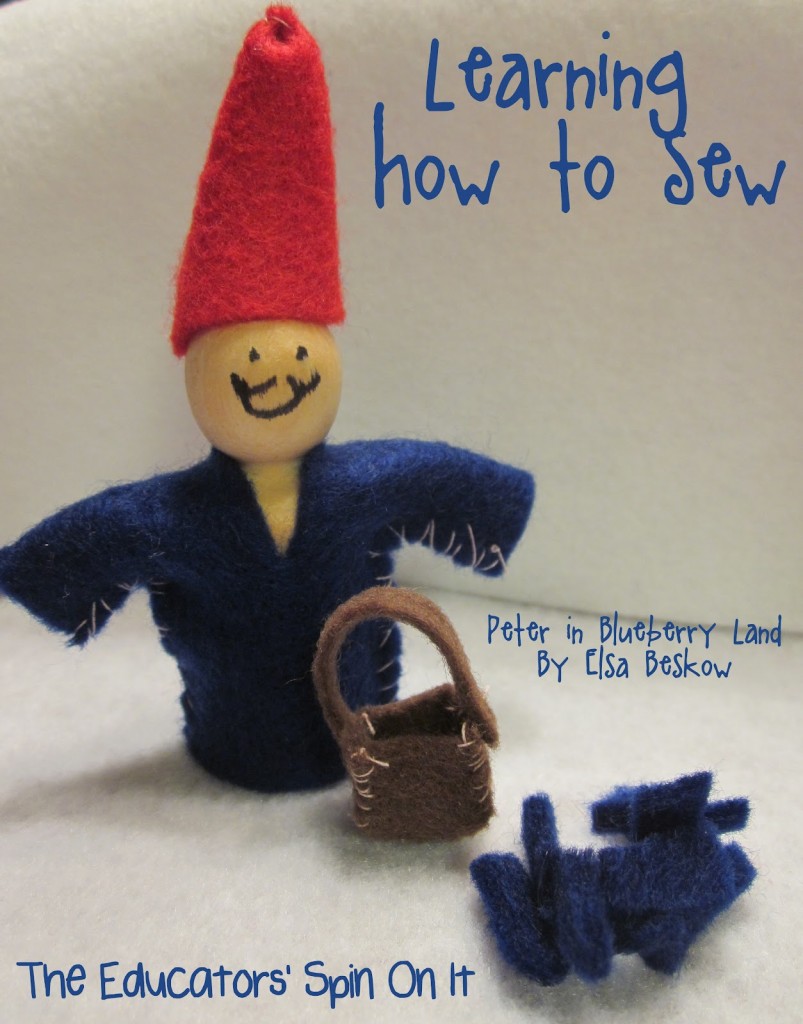 I think we might adventure into a real sewing project together next, how cute is this Berry Picking Apron from Soule Mama inspired by Peter In Blueberry Land too!
Here's how Amanda does Sewing with Kids. Trust me she's much better at sewing that I ever will be!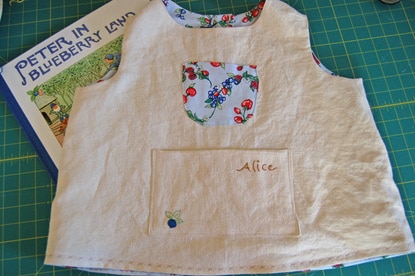 Do you need some ideas for what to do with Blueberries?  Here are some Swedish Thumbprint Cookies and many more recipes  from Sweden in our Around the World in 12 Dishes. 
Here's a quick science & art lesson about the Northern Lights in Sweden too!  We are having so much fun learning about the World through cooking with our kids and learning about foods from various countries.  Come join the fun!
Check out the Swedish Recipes and Crafts here:
If you do this, we'd LOVE to see a photo of it. Email it to us or post it on our Facebook page