I love to sew!  Forget Naptime crafts…sewing, baking, and gardening are all a close tie for my all time favorite activities to do with kids.  They learn SO much by measuring, pinning, and choosing fabrics with me.  We have LOTS of friends having babies this and next month, so we are busy making gifties like these! I like to combine some home-made with some store-bought to round out our gifts!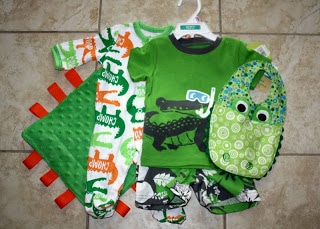 My projects may not be the cutest or the most perfect, but they are definitely made with love!  My 5 year old is now sewing her own creations and only needs me to help thread and tie her needle and thread.  She will not only help me, but is at the stage to work alongside me on her own projects.  My one year old on the other hand, has just started to "help."  Here are some things that the kids can do.
Sewing with young kids:  a 1 year old
Help to choose the fabrics and lay them flat before cutting.
Help pin the pieces together.  Most often they end up perpendicular, but will get better with practice
Sit on my lap and help me guide the fabric as I sew.
Take the pins out after I am done sewing
Fluff, stuff, or shake depending on the project.
Sewing with young kids: For a 5 year old
All of the above and…
Select their own projects to make
Assist in reading the directions prior to beginning
Cut out the pattern (this paper is tough, but if you go slow it is not too hard)
Cut the fabric after the pattern has been pinned on.
Cut ribbon to a specific length.
Place embellishments on in the correct place
Turn projects inside-out if needed
Sew on buttons
I have figured out that sewing with kids takes an extra amount of time and patience, so I try to limit myself to cute, fun, and simple projects.  The 10 " taggie is a favorite of mine to make and my 5 year old can do over 75% of the tasks needed to make it.  I usually choose a cotton for one side and a texture fabric for the other.  All my ribbon taggies have been stitched over a minimum of 3 times.  We have also adapted the new Simplicity Gator Bib pattern to be more baby friendly (who designs bibs for babies with buttons???) and think they are a great addition!
Sewing with young kids – Make an Alligator Purse