Learn about Sweden with Kids. Making Rosenmunnar (Swedish Thumbprint Cookies) and Braided Swedish Coffee Bread as you explore the world with food.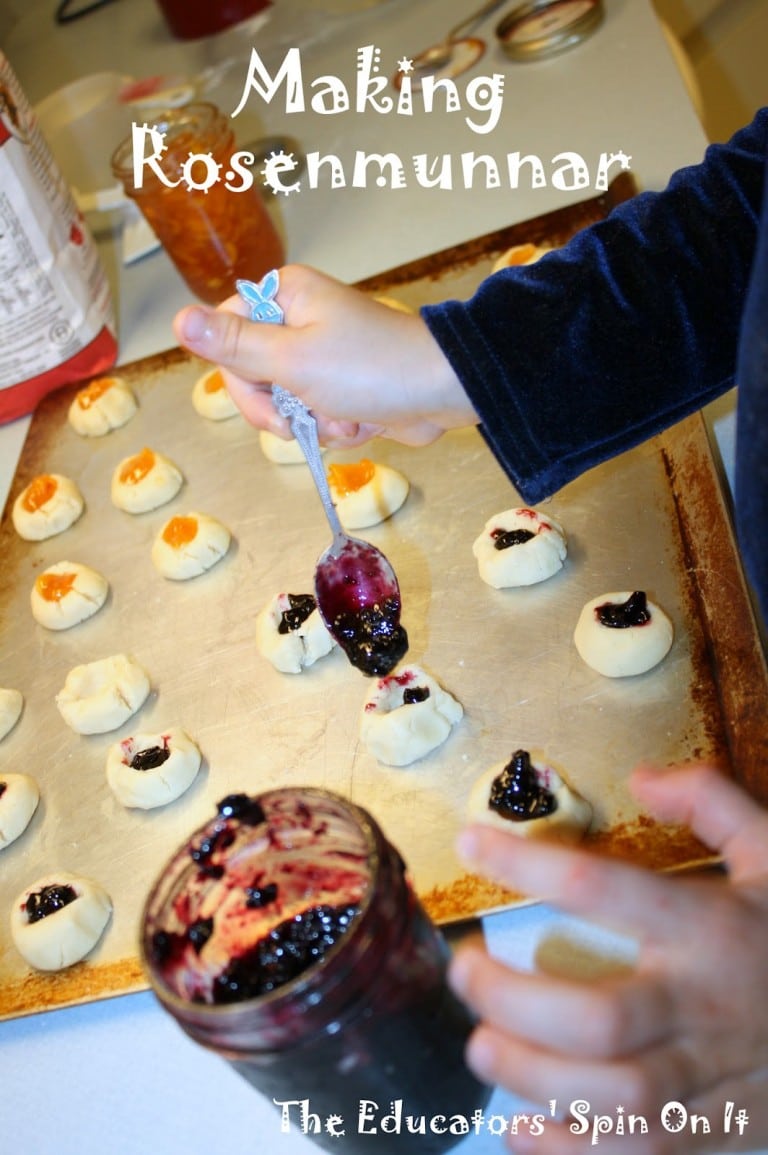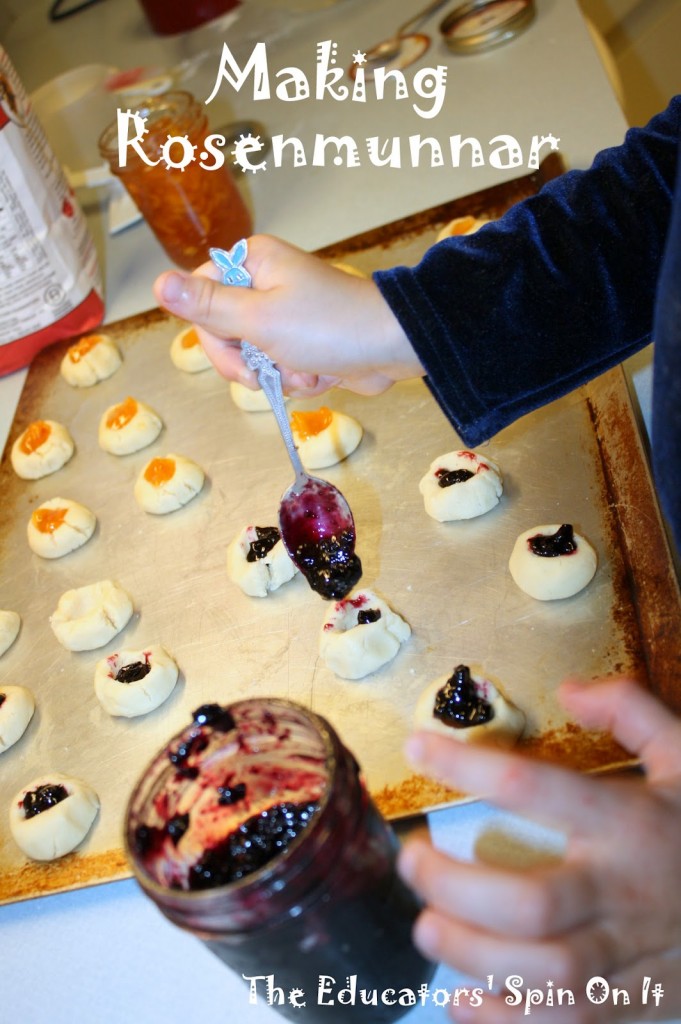 We started our global journey the same way Phileas Fogg did in London, UK, and are now moving northeast into Stockholm, Sweden.
Making Rosenmunnar (Swedish Thumbprint Cookies) with Kids
This month, My 5 year old and I had a blast looking through cookbooks and recipe websites trying to decide what to make for our cooking stop in Sweden.
Coming from a Scandinavian background, we had trouble deciding if we wanted to make the Spritz cookie or the Rosenmunnar – a Swedish thumbprint cookie. The Swedish thumbprint cookie won as we had never made them before and any excuse to use our home-made blueberry and peach preserves is a winner!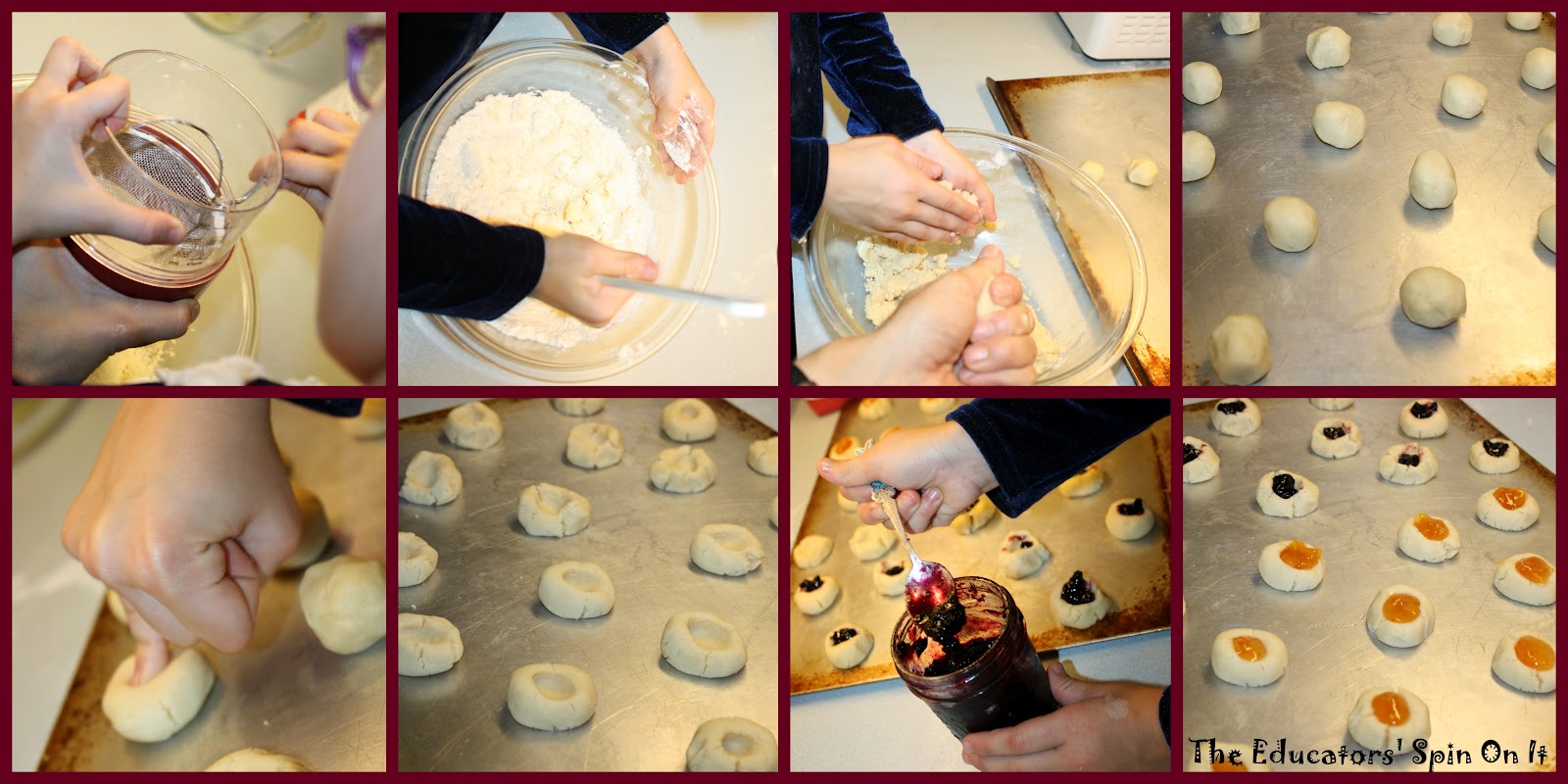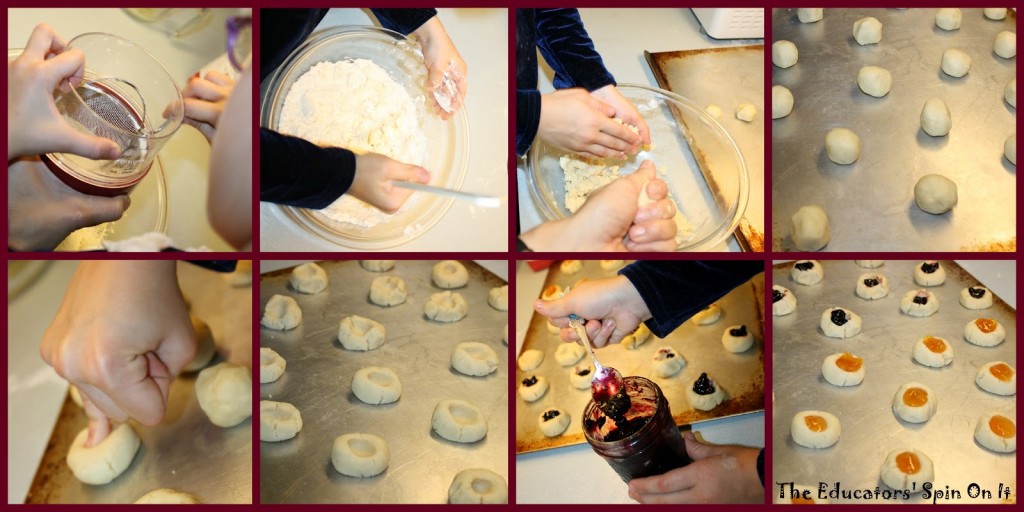 If you are looking for an easy, hands on kids cookie – this is it!
The kids can help measure, roll the balls, press the thumbprints, and fill the jam.
(Just make sure the kids are not near the cookie as it comes out of the oven – they are HOT)
After they cooled off, Hubbie gave them his stamp of approval, "these are addictive" he said as he ate a two handfuls!
Braided Swedish Coffee Bread Recipe
Then, because the oven was on, we also tried this Bread Machine Swedish Coffee Bread.
We use our bread machine a lot to knead and rise the bread. I prefer the crust when it has been baked in a real oven though – so this seemed like a perfect recipe for us.
You can always substitute half of the flour for white whole wheat or whole wheat flour. It will make it a little heavier and denser, but also healthier. We went for the all white flour this time.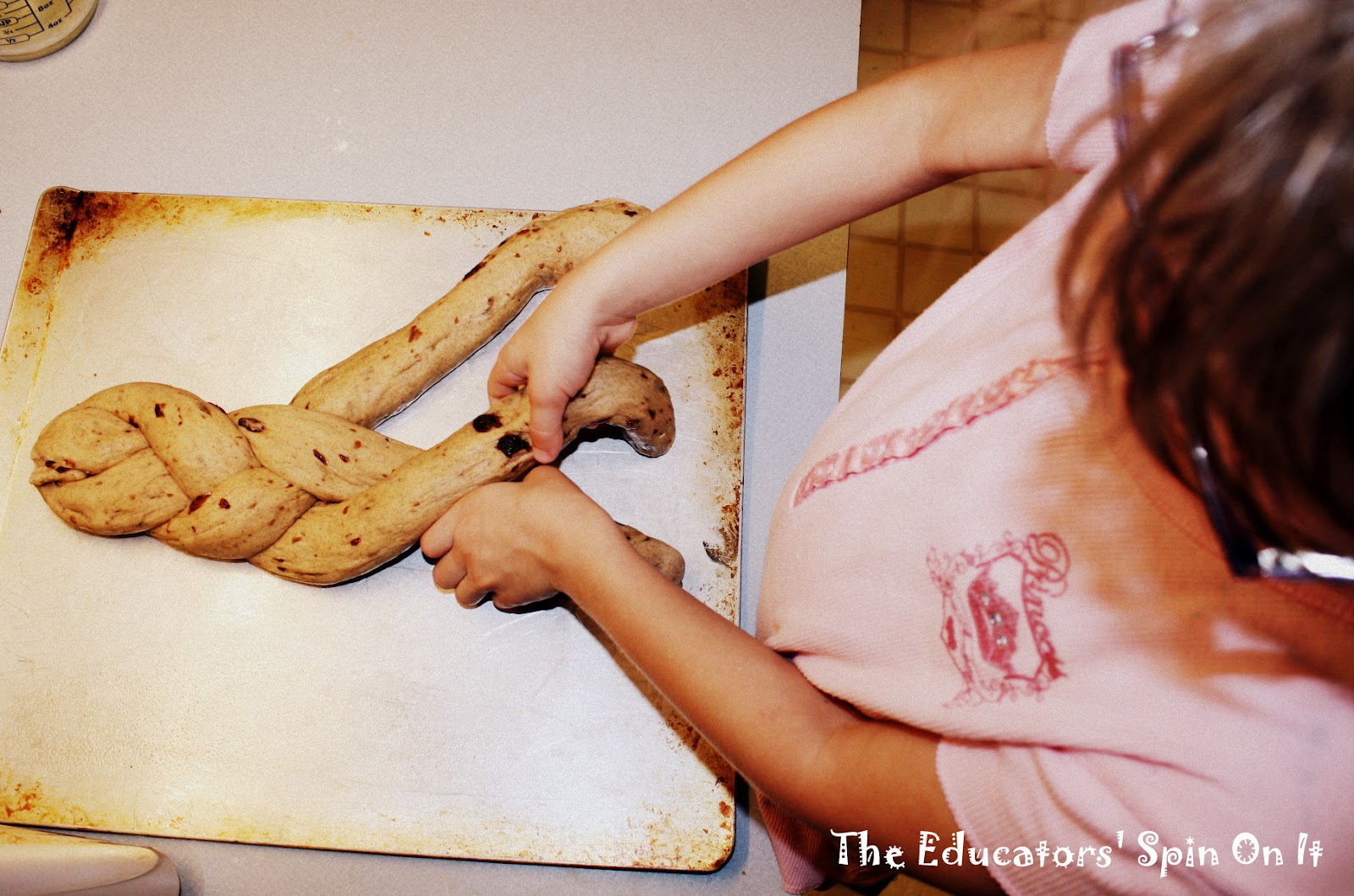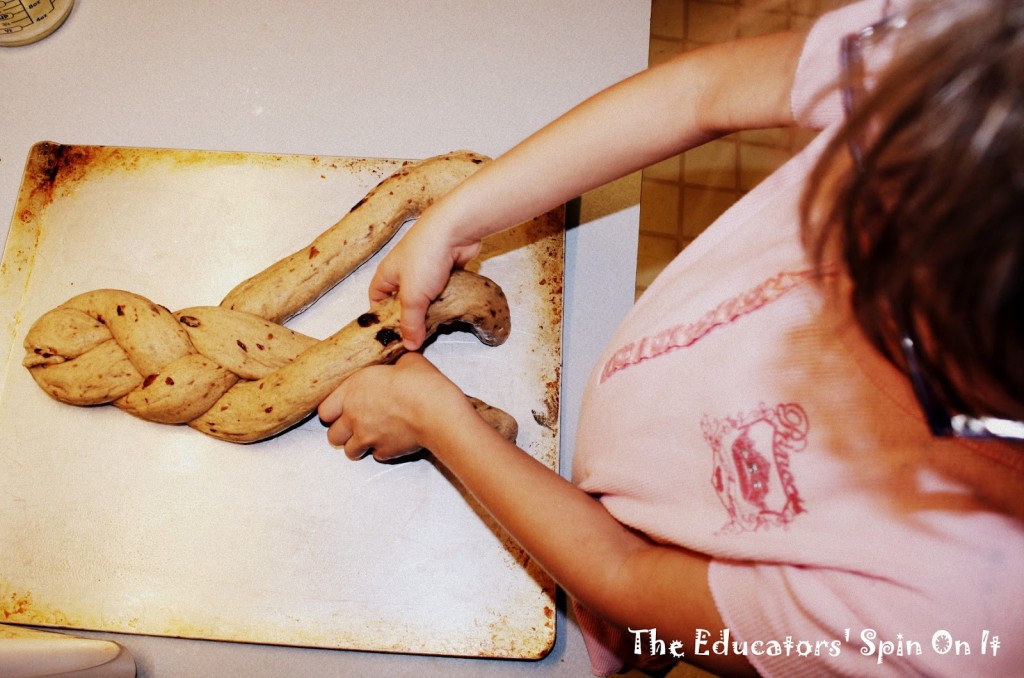 The recipe does not call for raisins, but my 5 year old asked if we could add them. Why not?
We started the bread in the machine first, then made the cookies. My bread machine takes a little over an hour to make the dough through the first raise.
After the cookies were done, we were able to begin braiding the bread.
Braiding bread is great therapy (in my opinion) and kids really need to grasp the pattern. After we braided the bread, we let it raise one more time before baking it!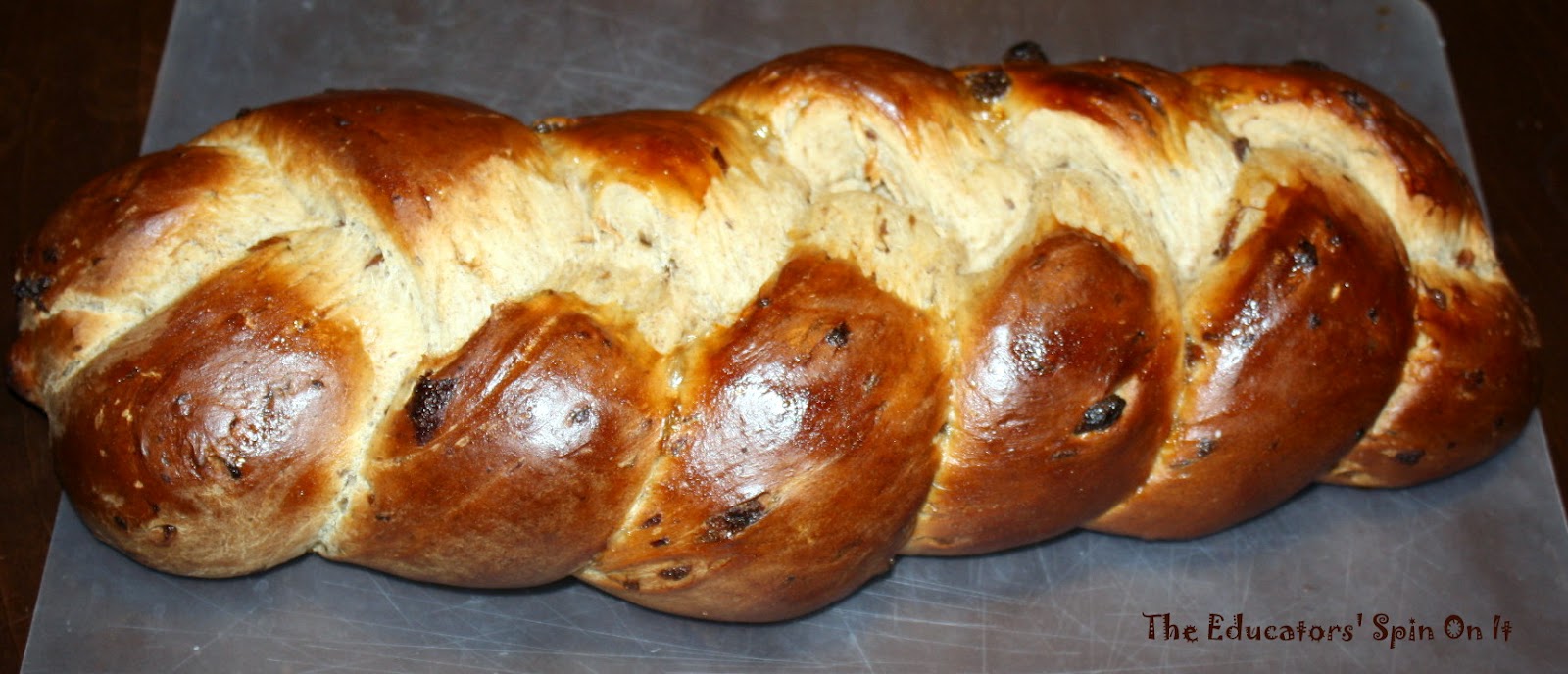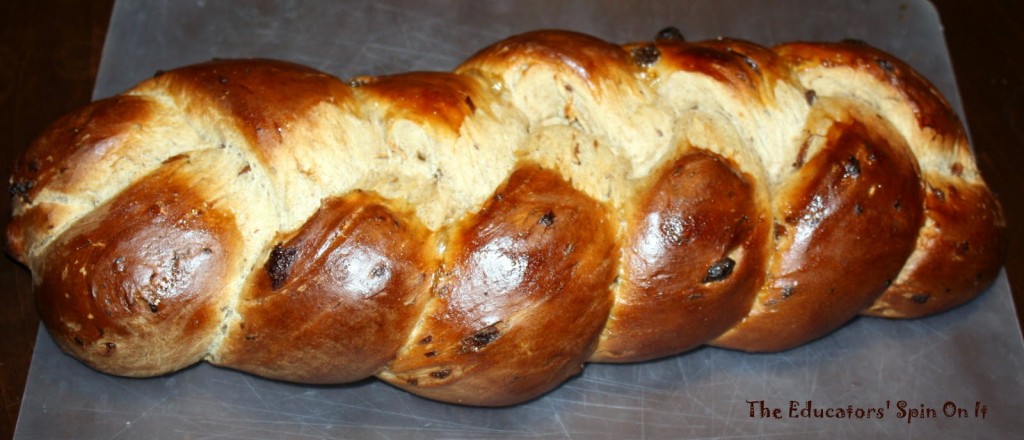 I think it turned out great! We are a family that bakes together often and I love that this challenge encourages us to try foods from around the world.
Sweden Activities for Kids
Here are some additional activities about Sweden for kids. We'd love to have you join us too!
Around the World in 12 Dishes: Crafts and Resources
Here's is some background information, books, printables and crafts for you children to do about Sweden.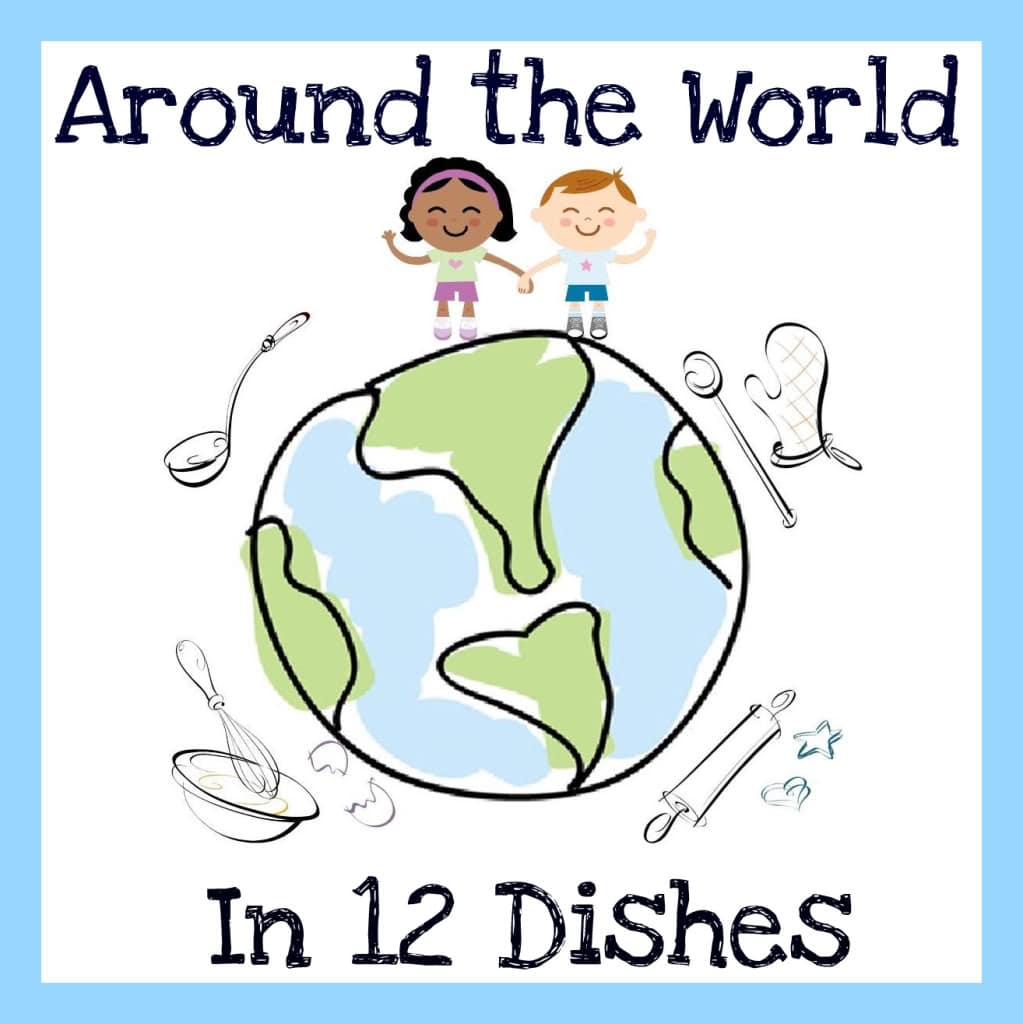 How to join the fun!
Cook a dish from Sweden: The goal is to explore this country through FOOD and activities if you wish. Make a typical dish (sweet or savoury) from the country with the kids, take photos and have fun!
Typical dishes: Köttbullar med potatismus (Meatballs with mashed potatoes), gravlax, pyttipanna (a kind of hash), chokladboll (chocolate balls) or Kanelbulle (cinnamon rolls) (Here is a link for more inspiration: Swedish cuisine).
Print your passport:
Color a placemat
Make a craft: you can make a country related craft with the kids
Read a book: "D…Is For Dala Horse".
Fun fact: Did you know that Swedes are known for their innovations? Swedish Inventions include: The perfected design of the zipper (Gideon Sundbäck), the marine propeller (John Ericsson), the refrigerator (Carl Munters and Baltzar von Platen), the computer mouse (Håkan Lans), the pace-maker (Rune Elmqvist).
Share with us in the comments below or on our Facebook Page
Want more adventures around the world? Explore these Global Activities for Kids!