"I HATE Change" my daughter sobs.
It's true.
She is the sweetest kid when everything stays the same. But when our schedule changes… hold on to your pants, because it's going to be a wild ride.
Stomping
Crying
Sobbing
Screaming
Door Slamming
Mean words
This sweet kid just CAN NOT handle a routine change. As a mom, I have figured out some strategies for helping her cope and work through these changes in routines.
Holiday break, summer break, school starting, and family vacations are all changes that can throw off our routines. As she has gotten older (9 years old), she is coping with routine changes better (less intensity in the above list.).
But change is still hard. There are still tears. There is still some stomping. But it's better.
Change will probably be hard for her for the rest of her life.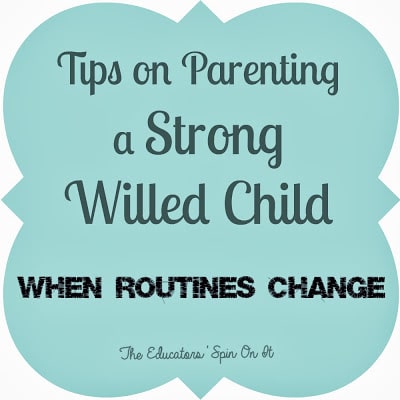 Tips for Parenting a Strong Willed Child When Routines Change
I have a strong willed child.
This can be AWESOME as when she sets her mind to something, she can accomplish it. Some days, however, especially when routines change, parenting a strong willed child can be challenging.
Here are some tips that have (and I hope will continue) work for our household.
We work on ways to find an activity on anger management to help build her skills.
1. Stick with a schedule
Have a consistent bedtime and meals. Stick with a schedule as much as you can when all other routines have changed. We will continue to eat at our regular times, take quite times mid-day, and go to bed as close as possible to our regular time.
2. Which brings me to the next BIG tip – SLEEP.
It is so important for our children to get adequate amounts of sleep. It is a tricky balance between staying up to spend time with family and friends and getting enough sleep. I try to have a quiet rest time with no reading on the days when I know my daughter is tired.
Even though she is too old for naps, she still sometimes needs them. Consider limiting screentime in the hour before bedtime. A family walk after dinner and quiet reading before bed helps my kids calm down and fall asleep easier.
3. Provide children with daily physical activity,
My kids need to play and run to get rid of some energy. If it's possible, outside is the best in my opinion. Even a quick walk outside together every day can be the best way to de-stress. This seems to help with attitude in general and the former – sleep.
4. Make a list of De-Stressers.
This list will be different for each child. Help your child write a list of 3-5 things that they can do to calm their bodies in stressful moments. Generate this list when they are in a good mood. Remind them of the list when you notice the routine changes are throwing them off. We have the following on our list.
Get a drink of water
Swing
Walk around the house.
Read a book.
Put a weighted vest on.
Warm up a rice pack.
5. Eat a well balanced diet.
With all the cookies, cakes, and sweets that children tend to consume during holidays and celebrations. I find that my kids become even more headstrong. Finding a balance between treats and good eats is important. Leave out apple slices and carrot sticks on the table to encourage healthy eating.
6. Plan Learning Activities.
My strong willed child likes a brain challenge. If I set out thinking activities; science, math, social studies, and writing projects, she is more likely to become engaged in learning than engaged in challenging authority.
We get Tinker Crates to keep us STEM challenged.
7. Take Adventures.
Head to a nature park for a hike, visit a neighborhood zoo, or check books out at the local library. I've found if I plan for little adventures to break up our stay-at-home weeks.
8. Talk about expectations beforehand.
Write these expectations down. If we are going to a book exchange, I sit down and explain my expectations. If you get a book that you don't like, politely look at the person, smile, and say, "thank you." You are thanking them for the gift of friendship. They were so sweet to give you a gift. Do not say, "ewe, yuck, I don't like that, stick our your tongue, or wrinkle your nose." (or something to that effect) Then I would write on a piece of paper, "Say thank you no matter what. Smile." and hand that little note to my child as a reminder to hold in the car on the way there.
9. Involve them in making decisions.
It is SO much easier for my child to go with the change of routines if she has a say in how they will go. This may be as simple as, we will be going to dinner at Grandma's in one hour. Should we pack the presents into the car now or in 20 minutes? Do you want to help do that or do you want me to do it?
LISTEN to what they have to say and try your best to do it their way (as long as it's reasonable)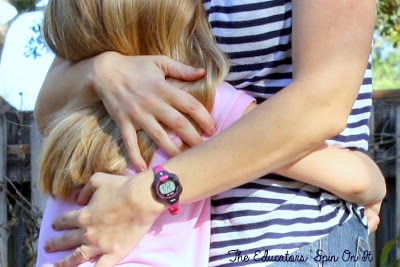 10. Snuggle them and love them. Sometimes I forget as my strong willed child gets older that she still needs my love just as much as she did when she was younger. We sometimes sneak into the bathroom to paint our nails together or read a chapter out loud of the book she is reading.
I think this is EXTREMELY important to make these connections. It seems that the more I make these connections, the more willing she is to go along with the flow.
Want more tips for Raising a Strong Willed Child?
Need some Ideas for Parenting An Active Child ?