Pi Day is here! Are you ready to celebrate with your child or class? Here are some fun Pi Day songs to watch together. Plus I'd added some of my favorite Pi Day Activities and Crafts as your child learns all about Pi. Let's explore what is so special about Pi.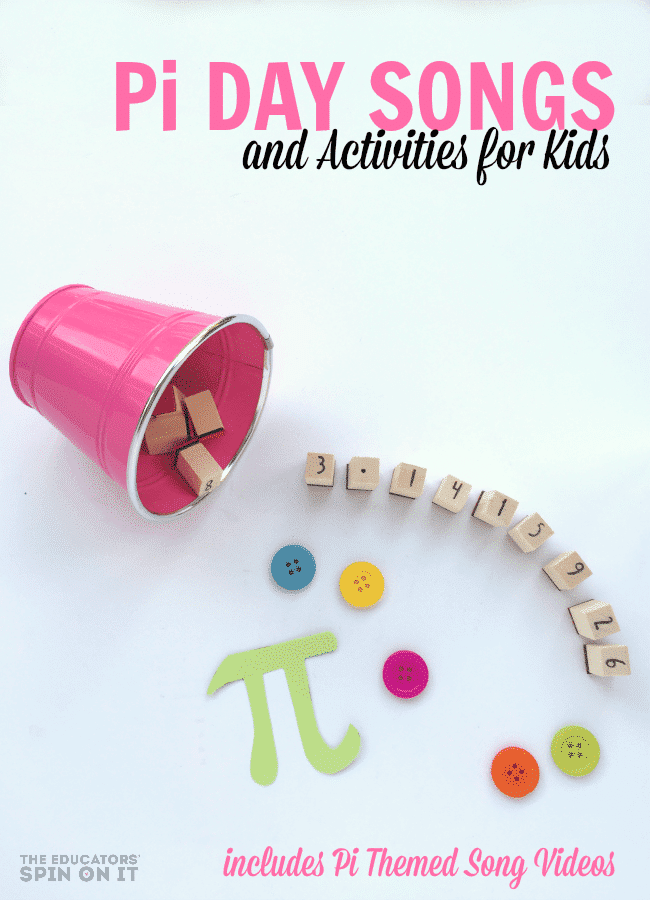 Pi Day Songs for Kids
Need a few ideas for learning about Pi with kids? Songs can be a quick way to teach a concept, especially a mathematic one. I've screened all of these videos so that they are kid friendly and ready to watch as you teach about Pi day with your child.

What is Pi?
Pi (π) is the ratio of a circle's circumference to its diameter. Pi is a constant number, meaning that for all circles of any size, Pi will be the same.
The diameter of a circle is the distance from edge to edge, measuring straight through the center. The circumference of a circle is the distance around.
Source: What is Pi?
My daughter was pretty excited about Pi Day today at her school so I thought it might be fun to carry the theme home today after school too with these Pi songs and Pi activities. I've rounded up ones I felt had great educational value for our kids. Take a look!
Pi Day Activities for Kids
CLICK ON the images to get direction on how to do the Activities


How will you be celebrating Pi Day?
You're invited to share what you've been doing with your kids at home. If you're a blogger link up your idea below. If you're a parent leave us a comment below of what you've been up to or leave a picture on our facebook page! We'd love to hear from you! Come join the FUN!
Join 150K+ parents who follow our After School Pinterest Board for new ideas each day from top kid's activity bloggers!
Click to see all of our Featured After School Activities

After School Linky Party is hosted by
Relentlessly Fun Deceptively Educational
Boy Mama Teacher Mama
Creative Family Fun
Thank you for sharing Activities for School Ages only. By sharing your link you give permission for our host to feature a photo and link in an upcoming post.
Share about Pi Day on Facebook!