Having three kids makes life filled with fun and adventure and tons of photo opportunities. It also makes you a bit busier than you ever anticipated at time.You are often making sure that what you've done for each child, you're doing with your third child.
One area that I know I've not done my best is with printing formal photo portraits for my third child. Truthfully getting pictures done with our whole family is a challenge in itself.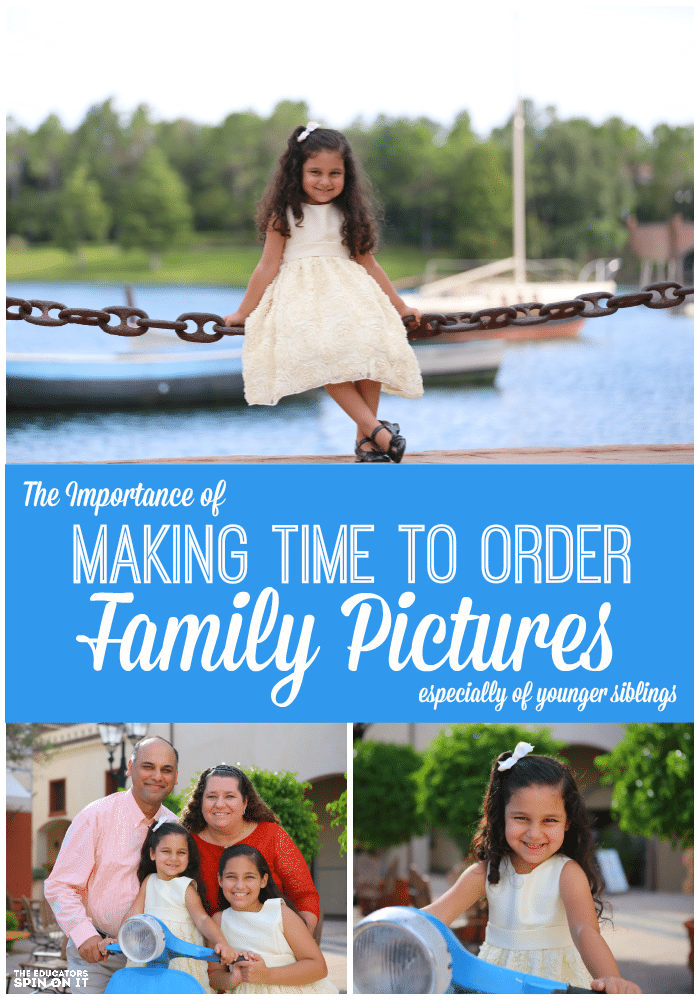 When was the last time you ordered a large photo for your wall of your whole family, not just the kids?
Making Time for Family Pictures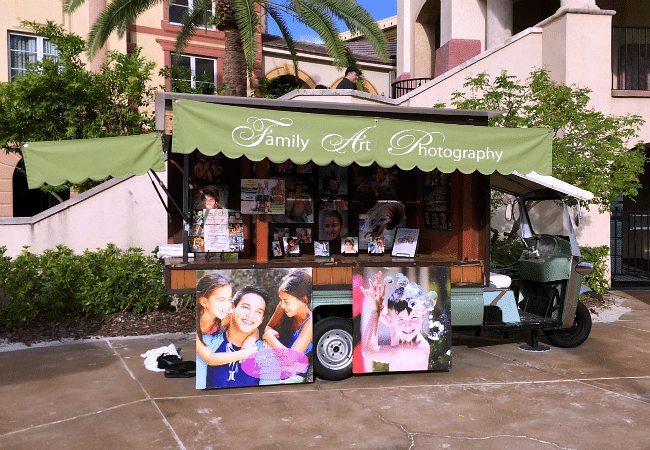 I love visiting friends who have their family portraits hanging around their homes.It brings such warmth and love to the home environment. However making myself take them and get them printed off is a different story. We have all sorts of personalities in our family, especially with our youngest who just hasn't really found a love of having her pictures taken in a formal way. I can capture a great shot of her while I'm just having fun capturing her in the moment or even at times for the site but put her in a traditional portrait studio and that's just not her thing since tiny age.
Mommy confession time, glancing around the walls of my home I started to notice that I'm not printing as many pictures of her as my other two kids.I knew I needed to find a solution and fast!
Disclosure: I received compensation from our friends at Family Art Photography, all opinions expressed are 100% my own and my family's.
Finding a Portrait Studio that is a Fit for Your Family
Luckily I recently was contacted by Family Art Photography located in Orlando at the Portofino Bay Hotel with a solution.They have the ability to create customized portraits from your order online, they edit , print and ship to my house, anywhere! What makes their products stand out is that print right there are the store.
The owner, Alex, explained to me that their printers offer a 12 color palate compared to the typical 4 color options that you would traditionally order online.I discovered that they have designs concepts for your photos to be printed for your wall on acrylic, metal, slate and tile.
Plus they offer the traditional print on canvas and paper prints for you to choose from.
I have a few awesome photos from our trips to New York, Chicago, St. Augustine, Toronto, San Francisco, Texas and my son's college graduation that I would love to have up on my wall too. Their 8×10 Aluminum option or gorgeous Acrylic Option is catching my eye for many of those. Take a peek at their store options to order online your photos from this summer.
Finding Time to Schedule Family Pictures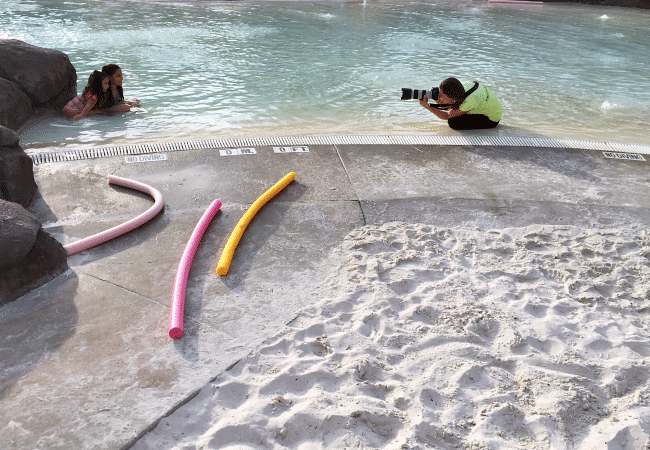 I had a big desire to have a family portrait done with my kids, the last formal one we had was when I was pregnant with my 4 year old. We've tried a few times but they just never turned out the way my husband and I envisioned.
So we decided to book a portrait with Family Art Photography during one of our trips to Orlando. I loved that I was able to talk with my photographer Brooke about how the session would be set up. She even gave some tips for what to wear, which at times can be a big decision, or at least for me.
The one thing that stands out is that you also have your kids pack their swim suits because they do water portraits too. How cool is that?
Choosing the Right Location for Photos
The area around Portofino Bay is absolutely gorgeous and provides a variety of spots for photo opportunities. Brooke and Alex, the photographers and owners, knew just where the right spots were for the best lighting and backdrops. Here's a peek behind the scenes at some of our images from our session. What I really loved is that they kept clicking until the moment was right. There were quite a few photos that the photographer too and my kids were having so much fun in the process. I have a feeling they were feeling pretty special.
It was the BEST experience we've ever had with getting photos done for our children and family. I'm pretty sure this experience had a lot to do with the outdoor setting and the quality time spent with our family. My oldest daughter even said on the way home from our session that she felt like she just went on vacation. Pretty sure this experience with Family Art Photography is one we will always remember.
Fast Quality Printing in the Studio
Family Art Photography took quite a few photos during our session, which they explained to me is quite normal.They quickly upload them to the computer and sit through and allow you which ones to select for printing which they can provide for you to take home the same day.
Their studio walls are filled with gorgeous prints on a variety of surfaces including acrylic, aluminum, tile, slate, and more. I told you they are pretty awesome!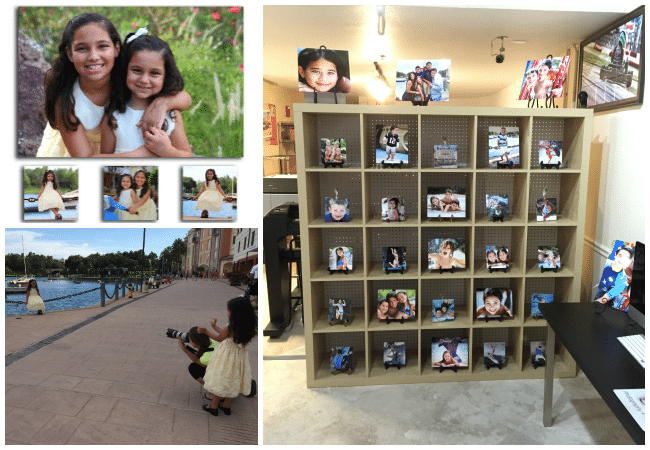 However if you're like me and need time to decide when there are so many of your kids, Family Art Photography provides online ordering as well. Love this option so that you can also share with grandparents who may also like to place an order online too.
Brooke designed some ideas for setting up a collection of our portraits together on our wall in our house. The way their portraits are designed they can be placed in a variety of ways. The aluminum prints even have the option of having a magnet added to them so that you could move them around on an aluminum backdrop piece too.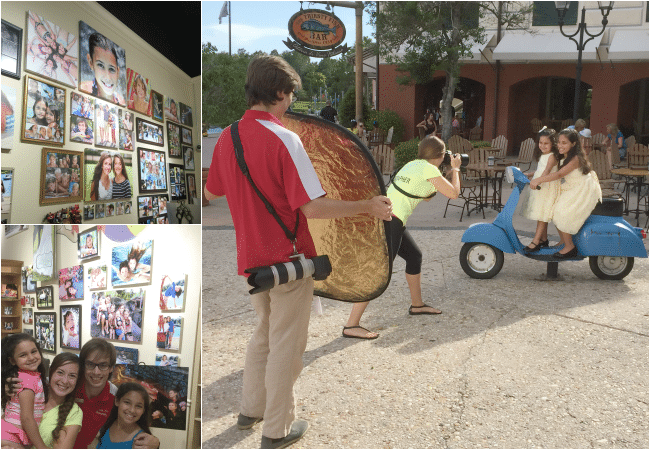 You can order your prints on acrylic, aluminum, slate or tile and more. CLICK HERE to SELECT
We can't wait to see ours arrive in the mail and share with you and see what you order too. It's so nice to be able to do your own session with your favorite photographer and have these unique photo portraits printed and mailed to you within a few days. They edit all images that are submitted to ensure for quality prints for free! I'll share with you next week what we ordered and a peek at some of the portraits that Brooke took during our session.
Go visit Family Art Photography Online and see what all they have to offer for your next online purchase. Think of your last family vacation I bet you have one that would be perfect for the wall.
Which picture are you going to have created into a portrait?