Affiliate Links to books included in this post
Technology can be used as a tool to enhance early learning. The following preschool technology activity is brought to you as part of the FREE STEAM E-Course for Parents and Teachers of Preschoolers. Join in at any time and find helpful tips and tricks for integrating more STEAM into your child's daily life. For even more activities, purchase our latest E-Book, STEAM: Preschool Activities for STEM Enrichment Purchase Your Copy Today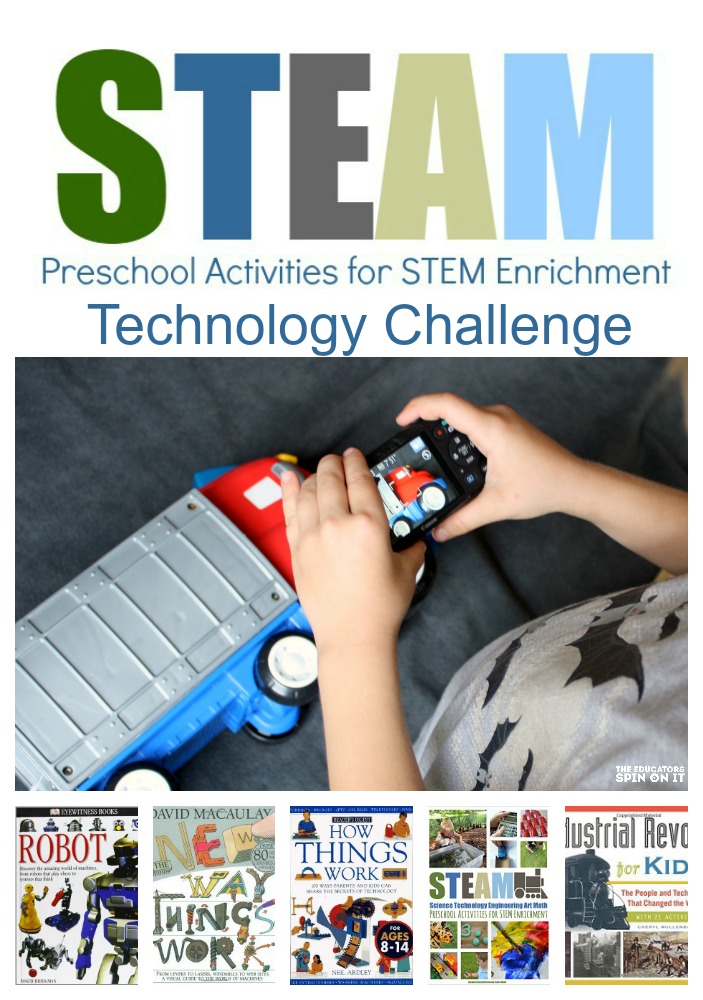 Technology Challenge Check in Question: What did your child take photos of?
What is Preschool Technology?
Often we think of technology as videos or shows. Technology can indeed be short video clips used to enhance learning: such as a virtual field trip to an apple picking factory to enhance a learning unit on apples and harvest. But technology is even more than that. All of these current technologies can be used to extend STEAM learning.
Common technology tools that are used by preschoolers are:
interactive storybooks
cd players
radios
calculators
computers
mobile devices
digital cameras
video cameras
Interactive Smart Boards
pens that will read words as you tap them
alarm clocks
timers
digital scales, and
pedometers
I encourage you to look around your home and classroom for the "kid safe" technology items that could be used to enhance lessons and USE THEM.
Add a calculator to your kitchen / pretend play area. Show the child how to turn it on and off.  Have them use the numbers to keep track of how much money the pretend food is.
Bring a digital scale out the next time you are cooking. Have them weigh how much flour they use to make a batch of muffins. Sure, this will add on a few minutes of time to the experience, but it will also make the use of technology relevant. In many countries – recipes are written by weight.
Hand your child a digital timer to start as they help you fold clothes. Let them watch as the seconds and minutes pass by. Add challenges such as: see how many wash clothes you can fold in 2 minutes. This connects technology with math and life skills. Not only that, but it makes doing chores a wee bit more fun.
Week 2 Technology Challenge
We encourage you to try this activity with the preschoolers in your lives. Then let us know by posting in the comment section how it went. This activity is a little longer in length than last week's preschool science challenge. Make sure to leave 30-60 minutes open or break up the activity into 2 different lessons.
Learning Objective
Create a photo counting book for numbers 1-10.
Materials Needed
Paper
Numbers Printable Sheet
Digital Camera or Cell Phone Camera
Printer
Mini Photo Album
Directions for Activity
1. Introduce the child to the digital camera. Let him "explore" the camera. Demonstrate how the camera turns on and off, zooms in and out and how to take a photo. It is important to use a neck strap or wrist strap so that it prevents the camera from being dropped.
2. Have the child start collecting objects and laying them on the corresponding number (for example, one toy car, two trucks, three train cars, etc). Let them be creative. It is important to let them choose, arrange, and count the objects.
5. Print out the pictures or upload them to your favorite photo sharing site to create an actual soft or hardcover book. Here is a sample page from our book. My child selected six blocks from his toys, arranged them, and took this picture. I added the words and number on the computer.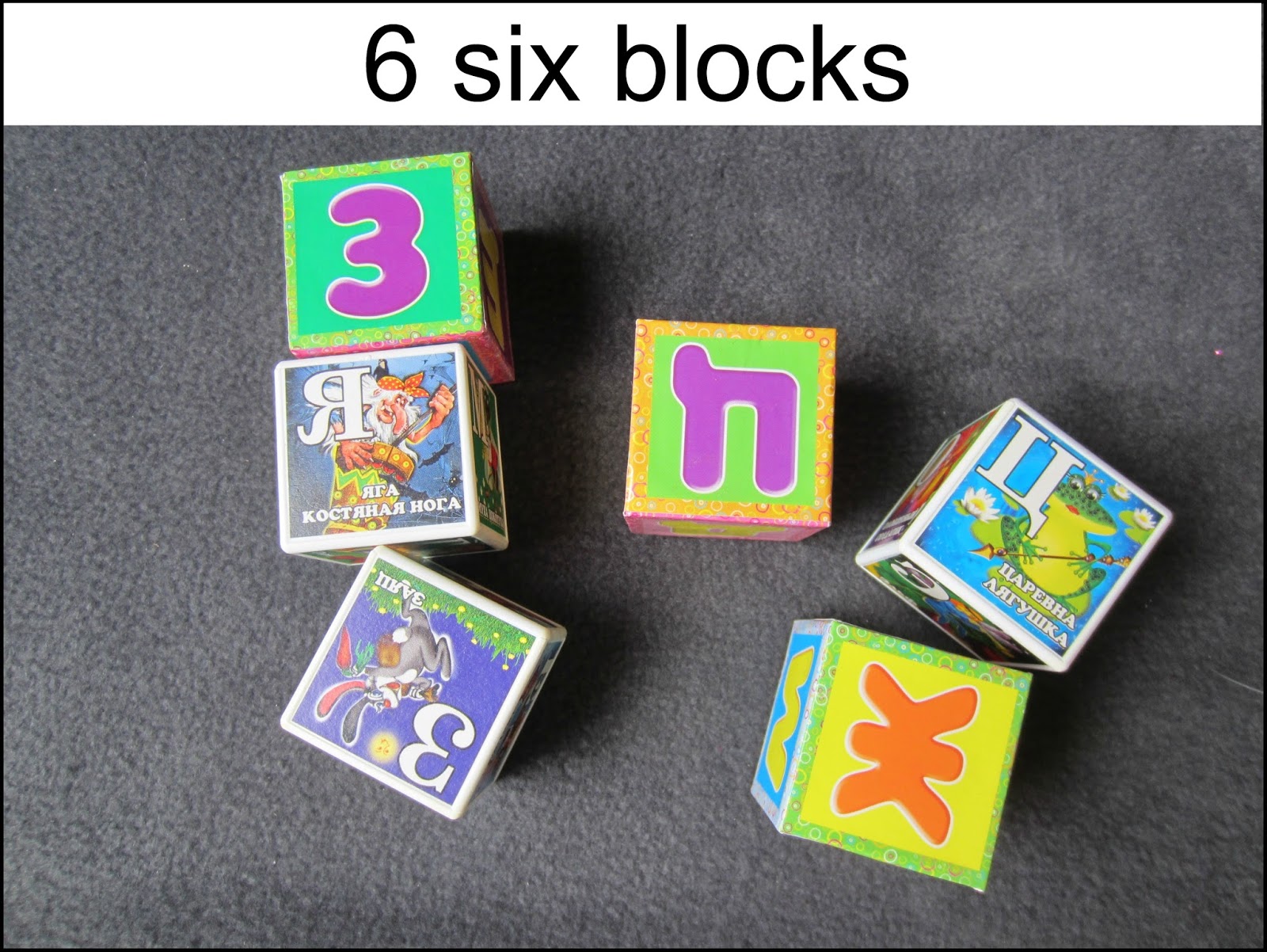 6. Insert the printed photos into a mini photo album to create the photo book.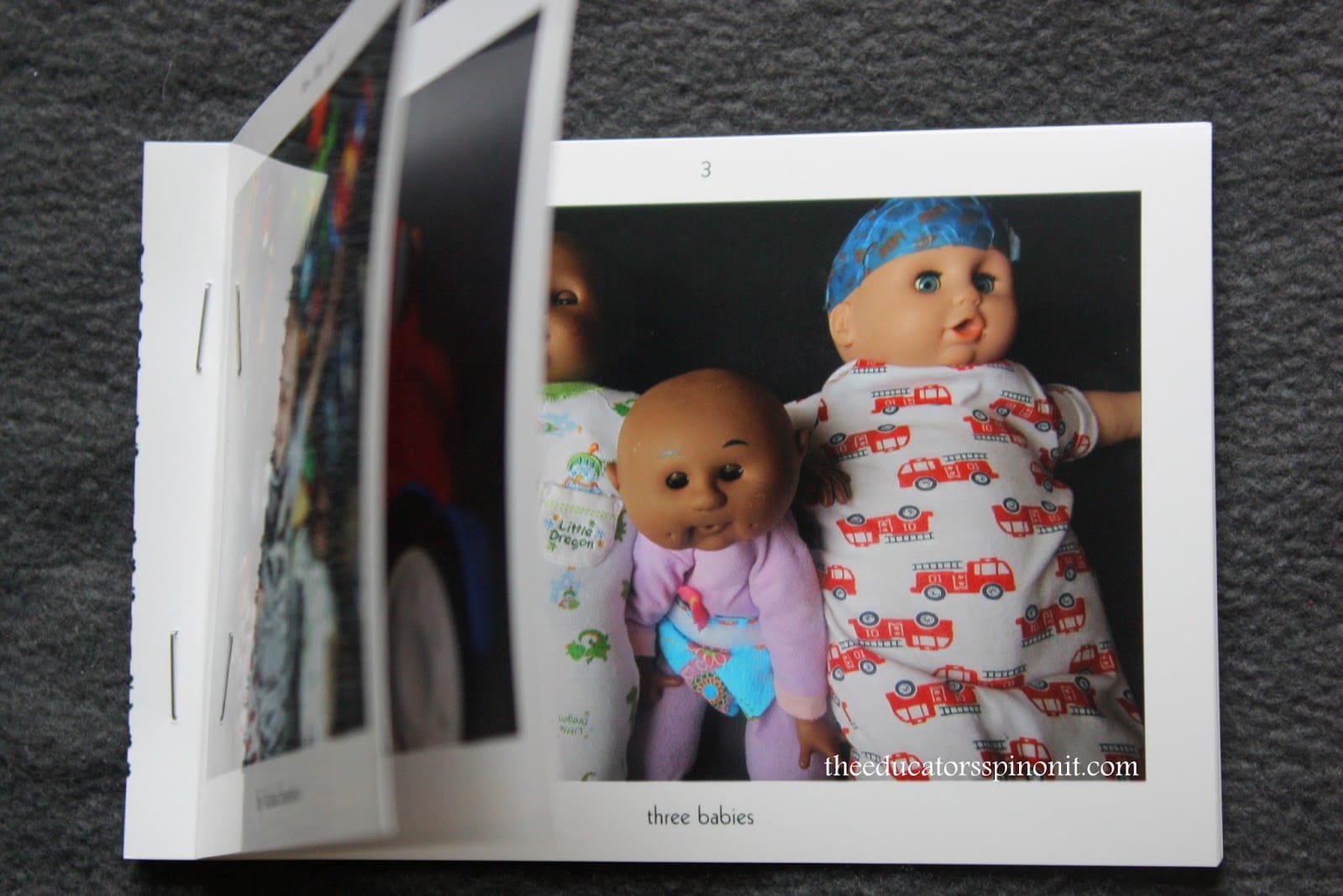 7. Read and Re-read!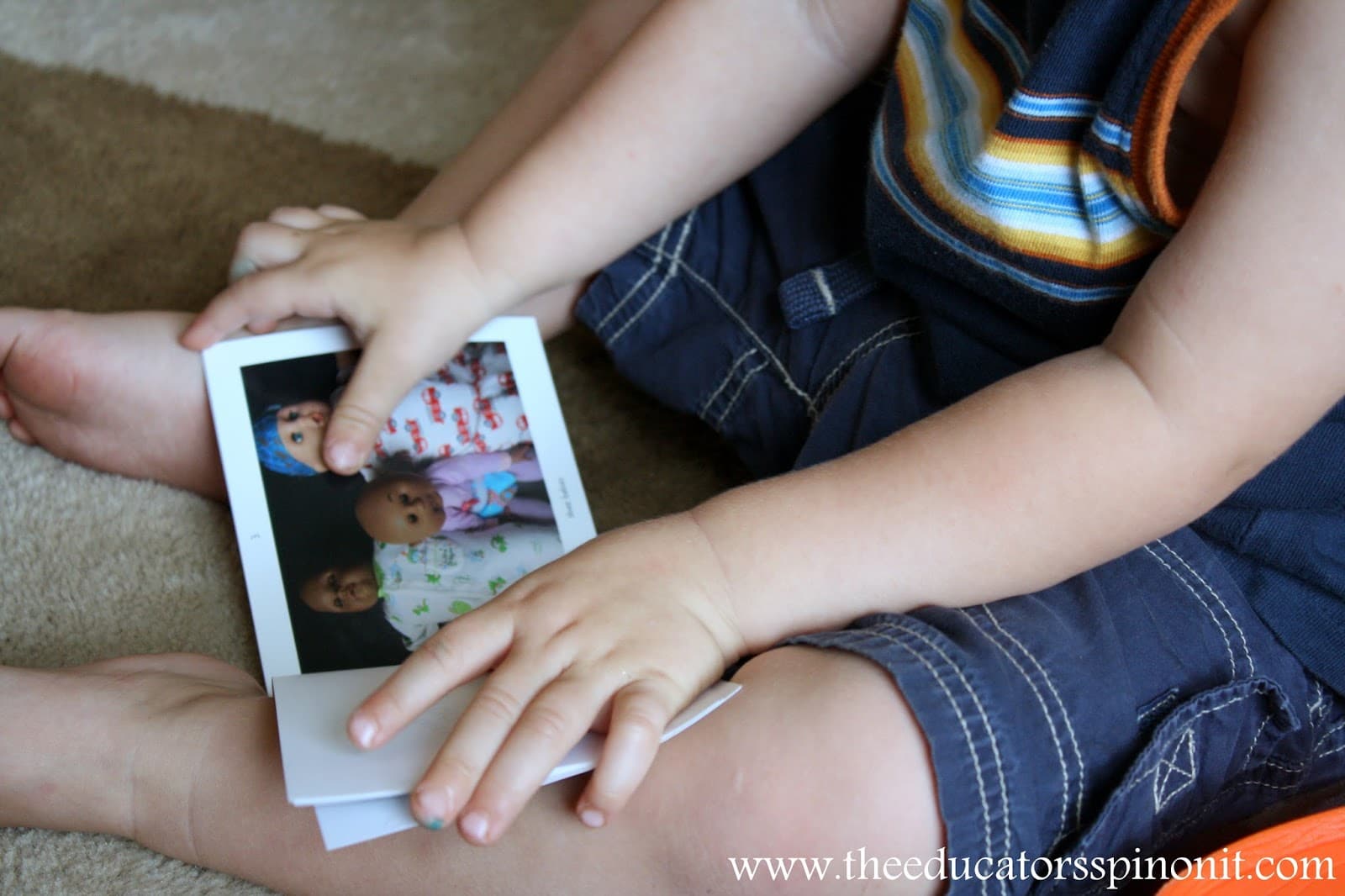 Preschool Technology Resource Books
DK Eyewitness Books: Robot
 This book is a mixture of photographs and facts, perfect for the robot enthusiast. 
Read the full description
The Industrial Revolution for Kids: The People and Technology That Changed the World, with 21 Activities (For Kids series)
This books is more informative than entertaining, but one of the few books geared for kids explaining the industrial revolution.
Read the full description
How Things Work: 100 Ways Parents and Kids Can Share the Secrets of Technology
  A clear description of how things work with accompanying hands-on activities. 
Read the full description
The New Way Things Work
This book takes on the task of explaining the latest innovations and how they work. Although geared for ages 7+, the technology curious child may delight in having this book read to them!
Read the full description
STEAM: 
Preschool Activities for STEM Enrichment
This parent and teacher e-book resource guide provides 30+ activities for integrating STEAM into every day. Geared for preschoolers ages 3-5 years old. 
Read the full description
Don't forget join us!
Join us this SUNDAY for the second week of our e-course with a Google Hangout on September 28th @ 8:00pm  to hear tips and tricks for incorporating Science activities for your preschooler. We will be discussing, along with Jamie from Hand Made Kid Art, our own personal experiences and tips for using technology with preschoolers.
No registration is required, but we would love for you to share in the blog comments how your child did, any observations you made, or other tips on how you are improving that area of academics with your preschooler.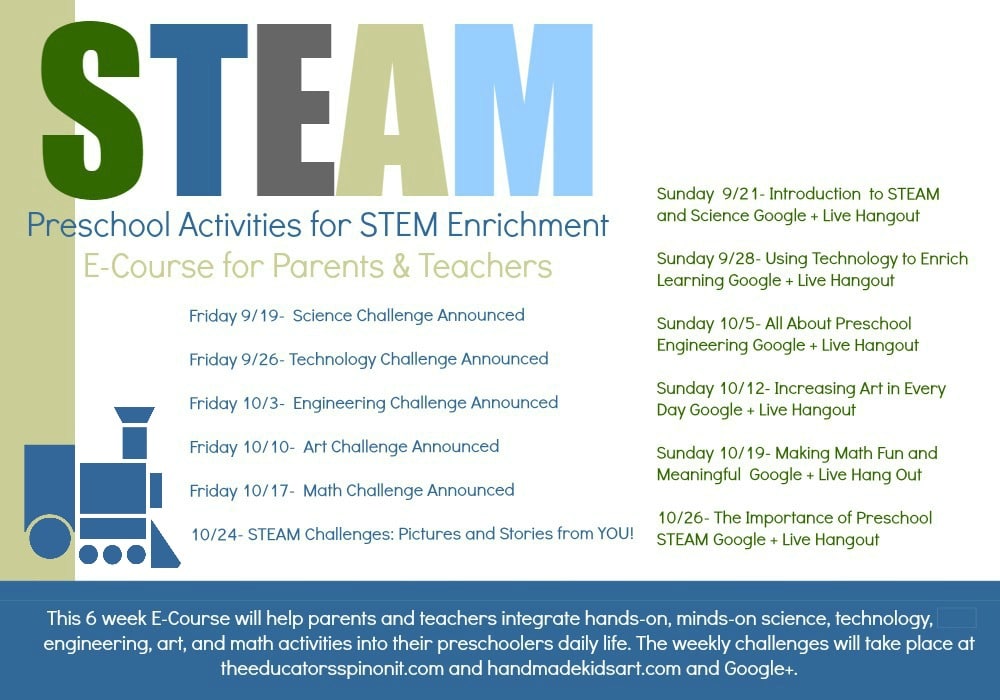 STEAM Preschool Activities for STEM Enrichment E-Course Schedule:
Classes are every FRIDAY on the blog and every SUNDAY on Google +
Friday 10/3-  Engineering Challenge Announced
Friday 10/10-  Art Challenge Announced
Friday 10/17-  Math Challenge Announced
Friday 10/24- STEAM Challenges: Pictures and Stories from YOU!
Stay tuned for the other challenges in the free STEAM E-course for Preschool Parents and Teachers.


For even MORE ideas on preschool STEAM activities, consider purchasing one of my Preschool STEM E-books.