My kids LOVE visiting farms! My preschooler loves feeding and petting the animals, helping with farm chores, and harvesting crops. After a visit to the farm, it is always fun to continue learning at home!
Here are some easy and FUN farm preschool learning activities to do with your children!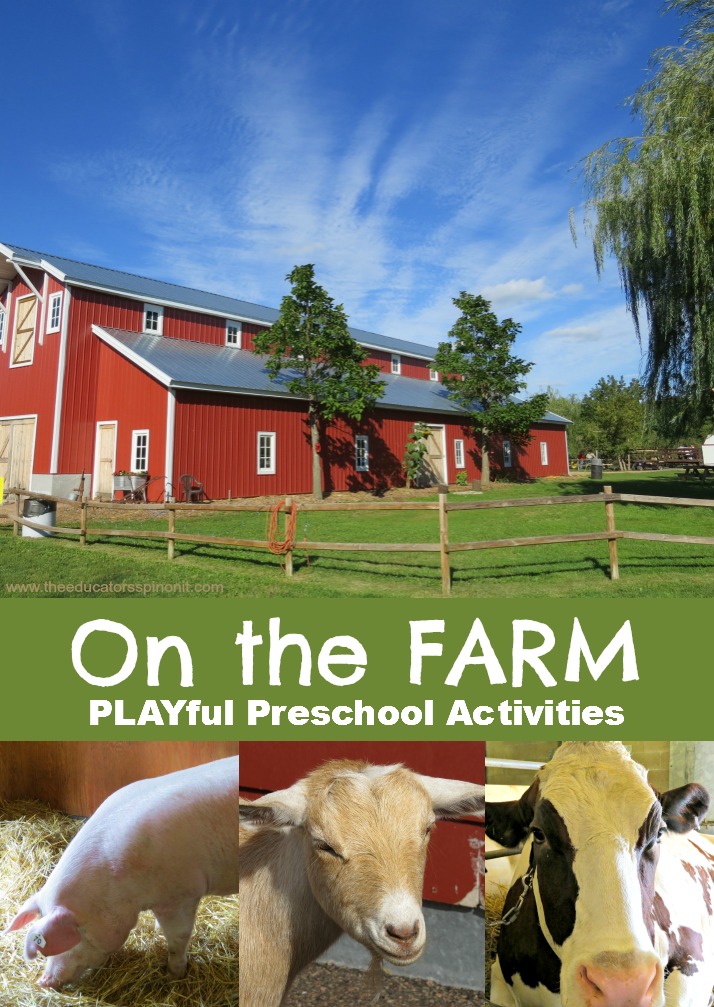 Literacy Activity: Make a Mystery Animal Book
We use a lot of home-made books to help build early literacy skills. Often the books in the stores and libraries are too advanced for my young reader. I want to provide him with books at his level so that he can feel confident and successful as a reader.
I am homeschooling my preschooler because I want him exposed to a variety of academic materials in a playful, hands-on learning way. We include reading in our EVERY DAY learning. I try to make at least one home-made book with him each week. Some are more kid-made, and some are more Mommy Made and kid assembled. It all depends on his mood, the materials we have on hand, and the goals for the week
This home-made book is a highly predictable text. The clues change, but the picture helps my preschooler easily read the animal name. I encourage him to point to the word A and the animal name as he reads it. Re-enforcing the connection between spoken words and printed words. Because he is interested in the farm, it is also highly motivational.
Materials Needed:
Animal Pictures
Paper Printer or Marker
Directions
1. Pick an animal.
2. Have your child tell you "mystery clues," to help someone guess what animal it is.
Choose 2-3 short sentences for each animal. Encourage them to think about the animals attributes (science)
How many legs does it have?
What does it eat?
Are there any special body parts unique to this animal?
How can it move?
What sound does it make?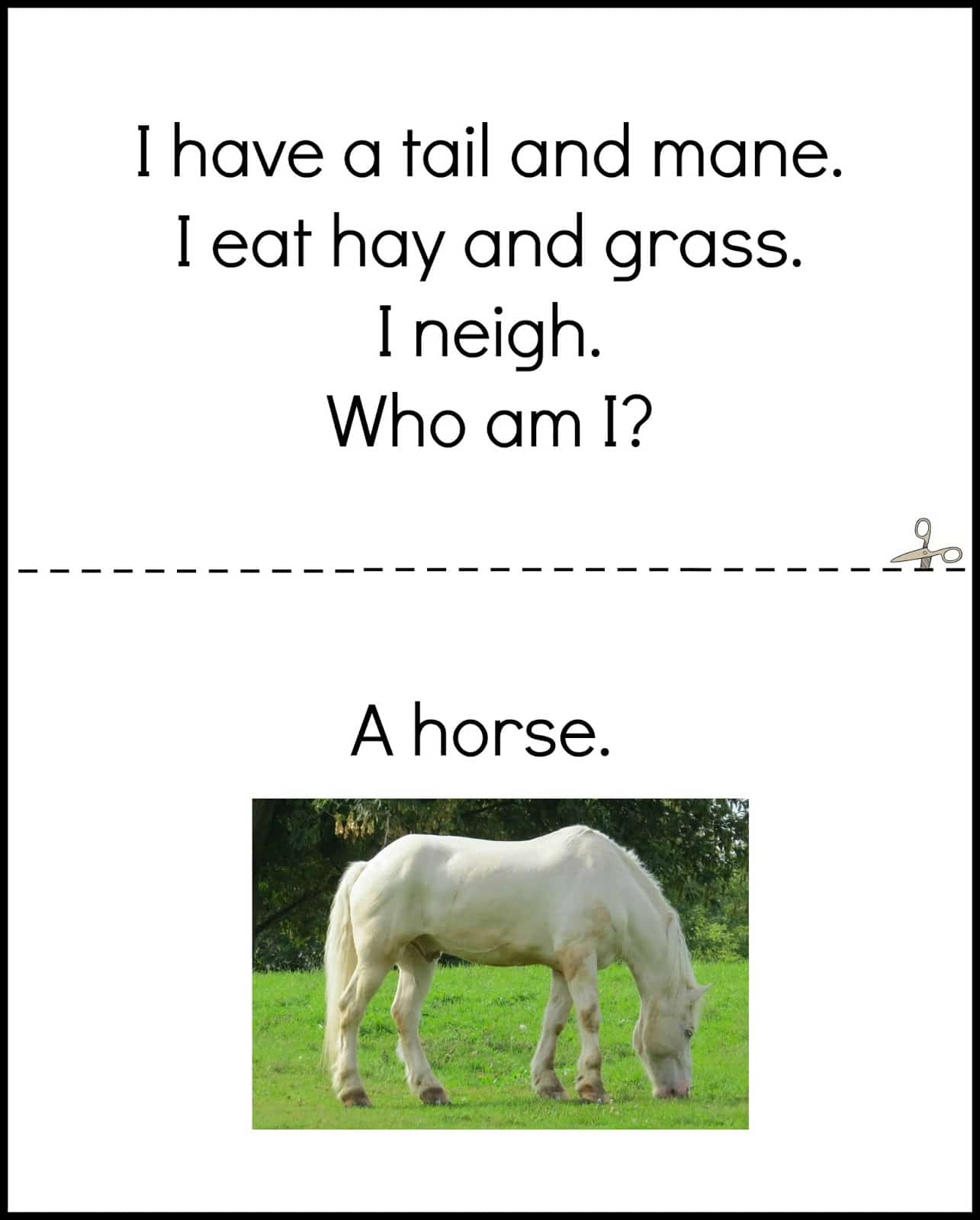 3. Write or print these sentences on a half sheet of paper.
4. Draw, write, or use a picture of that animal on the other half of the sheet of paper. Cut the paper in half.
5. Repeat 1-4 a few more times using a different animal.
6. Make a cover page and an ending page where your child can illustrate or draw a picture of a farm animal.
7. Stack the sheets of paper on top of one another starting with the mystery clue, followed by the animal.
And… Just because I am a busy mom of 3 young kids. I know that sometimes, you just don't have time to do it ALL… here is the book we made. It's nothing fancy, but my preschooler sure does like having me read the clues to him and he gets to read the answer. All you have to do is print, assemble, and read!
Download the Who Am I? A Guess the Farm Animal Book Here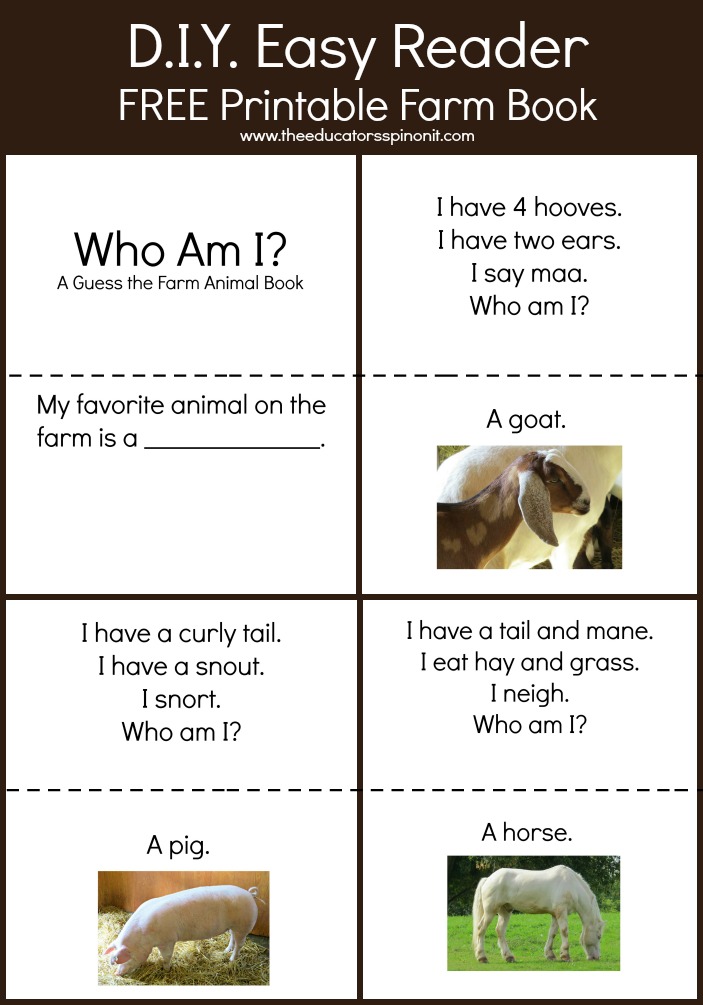 Plan Your Learning Week with Preschool Activities for the Farm Theme
From the #PLAYful Preschool Education Team!
Literacy, Mathematics, Science, Art, Sensory, Songs and MORE!!!!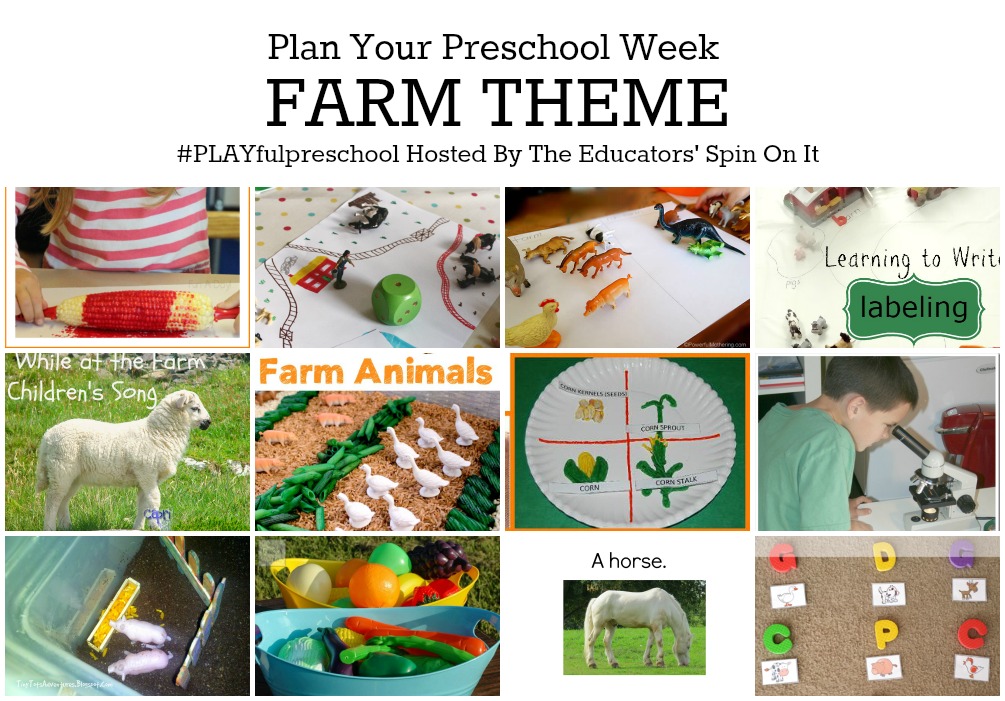 Preschool Farm Activities And Sensory Play Ideas For Math, Science, And Literacy
Farm Animal Letter Sounds by Mom Inspired Life
Learning to Write: Labeling the Farm by Growing Book by Book
Make a Who Am I Farm Animal Book by The Educators' Spin On It
Corn Life Cycle & Sequencing Cards for Preschool by The Preschool Toolbox Blog
While at the Farm: Children's Farm Song by Capri + 3
Farm Animal Counting and Sorting Sensory Bin by Life Over C's
Farm Themed Count and Add Activity for Preschool by Rainy Day Mum
Corn Painting – An Art Activity for a Preschool Farm Theme by Fun-A-Day!
Preschool Science: Duck Feather Experiment by Raising Lifelong Learners
Farm Animal Sort by Powerful Mothering
Wash the Farm: Fruits and Vegetable Sensory Play for Preschoolers by The Kennedy Adventures
Farm Activities and Sensory Play Ideas for Math, Science, and Literacy by Little Bins for Little Hands
My Preschooler's Favorite Farm Books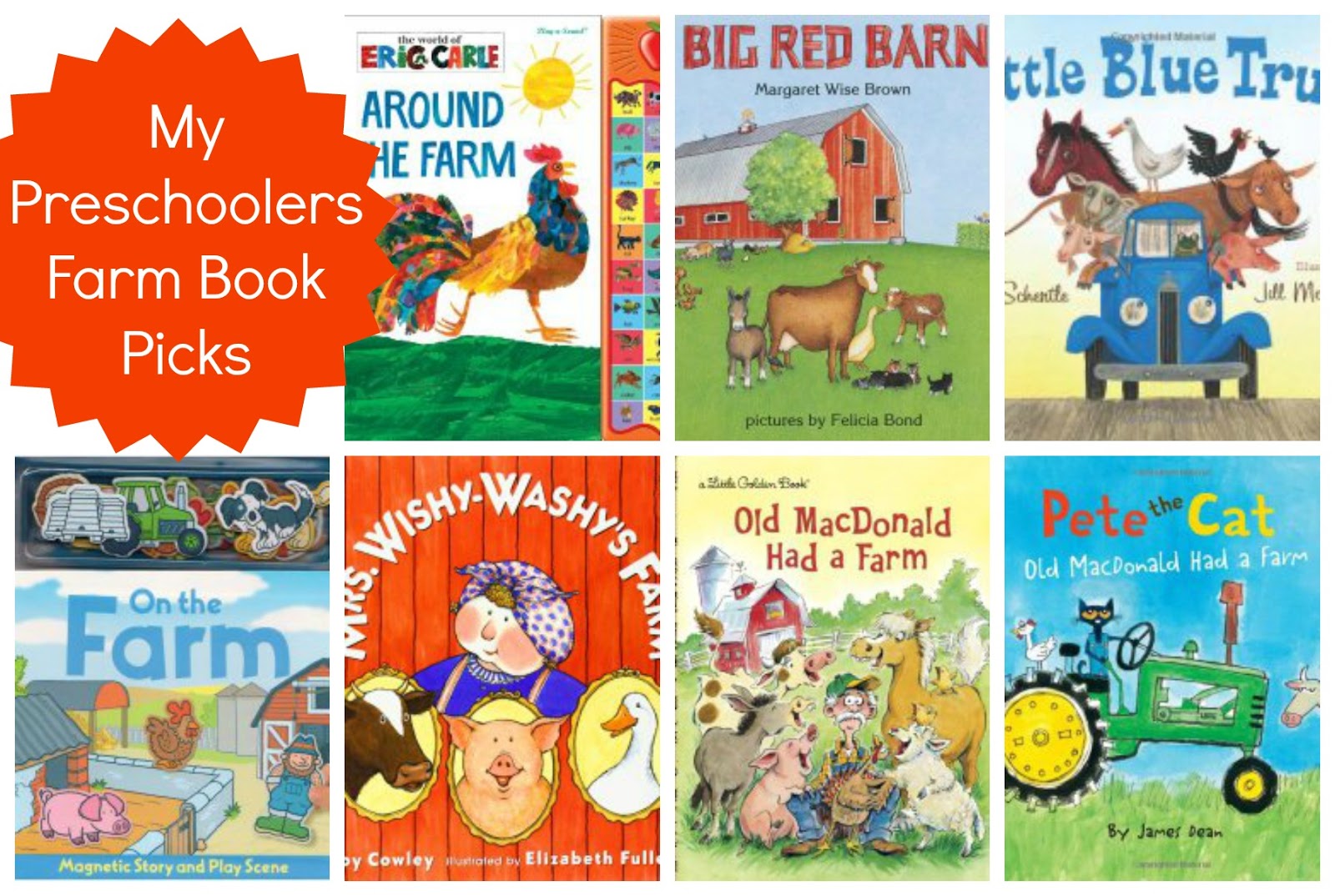 We have a bunch of farm books on our front facing shelf right now. These are my 4 year old son's favorites right now.
<I'm using affiliate links to Amazon for the books. If you buy them through these links, the price is the same for you, but I get a portion of the sales. Thank you for your support! >
Little Blue Truck

Big Red Barn

Pete the Cat: Old MacDonald Had a Farm

Mrs. Wishy-Washy's Farm

Old MacDonald Had a Farm (Little Golden Book)

Eric Carle: Around the Farm: Play-a-Sound

On the Farm Magnetic Story & Play Scene
For More Farm Theme Activities Here at The Educators' Spin On It:
LEGO Read and Build Farm Theme Literacy Activities
From Apple Orchard to Table Social Studies Lesson
Homesteading with Kids
Raising Chicks in the Classroom
Don't miss the #PlayfulPreschool Education Team's other Themed Activities for Apples and Family:
Apple Theme Preschool Activities
Family Theme Preschool Activities
Farm Theme Preschool Activities