If we don't act now unfortunately I am afraid that something like this is coming soon to a school near you. It's time we faced the reality of gun violence in our schools as a nation. Here are a few things you should know and what you can do to prevent it from happening again as we work together to make our children safer.
Will you take the first step and join Everytown?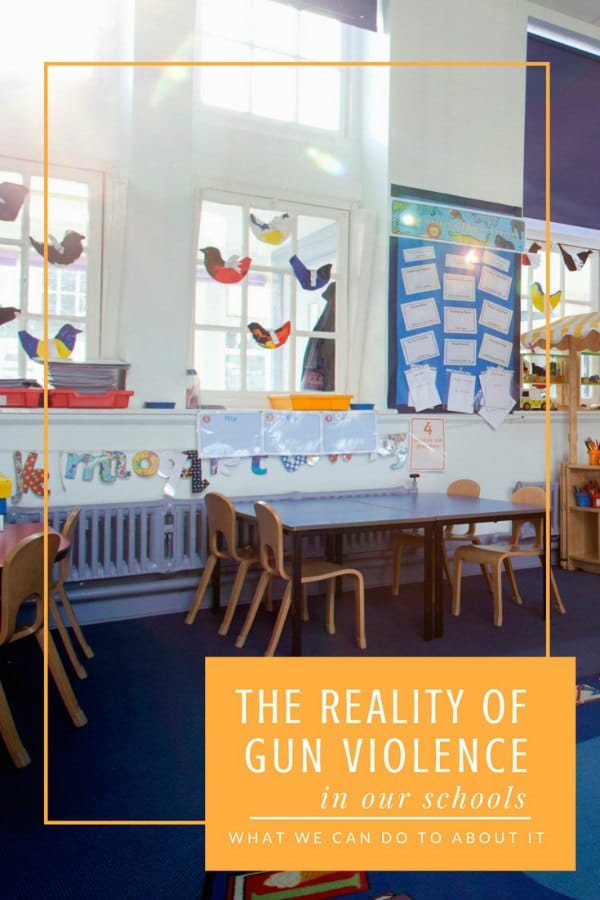 Facing the Reality of Gun Violence in our Schools
I just dropped my child off at school on Thursday morning after the most recent school shooting and for the first time ever… I'm deeply afraid.
I'm afraid that this moment would be the last time I would ever see her.
No parent should ever feel that way…. Ever.
Leaving their child at a place of education should be the last place I should worry about their safety.
I'm done.
I'm tired of hearing about school shootings and not seeing anything happen.
The students killed and injured in school shootings had the misfortune of growing up in a country that didn't care enough about their lives.
How it is even possible that since 1999, there have been nearly 376 school shootings in America — an average of about one a week.
(Source Everytownresearch.org and The Washington Post)
Click here for the full report of Analysis of School Shootings
There's no reason to own a gun meant for mass killing. You are literally arming people with automatic guns to kill children. It is time that we look at the laws and change to keep our families safe.
Today our classrooms will be filled with teachers who will walk into their room and wonder what they would do if it was them. The victims of yesterday's events and their families and lives will never be the same. That's not what they signed up for, they are there to protect our children, to teach them and to love them but they did not sign up to put their life before your child's life. However ask anyone of them and they will openly say they would.
I remember the first time I was told to practice a lockdown with my students and I'll be honest it freaked me out. I can only imagine what goes through your mind when it's really happening as a teacher and as a child. So innocently our children don't really understand what we're practicing for when we do practice drills for a lockdown.
Have you talked with your child about their school's procedures?
You and I both know that's not going to keep them safe because active shooting doesn't happen that way. There is training for active shooting preparedness and unfortunately in our society I think it's now something we need to consider doing as a family. We need to know what to would do in that frightening situation. I hope that you've walked through your head what you would do in that situation. That's why we practice fire drills, that's why we have lockdown drills so that or fight or flight reflex instantly goes into a planned mode not a panic mode.
Our teachers should be heroes because they taught kids to read or made them feel more confident in their math abilities or inspired them to be scientists one day… not because they saved them from flying bullets.
Advocate for stronger laws and policies that will reduce gun violence and work in our communities to create a culture of gun safety. Get involved with Moms on Demand

Moms on Demand
What We Can do to Protect our Children from Gun Violence

Have you talked with your child about what to do?
Even after watching latest episodes of This Is Us…. you and I both know we've told our kids to get out of the house if it's on fire. Get out…. get out
I don't care how you get out, just get out.
Have you walked through a drill at your house? Where do you meet?
This is the last thing I told my children we talked about before I tucked my children into bed last night.
No one's going to be mad at you if you run into a closet or bathroom.
And I know it sounds harsh but go….get out of sight.
It is time that we approach members of Congress for a change in our gun laws….. it is time
There is no one, no one, who needs to own an a semi-automatic weapon in the United States of America! NO ONE!
If you look at what they did for gun control Australia.
In only months Australia: "banned automatic and semiautomatic firearms, adopted new licensing requirements, established a national firearms registry, and instituted a 28-day waiting period for gun purchases. It also bought and destroyed more than 600,000 civilian-owned firearms, in a scheme that cost half a billion dollars and was funded by raising taxes." Learn more about Australia's Policy Here
I don't even care how much money it takes to get these semiautomatic guns off of our streets, our government should able to finance a buy back program. I wish that we could do this.
It takes a village to raise a child. It takes a village to find the bad and just take it out and to get rid of it. It takes the village to find the light and build it stronger. Be the light! Build our nation to be stronger. Will you be the light?
Will you pick up the phone today and call your legislator and leave what you think should happen? Will you push your local lawmakers to keep your family your friends your neighbors safe?
Do you know your neighbors?
It starts in the community. It starts with connecting or reaching out to the person who you get the feeling that something is slightly off. And if you hurt their feelings by saying something I actually don't care anymore speak up. There are non-emergency numbers to call.
Do you know the parents of the students your child attends school with?
I ask this of law enforcement if a child's been expelled from school he should be on your f****** watch list! Check in with him or her.
Are you doing okay?
How can we help you?
It seems things are troubled, what can we do to support you.
Help find a support program for them to be a part of. A child should not be expelled from school and not followed up with and I'm telling you Facebook if you can tell me who's f****** face is in my picture you can pick up when someone is sharing a gun in an image. Ask Pinterest they wrote the software for visual search on images.
Set up a system to immediately red flag those accounts and send an emergency alert to law enforcement.
Flag their account on Facebook, YouTube, Instagram, Twitter. IT Programmers you guys have the visual scanning capability flag those violent photos with weapons.
Red flag it and Alert the authorities
Red flag it and Notify the church leaders in the community
Red flag it and Notify the schools within the community
We need to know who these individuals are who think they're better than everyone else. Because they are one of billions on this earth and until we take the power away from one of billions, they will have all the power. They will ensure that evil thrives they will ensure that you live in fear.
No child should grow up living in fear of guns in their school.
No child should grow up living in fear of a gun at their church.
No child should grow up living in fear of a gun at their concert.
No child should grow up living in fear of a gun at their movie theater.
They should grow up afraid of the dark and pretend monsters….not of guns in their schools. It's just so wrong.
It's so wrong on so many levels. (tears rolling down my face…….)
Thurston High School.
Columbine High School.
Heritage High School.
Deming Middle School.
Fort Gibson Middle School.
Buell Elementary School.
Lake Worth Middle School.
University of Arkansas.
Junipero Serra High School.
Santana High School.
Bishop Neumann High School.
Pacific Lutheran University.
Granite Hills High School.
Lew Wallace High School.
Martin Luther King, Jr. High School.
Appalachian School of Law.
Washington High School.
Conception Abbey.
Benjamin Tasker Middle School.
University of Arizona.
Lincoln High School.
John McDonogh High School.
Red Lion Area Junior High School.
Case Western Reserve University.
Rocori High School.
Ballou High School.
Randallstown High School.
Bowen High School.
Red Lake Senior High School.
Harlan Community Academy High School.
Campbell County High School.
Milwee Middle School.
Roseburg High School.
Pine Middle School.
Essex Elementary School.
Duquesne University.
Platte Canyon High School.
Weston High School.
West Nickel Mines School.
Joplin Memorial Middle School.
Henry Foss High School.
Compton Centennial High School.
Virginia Tech.
Success Tech Academy.
Miami Carol City Senior High School.
Hamilton High School.
Louisiana Technical College.
Mitchell High School.
E.O. Green Junior High School.
Northern Illinois University.
Lakota Middle School.
Knoxville Central High School.
Willoughby South High School.
Henry Ford High School.
University of Central Arkansas.
Dillard High School.
Dunbar High School.
Hampton University.
Harvard College.
Larose-Cut Off Middle School.
International Studies Academy.
Skyline College.
Discovery Middle School.
University of Alabama.
DeKalb School.
Deer Creek Middle School.
Ohio State University.
Mumford High School.
University of Texas.
Kelly Elementary School.
Marinette High School.
Aurora Central High School.
Millard South High School.
Martinsville West Middle School.
Worthing High School.
Millard South High School.
Highlands Intermediate School.
Cape Fear High School.
Chardon High School.
Episcopal School of Jacksonville.
Oikos University.
Hamilton High School.
Perry Hall School.
Normal Community High School.
University of South Alabama.
Banner Academy South.
University of Southern California.
Sandy Hook Elementary School.
Apostolic Revival Center Christian School.
Taft Union High School.
Osborn High School.
Stevens Institute of Business and Arts.
Hazard Community and Technical College.
Chicago State University.
Lone Star College-North.
Cesar Chavez High School.
Price Middle School.
University of Central Florida.
New River Community College.
Grambling State University.
Massachusetts Institute of Technology.
Ossie Ware Mitchell Middle School.
Ronald E. McNair Discovery Academy.
North Panola High School.
Carver High School.
Agape Christian Academy.
Sparks Middle School.
North Carolina A&T State University.
Stephenson High School.
Brashear High School.
West Orange High School.
Arapahoe High School.
Edison High School.
Liberty Technology Magnet High School.
Hillhouse High School.
Berrendo Middle School.
Purdue University.
South Carolina State University.
Los Angeles Valley College.
Charles F. Brush High School.
University of Southern California.
Georgia Regents University.
Academy of Knowledge Preschool.
Benjamin Banneker High School.
D. H. Conley High School.
East English Village Preparatory Academy.
Paine College.
Georgia Gwinnett College.
John F. Kennedy High School.
Seattle Pacific University.
Reynolds High School.
Indiana State University.
Albemarle High School.
Fern Creek Traditional High School.
Langston Hughes High School.
Marysville Pilchuck High School.
Florida State University.
Miami Carol City High School.
Rogers State University.
Rosemary Anderson High School.
Wisconsin Lutheran High School.
Frederick High School.
Tenaya Middle School.
Bethune-Cookman University.
Pershing Elementary School.
Wayne Community College.
J.B. Martin Middle School.
Southwestern Classical Academy.
Savannah State University.
Harrisburg High School.
Umpqua Community College.
Northern Arizona University.
Texas Southern University.
Tennessee State University.
Winston-Salem State University.
Mojave High School.
Lawrence Central High School.
Franklin High School.
Muskegon Heights High School.
Independence High School.
Madison High School.
Antigo High School.
University of California-Los Angeles.
Jeremiah Burke High School.
Alpine High School.
Townville Elementary School.
Vigor High School.
Linden McKinley STEM Academy.
June Jordan High School for Equity.
Union Middle School.
Mueller Park Junior High School.
West Liberty-Salem High School.
University of Washington.
King City High School.
North Park Elementary School.
North Lake College.
Freeman High School.
Mattoon High School.
Rancho Tehama Elementary School.
Aztec High School.
Wake Forest University.
Italy High School.
NET Charter High School.
Marshall County High School.
Sal Castro Middle School.
Marjory Stoneman Douglas High School.
Great Mills High School.
Central Michigan University.
Huffman High School.
Frederick Douglass High School.
Forest High School.
Highland High School.
Dixon High School.
Santa Fe High School.
Noblesville West Middle School.
University of North Carolina Charlotte.
STEM School Highlands Ranch.
Edgewood High School.
Palm Beach Central High School.
Providence Career & Technical Academy.
Fairley High School (school bus).
Canyon Springs High School.
Dennis Intermediate School.
Florida International University.
Central Elementary School.
Cascade Middle School.
Davidson High School.
Prairie View A & M University.
Altascocita High School.
Central Academy of Excellence.
Cleveland High School.
Robert E. Lee High School.
Cheyenne South High School.
Grambling State University.
Blountsville Elementary School.
Holmes County, Mississippi (school bus).
Prescott High School.
College of the Mainland.
Wynbrooke Elementary School.
UNC Charlotte.
Riverview Florida (school bus).
Second Chance High School.
Carman-Ainsworth High School.
Williwaw Elementary School.
Monroe Clark Middle School.
Central Catholic High School.
Jeanette High School.
Eastern Hills High School.
DeAnza High School.
Ridgway High School.
Reginald F. Lewis High School.
Saugus High School.
Pleasantville High School.
Waukesha South High School.
Oshkosh High School.
Catholic Academy of New Haven.
Bellaire High School.
North Crowley High School.
McAuliffe Elementary School.
South Oak Cliff High School.
Texas A&M University-Commerce.
Sonora High School.
Western Illinois University.
Oxford High School.
Robb Elementary School.
Walnut Park Elementary
Ingraham High School
Rudsdale High School
Central Visual and Performing Arts High School
Richneck Elementary School
Westinghouse Academy
Palo Duro High School
Lamar High School
East High School
The Covenant School
We have got to make changes in gun laws for the lives of our children.
My husband and I have made the parenting decision to not allow our child to use a cell phone until she's much older. Tonight as I lay in bed, I feel like events like this are going to be the reason I give her one so that she can contact me when something dangerous in happening at school.
And the ability to give her a way to say I love you one last time. This can not be the answer.
Will you join me in getting involved at your local, state, and national levels?
Do we need another President to give the same speech about a School Shooting. We need to stop this insanity.
Please take a moment today to remember the 17 victims of this tragic event in Parkland, FL. Here's the official Victims Fundraiser by Broward Education to help give your financial support to the families. We can't forget each of these lives taken from us too soon due to gun violence.
In all, these incidents of gun violence since 2017 have resulted in 59 deaths and 124 non-fatal gunshot injuries. My heart breaks to type that and read that again and again. Did you see the activist demonstration outside of the DC Capital with 7000 pairs of shoes? 
It's heart-wrenching to see so many lives taken from us due to gun violence in American schools.
It's time for change. Will you be the voice of change?
How to Talk with Your Child About a School Shooting
Here are a few resources for talking with your child about recent events. As much as we want to protect our children and keep their innocence safe it's a conversation that you need to start.  It's far more important that it comes from you than peers at school. Be the family they turn to for answers and to talk about their fears and challenges.  Have an open dialect.
I am a teacher and you want to arm me? The NRA says the answer to stop school shootings is more guns. But we say, arm us with more resources not more guns. @mcricrke @NRA pic.twitter.com/RlfV7IEC63

— UTLA (@UTLAnow) February 6, 2018
Need motivation to take Action Again Gun Violence?
Responses from Victims of School Shootings
Powerful Calls to Action by Teen Survivors on The New Yorker
Florida School Teacher: I just Prepared to Die
Resources to Take Actions Against Gun Violence and Gun Laws
Start by getting involved with your local PTA at your child's school. Did you know that it's the largest children's advocacy group? To get you started here are their talking points. Here's where you can learn their view and ways to get involved.
Our thoughts and prayers are not enough… it's time to take action. https://everytown.org/throwthemout/
We've had enough. Thoughts and prayers are not enough to honor the victims of gun violence. What we need now is action.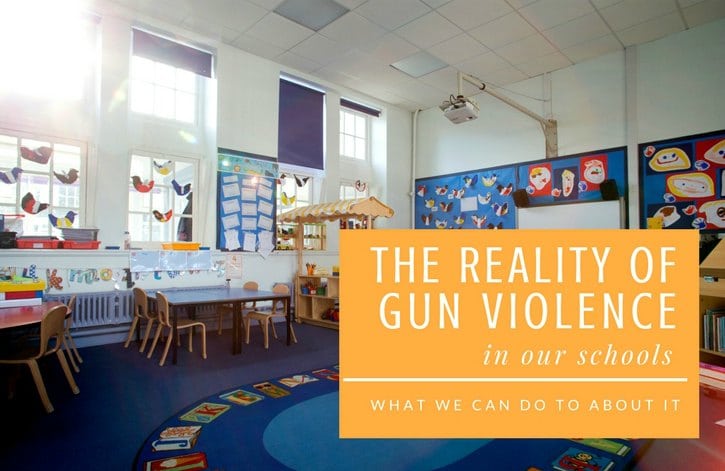 Contact your Local Elected Officials and Join a March Near You.
Women's March Youth EMPOWER is calling for students, teachers, school administrators, parents and allies to take part in a #NationalSchoolWalkout for 17 minutes at 10am across every time zone on March 14, 2018 to protest Congress' inaction to do more than tweet thoughts and prayers in response to the gun violence plaguing our schools and neighborhoods.
We need action. Students and allies are organizing the national school walkout to demand Congress pass legislation to keep us safe from gun violence at our schools, on our streets and in our homes and places of worship.
Click here to find an event near you.
Everytown.Org on Wear Orange Weekend, June 3-5.
During National Gun Violence Awareness Day and Wear Orange Weekend, join others and honor survivors of gun violence.
More than 8 million people have joined Everytown for Gun Safety, and every June they hold events around the country to inform and teach, honor survivors, and rally to make change.
You still need a little convincing that gun laws need to be changed around here? Check out this article about how gun policies change lives.
Find an event near you NOW –> Wear Orange Event
Moms, Dads, Grandparents, Uncles, Aunts… it's time for us to STAND UP and promise #neveragain to our kids.