Are you ready for some gobbly good time this Thanksgiving? We prepared suggestions for you and your kids to ensure you will have a fun time creating lovely turkey crafts to decorate your home as well as a few ideas for small gifts kids can make for their friends and family.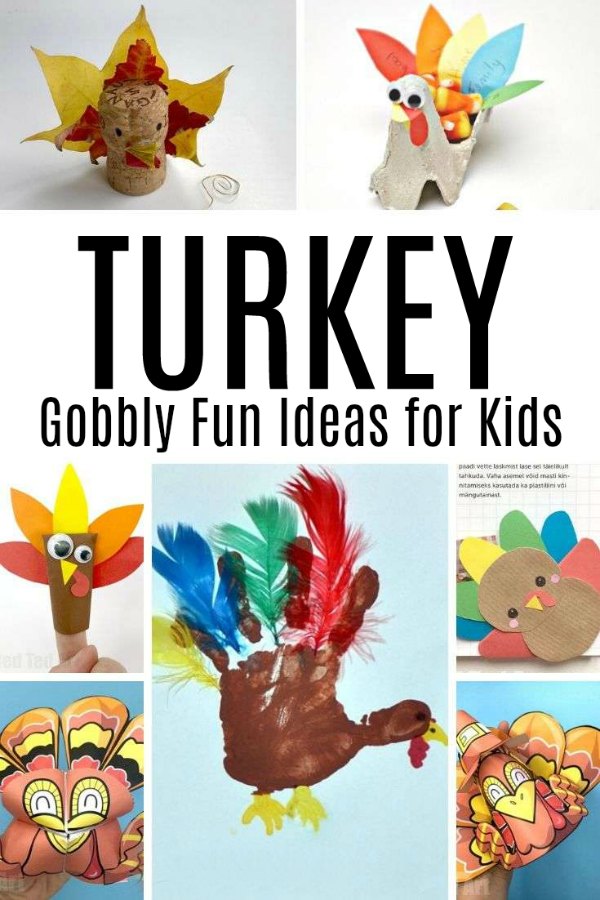 Disclosure: This post contains affiliate links
Here are some of the supplies you will need for turkey paper crafts:
Light Cardstock
Printer paper
Scissors
Glue Stick
Black pen
Printer
Turkey Crafts for Kids
Without further delay, take a pick for your first gobbly fun turkey project!

Invite kids to make adorable little paper turkeys and turn them into finger puppets. They will enjoy using them to retell their favorite Thanksgiving stories and maybe get inspired to make their own!
For many kids, it's boring to learn all the facts connected to history and traditions. We have a solution! Print Thanksgiving turkey cookie catcher to encourage them to learn in a fun and enjoyable way!
Don't you just love items that can be used in more than one way? Pick a printable and make 3D cone turkeys to use them as party hats, place cards for Thanksgiving dinner or puppets for imaginative play!
Create an adorable Turkey paper chocolate wrapper with watercolors to give to someone you're thankful for this holiday season.
For kids and adults who adore the scent and touch of a brand new book, we share this lovely turkey corner bookmark! It will make reading ever more entertaining!
Pick bits and bobs and invite kids to create lovely art for Thanksgiving! We love how they can make so many differently looking and unique collage turkeys!
Combine nature and recycle bin finds to make cork turkeys! Simple craft and on a cheap to make. Just pick some leaves during walk outside and a wine cork. You are good to go!
Another recycled craft we suggest to make with your kids are turkey treat holders from egg cartons. Everyone has an egg carton or two laying around so put them to good use!
Perfect craft for siblings or a group of younger kids in care center or a kindergarten – paper plate turkeys! Using collage technique each of these cute turkeys will let kids work on their fine motor skills with all the cutting and pasting!
Handprint crafts are super easy to create and if you have a toddler or preschooler, they are a perfect solution! Help them to make prints and create handprint turkeys for Thanksgiving cards or as an art project!
How about a Thanksgiving party hat? Just look how adorable it looks! We totally adore these cute turkey hats and kids will love wearing them too! Just imagine them wearing these hats around the table during Thanksgiving dinner!
If you liked these crafts, especially the paper based crafts from Maggy from Red Ted Art, you will also LOVE her new Easy Paper Projects Book. All of these crafts are designed to use the most basic materials – paper, card and stationery to make ALL the crafts in this book!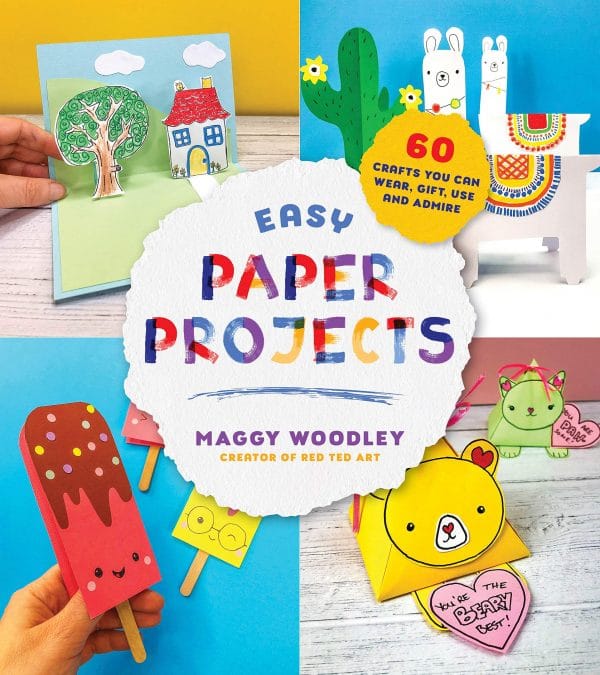 This makes crafting inexpensive, accessible and fun. Create wonderful together time as kids learn new skills and make fun crafts to keep or gift!
Get your copy today US | UK | International