Learning about life cycles of animals and plants help kids connect with the natural world, develop a deeper understanding of science, and strengthen their vocabulary.
Try these activities with children as you examine the life cycle of a praying mantis in your home or classroom.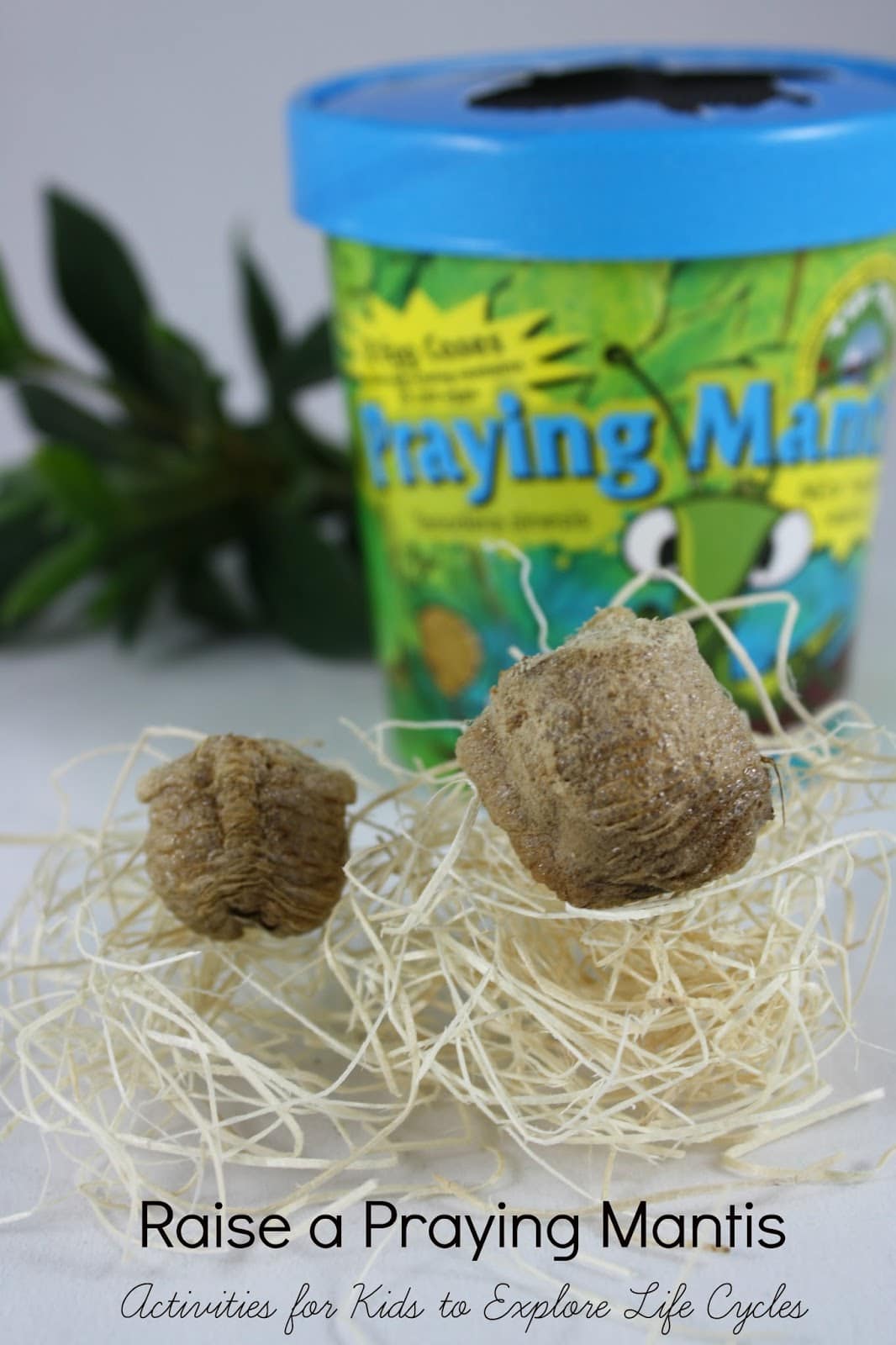 Disclosure: This post contains Amazon Affiliate Links
Life Cycle of a Praying Mantis for Kids
Observe the Life Cycle of a Praying Mantis:
My child is fascinated with the life cycle of a butterfly. We have raised many over the years and he is confident in teaching others about their metamorphosis.
When I found out you can raise and release these helpful garden friends, I knew we had our next science project!
We have the Insect Lore Live Butterfly Garden and have had an amazing experience with them. If you purchase the butterfly garden, it comes with a coupon card for caterpillars. You need to redeem the card online and pay additional shipping the caterpillars to be shipped.
The replacement Insect Lore Live Butterfly Culture are available on Amazon Prime too.
Where to Purchase Praying Mantis:
We purchased a praying mantis egg case with hatching habitat at our local garden center. They have it for purchase on Amazon as well.
Friends of ours have purchased the Insect Lore Live Praying Mantis Egg Case and said their praying mantis never hatched. Insect Lore was able to send them a replacement kit to try again this summer.
We are currently in week 2 of waiting for our nymphs to hatch.
Praying Mantis Egg Cases – 5 Extra Large Cases
Praying Mantis Egg Case With Hatching Habitat
Tips for Raising and Viewing the Life Cycle of a Praying Mantis
Warm weather is needed for hatching.
Do not keep inside an air-conditioned building.
Many nymphs will not survive more than a few hours.
Life Cycle of a Praying Mantis Technology Connection:
This video shows the transformation from the egg – nymph – adult.
Make a Praying Mantis Life Cycle Science Center
Ordering Life Cycle Stages:
The praying mantis egg sacs must be handled with utmost care. Although my children are tender handed, kind hearted children, we just used our visual observation skills to examine the praying mantis egg sacs.
This Praying Mantis Life Cycle Stages would be the perfect addition to a science center in your home or classroom. Include a set of note cards with the stages on a table and encourage readers to match the pictures to the words and put them in order.
Draw and Label Body Parts
A larger than life Praying Mantis can be added to the life cycle science center. This can be used for children to trace onto a piece of paper and label the parts; head, abdomen, thorax. Encourage children to use inventive spelling or provide a teacher drawn sample.
Sort and Compare:
Print pictures of different insects and arachnids or purchase a set of plastic Insects & Arachnids Bugs. Set them in a small basket.
Have the children compare and sort the collection in different ways such as by color or number of legs.
Science vocabulary word wall:
Teach the children the "fancy" words for what is happening. Kids LOVE to learn new words about the world around them. YES, these words are hard, but I do not expect my preschooler to remember them.
We talk about them and write them down so that children have exposure to rich language.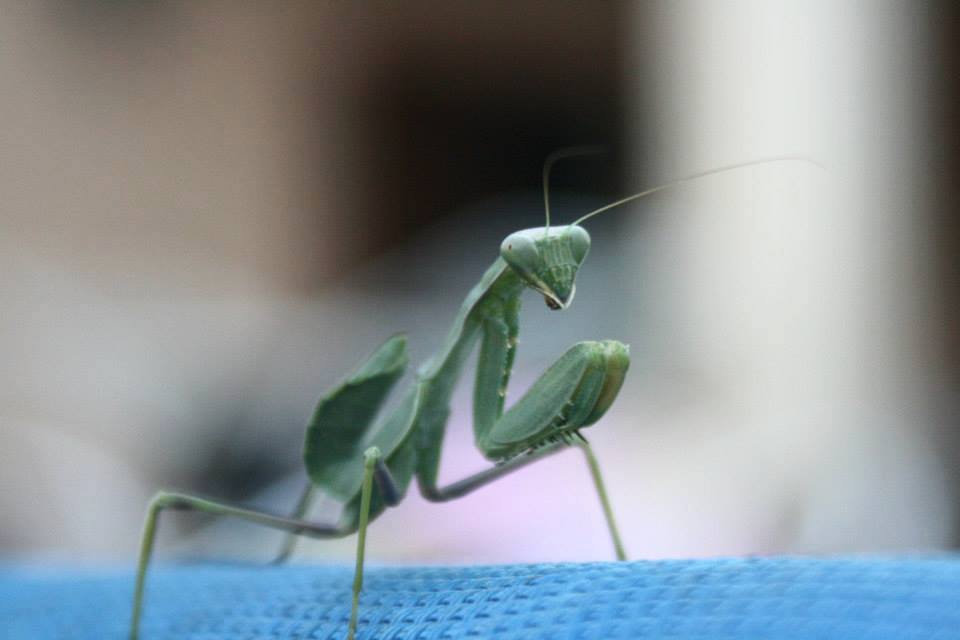 Photo Credit: Rainy Day Mum
Incomplete metamorphosis: the change from egg to nymph to adult – no pupa stage during development.
Egg Case: 2-3 inch case holding up to 400 mantis eggs.
Nymph: Baby praying mantis that resembles the adult.
Exoskeleton: The outer layer on the praying mantis body.
Molt: The process of getting rid of the exoskeleton. A mantis can molt up to 10 times as it grows to it's full size.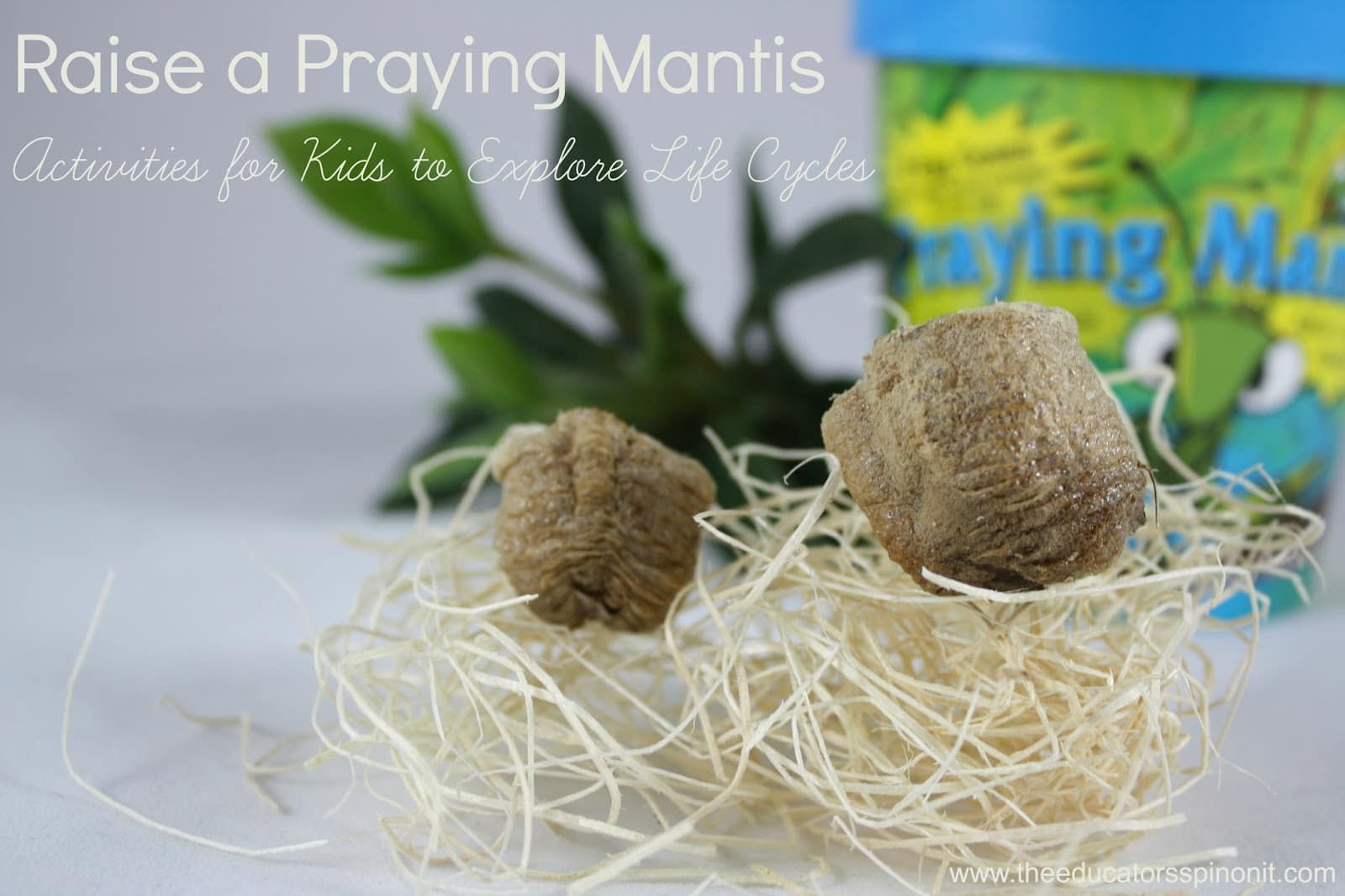 Literacy Connections for Life Cycle of a Praying Mantis.

Display Fiction and Non-Fiction Books about Praying Mantis:
I was extremely surprised to see how many books actually do exist about praying mantis insects. If possible, I would set out a fiction and or non-fiction book in the book nook or science center.
Check your library to see if any of these books are available or consider purchasing one. If your classroom will be hatching praying mantis every year, consider getting a set and sharing with the grade level.
Add a Related Puppet or Toy
We always like to have something interactive with our thematic reading units and like to include a toy or puppet for kids to practice story re-tellings and to help them create their own oral stories. This Praying Mantis Finger Puppet is cute.
No budget for anymore toys? Print a picture and tape it to a craft stick. Same idea – lower cost.
DIY Kid-Made Book
Have the children draw a picture of a praying mantis. Encourage them to write a sentence about what the praying mantis can do. Collect the children's drawings and staple them together to make a book.
Example: A praying mantis can eat.
Children's Books About Praying Mantis
More Activities for Explore Life Cycles with Kids from the #PLAYfulPreschool Education Team
Butterfly Life Cycle Activities for Kids

Butterfly Life Cycle Story Board by Growing Book by Book
Life Cycle of the Butterfly in Art by Powerful Mothering
Playdough Butterfly Life Cycle by Learning 2 Walk
Butterfly Life Cycle Craft Necklace by Fun-A-Day
Ladybug Life Cycle Activities for Kids

Ladybug Life Cycle Song by Capri +3
Ladybug Life Cycle Activities and Sensory Play by Natural Beach Living
Frog Life Cycle Activities for Kids

Life Cycle of a Frog Sensory Bin by Mom Inspired Life
Fine-Motor Frog Life Cycle Craft by Live Over C's
Frog Life Cycle Craft by Still Playing School
Mealworms Life Cycle Activities for Kids

Studying Mealworms with Kids by Raising Lifelong Learners

Sea Turtle Life Cycle Activities for Kids

Sea Turtle Life Cycle – Ordering by Rainy Day Mum
Praying Mantis Life Cycle Activities for Kids

Raise a Praying Mantis | Activities for Kids to Explore Life Cycles by The Educators' Spin On It
If your children are fascinated with science and exploring the natural world, you may consider getting the MEGA Life Cycles pack:
1,500 Live Ladybugs & 2 Praying Mantis Eggs & 1000 Green Lacewing Eggs Includes Ladybug Life Cycle Poster