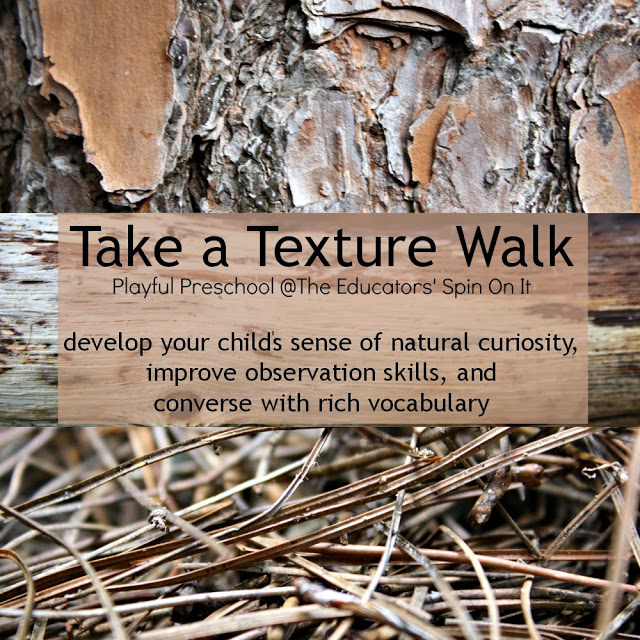 Sometimes the simplest activities are actually the strongest learning activities. Exploring outside activates many of our senses and accommodates for multiple learning styles. The child who learns best by seeing, feeling, hearing, exploring, smelling, interacting, moving, can all benefit from taking a texture walk.
Texture Walk for Kids
My preschooler and I have been taking a texture walk daily for the past several weeks. Encouraging him to look for different textures increases his observation skills. Proving examples and using vocabulary repeatedly enhances language building.
The stone that was once a big grey stone by our home, is now a gigantic smooth charcoal grey stone, all by just noticing and talking about it.
You may not think these little things matter, but when it comes time for him to write paragraphs in school, he will have a stronger oral language base and hopefully be able to transfer this language into the written form.
I have seen this progression with my oldest, now 7 years old and a very strong writer. She is not the typical kid who would say. I like being outside. Rather, she would say, I dream about laying in the soft green grass watching the rabbit clouds float by. Yes, at 7, she writes like that.
This will also help him in subjects such as science and art that require great attention to small details. If we teach and provide opportunities for our children to practice their observational skills, they will improve and begin to notice more.
What to do:
Start by explaining your focus; "Today we will look for different textures in our natural environment. We will be going on a texture walk."
Provide some examples such as a moss covered rock. Use strong vocabulary words to describe the colors and textures. SMELL (yes, stick your nose in the moss and take a deep breath) encourage your child to do the same. Talk about it.
Then, head out on your adventure.
Tips and Extensions:
There is no time limit. Follow your child's lead. A texture walk could be anywhere from a 3 minute jaunt to a 45 minute trek.
Lead by example. Find interesting things yourself and share with your child.
Listen. Let your child show and talk to you about what they found.
Extend the activity further by coming home and drawing and / or writing about your experience.
Check books out from your local library about nature
What do YOU think you will find on your Playful Preschool adventure this week?
More Playful Preschool Ideas:
Save