Think beyond the book this year for your space unit and get kids exploring the solar system in a new way!
The Rockwell Adventures – Solar System Expedition space colony design challenge combines augmented reality with traditional paper-pencil learning to get kids thinking about science, math, engineering, and technology.
This design challenge takes learning about space to a whole new frontier, getting kids to analyze data and think creatively.
This conversation is sponsored by Stone Oak Media, a company dedicated to bringing the excitement of STEM learning to children everywhere. All thoughts and opinions are 100% my own. Affiliate Links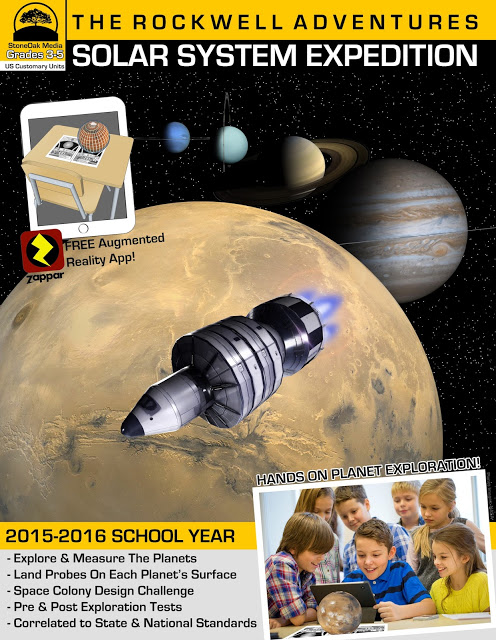 What is The Rockwell Adventures – Solar System Expedition space colony design challenge?
The Rockwell Adventures – Solar System Expedition space colony design challenge is an augmented reality workbook. It is an interactive program that uses a book and handheld technology device to enrich students' space education. Students use an app to scan pages of the book and they "come to life" as an interactive video begins on the child's screen.
The child taps the screen to send a probe to each planet that collects data. A chart is provided for these data collections and once the data has been collected, they are asked to analyze and create a base for a colony on any one of the planets.
These STEM adventure books are designed for students in 3rd through 5th grade. A second version is designed for students in 6th – 8th grade. The Rockwell Adventures uses augmented reality,  a technology enhanced virtual field trip to get students thinking like an engineer. 
Great for:
Science teachers
Science labs
Parents
Afterschool STEM clubs
Nannies and babysitters
Homeschooling coops
Gifted programs
Space loving families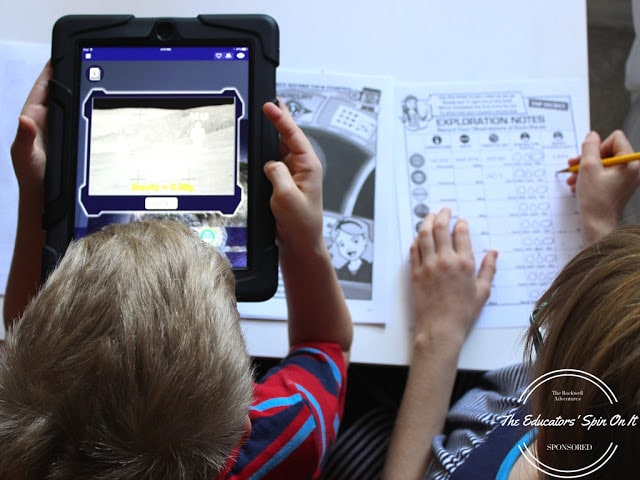 Prices for books start at $19.95.
Goal of the Mission: To design a new colony on the student's planet of choice

LAUNCH: Students use their phones or pads to scan each page. Using the FREE Zappar Augmented Reality app for iOS and Android, students are launched into the virtual outer space.
EXPLORE: A short interactive video appears and students virtually travel through space collecting data on each planet. After the first launch, students can tilt their handheld devices to see other objects in space. See if you can find Earth!
MEASURE:  On each planet, the students send a virtual probe to the planet's surface to collect data about gravity, surface type, and temperature.
RECORD: As scientific and mathematical data is collected on each virtual planet, students record their findings in the charts. They collect data in metric or US Customary units depending on the workbook purchased. These charts are included with each book purchase. Answer keys and additional lesson expansion plans including data analysis packs with graphing are also available at Stone Oak Media.
ANALYZE: Students look at the collected data and compare to gain a better understanding of the planets.

DESIGN: Based on their analysis of data, students select a planet to build a base camp for further exploration.  They consider the conditions of each planet and are encouraged to think creatively to design a suitable structure that will help people survive those conditions.
HINT: If you select the planet Saturn, you'll need to make sure to design a platform that floats on the gas surface!
There are a variety of variations of the book to meet your individual and classroom needs. Parents and teachers can select to purchase either the metric version that uses kg, km, Celsius or the US Customary Units with uses lbs, miles, and Fahrenheit. Each of these versions are available in print and in digital PDF format (which means you can download and print it right now!)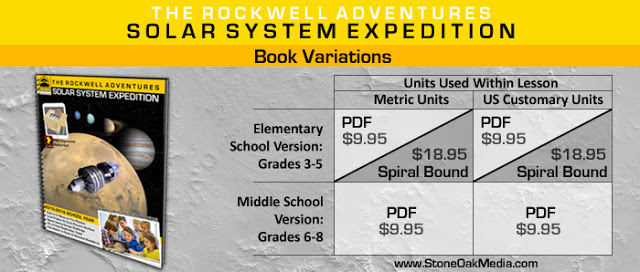 2 Versions of the books. One for Elementary School students. One for Middle School Students
Each version is available in metric or US Customary units. Each version is sold separately.
Available in PDF format for immediate download or Spiral Bound Print Book.
PRINT your copy of The Rockwell Adventures – Solar System Expedition
NOTE: Regardless of the format, the purchaser of this book is granted the right to make copies of these pages for single classroom use.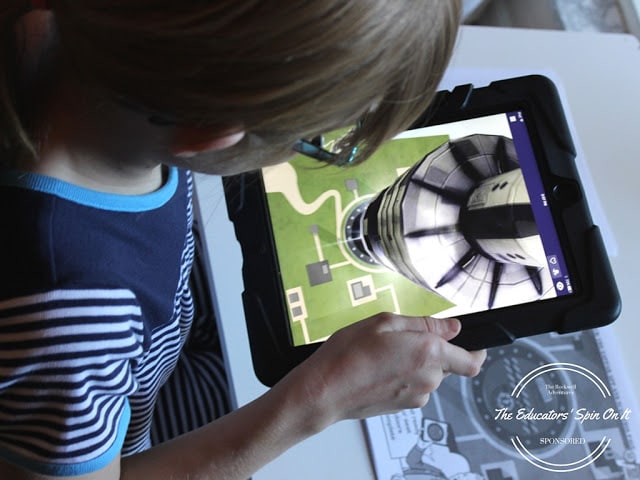 How to Use The Rockwell Adventures – Solar System Expedition Space Book
My kids (ok who am I to kid, I LOVED IT!) loved this augmented reality workbook! As an advocate for getting kids to use screen-time to enrich learning, this is truly a one-of-a-kind product and one that I am honored to be working with.
At the age when many children begin to lose excitement and enthusiasm for science, technology, engineering, and math, the The Rockwell Adventures – Solar System Expedition space colony design challenge reignites their passion for STEM.
I downloaded the FREE Zappar Augmented Reality app on my phone and Ipad and printed a copy of book (I got the PDF) because I couldn't wait for delivery. Of course, my printer is near the end of it's life and printed extremely grainy. I was worried this would affect the use of the workbook, but it didn't!  Yipee! (Of course, I now have a new printer thanks to my families Christmas gift, so I re-took the pictures on this blog post!)
After printing the pages, I made copies of the data recording sheets so that more than one child could complete this Solar System Expedition Space Colony Design Challenge.
I made multiple copies of these pages:
1. Exploration notes
2. Questions
3. Base Design
The program can be done as individuals or in pairs. If working together in pairs, one student can hold the device and the other records notes. As there is 8 planets to record data on (the sun has been completed for you) each child can press buttons for 4 and take notes for 4.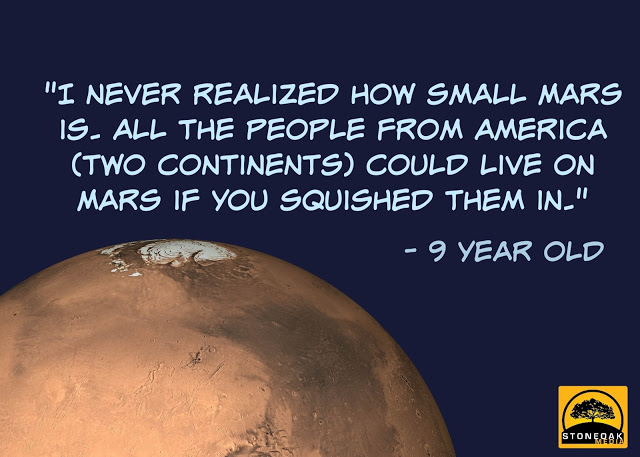 My 9 year old independently navigated the solar system space colony design challenge. (She did it another time with her younger brother – he's 5- and enjoyed it just as much the 2nd time around)
The data collection form was easy to follow and very well organized.
The digitally enhanced content provided age appropriate feedback with items that related back to what children would know: comparing sizes of the planets to Earth and comparing the weight of an child on each planet.
The design challenge was seamless and really encouraged her to think creatively. She asked if she could design a different base for each planet. Um… ok!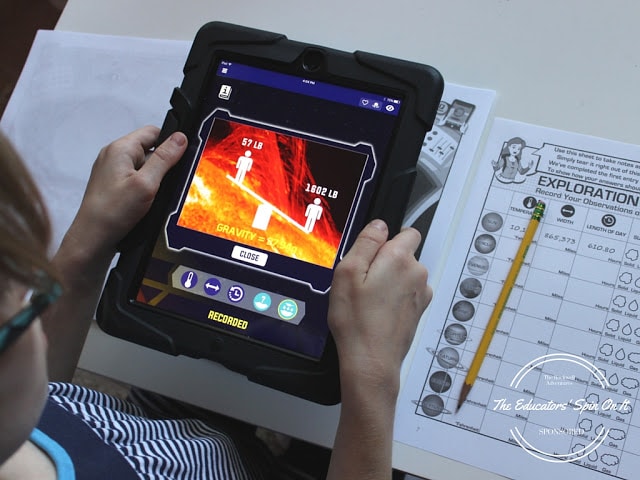 I tried to write down some of the things she said as she completed The Rockwell Adventures – Solar System Expedition Space Colony Design Challenge
"I like this! No, mom, I REALLY like this."
"I never realized how small Mars is. All the people from America (two continents) could live on Mars if you squished them in."
"We NEED to give my science teacher a copy of this book. She would LOVE it!"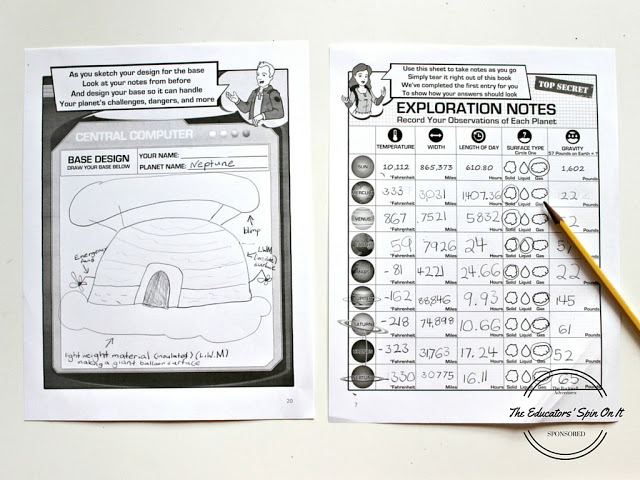 Available Stone Oak Media
***The zapcodes included in each book will only work for the 2015-2016 school year. To obtain an updated copy of this book after this period of time, please visit our website (StoneOakMedia.com) or contact your school's curriculum coordinator.
Get students OBSERVING, RECORDING, and INTERPRETING DATA in a fun and exciting way!