Apple can be a fun way to welcome the Fall with your Toddler!  Here are a few Apple Learning Activities for Toddlers to help promote fine motor skills, sorting skills, Literacy skills and creativity with your Toddler.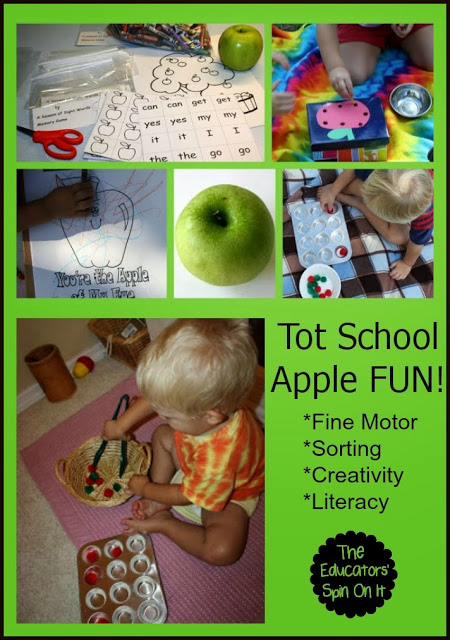 Apple Learning Activities for Toddlers
Developing Fine Motor Skills:
This week, I pasted an apple on a shoe box and punched some holes in the top for noodles to fit through. (top right picture) Who knew something so simple and inexpensive could be so entertaining!!!
Transferring and Early Math Skills:
Another hit from the week was our apple pom-poms.  I forgot to bring the tongs to our park play date, so the activity changed a bit and the kids sorted by colors and made patterns with their fingers. I made a sight word memory game for my after-schooler so she could be part of the apple fun too!
Creative Exploration:
Again, I braved putting out a sensory bin.  Someday, it will go as planned.  Until then, he had a BLAST dumping, picking up, dumping, picking up with his toes, and dumping some more! I just used rice and cut out red construction paper apples to add in.
Literature Connections:
We also read LOTS and LOTS of apple books.  TReading a book over and over again each day helps our youngest readers develop a familiarity with text. It also lets them interact with a book on more levels. We will get tired of the story long before they do. Repetitive reading is a good thing.
Amazon Affiliate Links