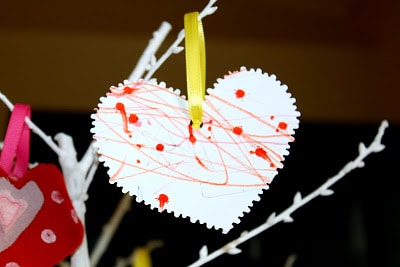 Yes, my tot scribbles and I think it is wonderful!!! Yesterday, Kim wrote about exposing your babies to pre-writing activities by giving them opportunities to write.
Literacy Development in Toddlers
I am reading the book Raising Confident Readers: How to Teach Your Child to Read and Write–from Baby to Age 7 by Dr. J. Richard Gentry and both of our little ones would be considered in stage 0 of learning to read and write. Dr. Gentry emphasis the importance of this stage, "what you do in Phase 0 hugely impacts to timing of all the other phases of literacy." 
First scribbles are setting the foundation for literacy development.  Phew… what we are doing with our babies and toddlers is SO important.
He uses the acronym E.A.S.Y to explain how to teach babies and toddler in this stage.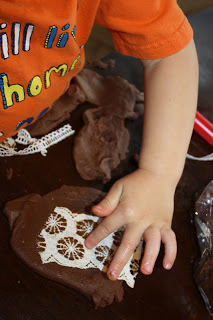 E – Early start
Dr. Gentry emphasizes an early start, talking to your babies, reading out loud, immersing your children in oral language. (He even encourages the use of a second language at this age too!) 
At our household, we use everyday activities like making chocolate play dough and rolling lace onto it to "immerse" our children in language.  We talk about the patterns and textures of the things we are working with, how things feel, look, taste. 
We talk together about the world and the things in it. I began reading to my baby the first day he came home from the hospital!  Books have been a part of our life for his entire first 2 years.
A – Activities
Activities interacting with board books and doing simple activities such as rhyming activities will help create a literacy rich environment.
He writes "You will know you have been successful when by two years of age your baby is perfectly content to entertain herself happily flipping through a pile of books for 20 minutes while singing and chatting to herself. YEAH!
This doesn't happen all day, but my tot is content to "read" to himself at least one 20 minute section of our day!!!
S – Stimulation
This part emphasis that talking about the book and the illustrations is helpful for children this age. If we read a book about buttons, like "Corduroy's Buttons, then I stimulate my tots fine motor skills by hiding buttons in our play dough (we have been on a home-made play dough kick this week!) and finding them. 
We also have been showing him that some pants and shirts have buttons and he is now identifying them on his own.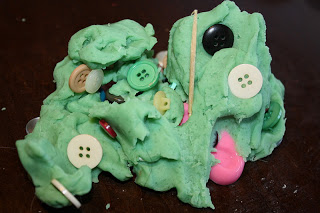 Mine decided to drop all the buttons on the floor after he found them (guess he wanted to stimulate his sense of sound and develop a greater understanding of gravity) 
So, I brought out a muffin tin and we sat together of the floor picking up the buttons and sorting them by color.  I think this is what Dr. Gentry is talking about, connecting literature and real life through activities.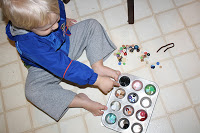 Y – You
"You start early, you provide literacy-rich activities, and you provide the hands-on-stimulation."
I love this quote!  We recently attended a music class and the instructor was talking about percussion instruments.  She had the kids make their own maracas. While they were making these maracas, one of the kids grabbed his mom's i-phone and pulled up a music app.
He told the teacher he knew all about the instruments because he played them all and demonstrated how to tap his finger on the I-phone. His mom said it was much quieter than actually letting him have and play the instruments. 
I couldn't help but think that this child was missing out on what music really is. An application to tap does not replicate the actual beating of a drum or shaking of a tambourine.
Similarly, putting your kid in front of an educational video isn't an engaging, literacy-rich activity. Setting your child on your lap to read a story, having him or her help choose the book, turn the pages and engaging him in a dialog is what engaging, hands-on literacy looks like.
Doing art activities and making books with your babies and toddlers are some suggested activities. 
Beginning at 8-12 months, Dr. Gentry suggests introducing your babies and tots to blocks and letter tiles. 
For more ideas on how to read and interact with babies 0-2, the book "Baby Read-Aloud Basics," maybe another good resource for you.
If you need ideas on some more literacy based activities for your kids, stop by and check out our yearly link-up of books and activities that relate to them. If you have a specific post that highlights one book and an interactive project or activity that goes with it, feel free to link it up too!  
There are some fantastic ideas linked up already!!!
Let's stimulate our kids cognitive development!!!