Gobble Gobble It's turkey time! Here are a few easy-to-make Turkey Learning Games and Activities for your kids or classroom.
These games are adaptable to many academic areas, are made of recycled materials and easy to prepare. Great for preschool, kindergarten and first graders!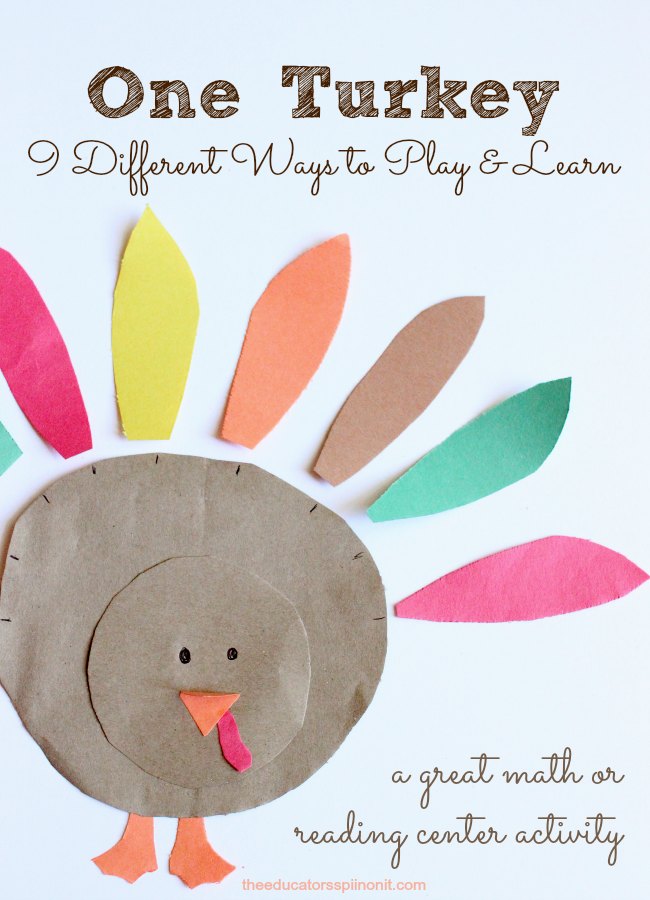 Turkey Learning Games and Activities for Kids Variations:
Make one turkey – or a few to highlight different academic skills. These learning games can be laminated for classroom use and adapted to meed all different needs. Just think of the possibilities.
You could make a:
word family turkey
matching upper case and lowercase letter turkey
addition fact family turkey
multiplication turkey
division turkey
words and definition turkey
build a word turkey
shape matching turkey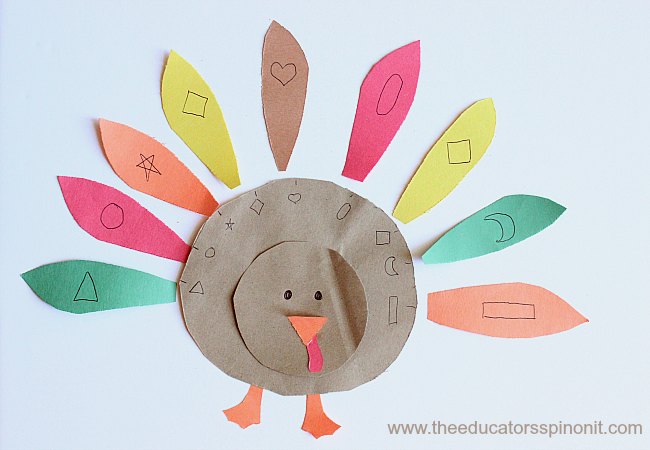 Disclosure: Amazon affiliate links used in this article.
Materials Needed:
Directions for Making the Turkey Learning Games and Activities:
First, cut the turkey pieces from the paper. You will need:
one large circle and one small circle in brown. ( we used a brown paper bag)
One diamond folded in half in orange.
2 orange webbed feet.
1 red warbler
5-7 turkey feathers in a variety of colors.
Then, glue the body of the turkey together. Next add the eyes, feet, and warbler.
Last, set the feathers near the body. Write the selected numbers, letters, or words on the turkey and again on the feathers.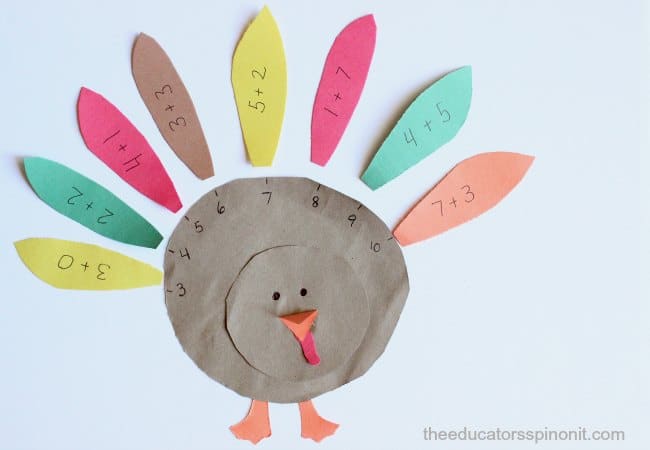 How to Play the Turkey Learning Game
Provide the feathers and the turkey body.
Have the students match the sight word feathers to the same word on the turkey.
Encourage them to read each work out loud as they play the sight word game.
Have them take the feathers off the turkey and shuffle the order for the next person to take a turn.
You can store in a bag or paper clip the feathers on the turkey body and set in a folder.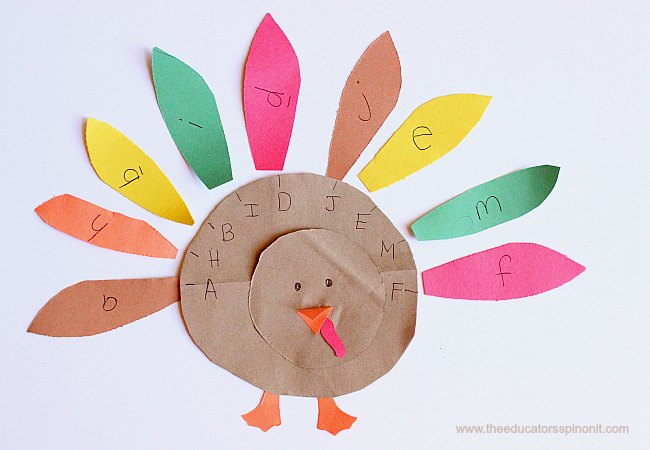 More Turkey Learning Games and Activities for Kids:
Name Activities: Feather Letter Turkey by Growing Book by Book
Turkey Shape Tracing by 3 Dinosaurs
Textured Turkey Feathers Pre-Writing Activity by The Preschool Toolbox
Turkey Geoboard by Still Playing School
Counting Feathers Sticky Wall by Mom Inspired Life
Fine Motor Turkey Math by Fun-A-Day!
Quick & Easy Color Feather Sort by Powerful Mothering
Make Pretty Feather Window Clings-a tutorial by Capri +3
Writing with Feathers by Rainy Day Mum
10 Turkey Books to use with Turkey Learning Games and Activities
These books are fabulous read before or after playing a turkey learning game!
Nate The Great Talks Turkey
For preschoolers ready for a chapter book read-aloud, this book is a great introduction to the mystery genre. We like to read a few chapters every night before bed and discuss.
Read more about the book here
Amelia Bedelia Talks Turkey
Silly mishaps and mistakes cause quite a scene at the Thanksgiving play.
Read more about this book and the other level two readers in this series here.
This is the Turkey
A story about celebrating the season with family and friends. Simple and charming.
Read editorial reviews here
Turkey Trouble:
A clever tale of disguise to get children giggling. #1 in Kindle Store.
Read 5 star reviews here.
10 Fat Turkeys:
Gooble, gooble, wibble wabble… these 10 turkeys do everything from roller skate to doing a noodle dance. My kids ask to read this silly book over and over again all November.
Read more about the book here.
10 Turkeys in the Road

This read-aloud picture book with antics and rhyming text has been called, "A Gobbling Good Read."
Read 5 star reviews here.
T is for Turkey
This alphabet adventure book combines a little history and a little fun, stretching vocabularies and telling the story of a class Thanksgiving play.
Read more about the book here.

Gracias the Thanksgiving Turkey
A special delivery brings a turkey into Miguel's life. This is the story of his Thanksgiving worries about the bird he has grown to love and the worry if his dad, a truck driver, will make it home in time. Basic Spanish is woven into the text, which is a little bit longer. Geared for older preschool to 2nd grade.
Read 5 star reviews here
Olivia Talks Turkey
Short and sweet, based off the TV show, preschool children enjoy hearing the story and talking turkey -OOO-la-lo-la-loo!
Read more about the book here.
I'm No Turkey
If you haven't met Noodles yet, our family adores him. He is a sweet dog that likes things just so. The text is short, but full of expression.
Read more about this book and the other level one readers in this series here.
Click the following images to take you directly to their description page on Amazon.
Here is a quick and easy song to do with almost any turkey craft!
Here are some additional Thanksgiving Activity Ideas for kids to explore:
Save
Save