Finding ways for kids to express their feelings can be challenges.  Sometimes exploring a book together like Where the Wild Things Are can help to explore these emotions.  I'm sharing a colorful game to help kids learn to identify how they are feelings.  Don't forget to check out at the bottom all of the other ideas to use as your read Where the Wild Things Are. 
This post contains affiliate links to Amazon.
 
One fun way to talk about emotion is with colors.  In the post I'm going to share with you a Color Game that you can play after you read the book.  Your child will color the various Wild things and then you can or they can cut them out and hand them onto the trees of the forest you will create with pipe cleaners.  It's super easy and take about 10-20 minutes to set up and start playing.
Where the Wild Things Are Color Tree Game
Here's a playful game with Max that will encourage your child to identify their colors and talk about their feelings.  
Materials
white Paper

green Paper

Scissors

Crayons or Markers

Colored Pipe Cleaners 4 per tree color
Paper Clips
Tape
Lid of a box
Directions
1. Using the pipe cleaners create trees with your child making one for each color.  To Assemble twist the four pieces on pipe clear together leaving 2 inches at the bottom and 3 inches at the top for the branches.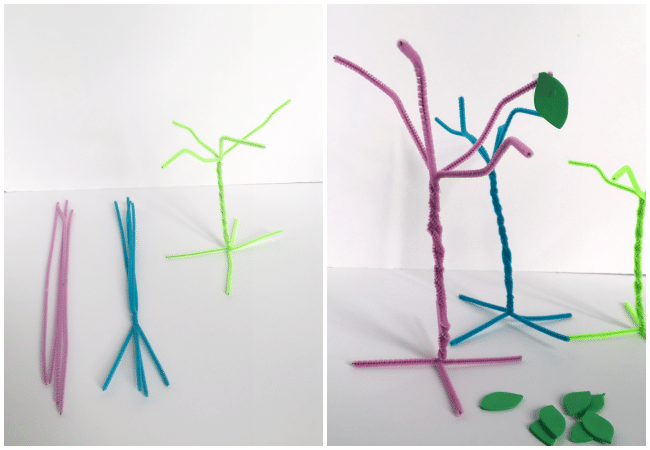 2. Tape the trees down to a lid of the box
3.  Cut out leaves for the trees like the book and attach to the pipe cleaner trees with tape
4. Have your child color images of the Wild Things.  We printed the printable pack from RoyalBaloo with many other activities too. You can download your own graphics from MelonHeadz Illustrating here to create a different printable.  OR you can simple have your older child draw the characters from the story.  When they are coloring have them select the colors you've chosen for the trees.
5. Cut out the Wild Things images and attach an opened paper clip to the back with tape so that they can hang form the trees just as they do in the story Where the Wild Things Are.
6.  It's Game Time!  Have you child sort the Wild things by their color and hang them onto the tree for their own Wild Rumpus.
7. As your child plays with the colors discuss with them how certain colors make t hem feel.  Does red feel angry? Is yellow happy?  Does green feel calm? Encourage them to express how they feel.
My Many Colored Days
 by Dr. Seuss is another great book for color Emotions.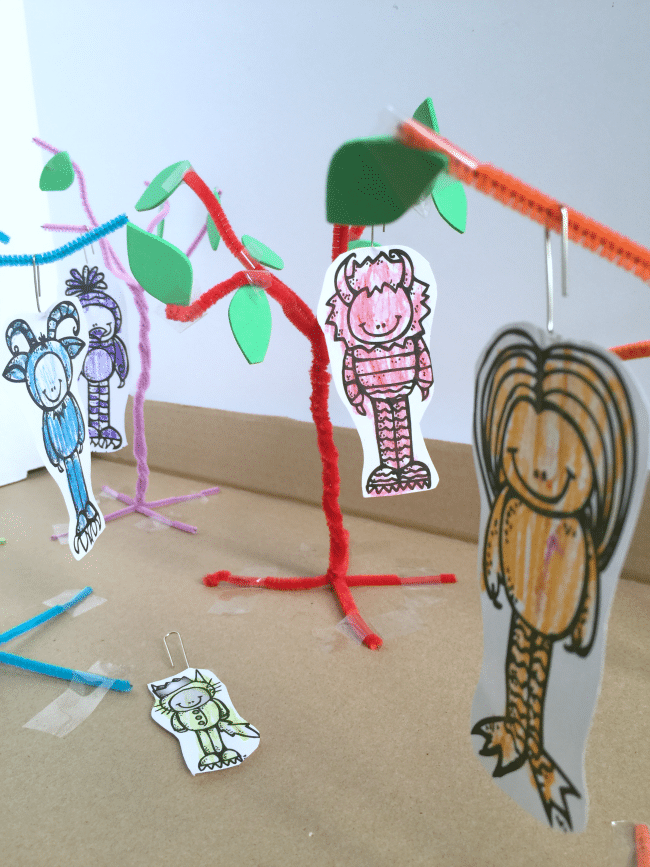 If you haven't read the story yet, here's a peek to Where the Wild Things are on youtube.
Printables for Where the Wild Things Are
Printable Pack of Free Where the Wild Things by RoyalBaloo
Where the Wild Things Are Lesson Plan Ideas
For more Book Themed Activities  {Click Here