No need to cast a spell to discover these delicious Witch inspired recipes for your Witch Themed Party for Kids this Halloween. From witch's hats and broomsticks to brewing potions and bubbling black cauldrons, we've put together a spellbinding list that is sure to please even the littlest witch.
It's time to start thinking of your Halloween guests for this kid friendly event. (Even if it's just you and your family this Halloween)
Disclosure: This post contains affiliate links where I earn a small commission when you make a purchase at no additional cost to you.
With just a few Witch Themed Party Decorations you can have a spooktacular get together with your child and their friends this Halloween. These Halloween Recipes are perfect for a school party or playdate with friends or your annual Halloween Party with friends and family.
All Witched themed Recipes to cast some delicious fun on your Halloween guests!
Are you ready for some magical fun?
Put on your Witch Costume! Stir up your black cauldron. Grab your broomsticks and witch's hat for a kid friendly Halloween event filled with spells and potions.
Witch Themed Party Ideas for Kids Halloween
From savory to sweet this Witch themed party will tempt your tastebuds and bring to life the magical time of Halloween. Below are featured Halloween recipes for Witches Brews, Savory Witch Themed Appetizers and even maybe have a spell cast on delectably delicious Witch Themed Desserts.
Grab your cauldron and let's get some magic potions started for this Halloween Party for the kids.
Before we talk Witch Themed Recipes… Don't forget to grab your Witch Party Plates and Napkins to get ready for the your awesome Halloween Party!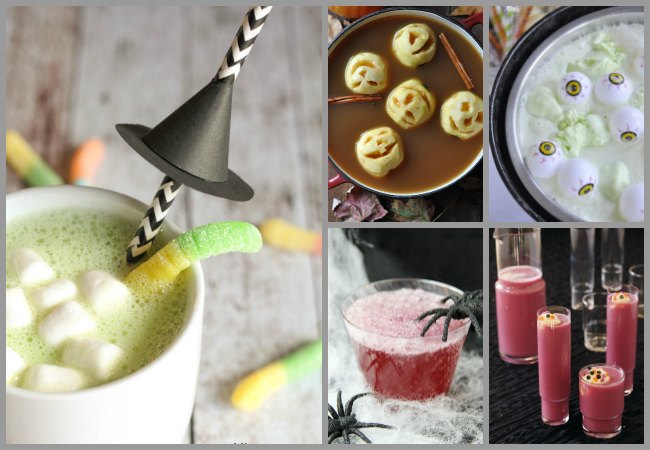 Witches Brew Drinks for Kids Halloween
It's not a party without a proper Witches Brew to drink with floating foam and eyeballs!
Or perhaps you'd rather a brewed apple cider with apple heads floating in your witches brew to drink?
Add a spider or two to create Magic Potion Punch or a tasty Purple Potion Punch to hydrate your enchanted friend.
Need something to warm you after your broom ride to the party? Try this Hot Cocoa filled with worms and magical spells!
You'll want those adorable orange and black striped paper straws to go with the witch Halloween theme! Click here to buy straws.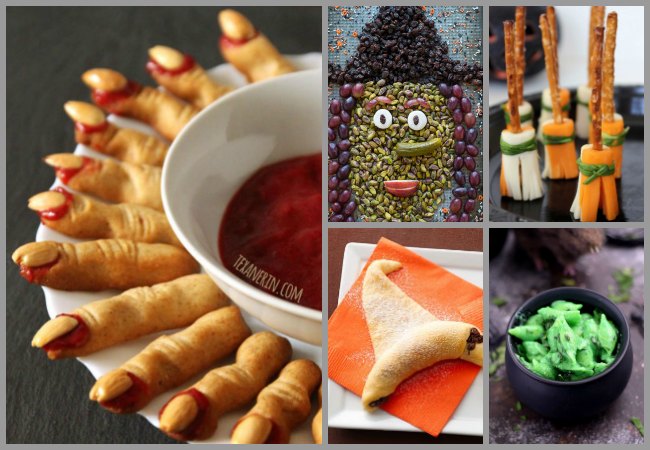 Savory Witch Themed Party Appetizers
A witch is not complete with her broomstick, this one is made with cheese and pretzels for yummy fun!
Witches grab hold to witches hat with these Whole wheat witch fingers with a little bit of pretend fun with blood.
Make a treasured snack from our childhood with Witches Hand with popcorn , so easy an always a big hands on hit with kids!
Add your own tasty idea into an easy Witch Hat Crescent Rolls, sweet or savory you decide as you cast your spell.
Every witch has a cauldron brewing, why not with some Toxic Waste Macaroni and Cheese?
Or be that witch that goes a little nutty with this Halloween witch nut platter !

Witch Themed Party Dessert Recipes
Grab your witch's broomstick cookie for a yummy peanut butter treat! One the kids would love to make for a Halloween recipe!
You may need to point out how delicious this Witch's party is with these adorable Witches Fingers with pretzel rods.
Need something easy to make? Try this amazing Melted Witched Bark!
There's nothing more witchy than a black cauldron. Try out this ooey goey Witch Brew Jello with bubbling tapioca.
Or create a Bubbling witches Cauldron Brownie with just a few sweet treats for your Witchy Friends.
Work your spell magic on creating these amazing Witches Cauldron Cakepops. The kids will be spellbound!
Get the kids involved and make this not-so-spooky Monster Cookie Dough Dip or Pumpkin Swirl Cheesecake Bars.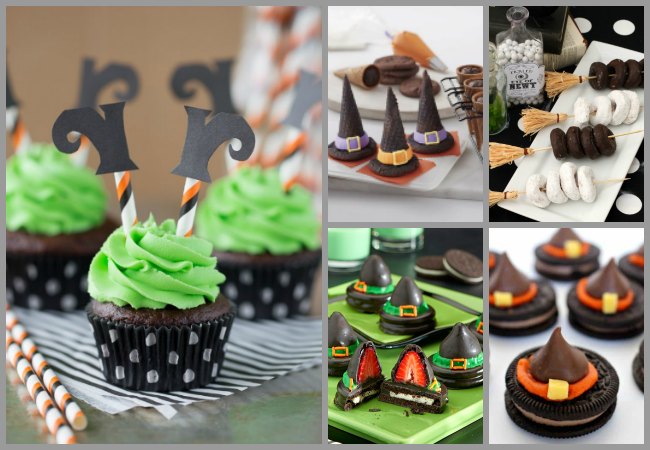 Every witch needs her oreo witches hat, this one includes a chocolate covered strawberry. So cute!
Learn how to make your broomstick party skewers to enjoy these spooky donuts!
Make the party come together quickly with this Witches Shoes cupcakes , make your own witches legs & shoes or buy pre-made ones here
With a little bit of frosting, halloween sprinkles and fun you can make the magic happen at your Halloween party!
These simple Oreo Witch Hat cookies are a perfect start to make with your child for their friends.
Make your Witch's Hat Cone Cookies stand out as table centerpieces for all your Halloween guests!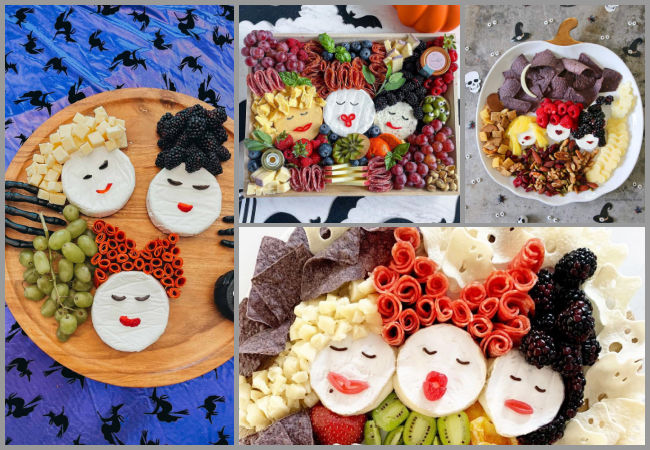 Hocus Pocus Charcuterie Board Ideas
These Sweet and Savory Hocus Pocus Charcuterie Boards Are an Ode to the Sanderson Sisters.
Easy Hocus Pocus Charcuterie Board. This fruit platter with the Sanderson sisters is perfect for a Disney movie night or Halloween party! Here's the video tutorial.
Watch this video to see how to create this Brie based board to make the perfect spread for your Hocus Pocus watch party.
Hocus Pocus Cheeseboard… Need we say more? The perfect pair for your Hocus Pocus watch party or any fall event this year!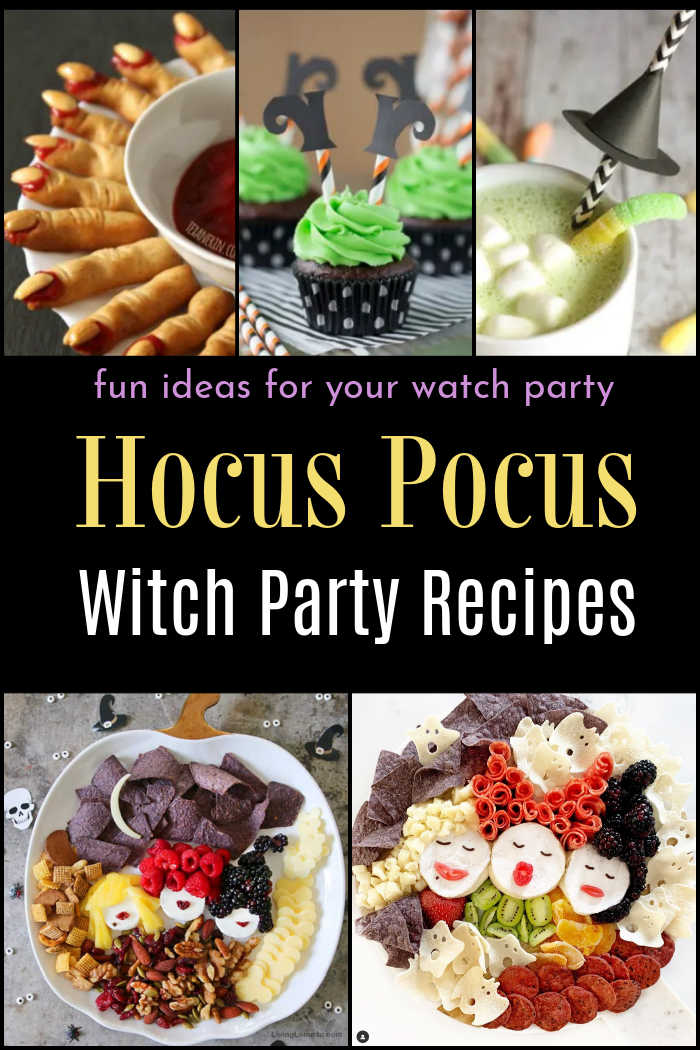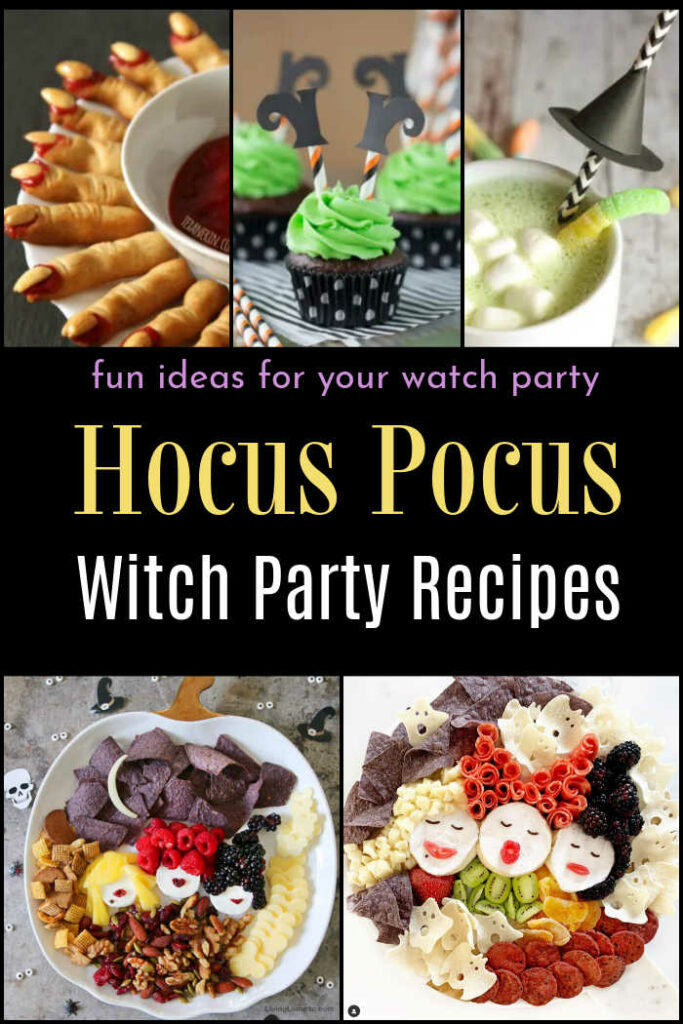 Hocus Pocus Charcuterie Tray that even includes specialty fruit and jalapeño infused jam and gourmet honey! YUM!
If you're throwing a Hocus Pocus Viewing Party or Halloween party, we have the perfect Hocus Pocus Snack Board for you. It's not even hard to make…no magic required
CLICK NOW for the Best Halloween Movies for Kids
Witch Party Favors for Kids Halloween
It's not a Witches party without a few party gifts to fly home with for your special witches.
Grab a few Witch Storybooks for a memorable time with your friends and family this Autumn.
Looking for more Halloween Party Ideas for Kids? Check out these….
Go order your Witches Costume! Let's get planning for the Witch Themed Party for Halloween!
** LIKE IT? PIN IT NOW!! **