Are you looking for some last minute Halloween Party Games? We've put together a large collection of games that are easy to create and fun to play with your child this Halloween.
Pick a theme for your Halloween Games from ghosts or pumpkins to witches and monsters, it's sure to be spooktacular fun!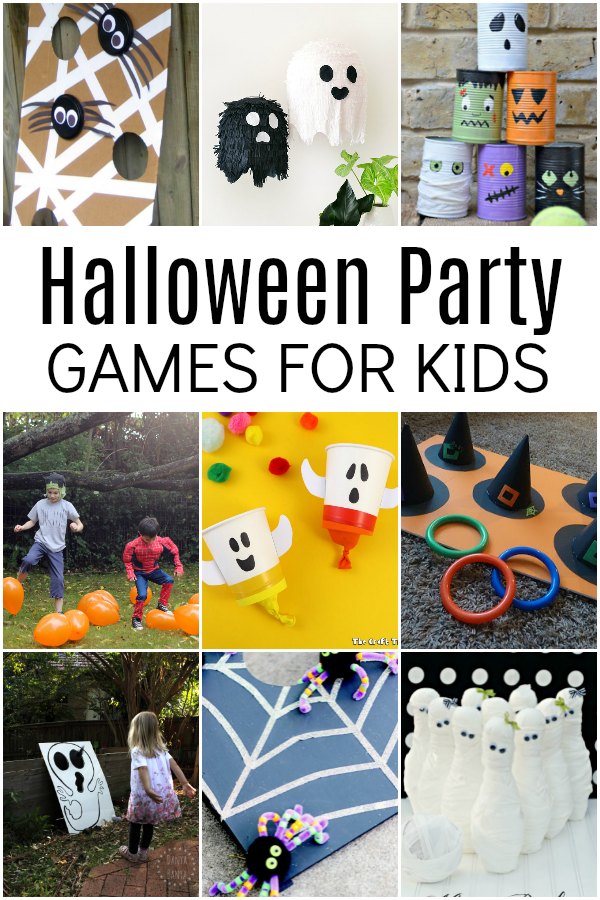 This post contains Amazon Affiliate Links
Halloween Party Games for Kids
This Halloween Oobleek recipe and activity is perfect for a fall science lesson or as a fun and challenging Halloween Party game with a scientific twist.
Glow in the Dark Eyeballs and turn this Halloween sensory bottle into a Halloween Party Ball Game.
No Halloween is complete without a good game of Halloween Bingo. The best part is the kids can use small halloween candy to cover their board and they all win with a yummy treat at the end of the game.
Add a little fun to your home games too with this printable Halloween Hunt
Halloween Charades Game Cards & word list game for both kids & adults – perfect for party games, minute to win it or family fun!
Halloween Touch and Feel Game Mystery Bags. Grab the list of items to put in your box & FREE labels for a semi-spooky touch & feel game!
Halloween Themed Alphabet Bingo . A fun activity for a classroom party, co-op group, or play date to celebrate the holiday.
Play a game of Follow the Leader with these Halloween Yoga Poses
Grab some Halloween Scrapbook paper to create this DIY Tin Can Toss Game. Can you think of all the fun things you could take in to make a basket? Eyeballs, spiders, bats, and more!
Have a few more tin cans. Create your very own Halloween Tin Can Bowling Game!
Printable Halloween Scavenger Hunt Game w/ FREE printable for kids, tweens, teens & adults! A fun party game or alternative to trick or treating too.
Help the kids channel their Halloween excitement with 4 awesome (and easy!) Halloween Obstacle Course They're fun, non-spooky ways for the kids to play.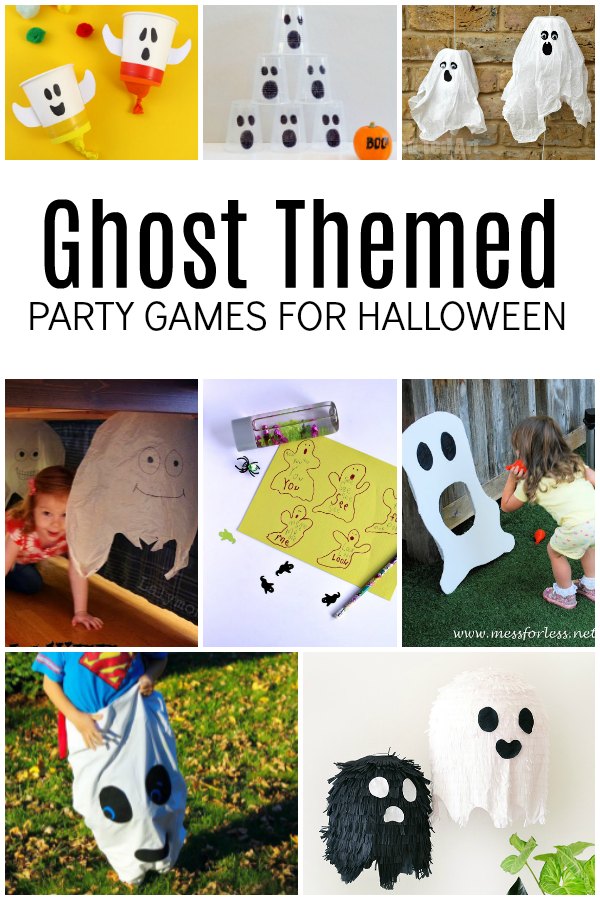 Ghost Themed Halloween Party Games
Get ready for some haunting fun with Ghost Races, all you need is a pillow case and a special ghost face.
Ghost Bean Bag Toss Game make ghost or skull boards for a DIY bean bag toss game for kids. Perfect for a spooky party or Halloween!
Mini Ghost Pinata! You can fill them with all sorts of things – edible wriggly worms or plastic spiders or ghost erasers, or simply with some chocolate treats!
Make some cute and friendly Ghosts pom, pom Popper as a fun Halloween craft for kids. Pom pom poppers are simple to make and are a cool DIY toy!
With just a whiteboard and a balloon, you can create your very own Ghost Toss for an easy Halloween Game for Kids!
Add a little spooky fun to the room with a DIY Ghost Pinatas using crepe paper and a paper lantern. Here's how!
Sneak in some sight words this Halloween with a Ghost Sensory Bottle Sight Word Game that you can make into a Bingo Game.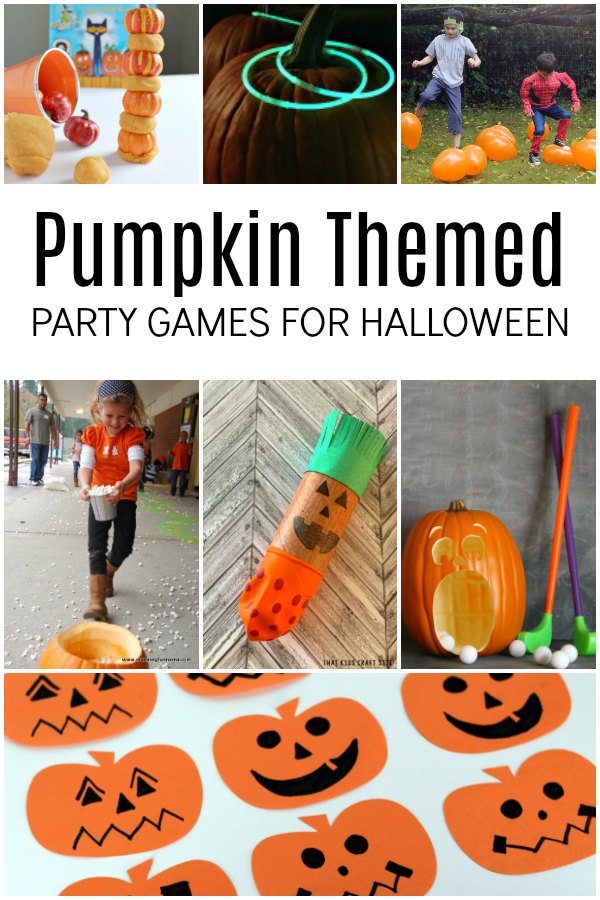 Pumpkin Themed Halloween Party Games
This fun DIY Pumpkin Bowling game is perfect for a Halloween Party or Fall Festival!
With a few orange balloons, you can create your very own Pumpkin Patch Stomp Game!
Fill the Pumpkin with Popcorn Relay Race is a quick and easy way to get kids moving at your next Halloween party with just popcorn and pumpkins!
Pumpkin Popper Halloween Party Game, make any party (or rainy day!) come alive with this Halloween party game for kids
Sneak in some learning with this DIY Pumpkin Memory Game is a fun learning game that has students practicing letters, numbers, addition or subtraction, and sight words.
Make your own Pumpkin Golf that the kids will love playing at Halloween Carnivals and Parties! The Pumpkin Games will be their favorite part of the party!
Glow Sticker Pumpkin Ring Toss using glow-in-the-dark necklaces as rings! Brilliant for a not-so-spooky game for kids.
Try you best to make the tallest pumpkin tower with a stacking pumpkin game.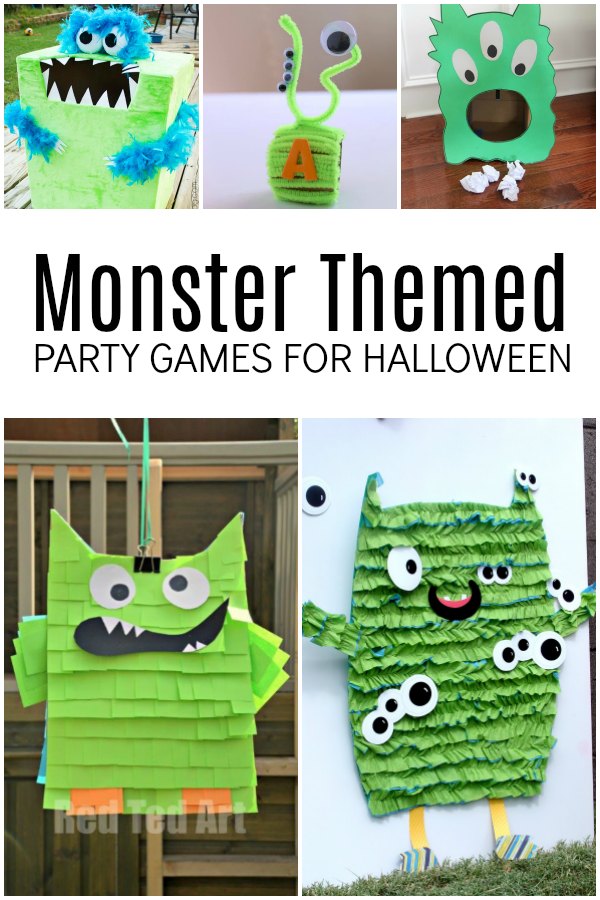 Monster Themed Halloween Party Games
From post-it notes to pinata! This is one clever, no-mess DIY Monster Pinata. Choose from an adorable owl or fun Monster Pinata!
Pin the Eyes on the Monster Game is sure to be a hit at your Monster Bash for Halloween.
Work on your tossing skills with this fuzzy Feed the Monster Halloween game or this simple Feed the Monster Game for younger kids.
Create a monster scavenger hunt with these adorable letter monsters with your child.
Mummy Themed Halloween Party Games
Keep the kids entertained this Halloween with Mummy Bowling Game Mummy Bowling, a twist on the traditional "wrap the mummy" game.
Can you guess what's in the Coffin? Eyeballs, brains, fingers, and more with this Kids Halloween Creepy Muffin Coffin Guessing Game.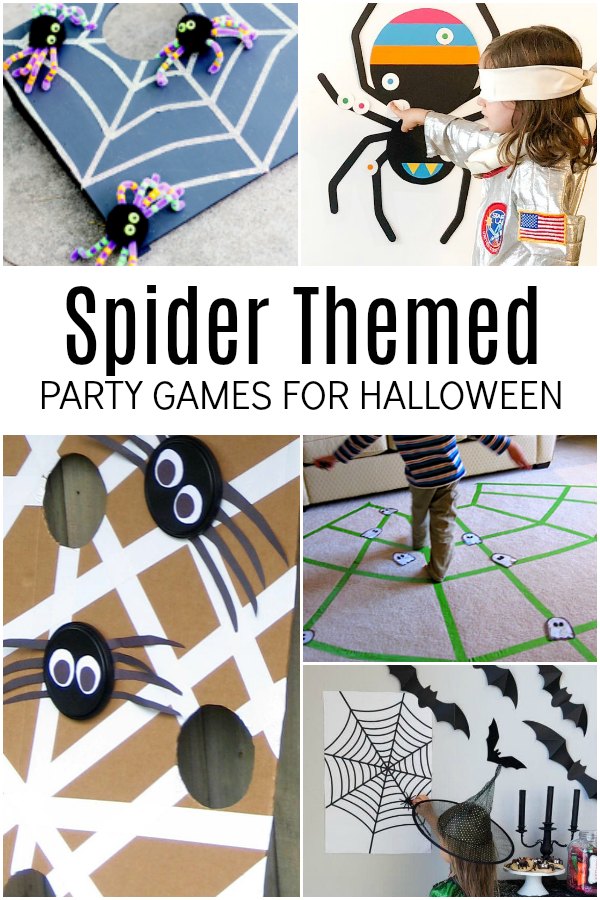 Spider Themed Halloween Party Games
Here's a super easy way to decorate a tabletop cornhole board for a fun Halloween game with a Halloween Cornhole Game with Spiders !
DIY Pin the Eyes on the Spooky Spider. Just download the free, easy-to-follow template to make your own giant Spooky Spider.
Fall harvest or Halloween games are easy to put together. This Spider Frisbee Toss Game is easy to make and fun to play with in your backyard.
Pin the Spider on the Web makes for the perfect party decoration and spooky fun with spiders.
Spider Race Game is a great Halloween Minute to Win It game for kids and adults!
Spider webs are common to Halloween, but this Sticky Spider Web activity can be played all year long. It's a fun challenge to get kids moving!
Spider Web Walking Game with just colored packaging tape. This game is simple, and spooky but not at all frightening.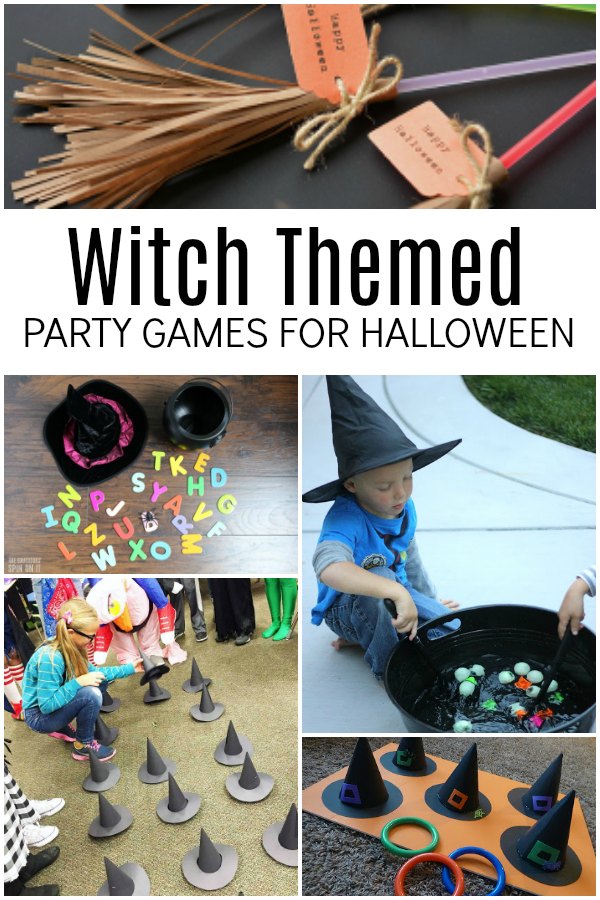 Witch Themes Halloween Party Games
Create your own Witches Hat Ring Toss with just foam foam board and a black construction page.
Have a little fun with the letters of the alphabet with this Witched Themed Alphabet Game.
With a special treat under each hat, create a fun Witch Hat Memory Game for your party.
Witches Brew Halloween Water Play Sometimes all you need is a bucket of water, and some silly Halloween props to create hours of fun. Put on your witch hats and for a great time with some Halloween water play.
Use these Glow in the Dark Broomsticks to create a fun craft or even a tossing game.
More Halloween Fun at The Educators' Spin On It
These activities are perfect for your Halloween Activities at School or even as you plan your fall carnival or fall festival.
Wishing you a Happy Halloween!