Young learners need lots of hands-on experiences with numbers. This base ten basket encourages them to build and explore the numbers from 0-100 all for under $8 from the dollar store. This math activity works well for multiple age levels. We have used it for children ages 2-8 years old.
This article contains affiliate links.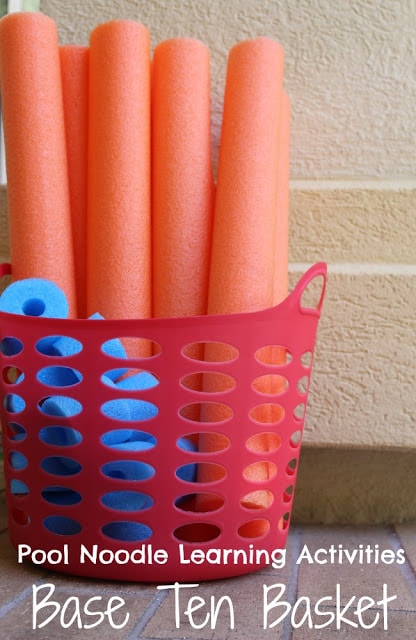 Build a Base Ten Math Game with Pool Noodles
Learning Objective: Read and represent numbers 0-100 using base ten blocks.
Materials Needed
When we make math manipulatives, we always try to have a plan for storage. My kids played this game for 30 minutes and then went on to use the base 10 blocks in other ways (more to come on those activities later) We return to this game every day for about 1 week and then put them away. I will bring the basket out after a week break. So far, this basket has been well worth the money and time spent making it. My kids have really grown in just a few days in their understanding of larger numbers.
How to make the base ten box basket.
The adult cuts the 5 large pool noodles down to 20 inches each. This is slightly less than 1/2 the length of our pool noodle. We used a serrated knife and it worked ok. No matter what you use, use caution. I did this part when the kids were sleeping because I did not want them to see me cutting the pool noodles.
Cut the 1 noodle of another color into 2 inch rounds. You only need 10 pieces, but you can make more if desired.
How to play the base ten math game:
1. Call out a number 0-100.
2. Have the kids work together to represent that number using the base ten blocks.
3. Check.
4. Repeat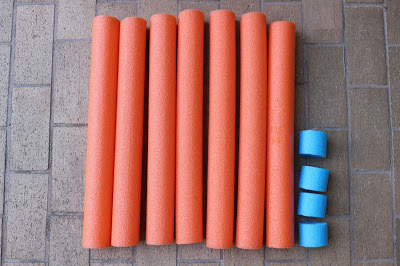 Game Options
Let the kids take turns calling out the numbers
Write the numbers down and have then represent the value using the pool noodle base ten manipulatives.
After the children build the number, have them write it down on a piece of paper. Discuss the placement of the numbers and what the tens and ones place value represents.