Who knew so much learning could happen with just ONE pool noodle? That's right, we made this interactive pool noodle alphabet basket using just one orange pool noodle. (you could of course, use another color as well).  There has been so much letter naming and sounds going on. Of course, my littles decided to play alphabet basketball right away.  There are endless learning possibilities with this letter basket.  Make one for your kids and see how they use it!
Affiliate links included in this article.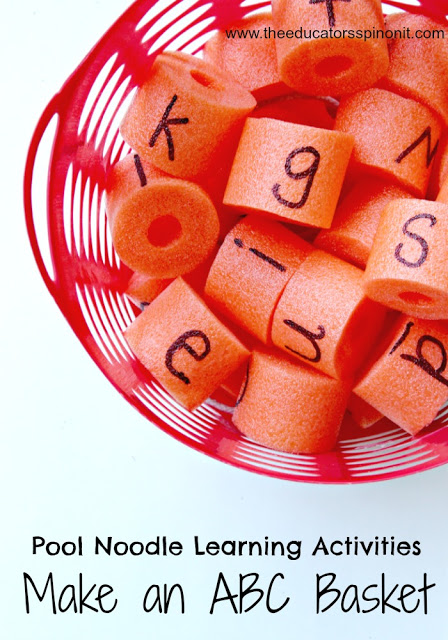 Make a Pool Noodle Alphabet Basket for Learning Letters
Learning Objective: Identify the name and sound of letters.
Materials Needed:
1
Pool Noodles
Permanent Markers
Basket
for storage
How to make ABC Pool Noodles.
I let the kids make their own learning materials when possible, this activity is mostly for adults to make. I prepared my alphabet noodles the night before. That way the marker had a chance to dry before the kids played with it. It will smear and may get on clothes and furniture. We did not have any issues when the marker was dry.
1. The adult cuts the noodle into 26 pieces.
2. Write one letter on each noodle.  We are working on lower case. You could also use all uppercase.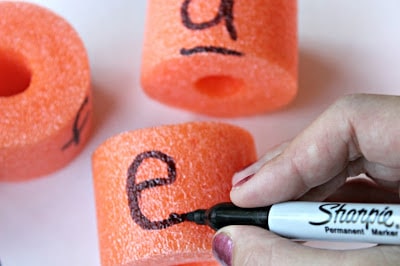 Learning Ideas for Alphabet Pool Noodles
1. Grab a letter & say it's name. Throw it into the basket as a modified basketball game.
2. Sort the letters.  Find the letters that use sticks and those that have curves.
3. Find the letters that make up your name.
4. Play I spy using sounds.  Example: I spy the letter that makes the sound [a].