For less than a few dollars, you can make and build this alphabet boat matching game with your child to help them learn their ABC's. Match the alphabet mast to the corresponding boat, then float in a pool or bathtub. This would make a great sensory literacy center this summer in a classroom too!
Affiliate links to products included in this post.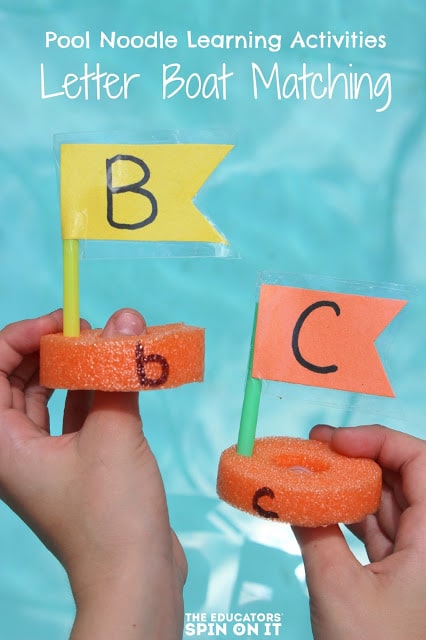 Alphabet Boat Matching Game:
Learning Objective: Identify the lowercase and uppercase letters in the alphabet.
Materials Needed:
Directions to Make the Alphabet Boat Matching Game:
To Make the Mast / Flags
1. Cut the mast out.
2. Write the letter on the mast.
3. Place a long piece of tape down sticky side up, a little more than twice the length of the mast.
4. Set the mast down. Place the straw next to it.
5. Bring the tape over to cover both sides of the mast.
6. Press to seal the edges.
To make the boat.
1. Use the open end of the straw. Twist and push to make a hole in the top of the cut pool noodle.
2. Write the matching alphabet letter on the boat. Use the same case as the mast for young children. Use opposite (uppercase and lowercase) letters for children who are ready for this skill.
How to play:
1. Take all the masts off the boats. Gently mix.
2. Allow the child to find the matching mast for each boat. Encourage them to say the name of the letter and the sound it makes. Challenge advanced learners to also give you a word that begins with the selected letter.
3. Float the letter boats in a pool or bathtub.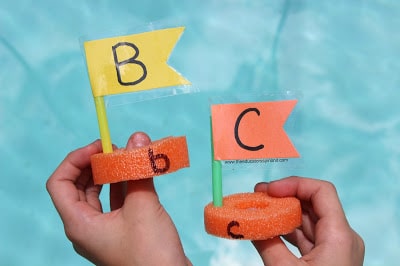 Do you have a pool noodle fan at your house? Consider getting them a few noodles and this kit for connecting them!
Read more here: