Buying gifts for a four year old is so much fun! They are picking up new skills at lightening speed, are able to tell you what interests them, and are for the most part, extremely social and enjoy the company of others.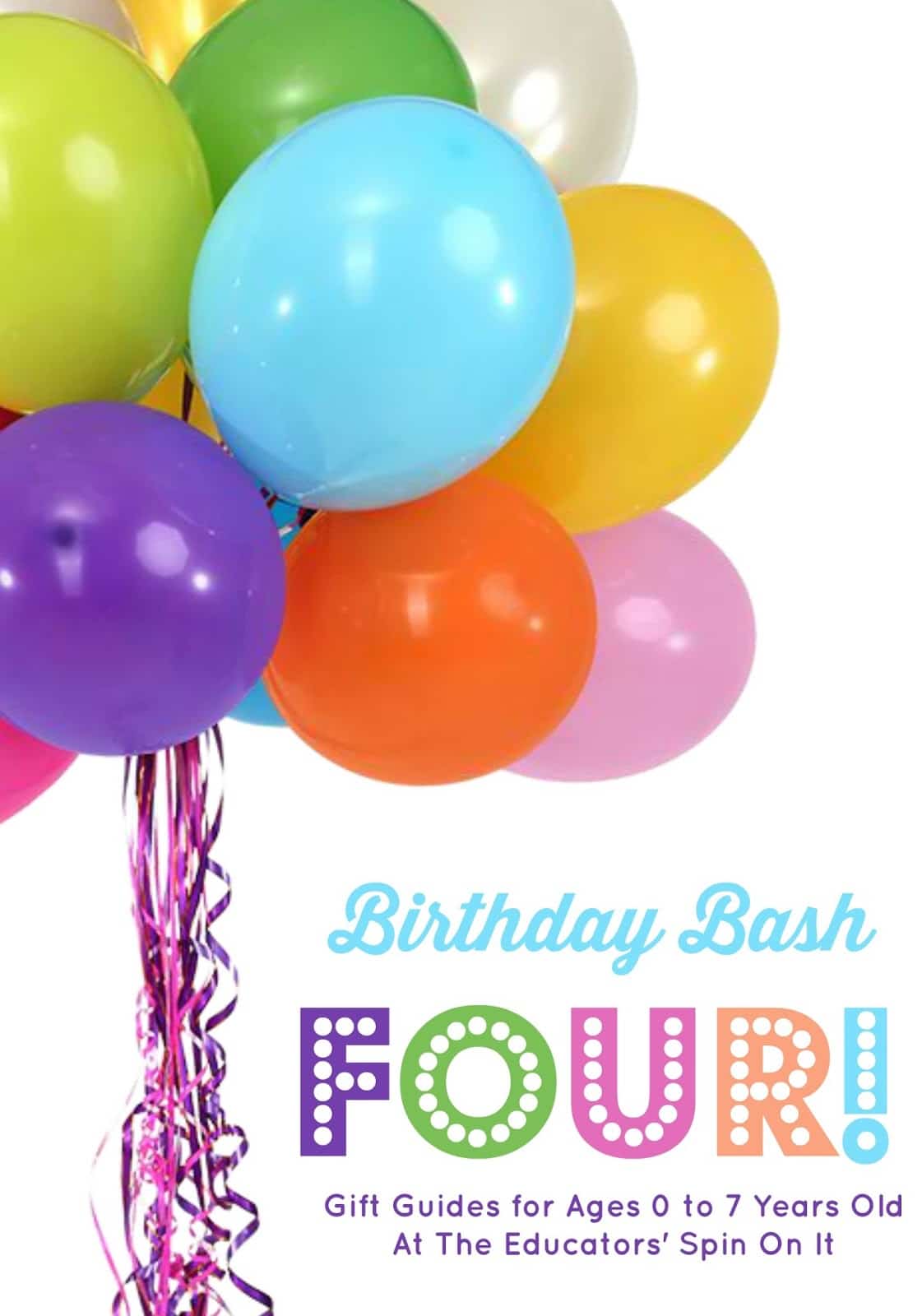 When shopping for your four year old think of the toys you currently own.  If you already have a set of blocks, chances are you don't need another.  Consider your child's interests and developmental needs too. We like to have a mix of gifts for our four year old that includes electronics, sports toys, pretend play, and creative exploration (and maybe a few new outfits too!).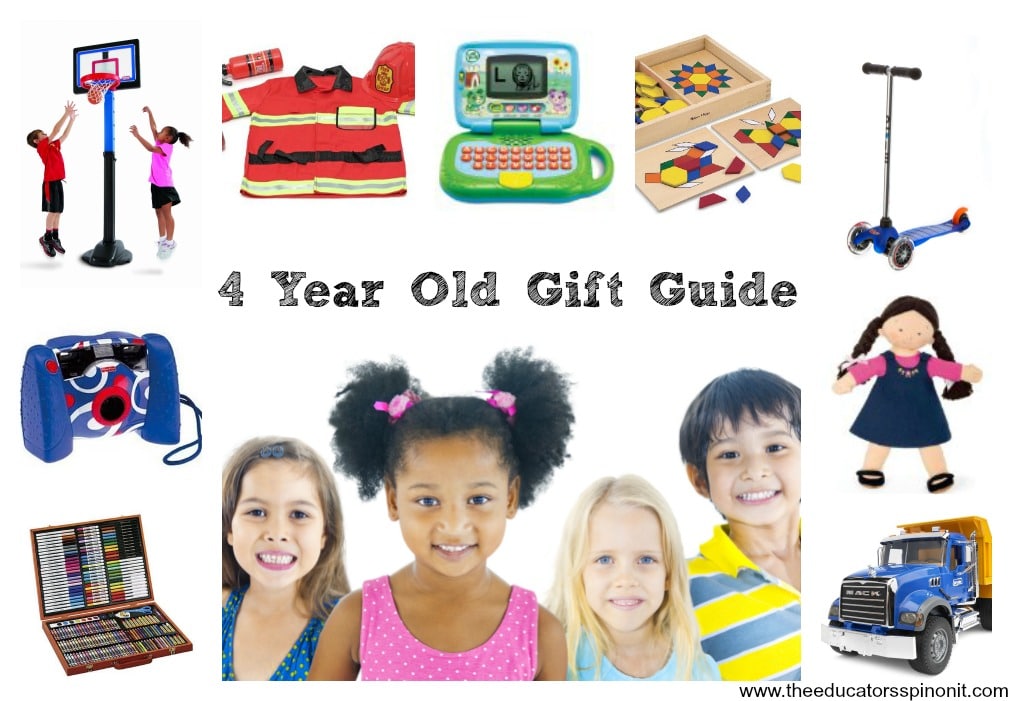 4 Year Old Birthday Gift Ideas for Camera's and Electronic Toys
There are some really AMAZING technology products that allow children to learn with technology as a tool. Here are some of our favorites for preschoolers:
4 Year Old Birthday Gift Ideas for Gross Motor
I bought a parachute for my daughter when she was 4 and have been surprised at how many times we have used it for playdates!  Scooters, basketball hoops, and even a
bike
 makes a great "big" gift for four year olds that encourages exercise and healthy habits.
4 Year Old Birthday Gift Ideas for Pretend Play and Learning
Dress Up:
My son got a set of dress up capes for his 4th birthday. THEY WERE A HIT and have been worn MANY times! They are easy to put on vest-cape combo with a tie in the back around the waist. We also have several other community helper costumes in our dress-up box for the kids to pretend with.
DC Comics Boys Action Trio Superhero Costume Set
Blocks and Vehicles:
Dolls and Accessories:
4 years old is a great time time for "big kid dolls!"   Your child will enjoy playing mamma or daddy, feeding the doll, and taking care of it. These pretend play interactions develop creativity, vocabulary, and life skills.  Children really do learn through play!
Dolls can be used to model health habits and positive behaviors through role playing. I know when my 4 year old was scared of the dark, we would first tuck his doll into bed and let the baby doll know that he was safe and sound because we were nearby. Then we would do the same for our 4 year old.  Soon, he was tucking in his baby and the fear of going to bed in the dark subsided.
In my kindergarten classroom, I used to have a doll highchair, bed, and kitchen area for pretend play and learning.
Preschoolers are now able to help dress the dolls on their own, which is great practice for building fine-motor skills. If you have dolls already in your house – wonderful!  Consider adding a few
doll clothes and accessories
to your collection.
Another GREAT gift for 4 years olds is a 
doll house
.  We were gifted the
Fisher-Price Loving Family Grand Dollhouse
. It's nice because the sides fold up to take up less place when we are not playing with it. Our friends have
Melissa & Doug Hi-Rise Dollhouse and Furniture Set
.  My eight year old still points out the Calico Critters sets and house every time we pass it in Target and I have a little buyers remorse.  She is nearing the end of the doll house phase, and I wish I would have purchased it when she was younger.
4 Year Old Birthday Gift Ideas for Creative Exploration
When in doubt, I always go with craft supplies for a four year old.  Most craft supplies are used up and need replacing over time! A
monthly craft box subscription
creates a gift that will keep on giving creative experiences all year long!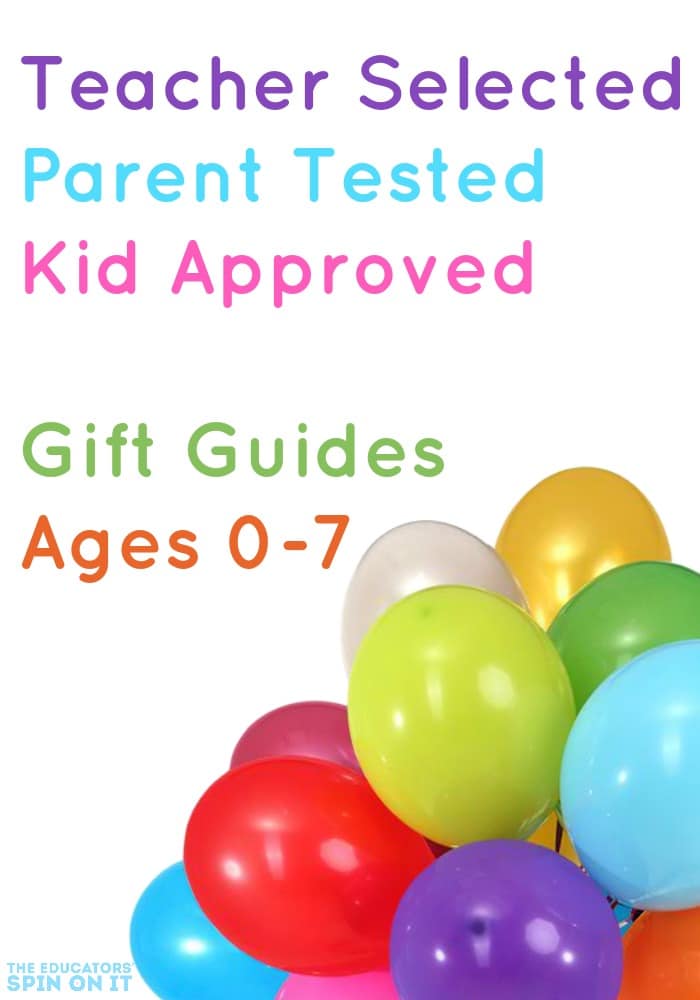 Birthday Gift Guides for All Ages
Gift Ideas for Age 2
What do YOU like to get 4 year olds?