Turning 5 is a special year. Many children start school, begin reading, are playing sports, and have strong interests. As a former kindergarten teacher with a 5-year-old myself, I have tons of experience picking the best toys for this age group.
Here is the list of my top 5 year old gift ideas.
Disclosure: This post contains Amazon Associate Links.
5 Year Old Gift Ideas
Getting a special gift for a five year old can be actually a lot of fun. They are now old enough to enjoy so many things and are getting ready for elementary school. Here are some gifts to consider that they will enjoy playing with.
Art supplies, such as crayons, markers, paints, and construction paper
Books, especially picture books and chapter books that are appropriate for their reading level
Building blocks, such as Legos or Duplos
Educational toys, such as puzzles, games, and science kits
Outdoor toys, such as balls, bikes, and scooters
Stuffed animals
Toys that encourage creativity and imagination, such as puppets, musical instruments, and dress-up clothes
Toys that promote physical activity, such as balls, jump ropes, and scooters
Toys that help children learn, such as puzzles, games, and science kits
Toys that are safe and age-appropriate
Here are our top picks of gift ideas for five year olds.
Give Your 5 Year Old the Gift of Creativity!
Gather your favorite, high-quality art supplies and assemble them in a beautiful package. This gift will keep your 5-year-old busy creating all year long! Select high-quality, eco-friendly products when possible.
Give Your 5 Year Old the Gift of PLAY
A pretend kitchen set and pretend play activities are still popular with 5 year olds. Dolls and doll houses are too! Add in a marble run, fort to build, and stomp rocket and you have awesome 5 year old gift choices.
We let some "new" or "popular" toys sneak in too, but try not to let them overwhelm our household. Children at this age learn about the world through play!
Every afternoon while his toddler brother naps, my 5 year old wants to play games. We end up with mostly classic games over and over again. Playing games teaches patience, turn taking, and some even sneak in some math and reading. His favorites are:
*** Side note, if you order the stomp rockets make sure to get the pack with refills. We have lost several rockets to the trees. They fly super high!
If your 5 year old doesn't have a sports ball, they are a great toy for encouraging play, movement, and outdoor time. They do not need to be enrolled in a team to enjoy a casual game in the backyard.
A bonus is that they are most often under $20, but still a great gift!
Give Your 5 Year Old the Gift of Learning
Most 5 year olds are curious about the word. They learn through play and ask LOTS of questions. It is recommended to have a variety of learning toys available for them to use throughout the day.
Here are my teacher and mom top pics from personal experience working with hundreds of 5 year olds!
And, you cannot forget one of the best learning tools of all time – BOOKS!
We tend to give one toy, one article of clothing, and one book for all birthday's and holidays. I feel it keeps the importance of reading at the forefront of parents and helps to raise a reader.
If your child is just starting to read, I recommend this set of simple stories , Scholastic First Little Readers, or the classic BOB books
For children who have begun sounding out words and know basic sight words, the beginning readers and level 1 readers are the next step.
And if you are truly looking for a book gift that will last a while, consider an infopedia, world atlas, or dictionary for kids.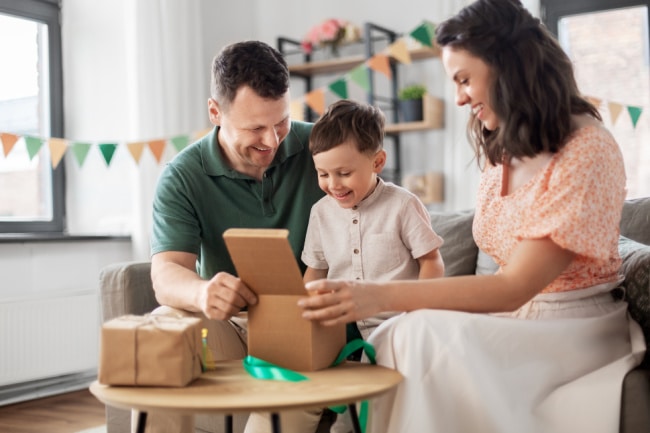 Although these gift ideas may not make it to most lists, they are the books that my kids turn to time and time again as a source of information throughout grade school.
For more book ideas, check out our Ultimate Guide to STEM Books for children.
Pin this 5 Year Old Gift Idea guide to share and remember!
We hope this that guide helps you choose age-appropriate gifts that are educational or creative.
Have fun wrapping the gift nicely and enjoy the look on their face when they open the gift!
Here are some additional gift guides for ages 0-7 you may find helpful…