Christmas Activities for kids can be FUN and Educational. This busy bag was made in less than 15 minutes and provided my son with a hands-on phonemic awareness activity for identifying the sounds in words. This Christmas learning activity would also work well as a literacy station in a preschool, pre-K, or kindergarten classroom.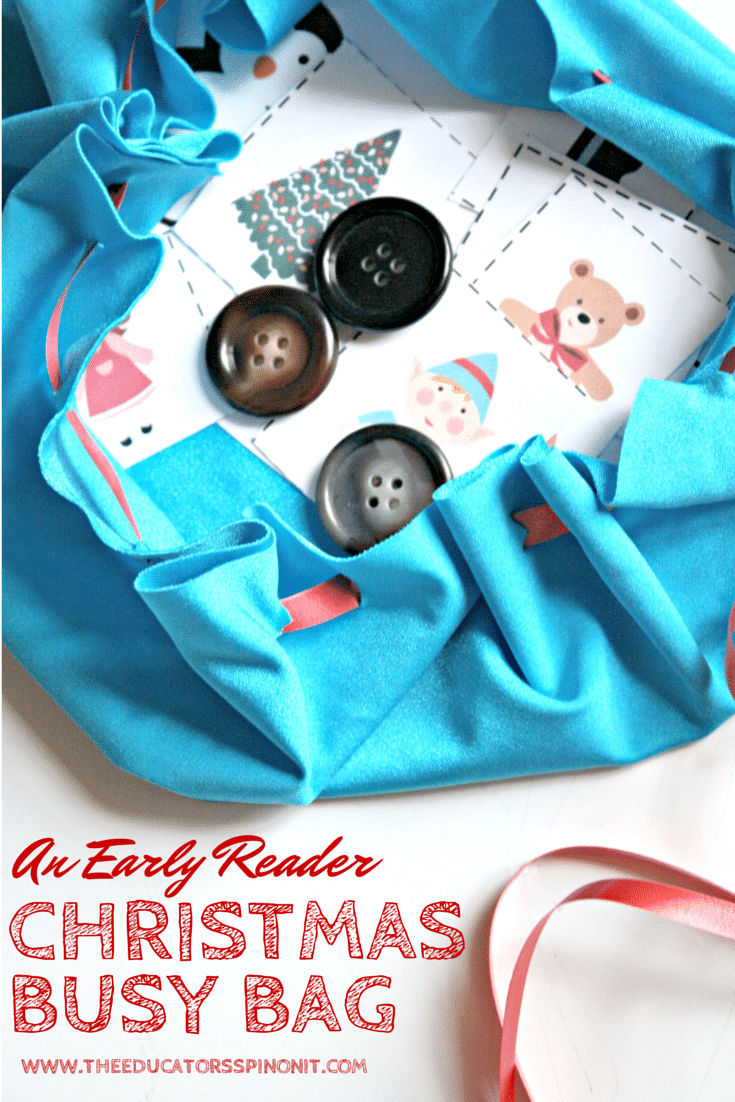 Affiliate links to products

Christmas Activity Phonemic Awareness Busy Bag
Elkonin boxes "help students build phonological awareness by segmenting words into sounds or syllables." – Reading Rockets
Materials Needed
Christmas Elkonin Box Printable
Drawstring Bag (we made ours with ribbon and material)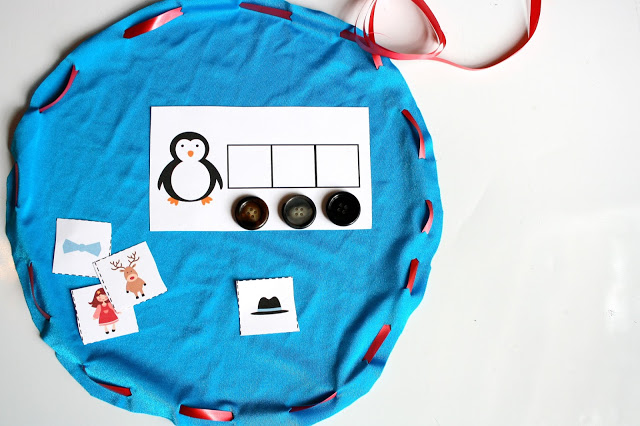 How to Assemble the Christmas Activity Busy Bag
1. Print the Christmas Elconin Box printable out on card stock paper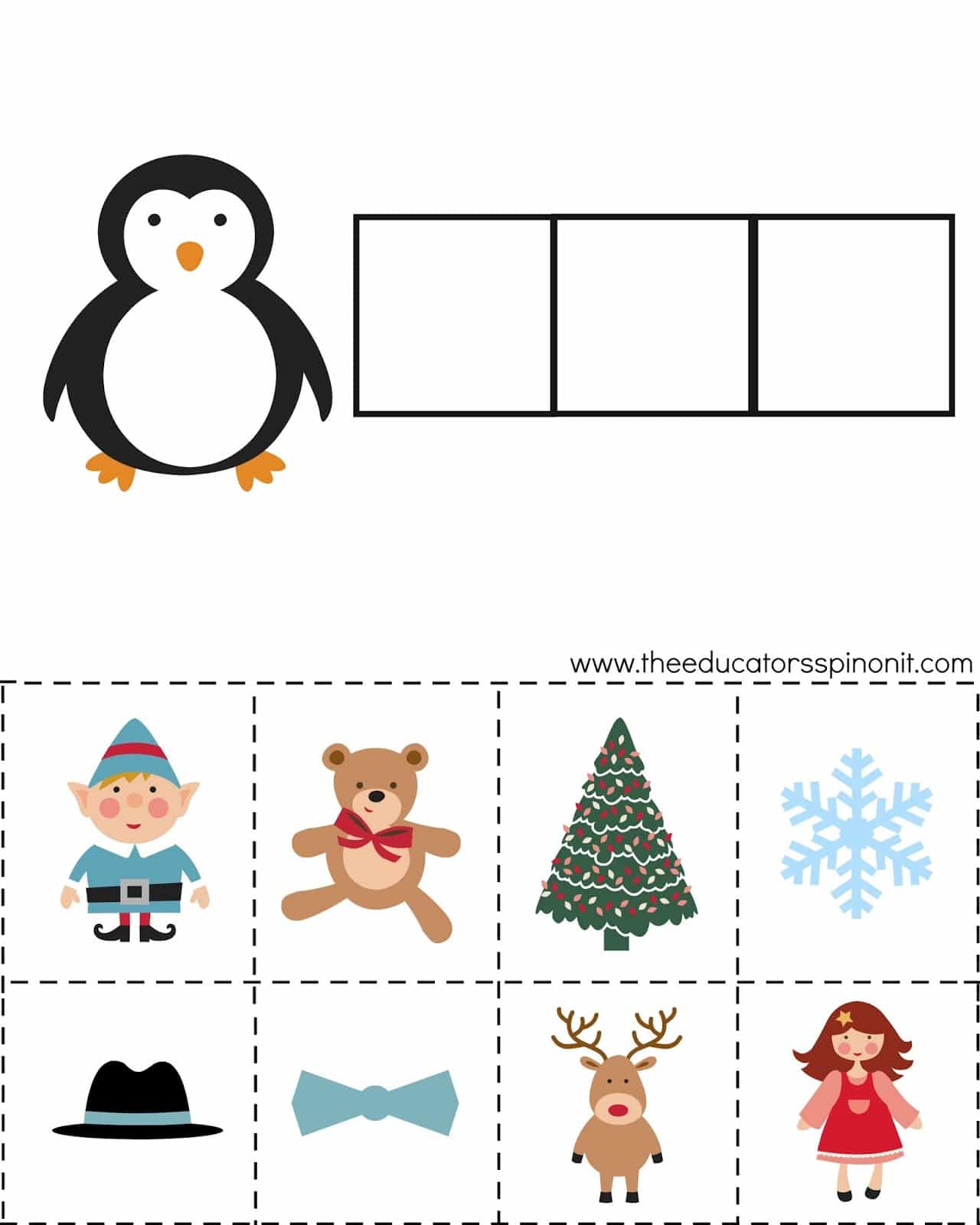 2. Cut the image cards out.
3. Say the name of the image slowly to your child. Encourage them to repeat and point to the picture as you name the objects. It is important to name the object with three phonemes (sounds).
Elf
Tree
Hat
Bow (2 sounds)
Deer
Doll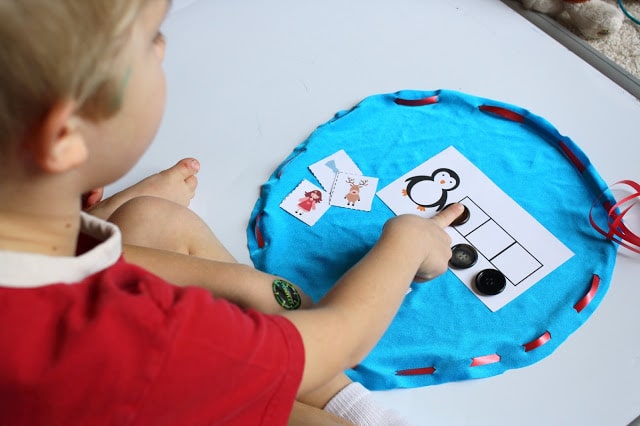 Direction to Play the Phonemic Awareness Christmas Activity
Say the word slowly. Talk to your child about the sounds in the word. The word HAT for example has the sounds [H] [A] [T].

Demonstrate how to push one button into the box for each sound said [H] [A] [T].

Direct the child to slide one button into the box as they say each sound in the word [H] [A] [T].

Repeat for each word card.

Close up the bag when complete.

Use again the next day.
These learning busy bags are great for taking to the park, learning outside, even bringing to a friends house for a playdate.
Additional Christmas Activities for Kids from some of our favorite kid blogger friends.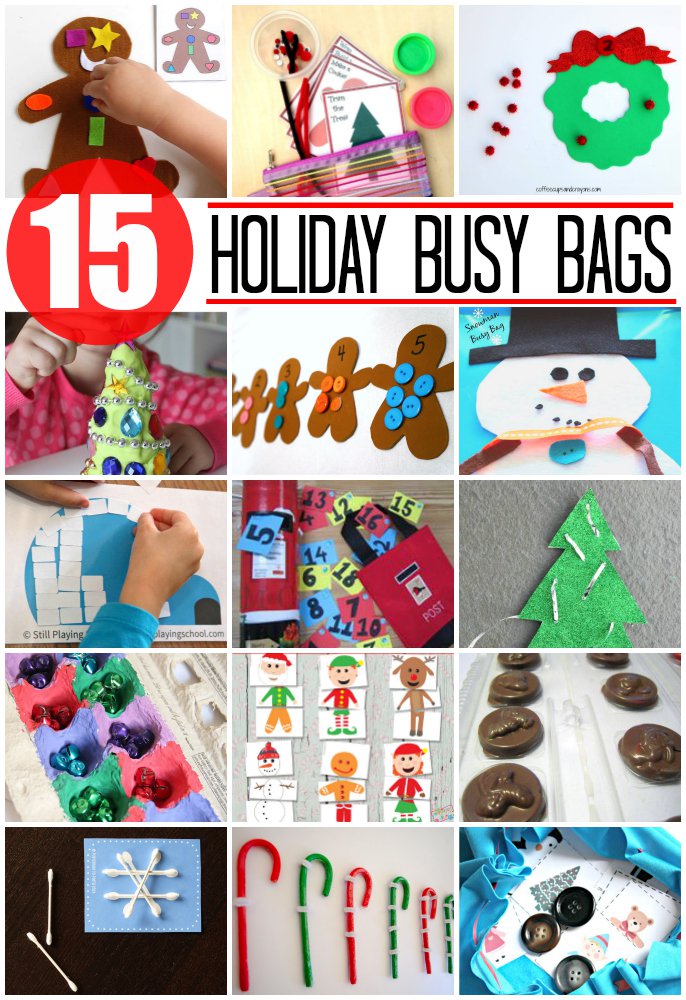 Holiday Busy Bag Activity Ideas
FROM LEFT TO RIGHT:
Gingerbread Man Shape Matching Busy Bag // Powerful Mothering
Christmas Activities for Kids Printable Busy Bag // LalyMom
Christmas Counting Busy Bag // Coffee Cups and Crayons
>Decorate a Play Dough Christmas Tree Play Kit // Mama. Papa. Bubba.
Gingerbread Button Counting Busy Bag // Wildflower Ramblings
Snowman Busy Bag // Frogs, Snails and Puppy Dog Tails
Reusable Christmas Sticker Busy Bag // Still Playing School
Christmas Posting Busy Bag // Adventures of Adam
Christmas Tree Busy Bag // The Pleasantest Thing
Christmas Jingle Bells Fine Motor Busy Bag // Sugar Aunts
Printable Mix and Match Christmas Puzzles // Itsy Bitsy Fun
Christmas Chocolate Maker Busy Bag // Best Toys 4 Toddlers
Candy Cane Stripe Counting // Preschool Inspirations
An Early Reader Christmas Busy Bag // The Educators' Spin on It

For More Tools to Teach Phonemic Awareness
You may also enjoy these holiday activity ideas on our site…