Our family is very passionate about raising children with grateful hearts and service is a priority in our household.
Today, we are excited to have Alexandra Beane, of Wheels for Wishes sharing ways to get kids involved and helping us on National Senior Citizens Day. The reality is, that our families can (and should) be doing these things for others year-round!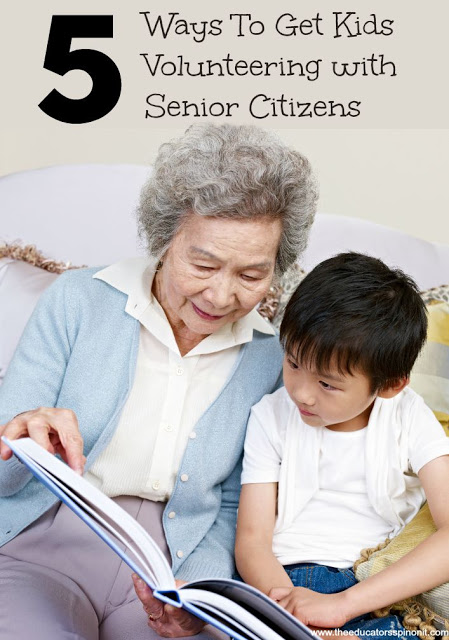 5 Ways For Kids to Volunteer with Senior Citizens
A Guest Post by Alexandra Beane
National Senior Citizens Day makes for the perfect opportunity for parents and their children to take part in an activity that will make the entire family feel great, but will also enhance the life of a senior citizen in the community.
Whether you spend some extra time with a grandparent, older neighbor, or you visit a local nursing home or senior apartment complex, you will be sure to make a senior's day when you give back on National Senior Citizen's Day.
Make A Senior Smile
In 2010, there were 40.3 million adults over the age of 65 living in the U.S. This number is only expected to grow, which means that there are plenty of older adults to share National Senior Citizens Day with. Many senior citizens do not have children or grandchildren to visit them and their spouses or friends may not be around to socialize or keep them company. Because of this, many senior citizens would appreciate a visit from families with children.
Hearing a child's laughter and seeing a child's smiling face may be just the thing to make them feel special on National Senior Citizens Day.
Even if you don't have an older adult in your life, you can still make someone's day. We have ideas for five great ways to volunteer as a family on National Senior Citizens Day. With these ideas, you will be guaranteed to make older adults feel special and appreciated for all the good that they have done over the years.
Do Yardwork Or Chores For A Neighbor
If you know of an older adult who lives alone in your neighborhood, you and your children may wish to surprise him or her with some help around the house on National Senior Citizens Day. Many senior citizens enjoy the independence of living alone in their own home, but there are plenty of projects that they would enjoy being helped with. Visit a neighbor and help them with these tedious tasks that can easily be forgotten about:
Mow the lawn while your children pull weeds around the house.
Help with watering the flowers.
Pick up sticks or large branches in the yard and haul them away.
Clean out the gutters and have your kids read a story or go on a walk with your neighbor.
Dust and vacuum the house.
Clean out the kitchen cupboards and drawers.
Clean out the closets and sort out items to donate to charity.
Clean out the garage and dispose of any unwanted items, including any unwanted vehicles.
Visit A Retirement Home
The great part about visiting a retirement home is that many seniors can benefit from your visit. Many older adults get excited when people visit and they will feel extra special that you and your kids thought of them on National Senior Citizens Day.
Bring in a collection of games to enjoy together. Ideas include Scrabble, Trivial Pursuit, Monopoly, Life, Apples to Apples, Clue, Yahtzee, Sorry, or Scattegories.
Bring in movies that both kids and adults can enjoy. Consider movies such as Up, The Wizard of Oz, Finding Nemo, Mary Poppins, and Frozen.
Help residents put together a family tree, scrapbook, or photo album. Interview residents and include their questions and answers in the scrapbook.
If your children are old enough to navigate the internet, spend the day teaching residents how to use computers and the internet.
If a resident knows how to knit or crochet, ask them to teach you.
Start A Book Club
A way to get seniors involved in the community on National Senior Citizens Day and every day of the year is to encourage them to start a book club. Reading is great for children, but it also helps seniors to reduce stress and improve their sleep. Reading can also enhance memory and decision-making skills. It may also delay the onset of dementia and Alzheimer's Disease.
Start a monthly book club at a retirement home. When you visit on National Senior Citizens Day, walk around the facility and ask residents if they would like to join. Many libraries have book club programs where they will provide books to members of book clubs. Residents can each take turns reading the book at different times. Everyone involved will enjoy hearing each other's different points of view on the stories.
Great books for children that even adults love to read are The Giving Tree, The Saggy Baggy Elephant, Are You My Mother?, Harold and the Purple Crayon, The Poky Little Puppy, Madeline, Little Bear, and Where the Sidewalk Ends.
Books that are great for older children and seniors include James and the Giant Peach, Charlotte's Web, the Little House on the Prairie series, the Harry Potter series, To Kill a Mockingbird, Watership Down, Because of Winn-Dixie, Tuck Everlasting, Little Women, The Giver, and the Chronicles of Narnia series.
Similarly, host a neighborhood book club with older neighbors and other families.
Start a book club with a grandparent or even a grandparent and his or her friends.
Interview An Older Relative
You and your children probably wish you knew more about your parents, grandparents, great-grandparents, or older relatives. What were their hobbies? What did they want to be when they "grew up?" Who was their first date? This information is important for children to have and it's something that they will cherish as they grow older.
As a family, put together a list of interview questions for a senior citizen in your life. Ask them questions such as:
What is your first memory?
How did your parents meet?
What did you like most about your childhood home?
How did your family celebrate holidays when you were a child? What is your favorite holiday memory?
How did you meet your spouse? What did you like most about him or her
Ask them about their wedding day and honeymoon. Ask to see photos of the wedding or any special items that they have saved over the years.
Ask about their interests and hobbies.
Have them explain their experiences as a parent.
Ask them about their favorite school subjects, their favorite job, or the different companies they worked for.
Ask about their role models, favorite celebrities, and how they feel about any current events.
Ask if there are any other important memories that they would like to share.
Create Homemade Gift Baskets
If you don't have time to spend a full day on National Senior Citizens Day, there are other ways that you and your children can make a difference.
Put together gift baskets or gift bags filled with cookies, candies, baking mixes, jams, crackers, and other fun snacks. Bring them to a retirement community and have your children distribute them amongst the residents.
Create a gift basket with fitness tools to encourage seniors to stay fit and strong. Light weights, stretch bands, a gentle exercise video, or even a yoga mat might be good ideas.
Create a gift basket with different types of stationary, such as notepads, pens, paper, greeting cards, tape, and folders.
Put together a game basket with puzzles, word finds, and board games.
Make a gift bag with craft supplies, yarn, sewing materials, and patterns that can be used for knitting or crocheting.
Put together a men's toiletry gift bag with shaving cream, after shave, and shampoo.
However you choose to make a senior citizen feel special on National Senior Citizens Day, you will surely be making a difference. You will be so proud of your children for playing a part in helping to give back to the community and making an older adult smile.
You may also enjoy the article: Gratitude Garage Sale
Alexandra Beane writes for www.wheelsforwishes.org covering topics such as recycling, health awareness, and family activities. She holds a BA in Professional Writing and can be found cooking, writing, reading, volunteering, and rescuing animals in her spare time.
Alexandra is on LinkedIn at www.linkedin.com/in/alexandrabeane