My kids are in LOVE with Kiwi's Tinker Crate Subscription Boxes: bringing math and science to your door every month. When Kiwi asked if I would be willing to try out the Doodle Crates too – we said YES!
We love crafting and exploring different art mediums after school. It is a great way to unwind after a busy day, explore new art techniques, and use our creative side of our brain!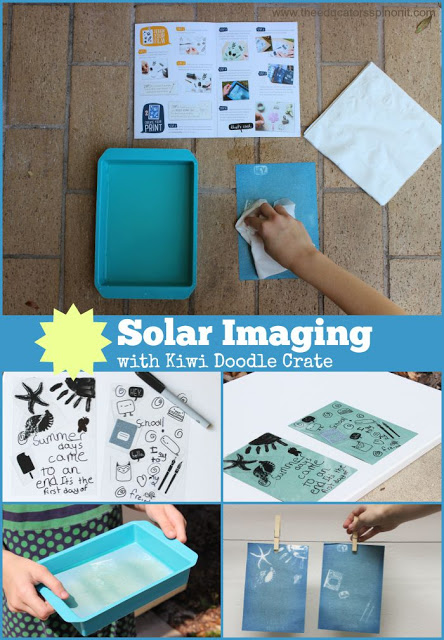 Affiliate Links included in this post.
Doodle Crate brings a new project to your doorstep every month – complete with all the supplies needed to complete the activity (no need to search around for extra materials – if you need it, it's in the box.) Created by popular demand, this subscription box is one of the latest additions to the Kiwi Crate family. Each kid is geared toward children ages 9+, and is designed to inspire young makers to learn new skills and gain creative confidence.
We were sent the solar imaging Doodle Crate to test out and review for you!
Doodle Crate Review: Creativity Delivered to Your Doorstep.
Have you seen the blogger reviews of Doodle Crate? Swoon! They are beautiful. In all honesty, the kits are just as pretty when they arrive!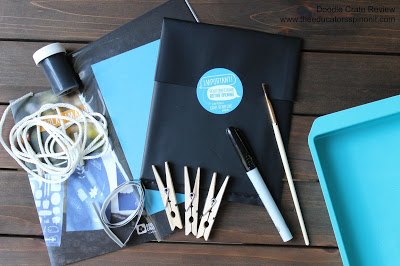 We gave it to my daughter for her 9th birthday and I stepped back to see how the process would unfold.
She read through the instructions and then watched the video to make sure she knew what the process was before the beginning. Her initial goal was to use the photo album in the Doodle Crate box to make a journal with sun printing throughout the year. Here is her first attempt at making 2 films.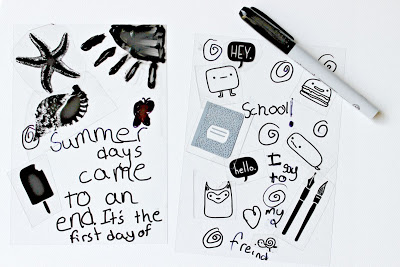 I helped to open the doors as she brought her materials outside, but for the most part, kept my lips zipped and let her complete the task on her own. She worked through each step carefully, referring back to the instructions for guidance.
She did this solar imaging activity mid-day as the tutorial suggested, and left it out for 30 minutes. BUT the images did not turn out We used this as a lesson on troubleshooting and life lessons. How often do we face similar challenges when things do not turn out the way we want them the first time? For me – lots!
And so, we re-did the entire process using broader, darker designs. These thicker images created better prints.
Parent Note: A younger child would be able to complete this Doodle Crate with adult assistance.
Doodle Crate is super cute and I want to do all the projects myself, there are really numerous reasons why it's worth it to splurge on crafts delivered to your door each month. Our children need opportunities to express themselves creatively, to think outside the box and have experiences DOING something.
1. Lack of Creative Expression Built Into the Average Child's Day
Unfortunately, as our children get older, the crafting during the school day and afterward seems to diminish, yet the benefits are still there. Our kids are often not presented with many opportunities to be creative during the school day. In our district, children attend art class once every 8 days or once every other week. In third grade, my daughter brought home exactly 2 school projects where she used crayons. Doodle Crates encourage our older grade school children to explore their creative side while making something that is usable too!
2. Children NEED creative outlets.
School can be stressful. High-stakes testing, long homework hours, and the need to get perfect grades. Creative projects allow for expression in a different way. Let kids walk outside. Encourage them to pick up a paint set and paint for the fun of it. Read for the pure enjoyment of reading.
3. The World Needs Creative, Out of the Box Thinkers
That's right. We need a cure for Cancer. One of our kids may be the scientist to do this. BUT, we have to teach our kids to be out of the box thinkers and to challenge and extend what they know into the everyday world. Arts and crafts encourage children to think in a different way.
4. Kids Need Experiences, Not STUFF
One of the most asked questions we get is, what should I get my 9 year old for their birthday? (switch the holiday or ages around for your child) When it comes o gifts our kids really need experiences with people who care about them, not stuff.
Doodle Crate makes a great gift and encourages parents and other caregivers to work together to create something unique.
Which of Kiwi Crate's line of crates

would your child like best?
Kiwi Crate is the classic box that everyone raves about! It has everything you need in a box to complete 2-3 activities with your child each month. There is a new theme each month. This box is geared for ages 4-8. Read more details about the Kiwi Crate Here
Tinker Crate is STEM in a box, delivered to your door each month. SWOON. Yes, no more trying to pretend I'm really good at building, creating, and finding ways to get my daughter engaged in math, science, and engineering, Kiwi Crate has me covered!
Read more details about the new Tinker Crate
Doodle Crate is created especially for the older kids who like to create and DIY. One project is delivered to your doorstep with all the materials needed to make a usable craft item. FINALLY a craft box for older kids! (Ages 9-16)
Read more details about the new Doodle Crate
Koala Crate is especially designed for preschool learning and crafting (ages 3-4). It's preschool learning activities delivered to your door. Great for parents, nannies, grandparents, and care-givers. I LOVE that one of my favorite magazines, HIGHLIGHTS, also helped create it!
Read more details about the new Koala Crate
You can also just simply grab your own Cyanotype kit on Amazon!
You may also enjoy these activities…