I was so excited to find these counting blocks for $1.00 at Target! They have similar ones at the dollar stores and Michaels too. We have been playing and learning with them for a few weeks now.
Here are 8 fun and easy math activities that you can do with these: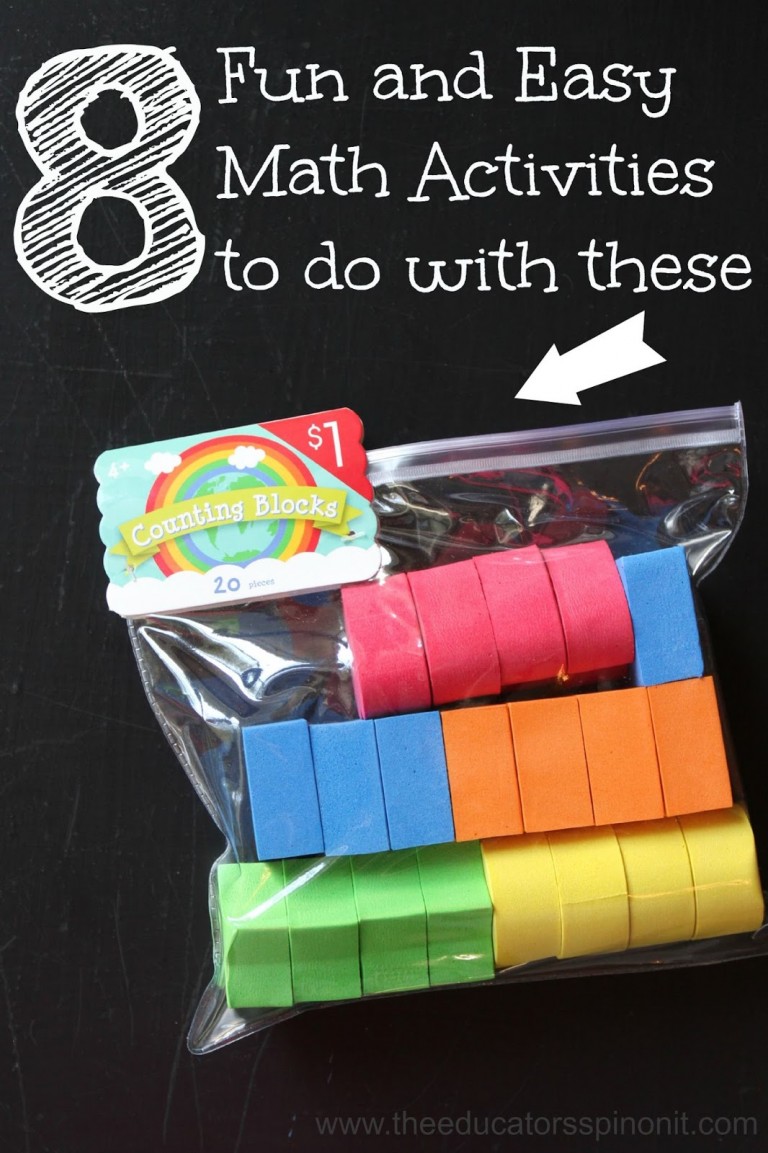 This post contains amazon affiliate links.
8 Fun and Easy Math Activities to do with Counting Blocks
The activities have varying learning objectives but cover a variety of early childhood math standards. They are pictured in order of difficulty, starting with the easiest and working towards more difficult math concepts. We tried a few activities each day.
If you counted come with a storage bag – great. If not, pack them up after each experience in a ziplock bag or other container.
Click here to print a set of math center printables to use with counting blocks.
1. Stack the counters and count how many are in each tower.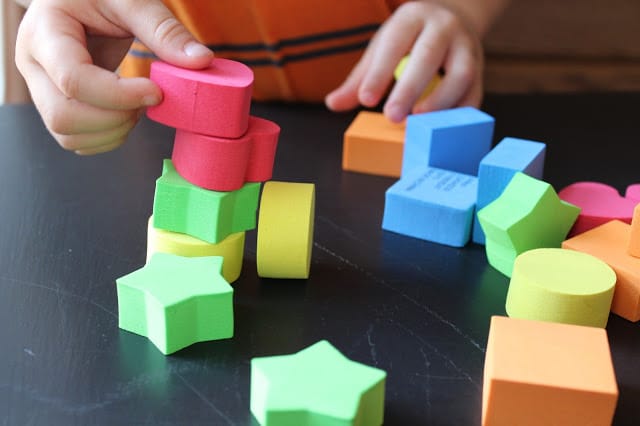 2. Grab a handful and graph what blocks you have. Discuss least and most.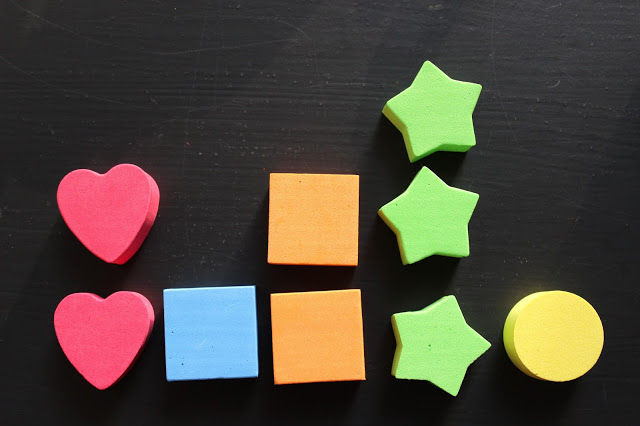 3. Sort by size, shape or color. My little ones wanted to stack this math activity too.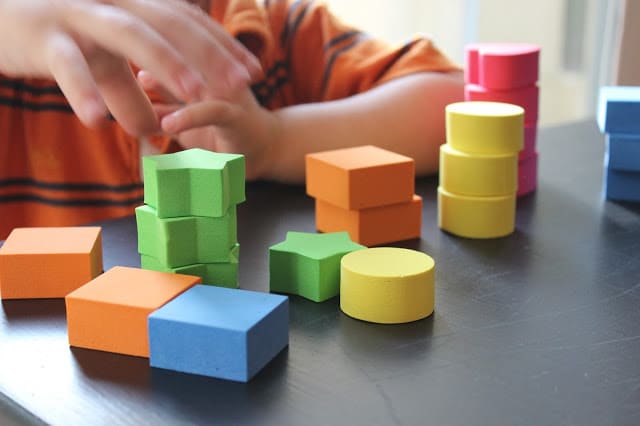 4. Make a pattern. ABAB patterns are easiest to make. Challenge your children to create and extend a variety of patterns such as ACB ABC or AABB AABB.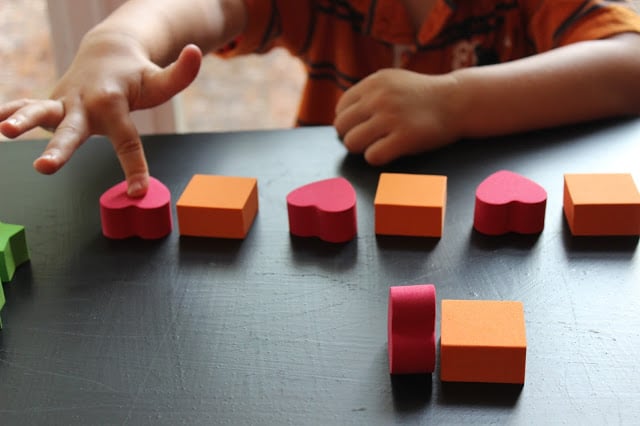 5. Copy me. Set up a challenging build and have the child copy you. I put 4 stars on the bottom, followed by three circles, two hearts and a square at the top. Then, I knocked it over and asked him to build it just like mine.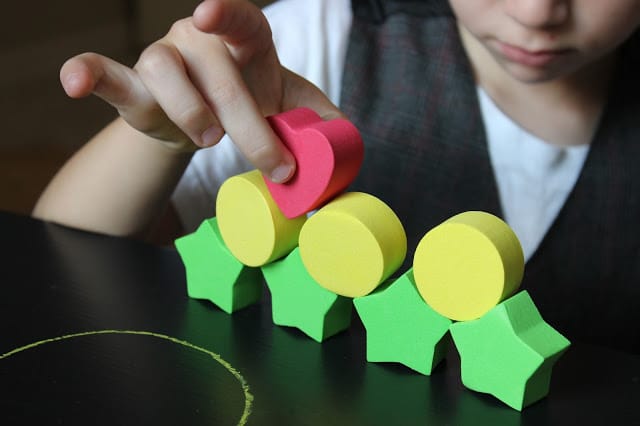 6.Number circles. In this activity draw circles on a chalk board, white board or piece of paper. Write a number next to each circle. Have the child place the different counting blocks inside to match the number.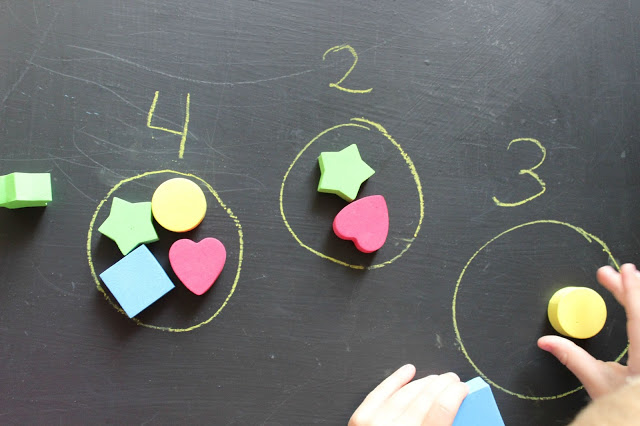 7. Addition. Draw a large circle. Above the circle write a simple number sentence. Have your child place the correct number of math counters in the circle and add them all together.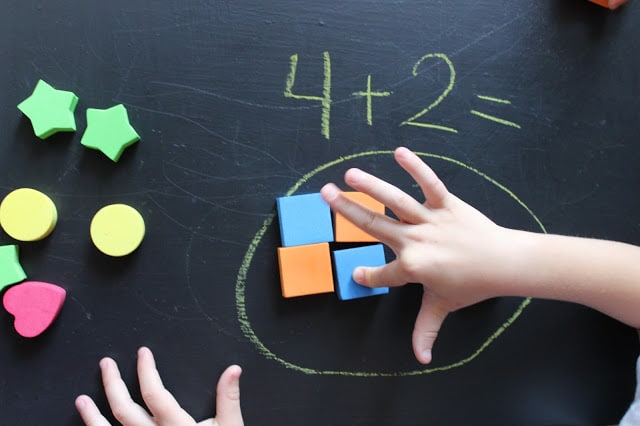 8. Make a number using the math counters. We tried this activity with just the same number of counters as the number called for, but the numbers did not show up. So we made the numbers with a bunch of counters. Write the number in chalk.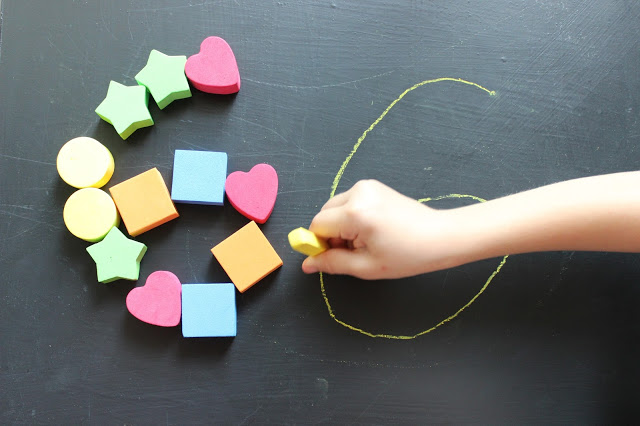 TIME SAVER: Math Center Printables
And because I realized I was doing these fun and easy math activities with my boys every day, I decided to make a printable that was easy to use for ALL different types of counters – to help save you time!
It's a print once, use a million times kind of math center printables. I found that if you are going to use them for a classroom, print them on card stock and laminate them for multiple year use.
In this math center printable pack there are:
Activity Directions
Counting
Cards with Numbers
Counting
Cards with Number Words
Pattern
Number
Word Circles
Blank Graph
Color Sorting Cards
Addition
Subtraction
Sentence Cards
Number Cards