Looking for counting activities for preschool? Pick from these adorable 20 hands on number activities for preschoolers all year long. Fun and easy ideas that teach preschoolers number recognition with budget friendly math activities and games.
Plus we're sharing our favorite number books for preschoolers too!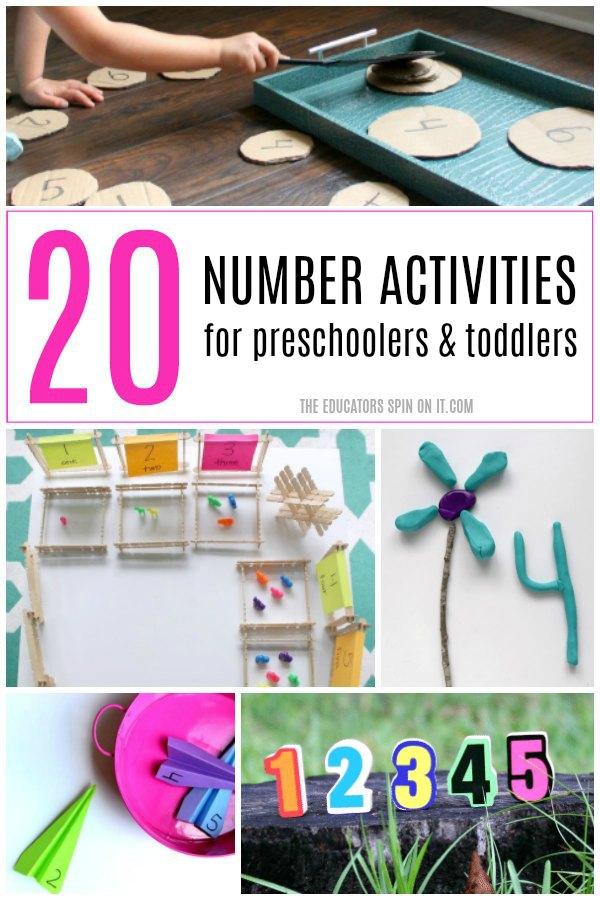 Number Activities for Preschoolers
Teaching numbers to preschool aged children is one of the main concerns of focus for parents and teachers. Below I've put together fun ways to learn about numbers with counting activities and number recognition activities for your preschooler.
One fun way to start learning about numbers is to create your own DIY Number Book for Preschoolers.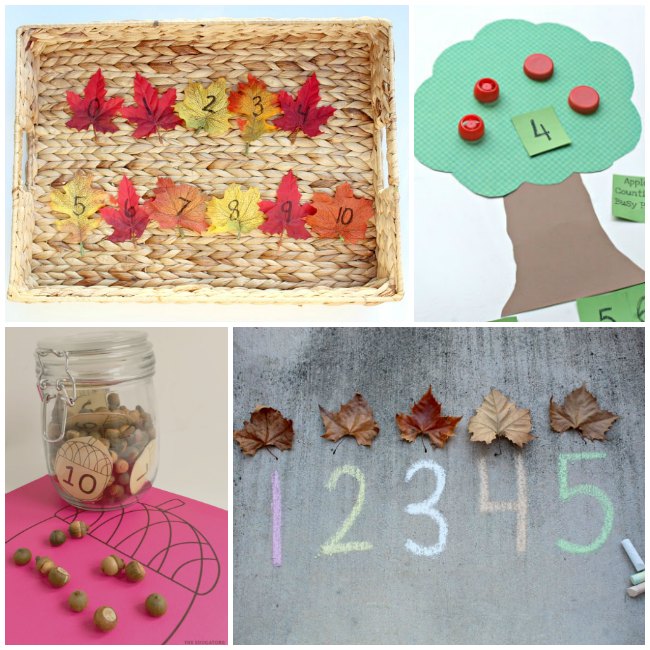 Fall Number Activities for Preschoolers
Start off with a fun Number Leaf Scavenger Hunt in your yard or inside the house.
Then grab your sidewalk chalk to collect Fall leaves and play this Chalk Numbers with Leaves.
Next collect acorn with your preschooler to play this Acorn Math Game and Number Printable.
It's apple picking season! Collect recycled lids to play our Counting Apples Game.
Or grab a few pretend apples to make this adorable Magnetic Apples Counting Game!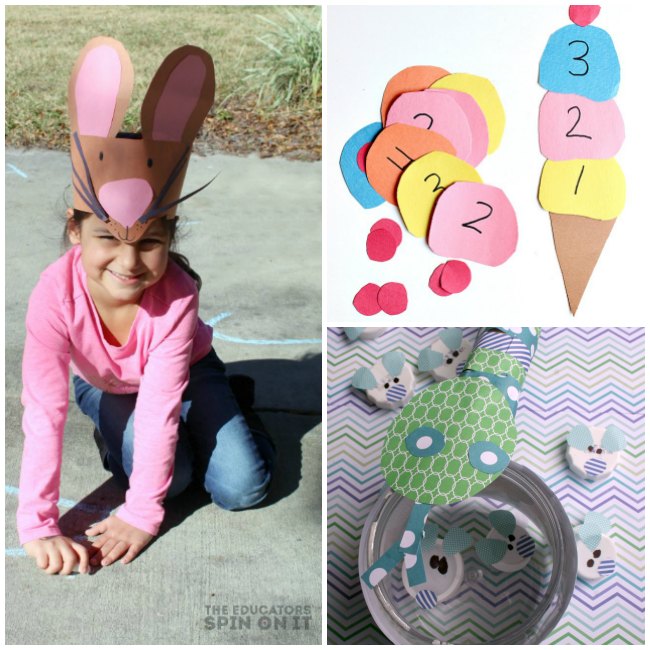 Book Themed Number Activities
Can you stack your numbers in order? Try out this Ice Cream Math Game!
Then get inspired Mouse Sidewalk Chalk Number Game and make a sweet mouse headband.
Finally, get inspired by Mouse Count with this Mouse Counting Activity with Lids and a snake!
Want more book themed ideas… visit our Virtual Book Club for Kids Number Week!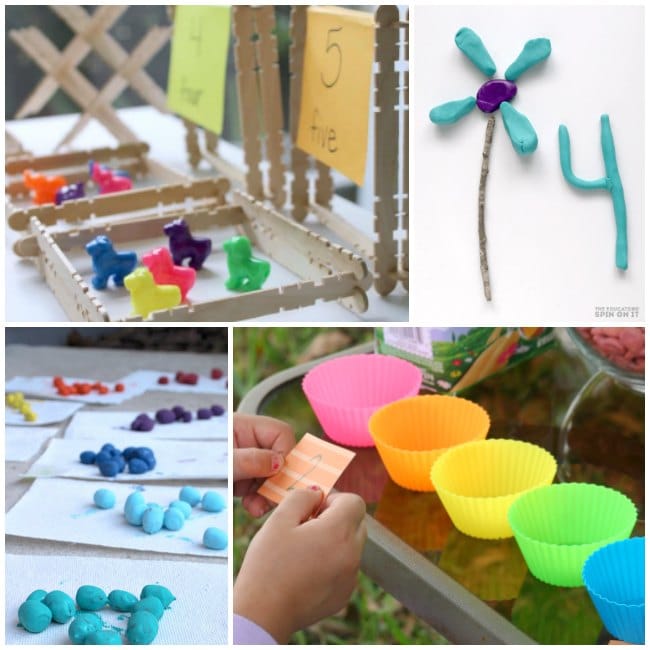 Nature Inspired Counting Activities for Preschoolers
Preschoolers love to pretend play, start with this Zoo Animal Counting Game.
Next, explore the yard for sticks and rocks to play a Playdough Flower Number Game
Does your preschooler like to paint? Make math colorful with these Painted Acorn Math Games.
Add a little number fun to snack time with this Muffin Cups Math Game.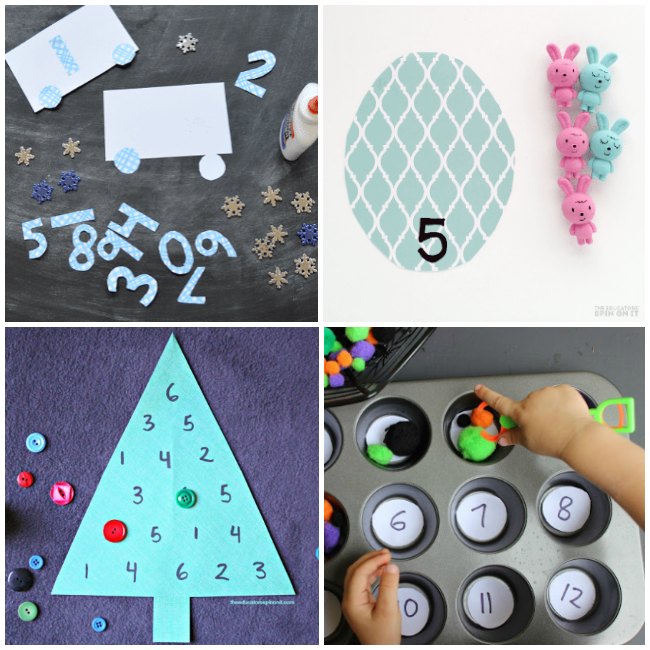 Holiday Themed Number Recognition Activities
Take advantage of holiday decorations by making a Number Train Game with Snowflakes.
Then try different holiday items this spring with a cute Easter Egg Numbers Game.
Next, grab a few fuzzy pompons and muffin tin to play Fine Motor Math Game for Halloween
Finally, you can head to the holidays with buttons for this easy Christmas Tree Number Game.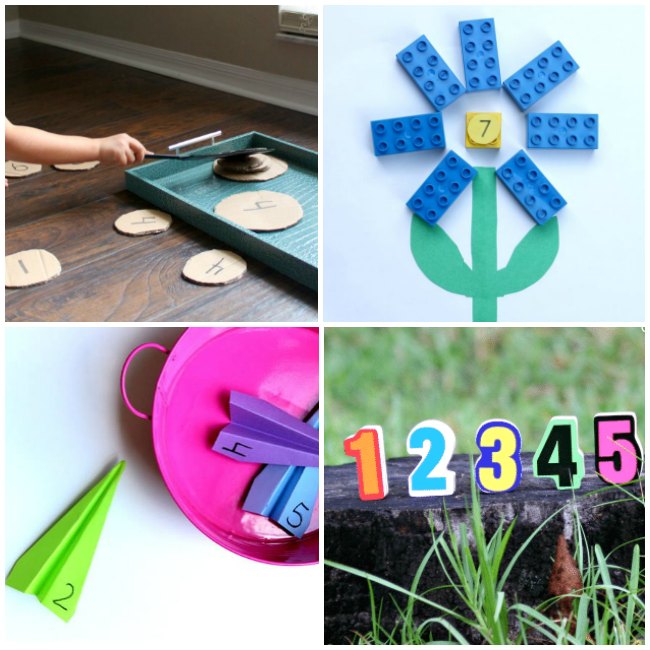 Hands on Math Activities for Preschoolers
Create your own hands on fun with cardboard for this Pancake Numbers Game.
Next look to your toys and how to use them in a new way like with this LEGO Garden Math Game.
In addition to toys use paper to create math games with a Paper Airplane Number Game.
With shapes and a pencil your child can Learning numbers 6-10 with writing!
Look to your outdoor play and explore math ideas with Garden Counting Activity or this Printable Seed Counting & Sorting Activity.
Grab some crayons for some extra number fun with these Color by Number Printables.
Finally, end all of your preschool number learning by making your own DIY Number Book with photos you and your child took and printed to make a keepsake of all of your number fun together.
Number recognition is just as important as one to one counting. These featured math games and activities will give your child a great start to the development of their math skills.
Want more ideas for your preschooler? Explore our preschool lesson plans.
The Educators' Spin On It is a participant in the Amazon Services LLC Associates Program, an affiliate advertising program. As an Amazon Associate, I earn from qualifying purchases. Read more about these links in my Disclosure Policy.
Number Books for Preschoolers
On the Launch Pad: A Counting Book About Rockets (Know Your Numbers) by Micheal Dahl
Fish Eyes: A Book You Can Count On by Lois Ehlert
1-2-3 Peas (The Peas Series) by Keith Baker
Chicka Chicka 1, 2, 3 (Chicka Chicka Book, A) by Bill Martin Jr.
Ten Black Dots by Donald Crews
10 Little Rubber Ducks Board Book (World of Eric Carle) by Eric Carle
1, 2, 3 to the Zoo: A Counting Book by Eric Carle
Goodnight, Numbers by Alicia Padron
Mouse Count by Ellen Stoll Walsh
One Duck Stuck: A Mucky Ducky Counting Book by Phllis Root
Here are 35+ Counting Books for Kids to explore together with your child!
Do you have a favorite number book? SHARE in the comments below…
One of the most important things you can do at home is to start teaching numbers to preschool aged kids. Counting activities give your preschool hands on experience which is important for them to really understand math concepts.
Which number game are you going to make first with your preschooler?