A collection of adorable spring themed books for your child. This list of March books for preschoolers is packed full of spring children's books and themes!
March Books for Preschool
This March we're focusing on our favorite picks to welcome this colorful time of year. The books are perfect for bedtime stories or even read alouds with friends or classmates.
This March Books for Preschoolers consists of the themes of nature themes like color, gardens and bunnies to highlight the change in season to spring.
It also includes transportation themes like boats and airplanes to help with families who often travel this time of year.
March 2: Color Books
March 9: Garden Books
March 16: Boat Books
March 23: Airplane Books
March 30: Bunny Books
Here's our March book list and Themes from last year for more book suggestions.
Let's get started with announcing our March Books for Preschool List with you!
Disclosure: We've linked the book titles and book cover images to Amazon for easy shopping with our referral link.
Color Themed Week
Color Week: March 2
Color Themed Book: Mix It Up by Herve Tullet
Color Books
Click here for MORE COLOR BOOKS!
Color Activities for Preschoolers
Garden Themed Week
Garden Week: March 9
Garden Themed Book: The Tiny Seed by Eric Carle
The Tiny Seed (The World of Eric Carle)
Garden Books
Click here for more books about Gardens
(Coming soon on March 9)
Garden Activities for Preschoolers
Boat Themed Week
Boat Week: March 16
Boat Themed Book: Sail Away by Donald Crews
Boat Books
Click here for more books about Boats.
(Coming soon on March 16)
Boat Themed Activities for Preschoolers
Airplane Themed Week
Airplane Week: March 23
Airplane Themed Book: Maisy Goes on a Plane
Maisy Goes on a Plane: A Maisy First Experiences Book
Airplane Books
(Coming soon on March 23)
Airplane Themed Activities
Bunny Themed Week
Bunny Week: March 30
Bunny Themed Book: Knuffle Bunny by Mo Willems
Knuffle Bunny: A Cautionary Tale
Bunny Books
(Coming soon on March 30)
Bunny Themed Activities
So many fun book titles to read with your child this March! Which theme are you looking forward to the most?
Printable March Books for Preschoolers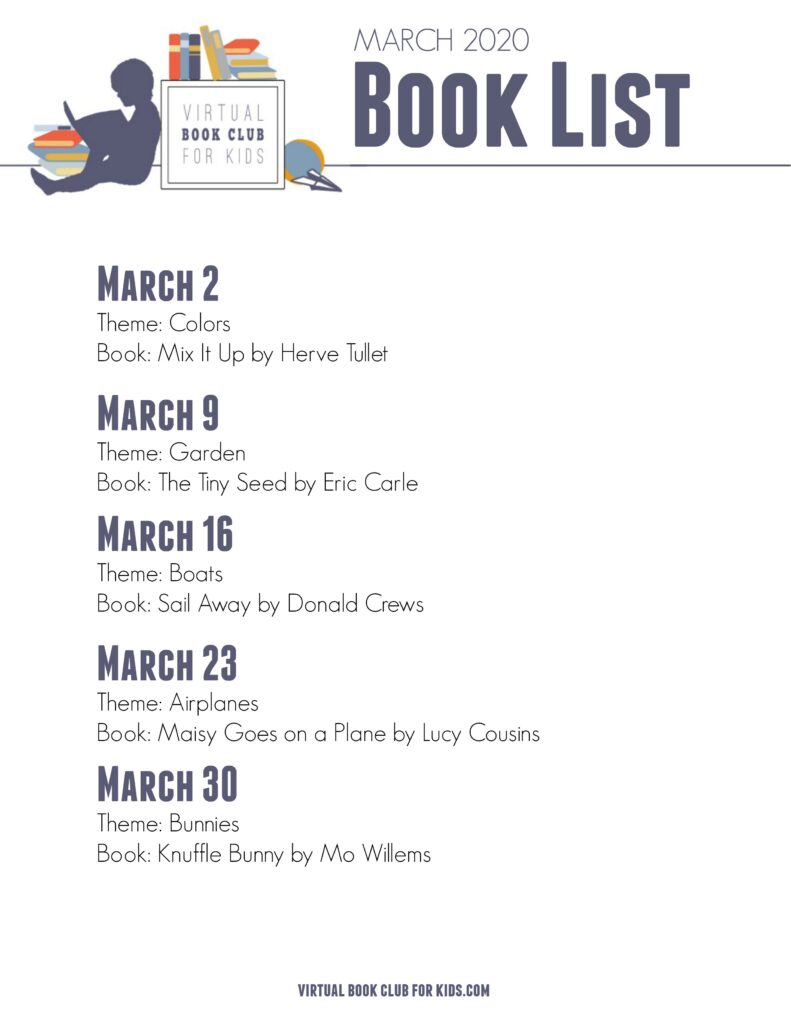 Here are some more Spring Book Ideas to do with your child!
We'd love for you to join along with our Virtual Book Club for Kids. Weekly activities and themed books for your preschoolers and toddlers emailed to you.
Plus a free facebook group to join with other book loving parents just like you!