Valentine's Day is such a special day to share with the littlest member of your family! I know that my toddler sure has a special place in my heart. Words cannot even express how much I love this little guy.
This holiday is a great time to tell those we love how much they mean to us. It is also a way to reconnect with our loved ones.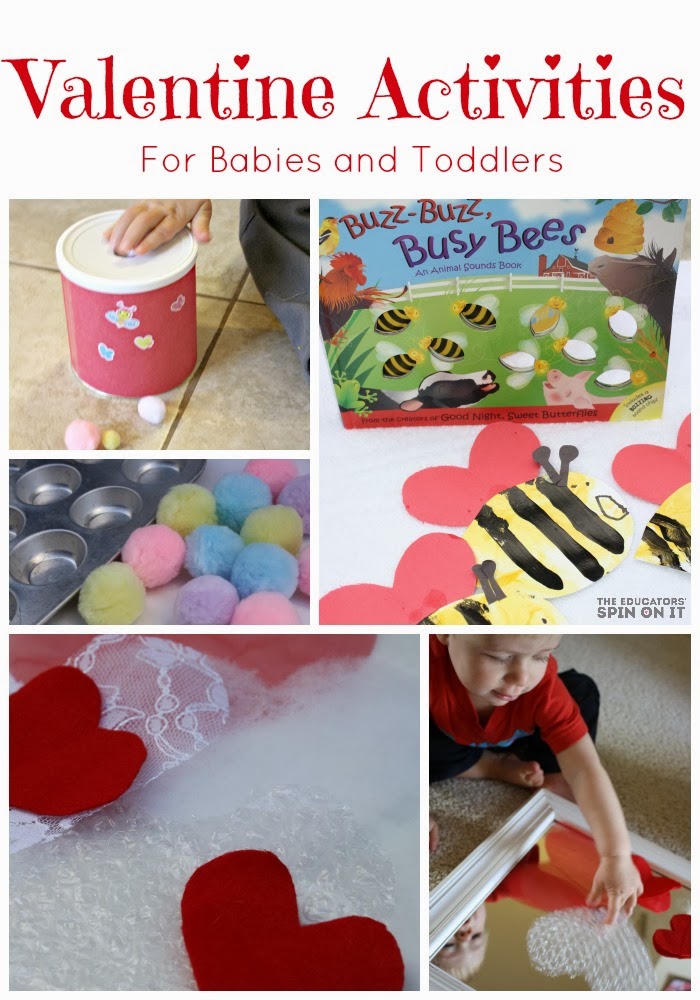 These first holidays don't need to be elaborate to be enjoyable. A few hearts, pom-poms, and a smile are all you need to make your baby or toddler's Valentine's Day a special day to remember.
Here are some things we are doing to celebrate Valentine's Day.
Toddler Valentine's Day Activities
Toddler Valentine's Day Activities
Texture Heart Exploration
We cut a variety of hearts out of different textured materials; felt, bubble wrap, wool, fleece, and cotton batting. Then, we played with the hearts, stacking them and talking about their textures. Hiding them under his special blankie and playing "peek-a-boo heart."
Mirror Play
Using those same hearts from our texture exploration, we brought out the mirror for some mirror play and again more vocabulary. This time we talked about seeing 2 and all of our body parts.
Pom-pom cupcakes.
Since grown-ups and some of the big kids exchange sweets, my little one and I made a healthier, but not so edible version of cupcakes. I set out a bunch of pretty pom-poms and a mini muffin tin. He practiced filling each of the cupcake compartments with the pom-poms and then put the whole pan in our pretend kitchen. SOOO cute and great for beginning math!
Pom-pom Push
While the pom-poms are out, why not push them through a hole in a re-used baby cereal container? This is great for developing fine motor and something my little one likes to do over and over again. I covered out container with a red paper and some cute Valentine stickers, which proved to be another fine motor activity, as he did not want them on the container and carefully peeled each one-off.
Book and Activity
Last, but definitely not least, I believe that every holiday (and day for that matter) is a good day to read a book and do an activity along with it. My four year old made bee Valentine Cards for his friend, so we let our toddler do his own too.(FYI – I am showing a picture of the 4 year olds, the babies were all black and so was he!)
We read the book BUZZ BUZZ, BUSY BEE, which is a favorite because there is a buzzing noise at the end and sang the song 10 Little Bumblebees. Since we made a LOT of valentines, there was enough bees to count to 10. He's not talking yet, so we're hoping repeated exposure to vocabulary will help him start soon.
How do you celebrate Valentine's Day with your Toddler?
Join us for more Themed Activities for your Baby or Toddler by signing up for our Newsletter and get Monthly Activity and Craft Ideas from The Educators' Spin On It.