Don't let diet restrictions limit your creativity! This Halloween, channel your inner ghoul with these 25 unique vegan Halloween recipes that kids of all ages will love. Make a batch of these Bats and Cats Chocolate Graham Crackers with your kids and SHARE THEM!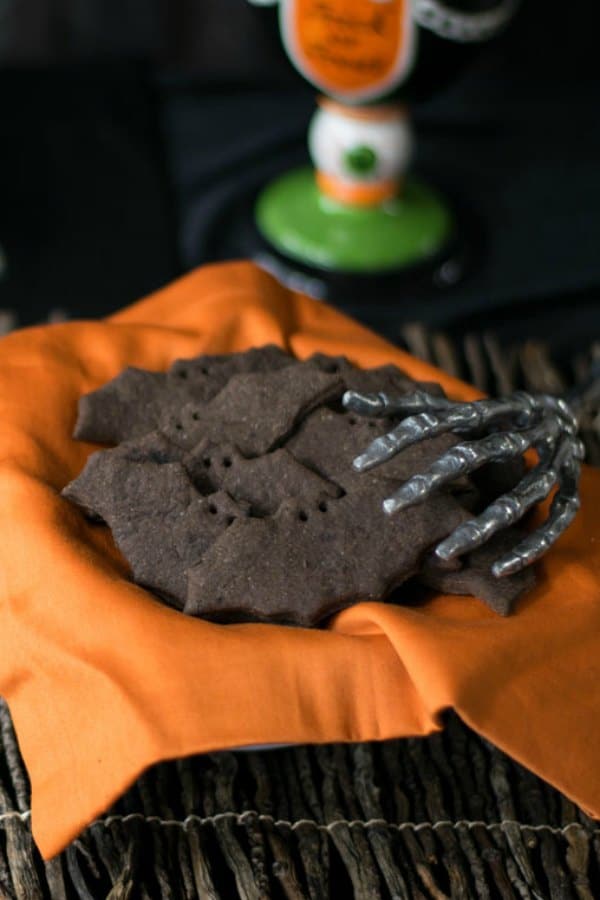 Your youngest helpers can help measure, mix, and cut out shapes! Cooking with kids is a great way to strengthen vocabulary and math skills. It is great a way to teach life skills and make meaningful moments with your family. Affiliate Links
While your creepy bats and cats chocolate graham crackers are baking, snuggle on the sofa with your favorite Halloween Book.  My kids love The Spooky Wheels on The Bus and The Night Before Halloween. Point out any bats or cats that you find in the book!
Creepy Bats and Cats Chocolate Graham Crackers
Recipe by Kathy Hester from The Ghoulish Gourmet: A Bewitching Collection of Vegan Halloween Recipes copyright 2016 printed with permission
These adorable chocolate cookies are just a touch sweet from maple syrup. The midnight black color comes from the special dark cocoa powder. These are crunchy and are great dipped in the Spooky Sweet Potato Oatmeal Cookie Dip recipe from The Ghoulish Gourmet Ebook.
Ingredients for Creepy Bats and Cats Chocolate Graham Crackers
dry ingredients:
wet ingredients:
¼ cup maple syrup
¼ cup So Delicious unsweetened nondairy milk (almond, coconut or cashew)
You can find bat and cat cookie cutters at most dollar stores or online.
How to Make Creepy Bats and Cats Chocolate Graham Crackers
Preheat your oven to 350°. Prepare 2 large cookie sheets by oiling or covering with parchment paper.
Mix all the dry ingredients in a medium-sized mixing bowl. Add the wet ingredients to the dry ingredients and cut in with a pastry cutter or 2 forks. Use your hands to make a ball. If the dough is too crumbly, add another tablespoon of nondairy milk and try again.
Roll out ¼ of the dough at a time on a floured work surface into a medium thickness. Use bat and cat cookie cutters to cut out shapes and gently place them on the baking sheet.
Repeat until all the dough is used. If you use medium-sized cookie cutters, these will need to bake for about 10 minutes. The cookies will be crunchy.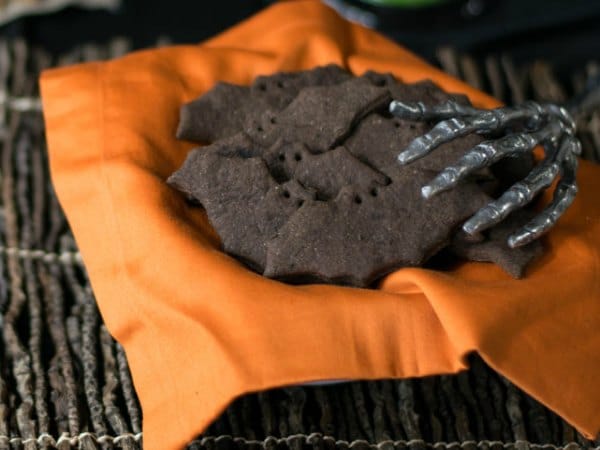 The Ghoulish Gourmet: A Bewitching Collection of Vegan Halloween Recipes
Kathy Hester has a way of combining her creativity with vegan cooking that has WOW'd many home chefs. Make sure to grab a copy of her latest book – The Ghoulish Gourmet !
"Let me begin this review by saying that I am not a vegan (although I admire anyone with the willpower to be vegan). I purchased this cookbook with the intention of trying to eat healthier. There are a lot of great recipes in this book, and I love that almost every recipe has variations to satisfy particular dietary needs like gluten-free. Many of the recipes are very simple to make, and all of the ones that I have tried so far have been good to amazing." Mathew Blevins,  an Amazon reviewer of one of Katy Hester's books.
NOTE: There are a couple of cocktail recipes thrown in for the adults, but you can skip the alcohol. Most recipes have options to be made gluten-free, soy-free, and/or nut-free.
Here are just a few of the Vegan Halloween Recipes included:
Bats and Cats Chocolate Graham Crackers
Deviled Purple Potatoes
Harry Potter's Pumpkin Juice
Gruesome Forbidden Rice Mousse
Vegan Pecan Pumpkin Shake
Swamp Monster Slow Cooker Jackfruit Gumbo
You may enjoy some of Kathy's other Vegan Cookbooks books as well: