The best place to see dolphins in the Keys is the Dolphin Research Center. Here's why it made it to the top of our Florida Keys trip.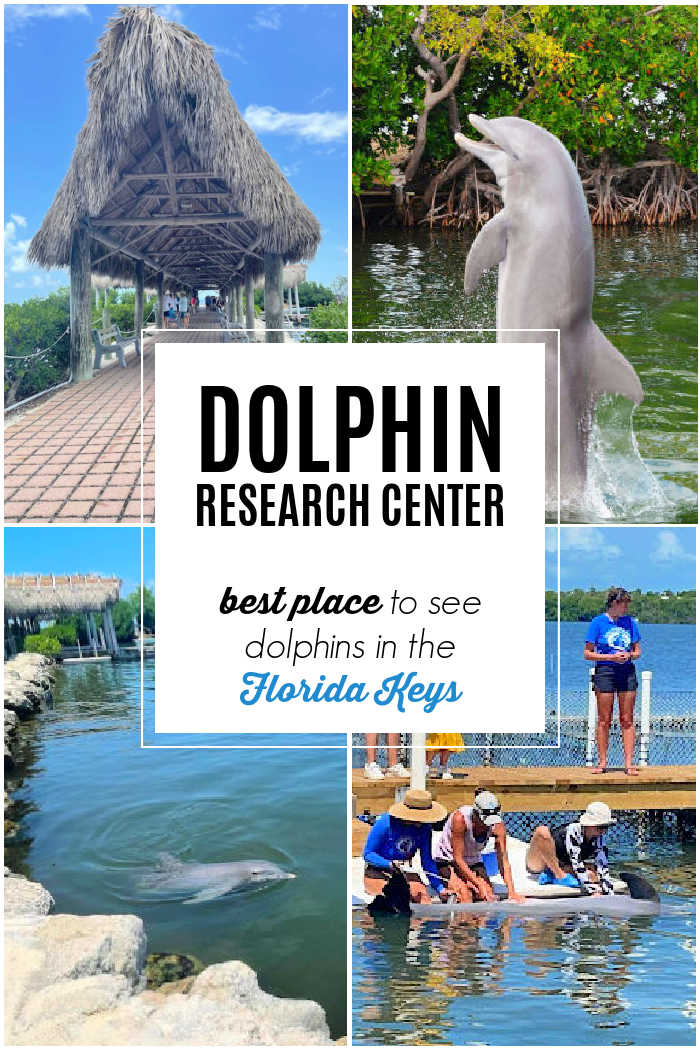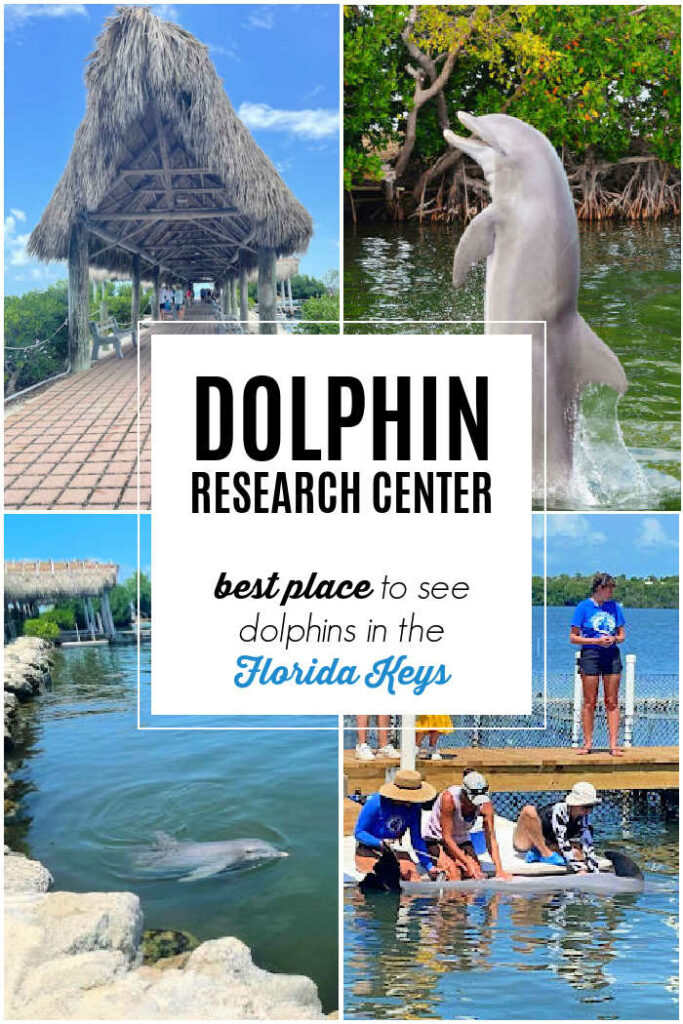 Best Place to See Dolphins in the Keys
Disclosure: This post was written in collaboration with Dolphin Research Center. All opinions expressed are my own.
If you come to the Florida Keys, the Dolphin Research Center is a must-visit!
The facility is built along the waterfront with beautiful views of Florida Bay and visitors are free to linger.
The Dolphin Research Center is an educational and research facility. There isn't a scripted show but instead, they offer narrated behavior sessions as visitors stand on the dock around open-water tanks.
Want a peek? Take a look now at their Dolphin Webcam!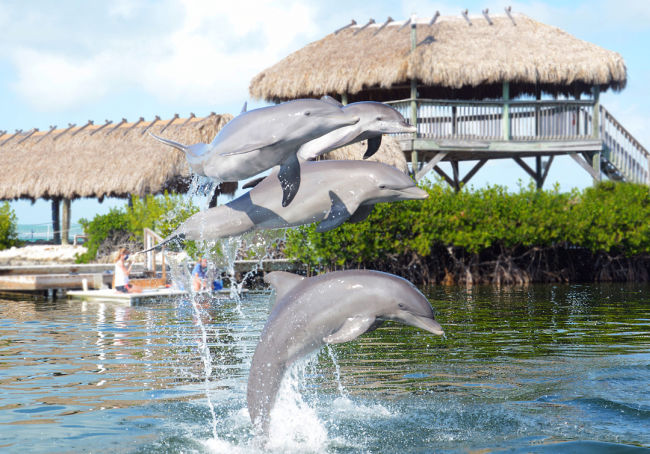 Best Place to See Dolphins in the Keys
If you're planning a trip to the Florida Keys there's a high chance you have one question on the top of your list. Where is the best place to see dolphins in the Keys?
The answer is the Dolphin Research Center!
Personally, I first learned about the Dolphin Research Center from a friend Jonathan Pruden, Special Advisor to the Chief of Staff – Warrior Care, at Wounded Warrior Project.
He had mentioned at a get-together with friends how much the impact of the soldiers visiting this location during the Wounded Warrior Project Soldier Ride while in the Florida Keys. He and the wounded veterans he was working with were invited to swim with the dolphins as part of a Wounded Veteran Rehabilitation. For many of the participants, the dolphin swim can further empower them on their journey to restore their physical and emotional well-being.
As I was planning our Key West Vacation, a visit to see dolphins was a must.
One look at their weekly Facebook Live Videos and you can easily see why everyone loves it and the work they do there. I knew Dolphin Research Center was the spot to go.
My dolphin obsessed daughters were over the moon excited when they found out we planned to go to this popular attraction in the Florida Keys.
We've seen a few dolphins in our recent visit to our local Florida beach in the water near us and at SeaWorld but this was a whole other level of experience we all wanted to explore.
Has your child ever seen a dolphin?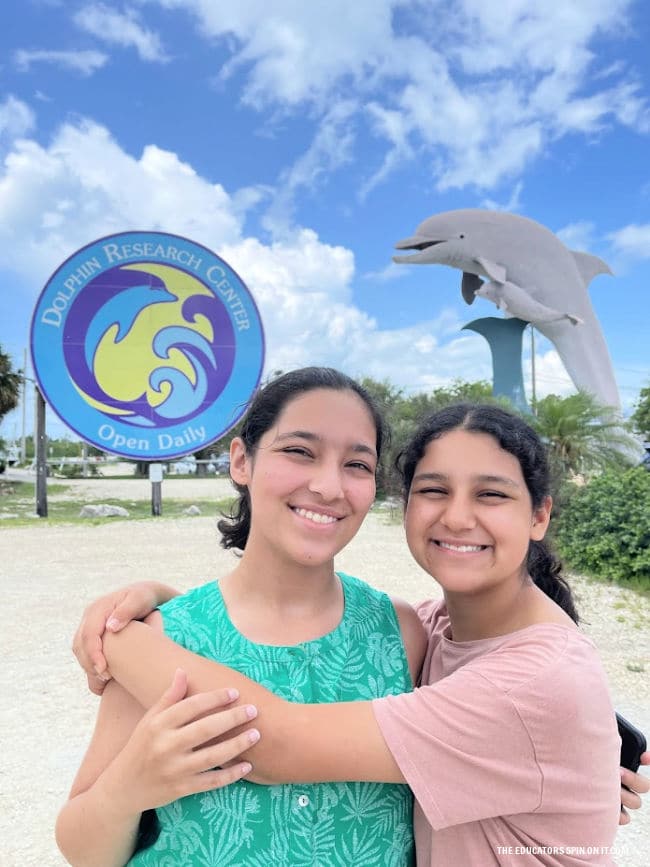 Dolphin Research Center
Dolphin Research Center has become an international tourist destination with more than 70,000 visitors a year. Their programs, practices, and principles are shared around the world. With three generations of dolphins, two generations of animal trainers, and a staff of 80.
It's located on Grassy Key in the heart of the fabulous Florida Keys. It's a little more than two hours from Miami and about an hour and twenty minutes from Key West.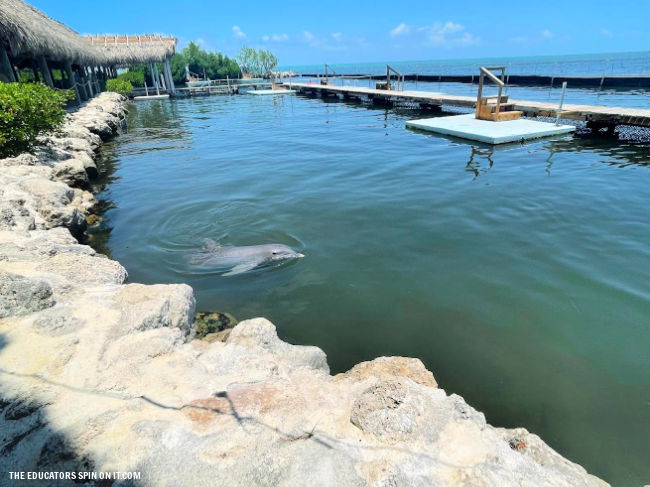 The bottlenose dolphins living there provide a range of personalities and backgrounds. Over half of their family was born at the Center, while the other members have either come from other facilities or were rescued, rehabilitated and deemed unreleasable back into the wild by the Government and now have a forever home at Dolphin Research Center.
The open-air facility is an extension of the open water, with tiki huts throughout the lagoons where research and programming take place.
It's a gorgeous location in the Florida Keys! I could sit and observe the dolphins and water all day long! The shade provided by the numerous and striking tiki huts was so inviting.
We were fortunate to visit the center when a dolphin had recently given birth to a baby dolphin. While we were there the staff had a session where they were demonstrated how they teach all new mothers to pump breast milk, volunterarily. I had no idea this was even a possibility.
Although doing well now, the baby dolphin was having some issues at the time, so they were provided extra support in a smaller holding tank staffed 24/7.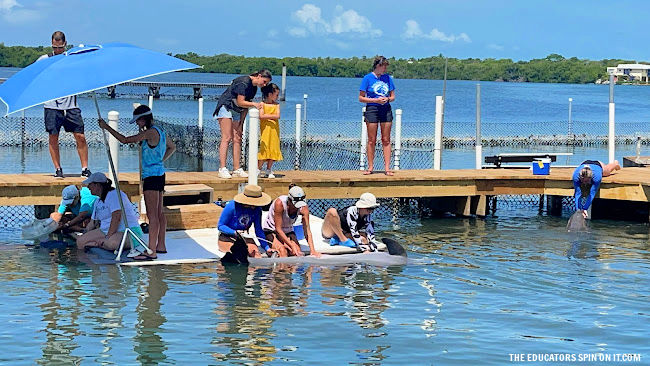 While the tour and information sessions can be experienced in an hour or two, many visitors stay for several hours watching the dolphins and talking with the friendly, well-informed staff.
It's also pretty entertaining to watch the guests who paid extra to interact with dolphins. The Dolphin Research Center offers several interactive options.
Here's the newest addition the the family!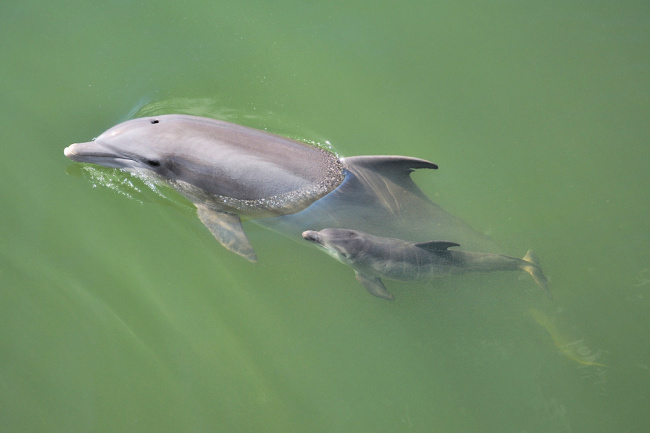 Dolphin Research Center Mission – Through education, research, and rescue, Dolphin Research Center promotes peaceful coexistence, cooperation, and communication between marine mammals, humans, and the environment we share with the well-being of DRC's animals taking precedence.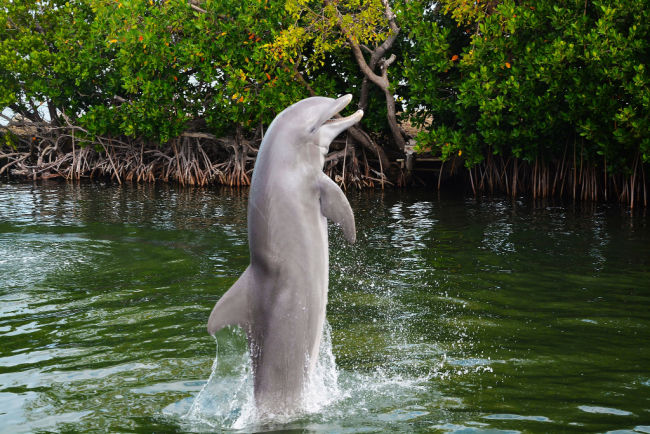 Programs Available to Book at Dolphin Research Center
Here are the four options most visitors choose from as an upgrade from the general addmission ticket. These range from going for a swim with the dolphin and your pulled by a dorsel fin or to have an interactive session on the dock where you get to touch a flipper. You pick one that fits your child's interest and your budget level.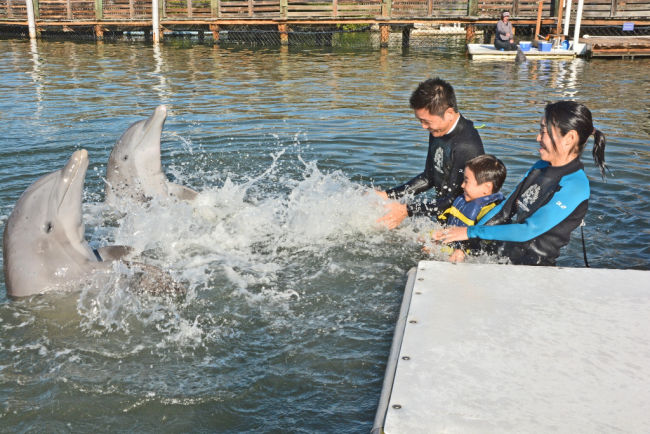 Are you still wondering where is the best place to swim with dolphins in Florida Keys?
Take a closer look at your experience when you swim with the dolphins in the Florida Keys.
Here are some of the additional amazing interactive programs they offer.
Dolphin Research Center offers a wide variety of outreach options to meet the varying needs of events and audiences.
Their encounter programs help cognition and behavior, provide programs to military personnel and their families, work with people with special needs, and develop top educational programs for students of all ages.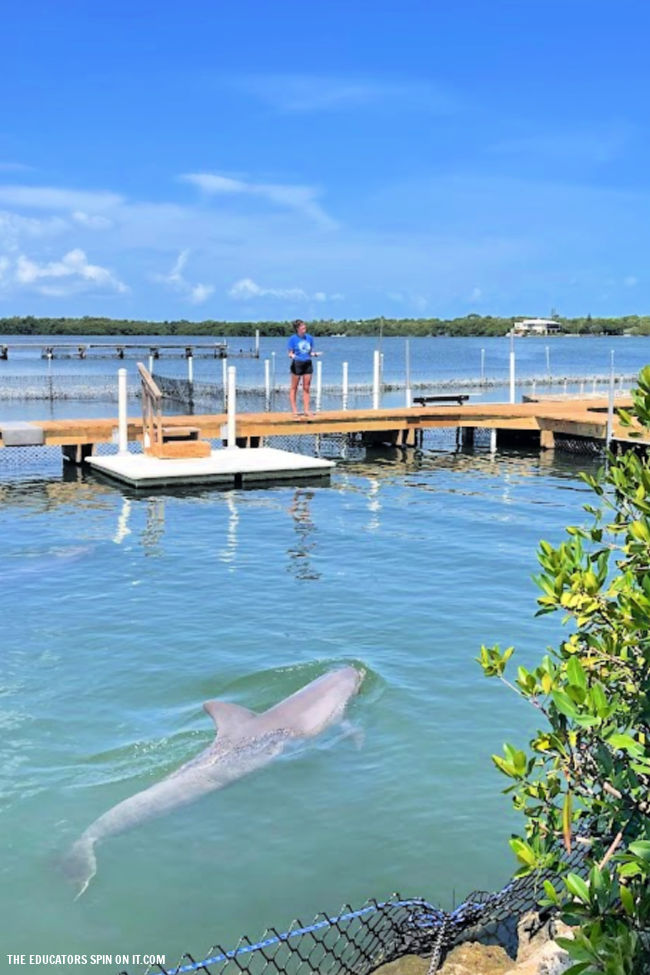 Educational Programs at Dolphin Research Center
Dolphin Research Center offers a variety of programs to meet the different ages, grade levels, interests and other needs of various audiences.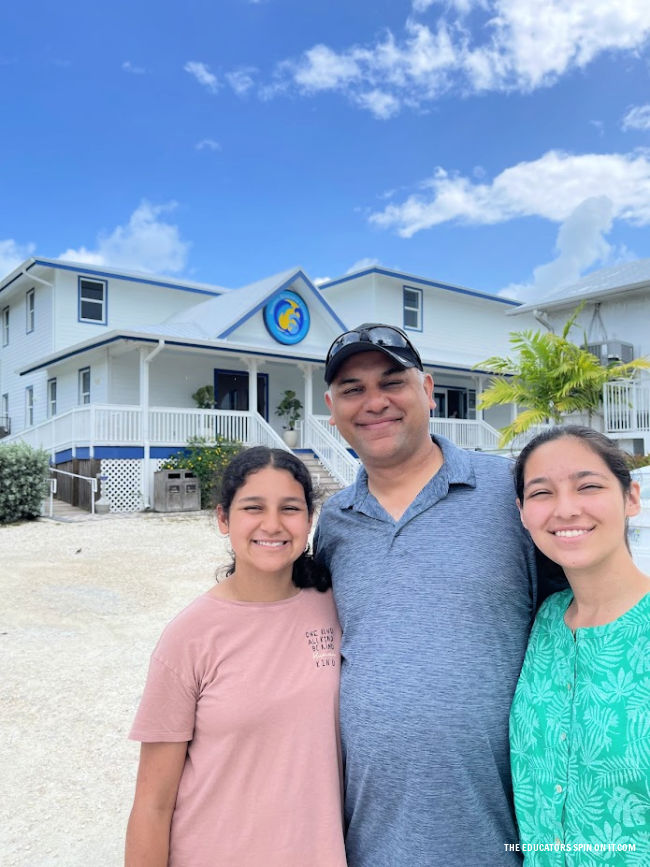 Distance Learning Programs at Dolphin Research Center
As much as you'd like to bring your students to Dolphin Research Center, sometimes, that just isn't possible. Dolphin Research Center's virtual field trips, video conferences and distance learning programs help bring the dolphins into your classroom, wherever you're located!
Thanks to a web camera and internet technology, you and your classroom can visit Dolphin Research Center, meet their marine mammal family, and engage in question-and-answer sessions with experts in the fields of marine mammal care, training, and research.
Printable Dolphin Curriculum Pages
Dolphin Research Center now offers its Curriculum materials as a FREE download for teachers! To access their free curriculum materials please contact the School Programs and Outreach Coordinator.
Here's a peek at how interactive the live videos are with you!
A big thanks to our knowledable and friendly guide Mary Stella. She is the media relations coordinator at Dolphin Research Center and her passion and connection with dolphins gleamed as she shared with us the magic behind the scenes at this amazing center.
As an Amazon Associate I earn from qualifying purchases.
Dolphin Books for Kids
I love getting ready for trips and following up our trips with books with the kids. Here are some of my favorite dolphin books for kids to get you ready for your dolphin adventure.
The Dolphin Research Center was a highlight of our trip to the Florida Keys. The facility was beautiful, the variety of experiences with the dolphins was amazing and the staff were so friendly and informative. We can't wait to return again soon.
The girls are eyeing all the camps they have available for their summer plans in the future. Can you imagine what an experience that would be!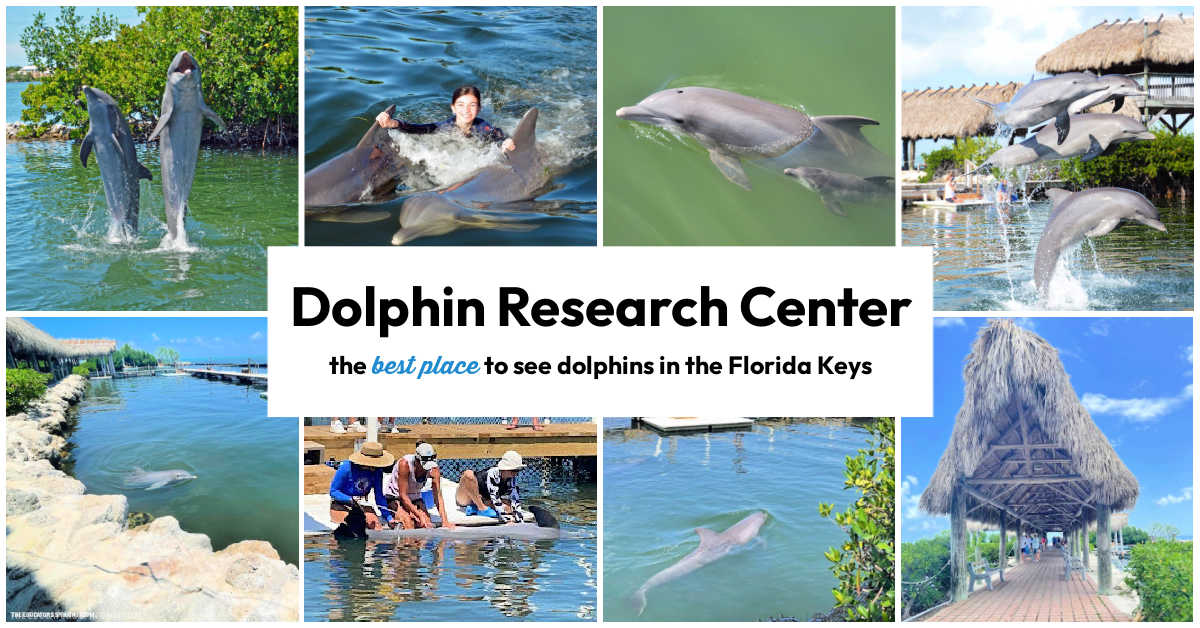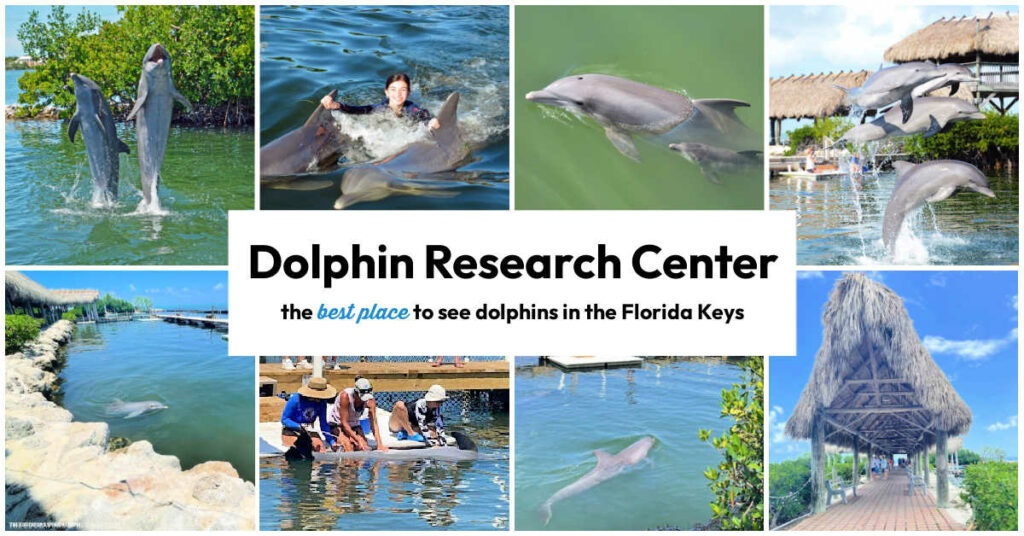 We highly encourage you to plan your next visit to Miami or the Florida Keys to include a visit to the Dolphin Research Center.
You may also enjoy these family travel ideas near Key West…