The Frost Museum of Science was a one-of-a-kind experience for our family on our Miami Vacation. I'd recommend a visit to anyone who's in the area from young to old!
Why do you ask? Let me tell you…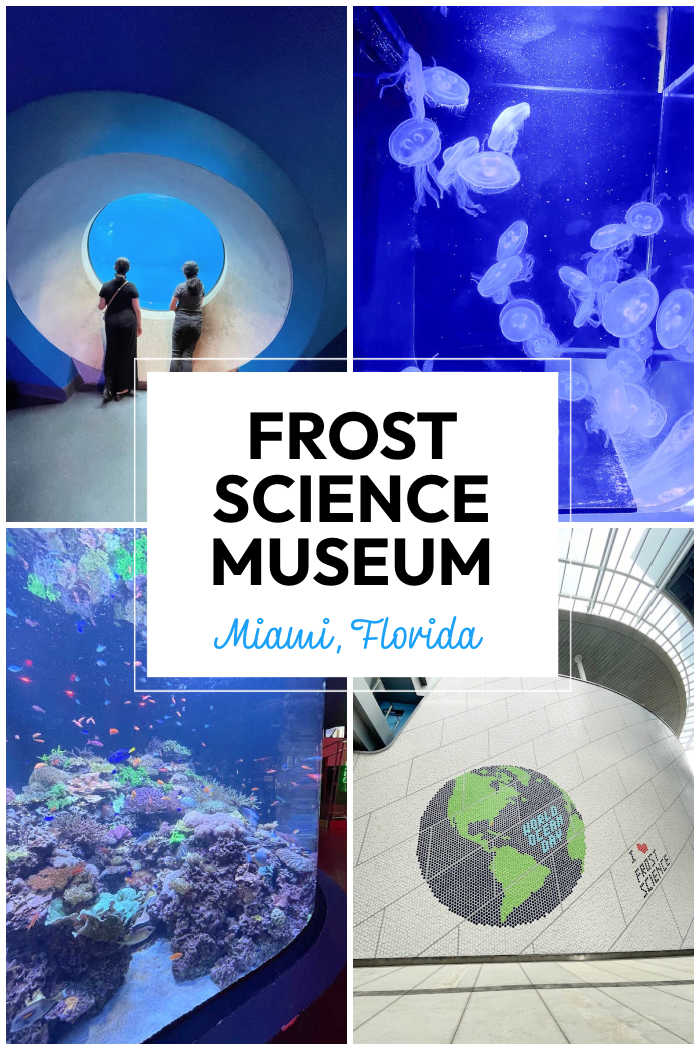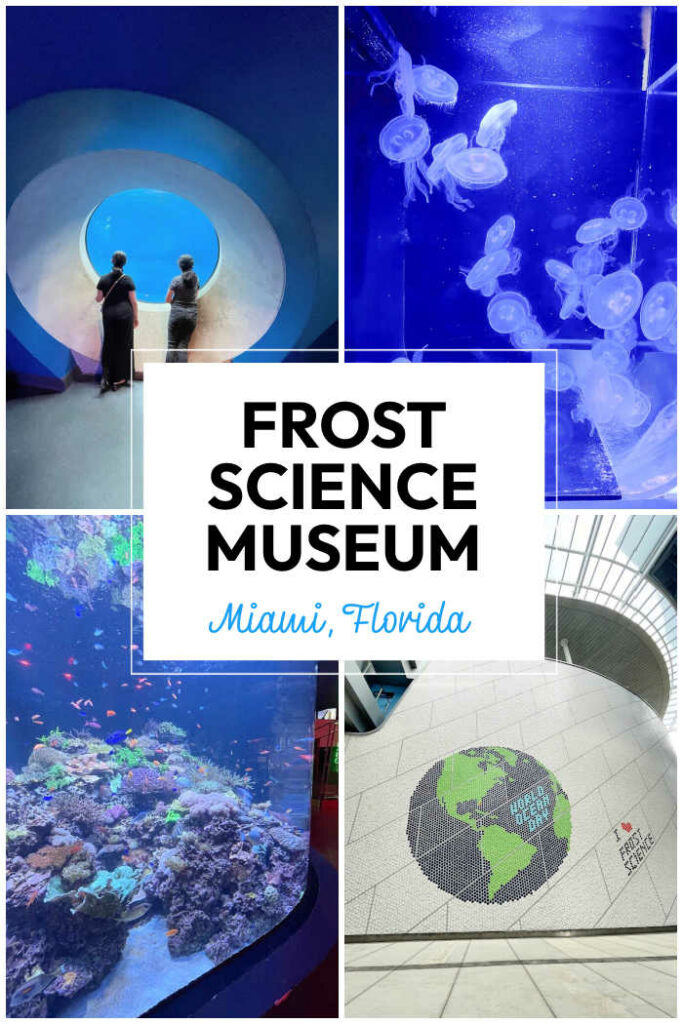 Disclosure: This post was written in collaboration with the Miami Visitors Bureau. All opinions expressed are my own.
Frost Museum of Science
The Phillip and Patricia Frost Museum of Science is a leading science museum dedicated to sharing the power of science, sparking wonder and investigation, and fueling innovation for the future.
The Frost Museum is located in Downtown Miami's Waterfront Museum Park on four acres of beautiful bayfront land. Plan to spend some time walking around outside, you could even plan a picnic while you're there. The 6 story indoor-outdoor museum campus offers gorgeous views of both Biscayne Bay and the Miami skyline surrounding it.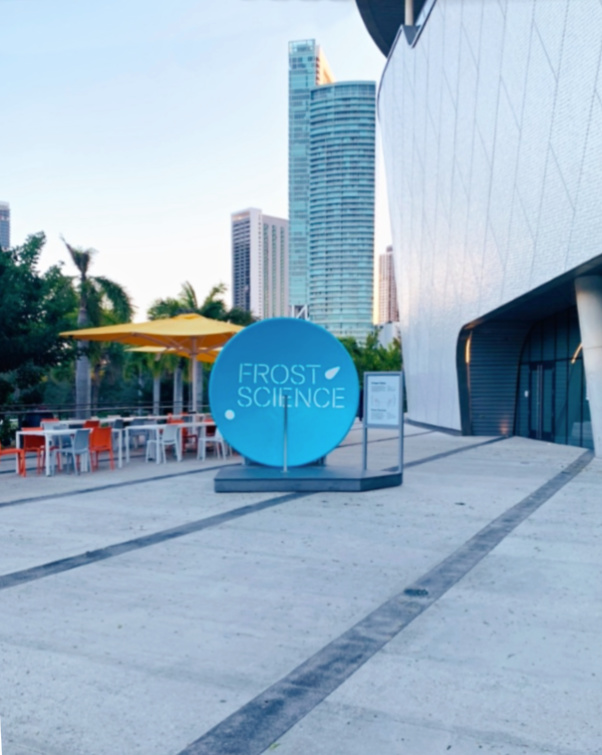 Once you're inside the Frost Science Museum you can choose to visit four buildings: the Frost Planetarium, Aquarium, and North and West Wings.
Guests can learn about the core science behind living systems, the solar system and the known universe, the physics of flight, light and lasers, the biology of the human body and mind, and much more.
Frost Museum of Science Exhibits include:
Aquarium
Planetarium
Power of Science
Feathers to the Stars
Ultimate Dinosaurs
Mammoths: Ice Age Giants
MeLaβ

Frost Science is eye-catching in Miami's skyline with a free-standing, spherical planetarium.
Frost Aquarium
The centerpiece of Frost Science is its stunning, three-level aquarium containing multiple habitats, ecosystems and subaquatic depths. We were amazed by this 500,000-gallon cone-shaped aquarium which can be viewed from multiple levels. It's my family's favorite feature at the Frost Museum of Science.
We started our adventure at the Aquarium… which provides so many opportunities for exploring.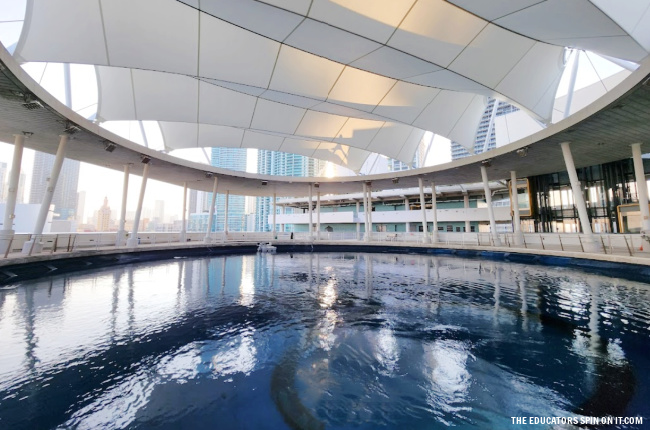 As you get started we'd recommend starting at the open-air rooftop Royal Caribbean Vista level. This area highlights the surface of South Florida's ecosystem. You'll find the open waters of the Gulf Stream Aquarium, where pelagic fish such as hammerhead sharks and devil rays glide in the current.
Since the museum is located in Miami these exhibits highlight South Florida's biodiversity, including coral reefs, mangroves, sandy beaches, and the Everglades. It was the perfect start to our trip to Miami.
There's also a touch tank where visitors can pet a stingray. Plus you can observe several birds in their aviary.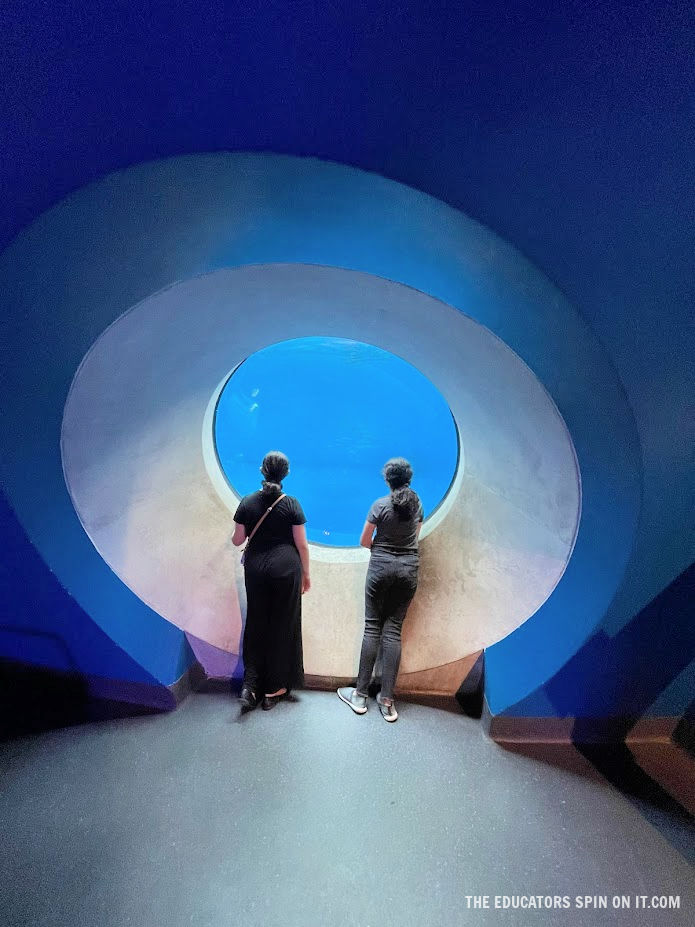 Next, you'll want to descend to the second Dive level where you'll view nearly 30 aquariums and interactive vessels, with everything from colorful damselfish to parrotfish and snapper swimming amid coral heads. You'll also see the prop-and-drop roots of mangrove forests.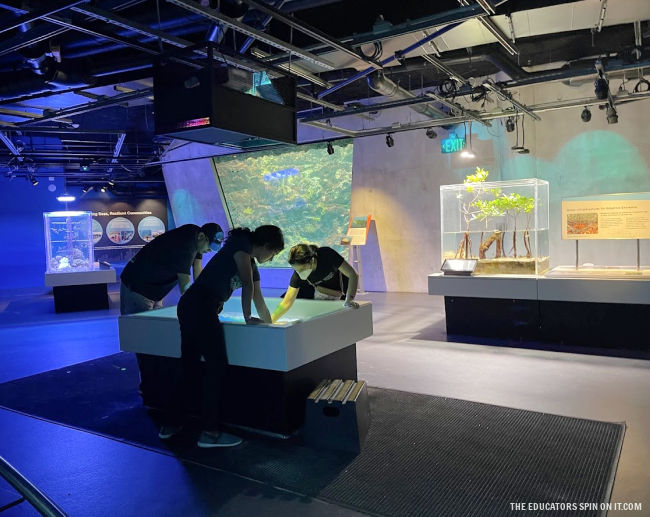 While exploring the museum I was impressed by how spread out the exhibits felt and the volume of aquariums for the kids to look at and learn about the various aquatic species. They even had a little bubble dome to go inside to feel like you are in the water with the fish. Always a kid's favorite.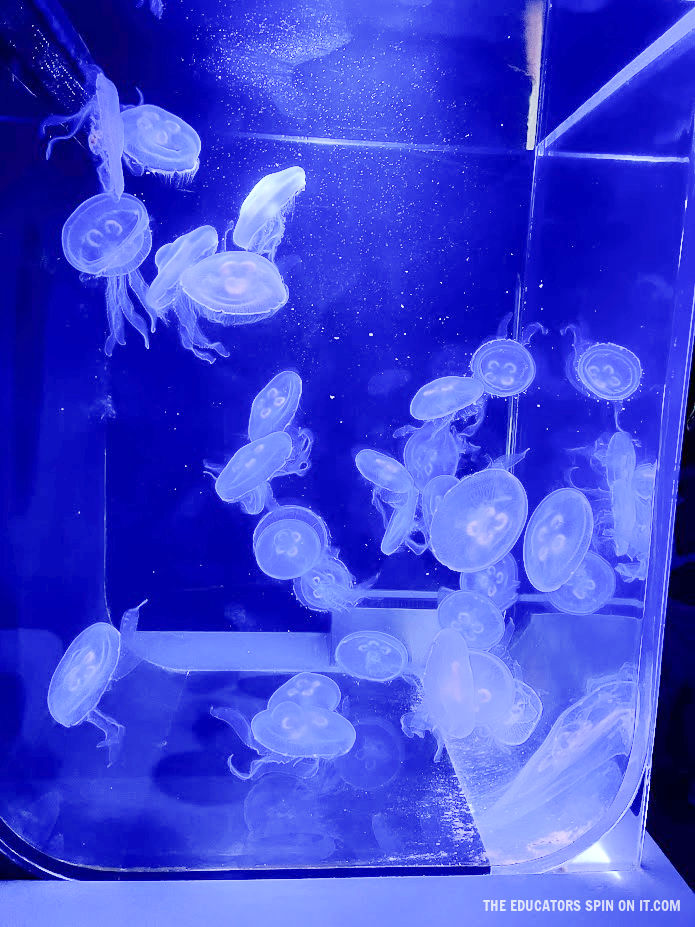 The final step of the aquarium is the bottom Deep level which represents the vast depths of the Gulf Stream, the swift-moving, cold-water current that traverses the globe and runs parallel to Miami's shoreline. Using real-time satellite imagery, visitors learn how the Gulf Stream's powerful current impacts climates and ecosystems around the world.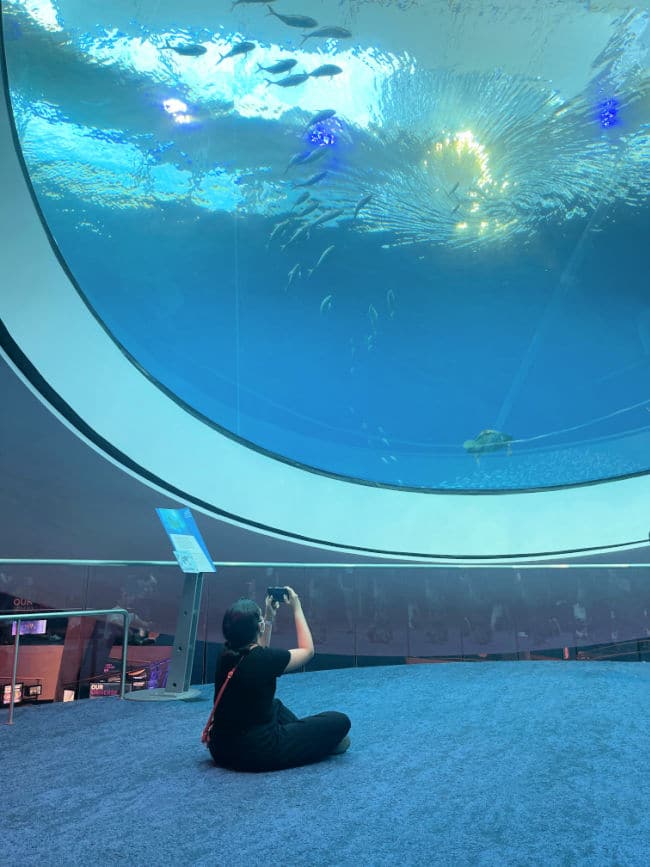 Here, you can view the Gulf Stream Aquarium through a 31-foot oculus lens and watch the mysterious fish of the ocean's depths swimming above you. My kids could have spent hours here watching the fish, sharks, and sea turtles swim.
Once you've finished the Aquarium building you have several more options to explore.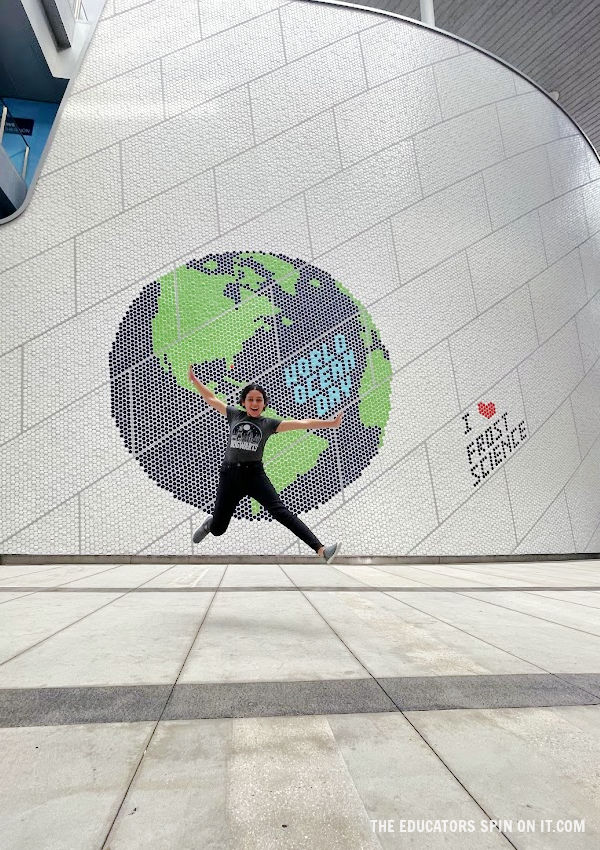 To plan your time at Frost Science you can make it a 2-3 hour adventure for frankly this can be an all-day museum experience, if you want to make it just that, so plan accordingly.
Frost Planetarium
Our next stop was our tickets to the Frost Planetarium Show. They have a few movie options to choose from. It was nice to sit back and enjoy with the kids.
The 250-seat Frost Planetarium uses 16-million-color 8K projection, surround sound and a vast dome screen to take you on dazzling visual odysseys to outer space.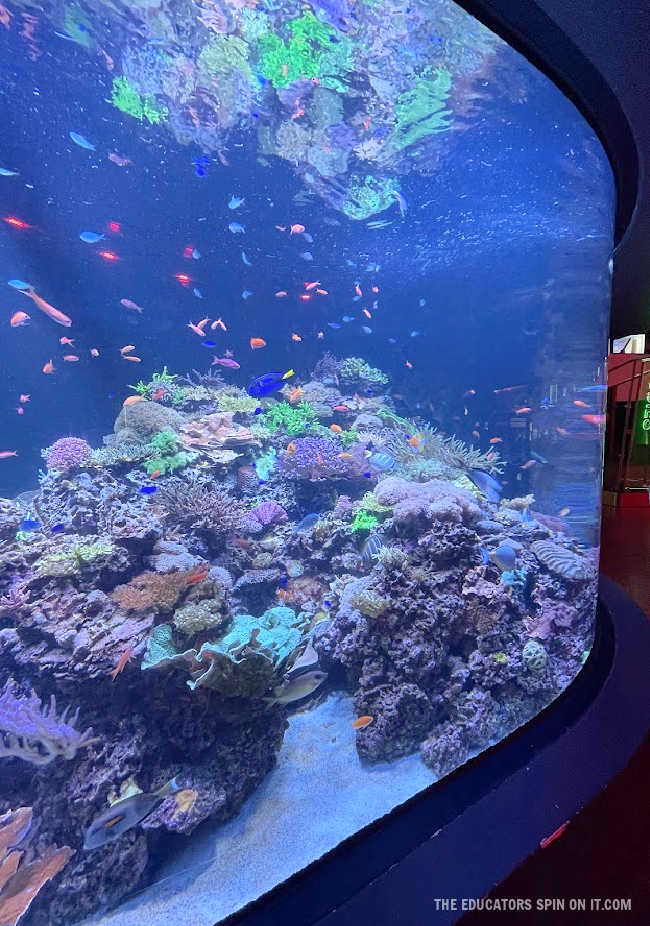 Frost Exhibitions
Power of Science
Explore how science pushes the boundaries of possibility as you learn about groundbreaking research and discoveries by scientists, including a focus on research at the local University of Miami.
The kids will be drawn to this magical interactive floor.
Ultimate Dinosaurs
This is not your ordinary dinosaur exhibition. Wander by a collection of 13 life–size casts, in addition to authentic dinosaur fossils, and touchable fossilized dinosaur specimens. The exhibit uses augmented reality interactives to experience these dinosaurs in the flesh—animated and rendered according to the most recent scientific findings.
Here's the Ultimate Dinosaurs Educators Guide to this exhibit to get your child ready to visit.
Mammoths: Ice Age Giants
Although one of the smaller exhibits, The Mammoths exhibit you can go back in time to explore the diversity, adaptation, and extinction of giant beasts that roamed North America 10,000 years ago.
Here's the Mammoths: Ice Age Giants Educator Guide.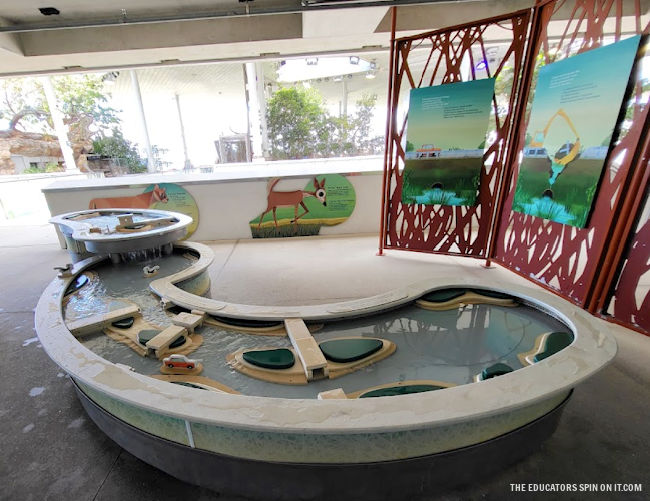 Feathers to the Stars
The exhibit Feathers to the Stars share with visitors how ancient evolution gave birth to animal flight, how humans used imagination and engineering to get airborne and how outer space is the next frontier. It has a few interactive displays for the kids to explore.
MeLab
In the MeLaβ, visitors will explore the amazing ways your body and mind work together, and how your daily choices impact your health and well-being. Experience five interactive zones (Eat, Move, Relax, Connect and Learn)
The Sun Spot
Experience the power of the Sun as a renewable source of energy through several interactive solar-powered activities. Plus located on the top floor, you can sneak is some amazing views of Miami!
WetLab and ReeFL
This ReeFL exhibit mirrors the ongoing coral husbandry and conservation research in Frost Science's Marine Conservation WetLab on level five of the museum. Look for more to come in 2023.
Frost Science on YouTube
Be sure to take a moment and explore Frost Science on YouTube! It's packed full of virtual experiences for your child. Perfect fun for a Virtual Field Trip to get ready for your upcoming trip to Miami.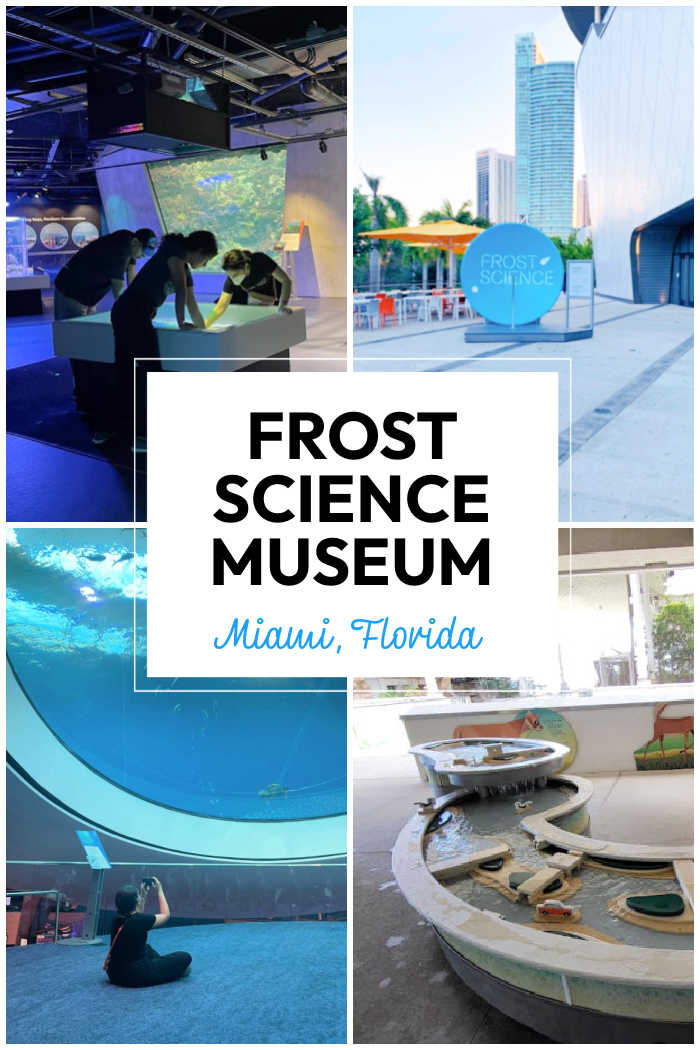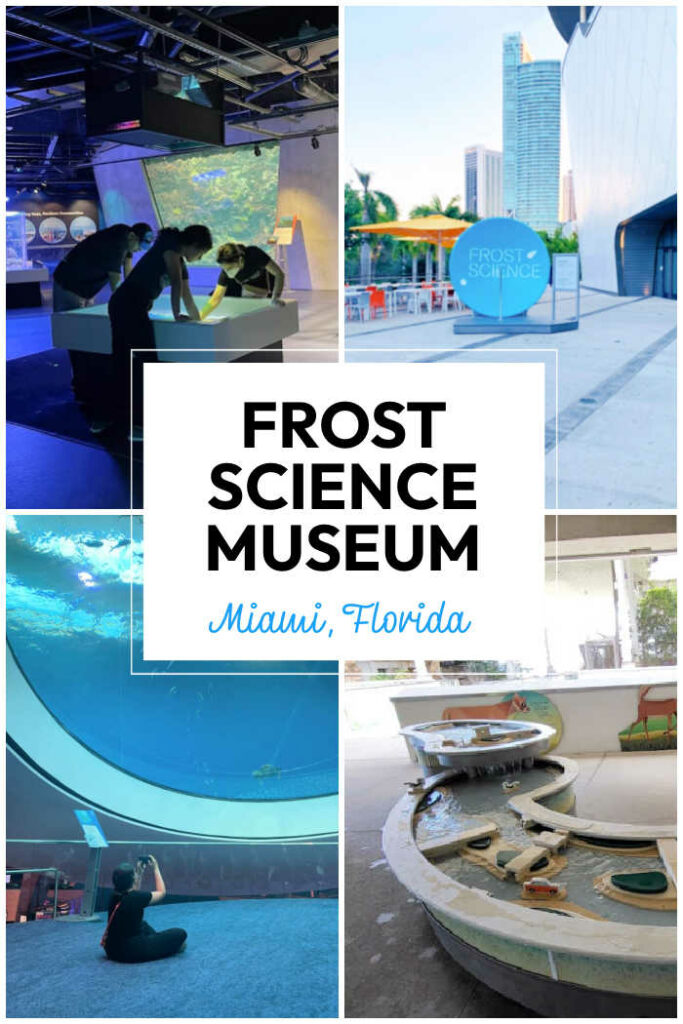 Our visit to the Frost Science Museum was a memorable experience. It was a hidden gem in this well known city that we were thrilled to discover on this trip.
We highly recommend including this Florida attraction in your upcoming family vacation to Miami.
Additional Miami Attractions for Kids