We need diverse books in our home, school, and public libraries. Children must be able to "see" themselves in literature and make personal connections with stories.
I am extremely excited to once again participate and assist in hosting Multicultural World Book Day, where bloggers around the world are sharing a multicultural book and activity that you can do along with the story.
We received several books in the "I See the Sun" series from Satya House Publishing to share with you.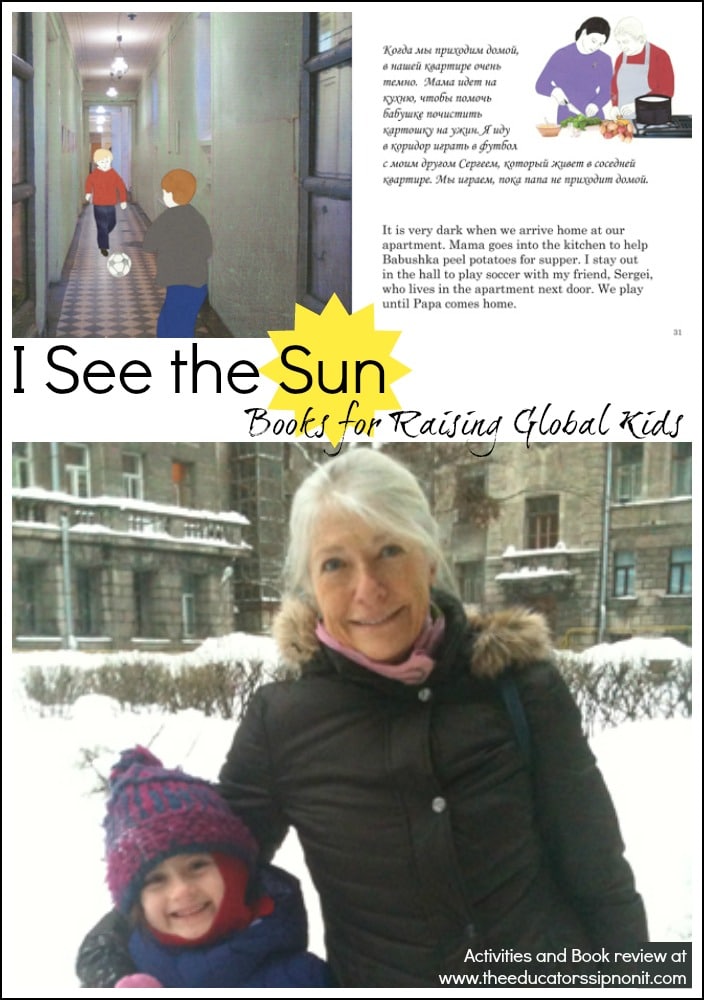 Author Dedie King in Russia
This article contains affiliate links to books.
I See The Sun Books for Raising Global Kids
We are always looking for ways to bring more Russian into our every day! My husband was born in Russia and we are trying to raise global-minded children. Imagine our delight when one of the books we were sent for MCBD was about Russia!

"I See the Sun
in . . ." is a series of bi‐lingual picture books, each focused on one country and one day in the life of one child with a story told from the child's perspective.

This series would make a great addition to a class library. Each book includes a glossary of unfamiliar words and an overview of the country. The books can be used to facilitate discussion about other countries, different alphabets, foods, and activities. The daily life routine of each story allows children to recognize the similarities as well as the differences between their own daily
life and the culture of another place
Each book provides a unique introduction to the culture, family life and language of one particular country in a way that is age‐appropriate and sensitive to the true environment.
Each country represented in these books is one in which the author has spent a considerable amount of time, not merely as a tourist, but immersed in the culture and living with families who have opened their homes and their hearts to her.
Each book has been professionally translated by a native of the country and researched and vetted independently for authenticity and accuracy. The illustrations are collages created from original photographs, drawings, and materials such as wallpaper and fabric.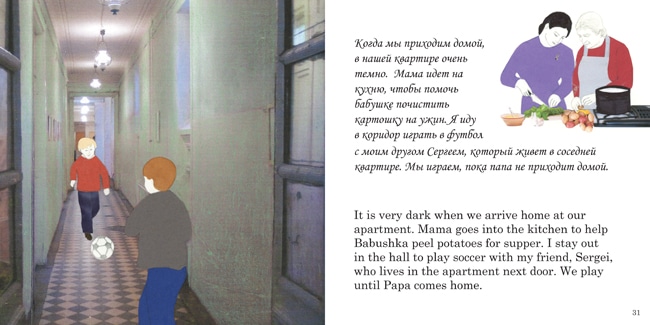 Activity
to Accompany Books for Raising Global Kids
READ

I encourage you to purchase or check one of these books out from the library and read it with your child.
TALK

Discuss the similarities and differences in your home life and the life of the child in the story.

MAKE

Then make your own I See the Sun book for your family. Print a story template here: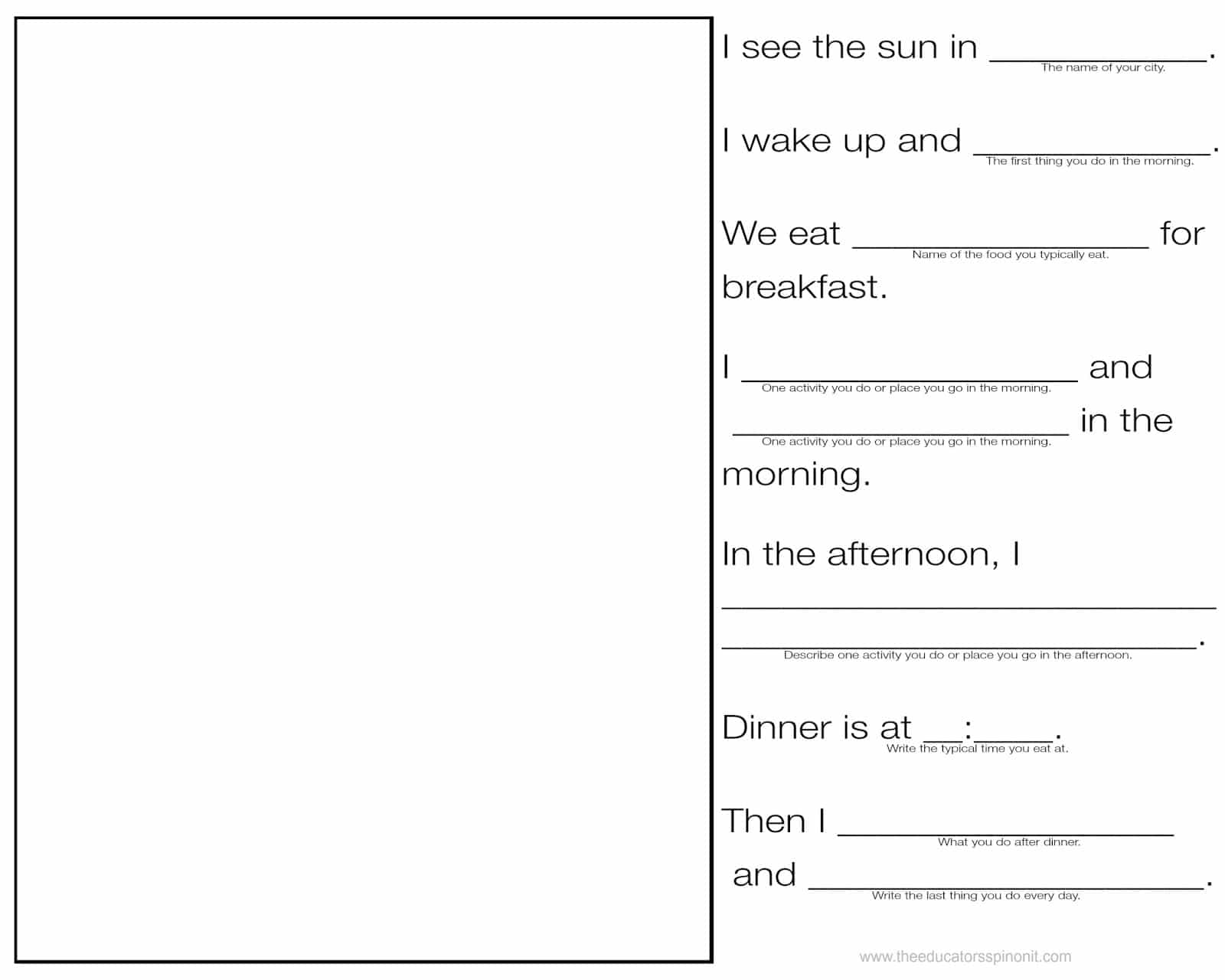 Click Image to Get Printable PDF Story Template
About the author: Dedie King was a Peace Corps volunteer in Nepal in the mid‐1960s. She taught school in Kathmandu and in the village of Bandipur. During her two years there, she also traveled in other parts of Asia, including Afghanistan, India, and Pakistan. Dedie also has a longtime interest in education and different ways of perceiving the world. She has a Masters of Education and besides teaching in the Peace Corps, she has taught elementary school and children with learning disabilities. She helped start and administer a parent co‐operative preschool and founded a newsletter for health and education resources for parents in Massachusetts. Dedie's interest in writing books about different cultures is to bring awareness to young children of both the sameness and the differences of cultures around the world.

About the illustrator: For more than thirty years, Judith Inglese has been designing and fabricating ceramic tile murals for public environments. She has been commissioned to create ceramic murals for all manner of public spaces, including libraries, the National Zoo, elementary and high schools, pediatric and adult healthcare facilities, senior centers, town centers and nonprofits.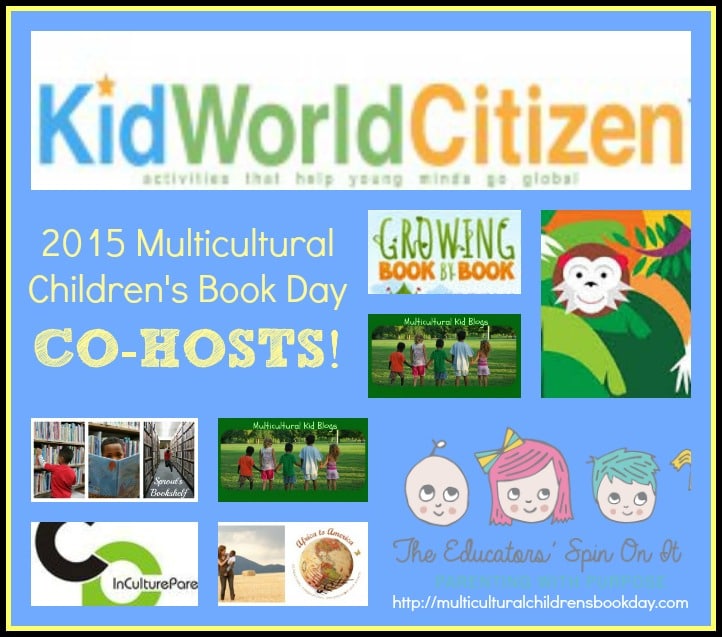 Multicultural Children's Book Day
The Multicultural Children's Book Day team hopes to spread the word and raise awareness about the importance of diversity in children's literature. Our young readers need to see themselves within the pages of a book and experience other cultures, languages, traditions and religions within the pages of a book. We encourage readers, parents, teachers, caregivers, and librarians to follow along via book reviews, author visits, multicultural booklist, and visit the huge multicultural book review link-up that will occur on the MCCBD website 1/27/15.
Visit The Multicultural Children's Book Day website on January 27th to view multicultural book reviews, giveaways and more!
A Special Thank You to MCCBD's Organizers:
Children's reading and play advocates
Valarie Budayr from Jump Into a Book and Mia Wenjen from Pragmatic Mom
A Special Thank You to MCCBD's Hosts:
Africa to America, All Done Monkey, Educators Spin on It, Growing Book by Book. InCultural Parent, Kid World Citizen, Mama Smiles, Multicultural Kid Blogs, Sprout's Bookshelf
A Special Thank You to MCCBD's 2015 Sponsors:

Platinum Sponsors: Wisdom Tales Press, Daybreak Press Global Bookshop, Gold Sponsors: Satya House, MulticulturalKids.com, Author Stephen Hodges and the Magic Poof, Silver Sponsors: Junior Library Guild, Capstone Publishing, Lee and Low Books, The Omnibus Publishing. Bronze Sponsors:Double Dutch Dolls, Author Richa Jha, Rainbow Books, Author FeliciaCapers, Chronicle Books Muslim Writers Publishing , Author Icy Smith.
#weneeddiversebooks
#LOVEdiverseBOOKS
For even MORE books for raising global kids and activities, check out this year's book reviews and activities for Read Your World: Multicultural Kids Book Day!
** Like It – Pin It**