The holidays are a time that we honor the traditions that our family has celebrated for all of our life.  From the special food that we include on our holiday dinner table to the little things we put beside our fireplace each have been passed from generation to generation.  
This year I've been thinking about the legacies that both of my grandparents shared with me for our holiday traditions and how to carry them on with my own children to create our own Christmas Story.

What holiday traditions does your family have?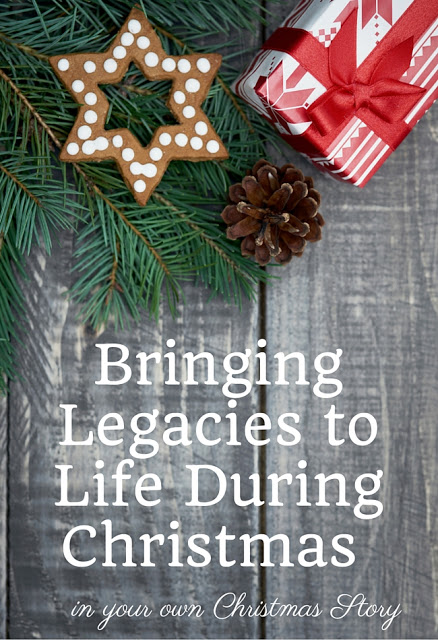 Family Christmas Traditions
This holiday season I encourage you to take time to think about your family's traditions and talk about them with your children. Both sets of my grandparents are no longer with us and I'm having this overwhelming feeling of not remembering all the little things they did with me as a small child, especially at Christmas time. As a child we traveled to their homes each Christmas in Colorado and celebrated Christmas morning at my dad's parents house and Christmas dinner at my mom's parents house. These visits are some of my most treasured family vacations. My grandfather made the decision many years ago that he was talking his family out to dinner on Christmas Eve and it has been a treasured fancy tradition on Christmas Eve for over 40 years.
I'm sure your family has a unique tradition for the holidays, do you know the story behind it?
The story behind my family tradition was that he saw how much work my grandmother was doing to prepare to celebrate the next day and throughout the week and wanted to give her a night of rest to enjoy time with everyone.
I'm hoping this year to story writing down these stories with my kids so that these little traditions are not forgotten and live in through my children.
This post contains affiliate links to amazon.


Traditions in Christmas Stories
My grandfather and my dad would read to me and my little sister The Night Before Christmas
. I still have the book which is a Big Golden Book published in 1949. Looking inside, I have the 12th edition published in 1975 which is a year after I was born. So sweet to know that my family bought the book for me when I was one for Christmas. We have a few more versions of The Night Before Christmas Poem but truth be told this one is my all time favorite. The illustrations every time I read it bring me right into my father's lap reading it to me before christmas. I hope to carry that tradition of with my children. If you're ever lucky enough to find a copy of The Night Before Christmas (Little Golden Book)
, the 1949 version, be sure to grab it.
Do you have a favorite version of the book The Night Before Christmas
?
Christmas Eve Traditions
It's interesting how you remember holiday traditions. For our family after going out to eat for Christmas Eve and attending service we drove around the neighborhoods looking at Christmas light with Christmas carols playing on the radio singing along. One neighborhood that we lived in as a child did Holiday Luminaries Bags
for Christmas. Our entire street and driveways were lined with luminaries, it was quite magical. I put on my Christmas list this year these Electrical Luminaries
to bring that traditional back into our life for our family.
Another tradition is that we were able to open one gift when we got home on Christmas Eve which was always Christmas pajamas
. Tucked in bed usually next to my sister while we were visiting we both would hear bells ringing in the distance believe that Santa was near. It was probably one of my parents or grandparents ringing bells, who knows. That Christmas magic I hope to bring to life for my children in the legacies my parents and grandparents instilled inside of me.
Do you open gifts on Christmas Eve or Christmas Morning?
Christmas Stockings
My grandmother on my mom's side of the family knitted stocking with santa on them for her children and 4 grandchildren. They are so loved and soft as they hang each year at my parents house. My grandmother on my dad's side of the family knitted tiny stockings with our names for all of her children and grandchildren to hang on a long green ribbon along her fireplace. She had four boys who all got married and then all of her boys had children too which means we had quite a large family under the christmas tree each Christmas morning when I was a little kid in snowy Colorado. She began a tradition for my children by cross stitching a stocking my my oldest son. My mom has carried on that tradition and has made stocking for each of now to hang on our fireplace. Have you ever seen the beautiful Counted Cross Stitch Stockings
designs they make now? I hope to carry one that tradition when my kids are much older with my grandchildren.
Do you have a story behind your Christmas Stockings?
Christmas Recipes
Holiday Foods are their own tradition for each family. I feel like we each have something that has to be at our holiday table to make it feel complete. Talk with your children about it and share those traditions with them. Mine happens to be cheese filled inside of celery that I would help my grandmother with each Christmas and Thanksgiving. I was at the store this week and decided to grab a jar of the Old English Cheese Spread
. Truth be told I have no idea where this tradition came from but for my children it will be your great grandmother always had this at her holiday table.
What food items has to be at your table for Christmas Dinner?

We have our Holiday Cookie Cutters
all laid out and ready to bake Christmas cookies today with my kids. A family traditional I know many family share with ours. I can't wait to see the kids sprinkled with flour and frosting. Makes me miss my grandparents ever more. We even made the Gingerbread House
a few weeks ago when my parents were here for my daughter's December birthday. I was at the store yesterday and picked up a bag of Sweetened Coconut
to bring back a family tradition of Coconut Balls. I miss rolling them out with my grandmother each year to share with neighbors and family. Next year I think I'll bring back my grandmother's famous fudge to make with my daughter and attempt my mom's holiday lollipops that she made year after year for my friends when I was a kid. I wonder which Hard Candy Flavoring Oil
will be my daughter's favorite.

What holiday recipe does your family have? Where did it come from?
Christmas Music Traditions
I must confess our collection of holiday CD's have grown quite a bit over the years. It's not quite Christmas to me unless I've played my Kenny G Faith: A Holiday Album
. I love watching the kids play them on their CD player in the play room and sign and dance along. This Christmas I hope to carry on a tradition that I began in our family of playing Christmas carols on the piano as the family gathers and sings along. Somehow I'm the only one that had interest in playing the piano in our family. My grandmother actually had the piano that I learned on as a small child where we took lessons together. I've pulled out my Christmas Piano Music Books
and am going to work with my daughter who's now showing an interest in learning to play. Having her in chorus this year, I've seen her grow so much musically. Can't wait to carry this legacy on with her.
Honoring Loved Ones You've Lost at Christmas
My heart aches for so many of my dear friends who are having a "Different kid of Christmas this Year" without loved ones you've lost. Know that I'm thinking of you and sending joy your way. May legacies be brought to life through your actions this holiday season. Take a moment to listen to this song Different Kind of Christmas This Year by Mark Schultz. They join us each holiday through the legacies and traditions that shared with us while they were here with us.
Bringing Legacies to Life During Christmas in your Own Christmas Story.
This Christmas I hope that you can bring legacies to life by writing your own Christmas Story with your child. Take moment and hand them the camera or your phone and ask them to go around the house and take photos of the things they see as Christmas in your home and important to them. Write down the stories behind what they are and where they came from. Create a printable version of the story on your computer to print out and read with your child. What is Christmas to Your Family?
We wish you a very Merry Christmas to your Family. I leave you with a song by Pentatonix, one of my favorite new holiday song performers. That's Christmas to Me by Pentatonix
What Legacies are you honoring this Christmas with your family? Share your story with us!