Sharks are amazing and mysterious creatures. Learning about them brings a little math, science, literature and more into your learning day. Here are some SHARK WEEK Learning Activities for Kids that you can do at home or in a classroom.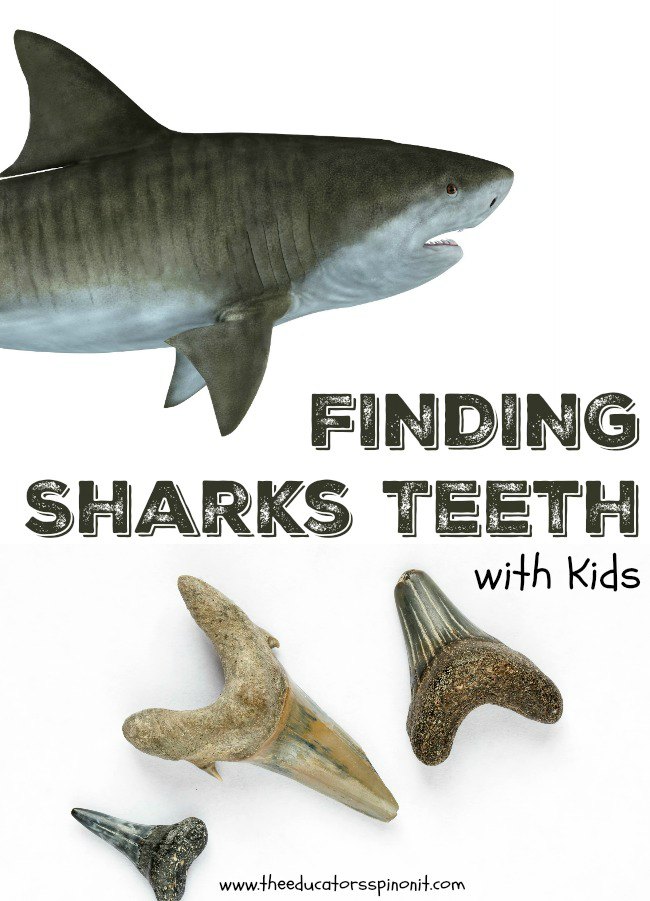 Disclosure: Affiliate links to products
SHARK WEEK Learning Activities for Kids:
Shark Week Book Basket:
Fill your book baskets with a combination of fiction and non-fiction books about sharks for SHARK WEEK!
Hunting for Sharks Teeth with Kids:
Try your hand hunting for your own sharks teeth with kids. Find a sandy creek bed with a shallow beach area for children to access the water. Google the city you live in for public parks with water access. Familiarize yourself with the rules and regulations for hunting for sharks teeth. At the time this article was written, "Fossil shark teeth may be collected in Florida without a permit."
What to bring when Hunting for Sharks Teeth with Kids
Long sleeve pants and shirts to protect them from bug bites.
Wear water shoes or Crocs to protect their feet from sharp stones or glass that may be in the creek.
Something to scoop the sand.
A small bag or container for collecting fossils and sharks teeth
Bug spray
Towels and a change of clothes for afterwards.
Spend time Identifying the Fossilized Sharks Teeth. The Florida Museum of Natural History can help with this. Click here to see their preferred methods for submitting your images for identification.
Write an Informative Text. Encourage your children to write a page, paragraph, or story about the information they have learned.
Click here for more Shark Themed Activities for Kids
Common Asked Questions by Kids about Hunting for Sharks Teeth
Q: How will I know if it is a shark tooth or a rock?
A shark tooth will be pointed like a triangle.
Q: Why are there so many sharks teeth?
A: Sharks have lots of teeth. They loose teeth just like we do, only there is more of them to loose. Just one shark can loose 30,000 teeth in it's lifetime. That's a LOT of teeth!
Q: Why are there sharks teeth in the creek when there are no sharks?
A: Florida was once covered by sea water. The sharks that lived there long ago left their teeth. The teeth fossilized.
Q: Why can't we find other parts of the shark?
Sharks are made up of cartilage, not bone. Like your nose. Cartilage breaks down faster than bone and doesn't fossilize as easy.
Q: Why aren't the teeth we find white like the pictures?
The color of the teeth depends on the minerals in the area where it was lost. The fossilized teeth colors usually range from grey to black.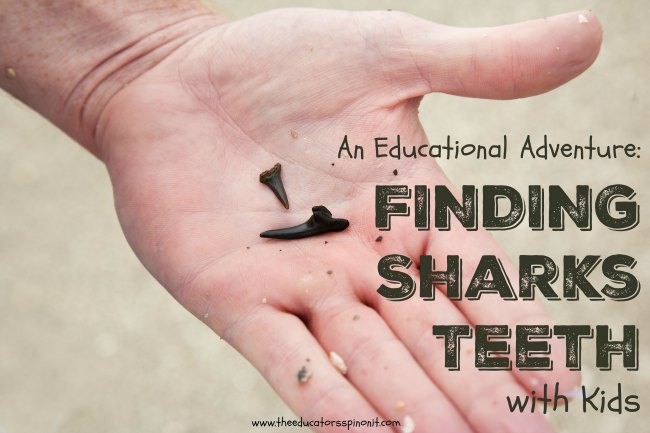 Far away from Florida?
Put some sand in a large tupperware container and add a bag of mixed shark fossils and create your own backyard sharks tooth hunt!
Save