The holidays are such a fun time of year not just for the kids but for parents too.  So many special firsts happen and memories we look forward to making with our children.  However there is something that's new to consider when planning the holidays and that's Christmas Ideas on Pinterest.
Are you using it to your full advantage?
Is it making parents feel more pressured?
Do you know all that you can do for the holidays on Pinterest?
I'm a bit obsessed with this platform and would love to show you have to make full use of it for Christmas Pinning.  Let's get started!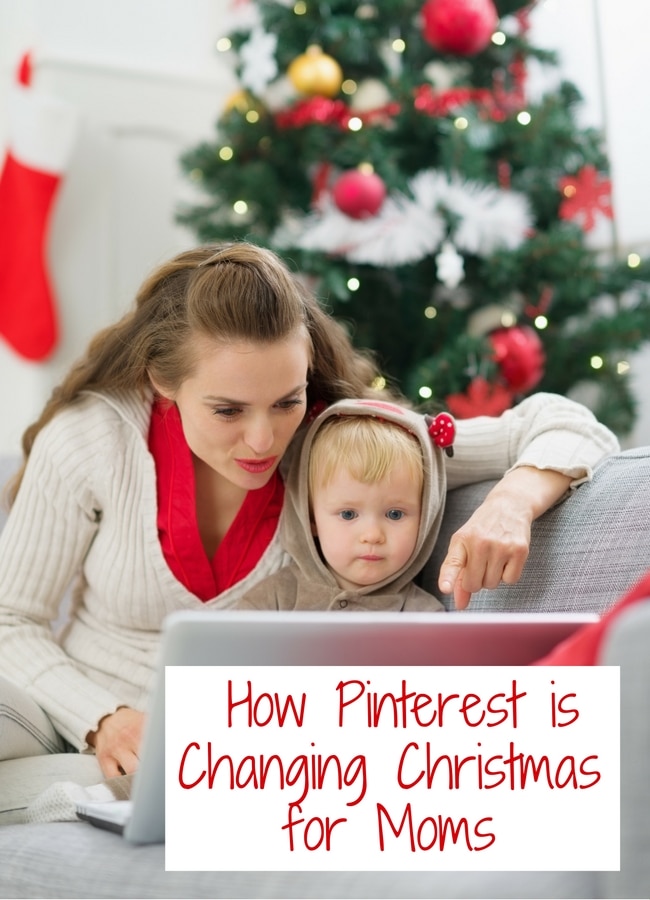 Christmas Ideas on Pinterest for Moms

Is Pinterest changing Christmas for moms and kids?
Its'a a questions that runs through my mind as I'm searching for pins on our Pinterest board.  It seems for me, as a mom who's been "mommying" for goodness, almost 24 years now, it's definitely different.  There are ideas that didn't exist way back and then there's ideas that have always existed but people are just taking really good photos of them now to share.  So the question is, is it making it better or worse and is there a "RIGHT ANSWER"
Honestly I don't think that there is a right answer. To the right people Pinterest just simply works.  It clicks it inspired them, it gives them that energy bug, that creativity, that they are looking for.  Let's be honest as moms that spark of creativity isn't always there.  Busy homes, sleepless nights it's draining.  Whether we're working moms burning the oil at both ends, or stay at home moms, goodness all the ideas are right there for you, you don't have to come up with them.
On the other hand it kind of can be a lot of pressure for you.
As a stay at home mom, this is now my 10th year at home and I spent 10 years in the classroom.  So I've done both. I been a working mom and a stay at home mom and a classroom teacher for 10 years. I've done it all in terms on what you can do with kids during the day.  And it's different from each other. But I can't help but wonder how is Pinterest not helping either way.
I know way back when there were some negative things being sad about Pinterest and it made my heart really sad.  I've worked hard for the past 5 years to build up our follower base on Pinterest. If you're not following us, we are there and we've got 1.6 million followers who also agree with us that Pinterest is a pretty important place and during the holidays  season we amp up our pins tremendously to provide resources for parents. Because we want this time to be special and memorable and filled with holiday spirt for you and your family.
But how much holiday spirit is too much?
That line is for you to draw.
Your mom can't tell you, your husband can't tell you, it's a personal decision and don't feel pressured by other people.
Social Media Adds a Level of Pressure to Moms
I know I opened my facebook account over Thanksgiving and it was holiday lights and christmas trees and frankly I was just excited that my turkey was cooked and didn't burn.  I'm honest, my parents were here for two weeks, we had just finished up some remodeling in our house of the walls and floors and I had that moment of I did it, we accomplished Thanksgiving with the family only to be followed by oh crud I'm so far behind where I should be for the holidays season. I don't think that's where any mom should ever feel.  You are you, you know your strengths, you know your weaknesses and you find the things that make you the best parent the best wife the best daughter that you can be.  If Pinterest gives that to you that kuddos and let's embrace it.
Ways to Make Pinterest Useful for Parents
I'd love to share some way to use it to not make it so overwhelming.  Pinterest can provide so many things for so many people.  They've even provided the option of shopping right there within the platform.  I'll be honest, I'm not an online shopper as much, I still love to sneak away and window shop.  But if that's how you fit holiday shopping in you can pin so many ideas onto secret Pinterest wish boards where you can kind of brainstorm what to give to your child. If you didn't do it this year, that's fine, Pinterest isn't going away.  Start now for next year, maybe it's a birthday list, maybe it's to share with Grandparents so they know too.  That mad rush at the holiday season shouldn't make you feel that you're not enough.
You totally are enough, you are you and you're doing a great job.  
I know I don't ever hear that as much as I'd like to in my own internal thoughts about my parenting skills so I just want you to know you're hear and your'e reading this, that definitely shows that you are really creative for your child.
Gifts Ideas and Community Outreach with Kids on Pinterest
Now we're talking about the holidays, so that means gifts, but it also mean giving and doing for others.  We want our kids to learn that the spirit of Christmas is giving not receiving so there are some great resource for how to do acts of kindness for the holidays and a lot of the season throughout the year.  So there there ready for you on our Community Outreach Board.  We have a Gift Ideas for Teachers, Friends and Family board to find some inspiration on.  I've included the links so it's easy for you to find.
We introduced the Kindness Elves to help us focus on reaching out to others during the holiday season.  Have you printed out our Kindness Elf cards?
Handmade Ornament Ideas on Pinterest
If you're looking for ornament ideas, there is not nearly enough time for you to see all that there is available on Pinterest.  The talent is amazing.  We do have a Handmade Ornament Board where I share ideas that I think will work easily with your child.  Plus we have quite a few right here on The Educators' Spin On It.  Ornament ideas that use noodles, finger prints, gingerbread and love.  Little kids fingers making fun things.
Did you see this article about Santa when your kids are staring to not believe? 
Christmas Recipes on Pinterest for Moms
Now the last part of Christmas on Pinterest are two things the parties and the food.  We have an entire board focused on holiday recipe called Memorable Holidays.  Maybe your'e hosting an event this Christmas.  Go take a peek over there and get inspired.  They are all recipes that I screen through and felt that they seemed easy enough to pull off with kids running around and perhaps even with them in the kitchen with you.  My tips to you is to not make it overcomplicated when hosting, your guests are there to be with you, not your food. If Christmas Sugar Cookie decoration, Holiday Cookie Swap, or Gingerbread Houses are what fill your bucket go for them, but if not don't feel pressured by Pinterest or peers to do them as a mom.
Christmas Party Ideas on Pinterest for Moms
Party ideas, Pinterest is filled with ideas for decorating, holiday appetizers, holiday drinks and more.  My one tip to you is to plan something for the kids to keep them occupied.  Nothing's worse that a group of adults getting frustrated because that kids are running around like crazy with nothing to do. Where here with the spirit of the holidays to be with one other, so this is where Pinterest can sprinkle that holiday spirit.  Type in Pinterest search bar minute to win it christmas party ideas or Christmas party games for kids.  Make the bigger kids be in charge of the younger kids to play though games, we're always looking for Santa's helpers.  That way the adults can sit back and have fun connecting with the kids are having fun too.  It's the one of the few times of the year we get to sit and mingle with friends and family so take advantage of the older kids a bit.  You may want to consider hiring someone to help take care of those things so that you're not running around like a mad women hosting a party.  I've been there, done that and I looked back and realized that I never even had a chance to look back and take a picture of my children and friends having a good time, making memories because I was so busy worried about everyone else having a good time.  I wish I would have delegated better and even considered hiring an older day care provider, let's be truthful there are time when our kiddos listen better to strangers that their parents when things are a bit stressful anyways.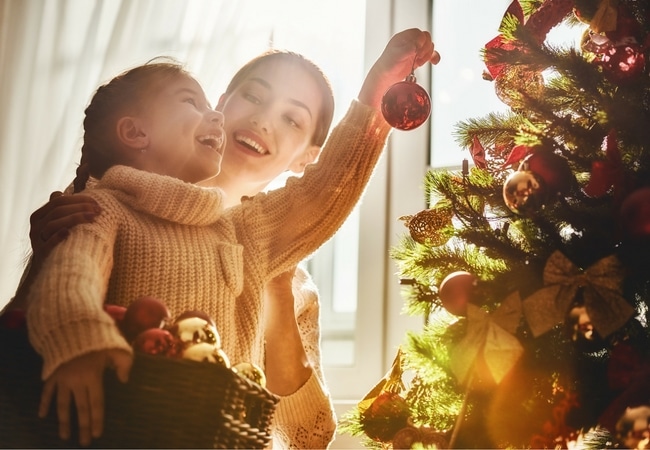 Make Pinterest Work for You as  Mom
I just want to say, don't let Pinterest be a negative thing to you as a mom.  It shouldn't make you feel pressured that you have to do things over the top.  If you don't want to do an advent calendar, then don't do an advent calendar.  There are some people that it's their family tradition that they want to continue.  That's their thing and they've always done it.  When you see adorable pins, it's because that's their thing and they took photos of it to share.  They are not saying you have to do it.  Elf on the Shelf is a newer tradition, I've never participated in that.  There are tons of people who do though and  Pinterest definitely has lots of ideas for that. Recruit your hubby to help so it's not all on you.
For me this year I'm having a little fun with a daily holiday photography challenge from a blogging friend so I stop to enjoy the little moments of the holidays.  Last year we tried to do a lot more Christmas Science Activities and Christmas STEM Challenges over the holiday break.  I know I can't do it all and I love that Pinterest gives me options for the holidays as a mom.
Do what works for you and don't feel pressured by Pinterest at all.  It's there to inspire you.
Finding the Holiday Spirit on Pinterest
Can you breakfast be a little cute every once in a while.  Sure make reindeer pancakes one morning over break or a christmas tree shaped one.  I'll be honest it doesn't take that much longer to make it and the kids do remember those moment with you.  Those are the moments of sharing holiday spirit that you're looking forward to as a mom with your kids.  Go take some time, create a Pinterest board and it's not for this holiday season, that's ok.  If you don't want people to know what your'e doing make it a secret board.  I've got quite a few going on. Sometimes I'm alone on them but sometimes I'm planning things with my husband or my son or my sister in law.  Grandparents on a gift board or friends at work for a holiday party. Here's our gift ideas board for the kids.
I'll say this one last time… I think you are an amazing mom, you are here you are looking for resource to make your child's life more memorable and special and I just want to say thank you for being the mom that you are and thank you for being a valued reader this year at The Educators' Spin On It.  We can't wait to be a part of your 2017 and all the special moments with your child, including ways to sneak in some learning at home.  If you're looking for holiday learning ideas over the holiday break be sure to check out the Winter Projects to Make and Do Board for the holidays on Pinterest.
Happy Holidays from The Educators' Spin On It.  
If you enjoyed this post you might find our Christmas Pinterest Board a source for Holiday inspiration for pinning.